Gears of War 4 launch trailer shows the oncoming swarm of new enemies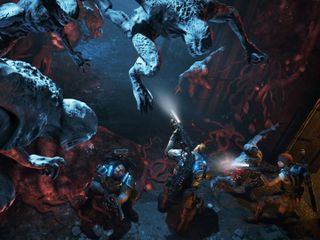 Microsoft has released the launch trailer for Gears of War 4. The trailer for the upcoming sci-fi shooter for the Xbox One and Windows 10 platforms promotes its release on October 11.
The trailer, as posted on the Xbox YouTube channel, offers a quick summary of the game's single-player storyline, as the new characters of JD Fenix, Kait and Del, have to fight a new wave of monsters and enemies.
While the game is due for release on October 11, people who purchase the Ultimate Edition will be able to play the game a few days earlier on October 7. Gears of War 4 will also be an Xbox Play Anywhere title, which means that people who purchase the digital version of the game on the Xbox One will get the Windows 10 PC version for free, and vice versa.
See at Microsoft Store (opens in new tab)
Need more? Don't miss our other coverage of Gears of War 4 including:
Windows Central Newsletter
Get the best of Windows Central in your inbox, every day!
Microsoft still has a long way to go before I would even consider to buy a full price game from their Windows Store. Store is still too buggy for me, even on smaller downloads and the fact that I can't limit download speed for store downloads or backup my games makes it a nogo for me. Xbox Playanywhere is great but offers no value for someone who doesn't own or plan to buy the Xbox One

What are you babbling about...? Sorry but this is just a dumb random negative comment for no apparent reason..

It will be released for Windows 10 too, so of course I can say why I still wouldn't consider to buy it. Microsoft has to improve their digital distribution plattform if they want to sell games like this over it. Quantum Break and ROTTR showed that gamers still prefer the likes of Steam and others for their purchases

"Xbox Playanywhere is great but offers no value for someone who doesn't own or plan to buy the Xbox One"

Those electric charging stations also offer no value to those who don't own a Tesla. The very concept of Play Anywhere is for those with an Xbox one. Pointing out that is doesn't offering anything for those without one is basically pointing out its definition and is non-interesting, nor salient. Either way, I'm playing GoW UE with no edition on a few PCs, so your loss.

The question is: Why should someone with a pc powerful enough to play the PC version get an Xbox? And since Spencer claimed several times that PC gaming is important for MS people can expect more than just an extension for Xbox owners

A parent may have an excellent gaming PC for themself, and use an Xbox for the family. Not everyone wants their kids on their machine. Another example would be the family having an Xbox, and one of the kids buying their own gaming PC. Or, for people like me, I used to have a high-end gaming computer, but would frequently play on the Xbox instead because it's hooked up to the TV. In my case, it wasn't practical to hookup my computer to the big screen, and would have been a HUGE pain to constantly switch between having it connected to the TV, and having it at my desk in the other room.

"Why should someone with a pc powerful enough to play the PC version get an Xbox? "

That's a very narrow view. Simple. Not every game on Xbox is on PC or Windows 10. Just because you game on a PC doesn't mean you don't want to use a console for other games, retro, arcade or even media like 4K Blu-Ray, Netflix, and apps for Windows 10.

Sir, do u have any idea (from your sources or anywhere) if MS will allow other developers/publishers to launch their game as an xbox play anywhere title ?
I think, MS may allow as MS wants its store to grow & offer as many games (& apps) it can.

There a lot of reasons. I am sure yhou have heard them all but, ignore them. As for me I can only tell you why I use my Xbox or PlayStation over my desktop. Just a little background I have a spent over 4200 on my main home rig (half of that just on the two monitors). Although, it was built do my any design/development work at home and not a gaming desktop rig I can most assuredly say that it can hold it's own against almost anybody that claims they have built a gaming rig from ground up. And yes I do play games on it. That being said I still game most of my time on the consoles. 1: It is a comfortable factor, a comfy couch for gaming beats office chair any day 2: 60" TV view, still beats two 32" Dell screens. 3: Social factor, playing with my fiance or friends or nephews is much easier in a living room then a crowded office or bedroom 4: Social factor part 2, online social activity is so much more integrated into the consoles experience then with PC gaming 5: I don't have to screw around, the console takes care of everything . Often called it just works argument. 6: no one has to touch my PC to play games, no greasy fingers on my keyboard 7: Integrated media device: watch TV, stream media, play a disc, listen to music all on that 60" TV is just easier to do and better from the console 8: although gaming on a desktop with games like COD game can be more graphically gratifying those gamesy have become, for me, more and more plagued with bugs then found a console. So the awesome PC 4K gaming has become frustrating experience for many AAA PC games. 9: I can take my external hard drive (which has almost all my Xbox games on it) to my brothers house (who also has an Xbox) plug it in and all my games become instantly available to play. 10: I work at a desktop all day. It is not unusual for me to put in 14 hour days. The last thing I want to do is come home (or if at home) sit at a destopk to play a game (see comfy couch)

Wtf???? I download 50gb from the windows 10 store in roughly 2 hours. Absolute BS. I buy all my Xbox One games digital. And download some of them on my PC. With absolutely no issue. I will get rid of steam as soon as possible.

Cole Train is back too Woo-hoo!! Posted via the Windows Central App for Android

Looks pretty apparent from the trailer and from the fact that Marcus will only be a non-playable character in coop that the Coalition is killing off Marcus. Preorder cancelled.

Dude, I totally did the same thing... saw that Marcus may be killed off and im out... oh wait, just kidding... I like the game so Ill get it and play it because you know... I actually LIKE the game... Marcus while cool is still a fictional character in a fictional world on a fictional planet.. so there is that.. :)

Gears of war 4 is a big meh to me

For all the ooohhhhs and ahhhhhssss that uncharted gets and the last of us. They still don't match the awesome gameplay found in Gears and Halo. I bought a PS3 to play the so called mega games. Only to come away disappointed in the hand holding and lack of gameplay. Thank god MS still make you know GAMES.

Ahhhh, I think the Xbox One S and this game will be a Christmas present to myself.