Out This Week on Xbox One: Gears of War: UE, Nova-111, Dishonored and more!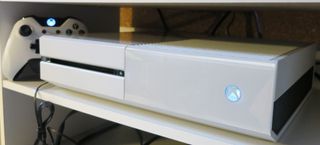 Every week, new games are released for the Xbox One. Whether they are indie titles or AAA titles, we want to make sure they're on your radar. So get your wallet ready and clear some space on your hard drive. Let's take a look at what's coming out this week for Xbox One.
Gears of War: Ultimate Edition
The cogs keep on turning
When Gears of War first launched for the Xbox 360 back in 2006, it was arguably the most beautiful game on any console at the time. That game launched Xbox's second best selling franchise and have spawned a handful of sequels.
Gears of War: Ultimate Edition lets Xbox One owners relive the beginning of Delta Squad's journey to take down the Locust Horde. The game remasters the complete single player campaign as well as adding some chapters that were exclusive to the PC version. As for multiplayer, all 19 maps have been given a visual upgrade and you also get to play at a flawless 1080p 60fps.
Gears of War: Ultimate Edition revives itself for the Xbox One Tuesday, August 25.
Madden NFL 16
Be the playmaker
Madden NFL 16 once again delivers its premiere gameplay with some fresh new additions. Most of this year's gameplay additions focus on the Quarterback and the Wide Receivers. Both positions have been outfitted with deeper controls that allow you to gain the edge over your opponents.
Perhaps the biggest feature of the year is Draft Champions. This new mode combines the best of fantasy football with the experience of the NFL draft to give you a new challenging event. Madden NFL 16 launches Tuesday, August 25.
Don't Starve: Giant Edition
Fight or flight
Don't Starve is a survival game with roguelike elements and a Tim Burton-esque art style. Your job is to lead your player to survival as long as possible by overcoming the elements. However, it won't be easy.
As you search high and low for food and items to create the ultimate arsenal for survival, the game will throw different types of weather at you as well as creatures that lurk in the night to make sure you suffer a disheartening death. Don't Starve: Giant Edition comes to the Xbox One on August 26.
Don't Starve: Giant Edition - Xbox Store - $14.99
Megaman: Legacy Collection
A timeless collection
Megaman: Legacy Collection brings the first six Megaman games to next-gen with their retro 8-bit style. The collection brings new features to the classic games such as leaderboards, challenge mode, and replays. Challenge Mode brings some new flair to the games by remixing sections by adding certain objectives.
Megaman: Legacy Collection launches August 25.
Megaman: Legacy Collection - Xbox Store
Nova-111
Real time vs. turn based?
Nova-111 is a turn-based sci-fi game that with real-time action. Take control of your trusty orange ship and travel to different worlds to help find the solution to fix space-time. In order to survive you must also collect different modules that give your ship new upgrades and abilities.
This game features a funky electronic soundtrack that compliments its colorful art style. Nova-111 launches this Friday, August 28 and will be priced at $14.99.
Whispering Willows
Elena the friendly ghost
In Whispering Willows, you play as a young girl named Elena as she makes her way around Willows Mansion. Elena is no ordinary girl, though, as she can project her spirit outside of her body. She uses her ability around the mansion to help ghosts that are stuck on the grounds to make their way to the 'other side'. That being said there are a few evil spirits that lurk within the mansion and are out to get Elena and the good-spirited ghosts (no pun intended).
Can you use Elena's physical and spiritual body to solve puzzles and find her missing father? Find out this week when Whispering Willows comes to Xbox One on August 28.
Dishonored: Definitive Edition
Dishonored is a first-person action-adventure game that focuses on stealth to make your way through enemies. You play as Corvo, who once was the bodyguard of the Empress until you were framed for her murder.
Now you are an elite assassin who carries out missions to find out who the true killer is and to exact his revenge. The Definitive Edition brings the game and all of the downloadable content to the new consoles all while giving it a visual facelift. Dishonored: Definitive Edition comes to the Xbox One, August 25.
Which games are you excited about this week?
Get the Windows Central Newsletter
All the latest news, reviews, and guides for Windows and Xbox diehards.