GeForce Now leak suggests God of War and other PlayStation exclusives may come to PC
PC players may eventually get access to exclusives like God of War.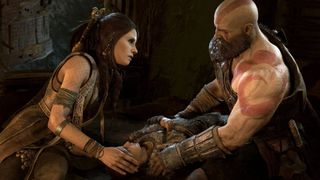 (Image credit: PlayStation)
What you need to know
A GeForce Now database leak suggests that multiple PlayStation exclusives may eventually be playable on PC, either through Steam or with GeForce Now itself.
The PlayStation exclusives listed include God of War, Demon's Souls, Returnal, and the upcoming Horizon Forbidden West.
Currently, the only exclusive that features a specific mention of Steam is God of War.
A datamine leak of the NVIDIA GeForce Now database has revealed that multiple PlayStation exclusives may be releasing on PC at some point in the future. Titles spotted in the database include God of War, Demon's Souls, Returnal, and the upcoming Horizon Forbidden West.
It's important to note that the appearance of these games in the database doesn't confirm a PC port in any way. It's entirely possible that the games may be made exclusively available through GeForce Now as part of a potential deal between Sony and NVIDIA. It's also possible that GeForce Now has been used behind the scenes by developers for testing and development purposes, which is a practice that we've heard is not uncommon right now due to dev kit shortages and the work from home approach that many studios are taking. This would explain the appearance of these games in GeForce Now's database.
Nevertheless, it's still interesting that these games are listed within GeForce Now's database. Also, the listing for God of War specifically mentions Steam, which strongly suggests that even if games like Demon's Souls and Returnal don't get a full PC release, there's a good chance God of War will.
This news is exciting for PC players, despite the possibility that actual ports may never materialize. PlayStation exclusive titles are generally regarded as some of the best games available, and God of War in particular is often considered to be a masterpiece. If it is coming to Steam, PC fans will no doubt be interested. And even if games like Demon's Souls and Returnal aren't fully releasing on PC, the fact that some of the best PS5 games might be playable through GeForce Now is exciting. In the meantime, at least Horizon Zero Dawn Complete Edition and Days Gone are available.
Face the sun
(opens in new tab)
Horizon Zero Dawn Complete Edition on PC
Killer robots, but fun.

The hit PlayStation game full of fantastic stories and stellar combat has come to PC, bringing with it a ton of fun on a fantastic new platform.
Windows Central Newsletter
Get the best of Windows Central in in your inbox, every day!
Brendan Lowry is a Windows Central writer and Oakland University graduate with a burning passion for video games, of which he's been an avid fan since childhood. You'll find him doing reviews, editorials, and general coverage on everything Xbox and PC. Follow him on Twitter.
Oh snap, it's happening. PS5 games are coming to PC as well.

There are no PS5 games, lol.

Moron, there are PS5 games on the list: Ratchet & Clank: Rift Apart, Demon's Souls, Returnal, God of War, Ghost of Tsushima, Gran Turismo 7, Horizon Forbidden West, Sackboy: A Big Adventure.

God of War and Ghost of Tsushima are both available on PS4, as will Horizon Forbidden West be, which is what I think fdruid was referring to, albeit unnecessarily condescendingly. Demon's Souls is definitely a PS5 exclusive though, as I think Returnal will be. Not sure about the others you quoted.

Good for those who want to play them, and good for the industry. I really don't care about those games.

Cool story, bro. Meanwhile people who like to play games are ecstatic.

Turns out everybody wants PlayStation games.

This is really true of both Playstation and Xbox games. Look at Steam top games

Is this a surprise? Games should be on as many platforms as possible as that fuels alot more game sales. Would love to see cross save funtionality but that's a pipe dream the moment. Maybe when W11 launches and the store with in a store takes off.

After the recent Bethesda acquisition, Todd Howard said "Focusing on fewer platforms will mean better games" - (source: https://www.pcgamer.com/todd-howard-says-focusing-on-fewer-platforms-wil... )

Well, that's only partially true. Think about it, both the Xbox One Series and PS4 / PS5 use a x86/x64 architecture just like a PC. Prior to these it was all custom silicon with their specific o/s programming and instruction sets which used to be a hassle when porting games to the PC etc. Combined with constraints on resource allocation meant you saw more console exclusives. Now, the core architecture is the same with the same instruction sets as on a PC. The only difference between the two consoles is o/s programming and variations of internal hardware just like the PC space. So the constraints now are really resource allocation. Therefore there isn't going that many console exclusives due to these constraints. Since it's much easier to develop games for a wider audience. The only exception right now is Nintendo as they are still in effect using custom silicon (the switch uses a ARM based soc).

Everybody wants to play the best games. Some of the best games are currently PlayStation exclusives, but no one wants to gain access to those games and have to give up access to other games to do so.

That Halo 5 for PC is listed and 343 have since denied that such a thing exists or is planned casts doubt on whether many of the other supposed PC ports are real too. We can certainly hope, but we've probably already been hoping, so not much has changed.

Doesn't make sense to leave 1 game, when all the games from the franchise are already on PC or will be on pc (infinite)

"It's also possible that GeForce Now has been used behind the scenes by developers for testing and development purpose" I'd say this is much more plausible than anything else.
Windows Central Newsletter
Thank you for signing up to Windows Central. You will receive a verification email shortly.
There was a problem. Please refresh the page and try again.