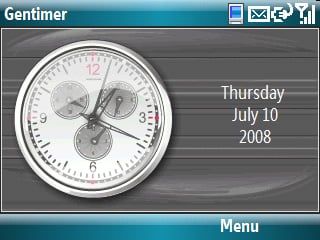 Need an alarm management program? Need a timer application? How about a stop watch and world time application? Rivia offers all this in one package with their Windows Mobile application Gentimer ($14.95). It adds a new twist to wake up alarms and has some customization features but does it hit the mark?
As mentioned, there are basically four components to Gentimer; an alarm management application, a countdown timer, a stopwatch and world time displays. Navigation to each component can be made through a popup menu or with the four way button on your device. Setting alarms, timers, operating the stopwatch and selecting international cities is straightforward and very user friendly.
The alarm manager will let you set multiple alarms, both re-occurring and one time, and allow you to customize each alarms as to its sound and nature. Inactive alarms will stay on your alarm list until you delete them so, if an old alarm is needed, you only need to activate it from the list.
Part of the customization includes defining what type of an alarm it is. Rivia labels the types of alarms in three categories; Standard, Gentle and Sleepyhead. The Standard Alarm is just that, when the clock hits the mark the alarm sounds. The Gentle Alarm goes off five minutes before the set time with a
Get the Windows Central Newsletter
All the latest news, reviews, and guides for Windows and Xbox diehards.