We play Geometry Wars 3: Dimensions Evolved (and die a lot)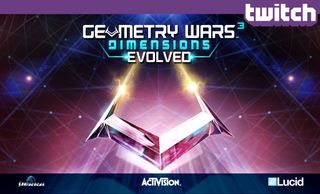 Every weekend, Windows Central streams an Xbox One game or two on Twitch for 1-2 hours and gives out free games to the cool people who join us during the stream. It's like a live podcast, only you also get to watch a game while chatting with our awesome readers and viewers!
Tonight at 8pm Central (9pm Eastern, 6pm Pacific, 2am GMT), we'll be playing Geometry Wars 3: Dimensions Evolved from Lucid Games and Sierra/Activision. Not only is Geometry Wars 3 the best twin-stick shooter on Xbox One, this week it received a massive update that adds new levels, modes, and items. Watch us play that new content tonight and you could win a copy of the game for Xbox One, PlayStation 4, or Windows!
Update: The stream has ended. Read on for game the contest winners, game impressions, and full YouTube replay of the stream!
]
Geometry Wars 3: Dimensions Evolved
Late last year, Geometry Wars 3 released to great enthusiasm. The latest sequel to the beloved twin-stick shooter series, Geometry Wars 3 includes a full (and challenging) Adventure mode with lots of stages to blast through. Adventure mode also lets players unlock helper drones and super moves, which can then be leveled up to increase their usefulness.
In addition to the main Adventure, Geometry Wars 3 includes plenty of extra modes. Ultimate is a harder version of Adventure. With the recent update, Classic now offers six different game types. And when you're feeling social, you can play cooperative multiplayer locally with up to four people or online via Xbox Live.
The recent 'Evolved' update has brought tons of new content to Geometry Wars 3, starting with 40 new levels for Adventure mode. That's 100 levels in total! A new helper drone and new super move also flesh out the campaign. The 20-level hardcore mode is extra challenging and features its own leaderboards. Classic Mode now includes a Retro Evolved game type that recreates the original Xbox 360 experience.
Tune in tonight to see some of these new features and maybe even win a copy of your own!
Geometry Wars 3 – Xbox One –261 MB – $14.99 – Xbox.com Link
Geometry Wars 3 – Xbox 360 –106 MB – $14.99 – Xbox.com Link
Geometry Wars 3 – Windows, Mac, and Linux –$14.99 – Steam Link
The Contest
We'll be streaming Geometry Wars 3: Dimensions Evolved for 90 minutes tonight, starting at 8pm Central (9pm Eastern, 6pm Pacific, 2am GMT). During that time, we'll be giving out a total of 13 game codes:
4 for Xbox One
4 for PlayStation 4 (North America only)
5 for Steam
To enter, just follow me at Twitch.tv/Eastxtwitch (making sure to enable email notifications!) and tune in during the stream. You can watch the stream right here in this post, but you need to actually participate in the stream chat to have a chance at winning. We'll deliver codes to the winners via Twitch message (PM) during the stream. No code begging!
I'll be available for a few minutes before and after the stream if you have any questions or just want to say hi. If you enjoy the stream, be sure to check our schedule and come back for more!
How to watch Twitch livestreams
What's the best way to experience Twitch? The Twitch website on your PC or Mac web browser. If you don't have or prefer not to use a computer, you can get the Xbox One, PlayStation 4, or Xbox 360 Twitch apps and watch from the comfort of your couch. Android and iOS both have official and unofficial Twitch apps to choose from as well.
On Windows Phone, you'll have to grab an unofficial app. There are several to choose from, each with different strengths and weaknesses. Only one app lets you search directly for our channel, though. If you use the others you'll have to find and follow us from a web browser first. Read the roundup to learn more!
Streaming schedule
Want to know what's next for Windows Central's Twitch programming? Here's this week's schedule. The stream always starts at the same time: 8pm Central (9pm Eastern, 6pm Pacific, 1am GMT).
Monday, April 6 : Tyler night! Watch co-host Tylerh1701 take the reins and play games of his choice.
Wednesday, April 8: PlayStation Vita night. This week, Paul, Tyler, and Adam will team up in multiplayer for the very first time in Toukiden: Kiwami. Don't miss it!
Thursday, April 9: Dark Souls II: Scholar of the First Sin for Xbox One. Can Paul handle the pain as he plays Dark Souls for the first time?
Saturday, April 11: Thomas was Alone from Curve Digital. A charming puzzle platformer with lovable characters and full narration. Tune in to win a free copy!
Upcoming weekend streams: Divekick, How to Survive, Pure Pool, Terraria, Threes
We hope you'll tune in as often as you can! Set a recurring alarm on your phone so you'll always know when it's time for the stream to start.
Winners
The following people rock at Geometry!
Xbox One
Souza_rs
Aj6627
Drswoboda
Biscutcase
PlayStation 4
Rann7878
George_kanamit
Ucfknighthood
Cloud_squall78
Steam
Brownmeister2
Xenokalson
Thebigxone
Richrubis
Felisnigripes
Thanks to Activision for providing tonight's prizes. Thanks also to our Twitch stream moderators for keeping the peace and giving away the prizes!
Get the Windows Central Newsletter
All the latest news, reviews, and guides for Windows and Xbox diehards.
Paul Acevedo is the Games Editor at Windows Central. A lifelong gamer, he has written about videogames for over 15 years and reviewed over 350 games for our site. Follow him on Twitter @PaulRAcevedo. Don't hate. Appreciate!