Get a free 8-inch Windows 10 tablet with select PCs at Microsoft Store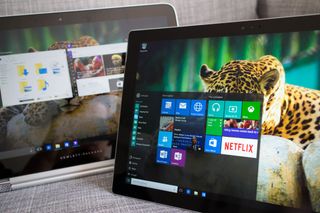 The Microsoft Store is running a new promotion in the U.S. and Canada, where people who purchase a new Windows 10 PC from a select list will get a free 8-inch tablet from NuVision. The tablet is normally worth $99.
You may remember a similar promotion where Microsoft bundled the same tablet for $40 with a new PC purchase, but this latest deal simply gives away that same tablet. The list of PCs that qualify for this new bundle is posted on the Microsoft Store (opens in new tab) site, and includes some special sales on devices like the HP Spectre x360 notebook starting at $999 (opens in new tab) ($200 off its normal price) and the Alienware 15 Touch laptop starting at $1,999 (opens in new tab) ($500 off its normal price).
You have plenty of time to take avantage of this offer. This new promotion with the free Windows 10 NuVision tablet will end on September 9.
See at Microsoft Store (opens in new tab)
So they are bringing back the old one here.

Pathetic. Spend 2k and we will give you something worth 50 bucks.

From what I understand the tablet is actually pretty decent, and for $100 it's really great value. And, I mean, if you're going to buy a new PC you might as well save some money AND get a free tablet out of it. Posted via the Windows Central App for Android

I know right, they should just let you spend 2K and give you nothing extra. Those bastards for doing that. /s

this is called good deal! Problem is that is not for you!

I don't know what you mean by 'pretty decent' Zachary, coz that's a very subjective thing. For me, a 2GB / 32 GB 8 inch tab is a near perfect PC, albeit a bit small. A gamer , on the other hand, would laugh at me. Having said that, you can pick 8 inch Win tabs for as little as 65 dollars on any Chinese site.

Isn't 32 GB too small? Wouldn't 64 GB be the minimum to be able to update Windows 10, specially if you are an Insider?

I want to see some 8 inch tablets running Windows Mobile. Then a promotion like this starts making sense! I really don't want an 8 inch PC with those specs.

I'm going to guess that tablet probably isn't worth using if it normally costs $100.

give me a surface 3 for free.. ya im demanding

This is how you can tell how well Microsoft is doing....They have to give **** away to entice users to come to windows 10. I have never seen apple, or google for that matter give ANYTHING away. Because their prouducts have worth. Not like the worthless windows devices. W10 is a major cockup on MS's part. They should have stay'ed the course of windows 8 on both computers and phones. They were going the right way, and just had to make a few minor changes and it would have been awesome...but no, they had to royally fudge everything back to 3.11. good job!
Windows Central Newsletter
Thank you for signing up to Windows Central. You will receive a verification email shortly.
There was a problem. Please refresh the page and try again.