Get a Lumia 530 in the UK for as little as £10/month starting 22 August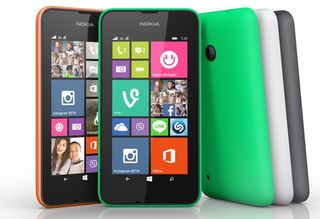 Attention UK residents looking for a new Windows Phone on the cheap: starting Friday the 22nd of August you'll be able to get the brand new Nokia Lumia 530 from Carphone Warehouse. The Windows Phone 8.1 handset can be had for as low as £10 a month (£0 upfront) with a 500MB/month tariff from Talkmobile, or on your choice of UK carrier (EE, O2, Orange, T-Mobile, and Vodafone all included).
Off-contract pricing for the Lumia 530 in the UK starts at £60. Carphone Warehouse has managed to secure an exclusive of sorts here, bringing the Lumia 530 to the UK two weeks earlier than the originally-announced 4 September availability.
You'll get a decent enough phone for that price, though, with a 4-inch 854x480 screen, 1.2Ghz quad-core processor, 512MB of RAM, 4GB of storage, and microSD expansion. Additionally there's a 5MP camera around back, though you'll have to make do without LTE.
Source: Carphone Warehouse (opens in new tab)
Derek Kessler is Special Projects Manager for Mobile Nations. He's been writing about tech since 2009, has far more phones than is considered humane, still carries a torch for Palm, and got a Tesla because it was the biggest gadget he could find. You can follow him on Twitter at @derekakessler.
Shame its not on Three or I'd have bought my little brother one. He has a 520 on paygo at the moment, which ofcourse means he never has any credit, and no data. Lol

All CPW phones to my knowledge are UNLOCKED so purchase one from CPW on O2 or Voda or whoever supports the 530 and it'll work on 3. That's exactly what I did when I bought the 630.

So why not top up £15 and get 300 minutes, 3000 texts and all-you-can-eat data (tuly unlimited) data or £10 and get 100 minutes, 3000 texts and 500MB data.

Ooh 250 minutes, 5000 texts, 500mb of data for £10 that is not bad. I guess they have spread the cost of the phone over 24 months at £2.50 and the £7.50 for the contract. That is not bad to be honest, the phone should really sell at these prices.

In Italy with Wind you get a 630 (not a 530) and 1gb internet 250 minutes speech and 250 messages for that price,and an upfront of €1,00 for the phone on 2year plan.

But this includes the phone in the price so is cheaper.

Where does it start at £60 cheapest is £80

Hmm, I just checked and Carphonewarehouse have it at 89.95 for a sim free price. http://www.carphonewarehouse.com/phones/nokia-lumia-530/handset?colourCode=ORANGE

We got it in Italy for €85,00 at any dealer,even on amazon Italy.

I had a look around after seeing that price on Carphonewarehouse, it does look like retailers will make substantial profit as no doubt this should sell pretty well just like the 520.

Man, as soon as they announced the prices I said "it's gonna be £80+"... I was right! These prices are bullshit! Same thing happened with 630 and 635 too! 89 became 130. On MS website, I may add! Why the fuck are they lying like this? It's just false advertising - simple as that. I know 89 is still a good price, but it's not the advertised 60!

Downgrade from 520 = nope for me.

To you its a downgrade, but quad core, ability for "more" future updates and sensor-core makes it a viable option for a lot of users.

The 530 doesn't have SensorCore.

It is not an upgrade on the 520, it was meant to be sold at lower price points than the 520. It is now apparent retailers have other ideas...

Just wait a couple of months and it will go down on pricing,like ALL Lumia phones

The 520 is still sold around the ball park of £100 to £80 by various retailers. The second hand market obviously will be substantially cheaper. Regardless it still sold pretty well, I have no doubt this will aswell but not as much as it would have if it was sold at the RRP put out by MS.

tip - rate us by Microsoft mobile update in store

If they sell this at £60 on prepay tariffs it will do very very well.

I don't like on screen buttons, they seem cheap, and it looks too much like a 630
Windows Central Newsletter
Thank you for signing up to Windows Central. You will receive a verification email shortly.
There was a problem. Please refresh the page and try again.