Get Pixar's classic movie Monsters Inc for free with your Microsoft Account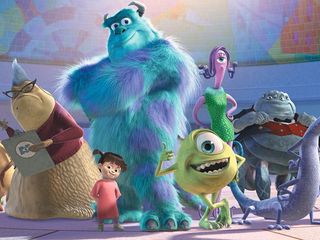 From now until September 7, you can link your Microsoft Account to the Disney Play Anywhere service and get a free copy of Pixar's classic animated movie Monsters Inc.
In case you are unfamiliar with Disney Play Anywhere, it allows people to purchase digital movies from the studio, or redeem codes for those films in DVD or Blu-Ray discs. Those movies can be accessed on many devices and services, including Microsoft's Movies & TV store.
Microsoft's blog (opens in new tab) states that once a person links their Microsoft account with Disney Play Anywhere, they will be able to claim their free digital copy of Monsters Inc from Movies & TV, and play it on any device that supports it, from a Windows 10 laptop to a Windows Phone device to an Xbox One console. The 2001 film about monsters who work to power their city with the screams of little children, is certainly one of the best from Pixer's lineup of movies.
Windows Central Newsletter
Get the best of Windows Central in in your inbox, every day!
Any way to claim this if they're already linked?

Just open the Movies app. It should already be there (at least it was for me).

Re: Bobsentell,
I is there for me too, but this same promotion existed when I linked accounts, maybe one year ago, and I claimed the movie at that time. Graet movie. Best Wishes

That didn't work for me, unfortunately.

It looks like you have to add a new account. I just connected my gmail as well and it worked.

I had to disconnect and then reconnect my account.

I don't like most movies, but this one was fun.

One thing this article fails to mention is that this is US Only

Yeah, and Disney MA appears to be handling it via IP. You'll need a VPN to leverage this.

Used a US VPN, still see a paid version of $3.99.

You need a VPN as this is US Only and filtered by IP address

Any recommendations for a VPN on W10M? Hotspot shield doesn't work for me

Gotta grab it. LO is showing interest in TV already. Thanks for that.

I've yet to see this one so I'm doing this now.

IoIoI On Mobile you can not watch it unless you are on android. No app

You can, through Movies and TV. It states that in the article

Ok, maybe but they forgot to say that it works only in US and that's why I can't see a damn thing

It must be only windows 10 mobile it don't work on Windows 8.1 mobile , works on my Xbox just fine.

They've run this exact promotion before.

The instructions are a little unclear. If I don't have a Disney Play Anywhere account do I have to create one first and then link it to my Microsoft account? The way it reads it seems like I should be able to choose to log into Disney Play Anywhere with my Microsoft account.

All you need to do is log into or create a new Disney Play Anywhere account then link it to your Microsoft Account. Then this movie will show up in Films & TV on Windows 10

If you have trouble, it's the same login as ABC and ESPN

Got it. Need stuff like this with me having children and all. Thanks for the freebie alert.

How do I get it as dvd or blu ray instead? The article said we can redeem code

The article and blog post from Microsoft says: claim their free digital copy . This is a DIGITAL promotion only. Just like music and PC game disk, DVDs and BlueRays are finally slowly dying

I want physical copy to smell the newness

Then you have to buy it :p

Brilliant. Account created using private tunnel and movie redeemed to my account, then disconnected. Thanks for the article!

Sucesss! Thanks to the magic of VPN.
Windows Central Newsletter
Thank you for signing up to Windows Central. You will receive a verification email shortly.
There was a problem. Please refresh the page and try again.