Ghost Recon Breakpoint 7 GB patch fixes a lot of problems
A massive patch just dropped.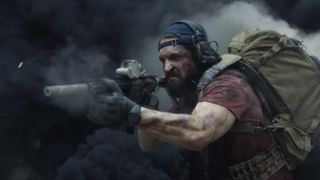 (Image credit: Ubisoft)
What you need to know
Ghost Recon Breakpoint is a third-person military shooter from Ubisoft.
The game was panned by many critics at launch.
In an effort to improve the experience, the team is releasing a lot of patches.
You can purchase Ghost Recon Breakpoint for $50 on Amazon.
Ghost Recon Breakpoint is an open-world third-person military shooter that feels like a direct sequel to Tom Clancy's Ghost Recon Wildlands. Unfortunately, the title has been plagued with a lot of problems since launch, but that hasn't stopped Ubisoft from issuing patches to fix the game.
Today, users on Xbox One and other platforms were greeted to a 7 GB patch which does a lot. You can take a look at the major changes below.
Fixed an issue that caused the drone to stop deploying on some occasions.
Fixed a bug that caused some players to respawn under the map.
Fixed an issue where night-vision goggles blocked the weapon reticle while in third-person view.
Fixed an issue where the Mission Completion tutorial pop-up would display after every loading screen.
Improvements made to the issue where scopes would flicker when players aim down sights.
Sniper weapons no longer one-shot while using the Rolling Thunder perk.
Shooting downed enemies will no longer trigger hit confirmations.
Added a cooldown to the ping system to avoid spamming.
Mission interaction is now prioritized over vehicle interaction.
Players can now do a camera shoulder swap while in cover.
Increased the base stamina by 6 percent.
Increased stamina regeneration speed by 75 percent.
Reduced the stamina consumed when sliding by 50 percent.
Fixed a bug where players could get stuck after using their ability or frags in the Panther class.
Realigned the angle of the panoramic night-vision goggles to align better with the character's eyes.
Improved AI behavior of Carl's driving path in the "A Great Escape" mission.
Fixed an issue where the turrets did not follow the players.
Fixed an issue where the turret cannons did not turn with the player's camera.
Fixed an issue where turrets sometimes became unusable by players after being hacked.
Fixed an issue where enemies would sometimes break cover before reacting to the players.
Fixed an issue where enemies would sometime stop aiming directly at the players if they broke visual contact.
Fixed AI navigation path for enemies in Fen Bog testing zone.
Fixed an issue where sometimes the enemies in helicopters would not detect the players.
Fixed an issue where the Taipan air patrol crew would survive a crash.
Fixed an issue when convoy escort enemies would stop firing at players if they got behind them.
Fixed an issue where Wolves could detect and shoot players through Submarine Bay at the entrance.
Fixed an issue where the NPCs remained stuck after being freed during a mission.
Fixed an issue where enemy patrols would get stuck at a specific location on the Skell foundation campus.
Fixed an issue where NPC remained stuck in vehicle instead of exiting.
Fixed an issue where drone and enemies blocked each other and remained stuck.
Fixed an issue where Hunter drone spawned at inconsistent distances.
Fixed an animation bug where the character sometimes used the adaptive aim animation with no reason.
Fixed character animation when trying to go under a small waterfall.
Added spasm animation when an ally is being revived by medic's drone.
Added a delay to player detection during the healing animation when using the revive drone.
Fixed animation replication bug when teammates were killed while carrying body.
Fixed audio issue where Fury figure sometimes had male voices during interrogation scenes.
Fixed an issue where players couldn't hear outdoor sounds from inside the building in Auroa Data Farm camp.
Fixed an issue where the data transfer sound kept playing when players were interrupted during a hack.
Fixed an audio issue where firing or explosion sounds could not be heard if players were in different environments.
Fixed an issue where players would sometimes get an infinite loading screen when entering a player-card from the Bivouac menu.
Fixed an issue where the character's backpack would sometimes be invisible in the bivouac.
Fixed an issue where players could sometimes get stuck or get killed when breaking camp from bivouac.
Fixed camera stability issue when players stopped to turn while aiming down sights.
Fixed a bug where ammunition was not received after being picked up.
Fixed an issue where sometimes players could not join a session using the in-game lobby if they stayed idle for too long.
Fixed an issue where players would get an "Infitinity-00002" error after a failed host migration.
Fixed an issue where players would remain in infinite loading when leaving a group.
Fixed visual issues in photomode when camera is under water.
Hit damage indicator accuracy improved when taking shots from the front.
Players will no longer join matches in progress, regardless of the round number.
Fixed a rare issue where sometimes Ghost Coins did not appear in the inventory after purchase.
Fixed an issue where some convoys would spawn vertically into the ground.
Fixed an issue where helicopters spawned from Erewhon would sometimes be damaged.
Fixed an issue where thermal vision in binoculars was not working properly at night.
Fixed a bug where players could get stuck behind Maria's shop in Erewhon.
Removed floating objects in Auroa Data Farm.
Fixed an issue that prevented players from accessing the Skell's Last Log collectible.
Removed a hole in the map near White Ridge Bivouac in Mount Hodgson.
Removed a prop structure that was floating in the middle of the ocean.
Fixed an issue where the water animation did not trigger when a helicopter hovered over the water.
Daily cap removed from the Battle Rewards system
The complete list of changes is even bigger than this. You can take a look at it on Ubisoft's forums. Hopefully, these changes will dramatically improve the game. However, when I played it, I still found it to be a compelling experience, much better than Ghost Recon Wildlands.
In Windows Central's review, I wrote, "Ghost Recon Breakpoint is a good game, and one that I didn't expect to like as much as I did. I found Ghost Recon Wildlands to be an incredibly boring experience, and Ghost Recon Breakpoint redeems itself with a better story, voice acting, and gameplay enhancements. There's a lot to do in the game, and if you like to lose yourself in particular worlds for months, rest assured that you'll do so with this title."
A deadly island
A covert ops shooter

Ghost Recon Breakpoint is a military shooter set in a diverse and hostile open world. The game can be played solo or with up to four players.
Main
Get the Windows Central Newsletter
All the latest news, reviews, and guides for Windows and Xbox diehards.
Asher Madan handles gaming news for Windows Central. Before joining Windows Central in 2017, Asher worked for a number of different gaming outlets. He has a background in medical science and is passionate about all forms of entertainment, cooking, and antiquing.