Everything you need to know about Ghost Recon Breakpoint
Take back the island of Auroa.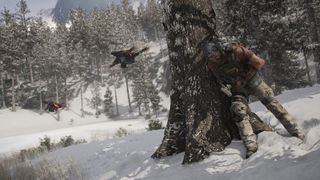 Ghost Recon Breakpoint is a story-driven co-op adventure which also pushes the boundaries of storytelling. The game is designed to push you further than you've ever gone in a Ghost Recon experience. Instead of the usual organization and certainty of your actions, you're being hunted by a powerful enemy and thrown onto the dangerous Pacific island of Auroa — without any backup. Ghost Recon Breakpoint is all about survival and slowly pulling yourself up after a harrowing escape.
A deadly island
A covert operations shooter

Ghost Recon Breakpoint is a military shooter set in a diverse and hostile open world. The game can be played solo or with up to four players. You'll discover Auroa, a mysterious island where the most technically advanced facilities meet untamed nature. It houses the headquarters of Skell Technology, which has fallen into the wrong hands.
Ghost Recon Breakpoint story and setting
Ghost Recon Wildlands dealt with the scourge of drug cartels, but Ghost Recon Breakpoint pits you against Skell Technology and a familiar face. Skell Technology is responsible for creating a world which is essentially policed by drones. Unfortunately, nefarious forces gain access to these devices and wreck havoc across the globe — including carrying out heinous acts like political assassinations. In order to get to the bottom of this, you're sent to Skell Technology's headquarters in the Pacific, but immediately your helicopter is shot down by a swarm of drones. The story begins from there. According to the game's writer and technical adviser Emil Daubon, the team wants you to "eat, sleep, and breathe" this world.
If you still play Ghost Recon Wildlands, you may recognize your new archenemy. Last week, Operation Oracle introduced us to Cole D. Walker. Walker is another operative and you consider him one of your closest friends. It's unclear what causes him to take over Skell Technology, or what he plans to do with the drones at his disposal. Taking on your friend — and his "Wolves" — should provide a powerful narrative. The mystery surrounding his actions is at the heart of the plot. What's even better is that Ubisoft hired The Punisher's Jon Bernthal to provide significant depth to this character.
Ghost Recon Breakpoint choices and realism
Ghost Recon Breakpoint features dialogue options which seem to impact the way certain missions unfold. We were tasked with rescuing a developer from a heavily-guarded complex. Once we reached the target, we were given the choice to either sabotage the drone-manufacturing facility or make a quick getaway. According to the developers, this choice doesn't impact the story as a whole, but allows you to tailor missions to your liking. It's more about expressing your personality than anything else. Are you cautious or do you want to play as Rambo? The choice is yours.
Unlike Ghost Recon Wildlands, Ghost Recon Breakpoint focuses on realism. Not only do you have to recruit and train operatives, but you have to monitor elements like hunger, thirst, visible bodies, terrain angle, quality of intelligence, and much more. For example, let's say that one of your teammates is injured during a mission. Instead of simply "walking it off," you have to rest at a camp and heal. If you don't do that, your teammate will limp during the next mission and their efficacy will be severely impacted. You have to eat, drink, and rest to perform at your best. Lastly, just like Middle-earth: Shadow of War, you'll have to interrogate enemy soldiers to learn more about your targets.
Ghost Recon Breakpoint loot drops
Just like Ghost Recon Wildlands, character customization is back. You'll be able to create the operative of your dreams, or make someone that resembles you in the game. However, in order to stand out, you'll have to acquire loot. Loot can be found throughout the world, and drops from mini-bosses and other challenging foes. You can find everything from boots to weapons as you try to become the most powerful force on the island of Auroa.
The loot drops are quite similar to The Division 2, but the developers didn't want to make the comparison. It seems that they want Ghost Recon Breakpoint to be judged on its own merit. There are five levels of rarity, so you'll spend a lot of time replaying missions to acquire better gear. There are also a ton of weapon attachments accessible through a vendor.
Ghost Recon Breakpoint classes and skills
Ghost Recon Breakpoint features a number of unique classes and skills. For example, you can choose to be an "Assault," "Sharpshooter," or "Panther." Depending on your selection, you'll be required to fulfill a particular role. The Assault specialist will be the person to rely on during an intense firefight. The Sharpshooter will act as a sniper to quickly dispatch foes from afar. Lastly, the Panther will rely on stealth to open certain closed-off areas so that the rest of the team can enter a particular area.
During our demonstration, Ubisoft told us that the Panther had the ability to open fences. This was made possible with the help of a breach kit. That's just one example of the many abilities Ghost Recon Breakpoint will bestow on players. Luckily, the team has promised tremendous post-launch support for the game, and that includes new classes with their own skills and perks.
Ghost Recon Breakpoint requires each player to carry out their role. Due to this, the sequel is a slower-paced game. While there are plenty of action-packed moments involving vehicles and daring escapes, the gameplay revolves around strategic infiltration. You want to scope the area, mark targets with your drones, have a specialist create a discreet opening, and use stealth to take out as many enemies as you can. This requires time and patience.
The game seem to be geared towards four-player co-op, but you can play it on your own. Instead of human players, you'll be given three drones that can fire at enemies and do much more. For example, the infamous "Sync Shot" is back, but you can use your drones to execute three other enemies at the same time if you're playing alone.
Ghost Recon Breakpoint multiplayer and strategy
Unlike the Bolivian jungle, Ghost Recon Breakpoint features a variety of biomes. You'll traverse an expansive open-world environment featuring deserts, mountains, forests, and much more. The color of your armor also plays an important role in the game. While it may not cause you to be spotted during player vs. enemy (PvE) encounters, it'll play a major role in player vs. player (PvP).
At launch, Ghost Recon Breakpoint will feature a PvP mode which pits players against each other. In order to blend into the environment, you'll need to find loot that makes you a part of the world. Let's say that you're fighting other gamers on a snow-covered mountain. Instead of using green or orange gear, you'll probably want to equip white armor. The ability to create multiple loadouts helps to manage it all.
Ghost Recon Breakpoint's PvP also helps you to acquire better gear. Progress is shared across all modes so if you only want to focus on the competitive aspect of the game, you can still earn loot. The developers wanted to make it clear that "no mode is wasted," because you'll always be able to progress further.
Ghost Recon Breakpoint visual upgrades
During our playthrough, we noticed that Ghost Recon Breakpoint is a significant step above its predecessor in two noticeable ways: the gorgeous lighting makes the visuals stand out, and the interiors are wonderfully detailed. The majority of Ghost Recon Wildlands took place outdoors, so there wasn't a need to create sprawling buildings with layers of complexity. Luckily, that's changed with the sequel because everything from factory equipment to scientific equipment enhance immersion.
This console generation is coming to an end, but the developers vowed to support the game no matter what the future brings. Maybe Ghost Recon Breakpoint will receive a patch for "Xbox Anaconda" when the system is available. However, that depends on factors like backward compatibility and so much more. However, we do know that it's going to be Xbox One X Enhanced because the team told us it runs at "upscaled 4K and 30 frames per second on PlayStation 4 Pro and Xbox One X."
Ghost Recon Breakpoint post-launch plans
Ghost Recon Breakpoint will add The Division 2-like "Raids" after the title launches. We saw a preview of these and they look spectacular. It seems like the majority of them will require you to fight massive tank-like drones that look like vehicles out of Batman. There's even one that takes place inside a volcano. Keep in mind that Raids are co-op only missions so you'll need other players to access them.
During the event, Ubisoft promised to support the game for "years to come." This includes special events and story content. The developers have "big ideas for the whole franchise," and Ghost Recon Breakpoint is just the beginning.
Ghost Recon Breakpoint early impressions
Ghost Recon Breakpoint is a covert operations simulator, but what surprised us the most was how much effort has gone into the story. If the team pulls this off, it might just be its defining factor. The story is told to flashbacks, and these should help us understand the relationship between our character and Walker. It may also unravel what happened to Walker — since we met him in Bolivia — that caused him to become a terrorist.
The game launches on October 4, starting at $60. As with any Ubisoft title, there will be a multitude of editions, including a Ubisoft Store exclusive collector's edition which appears to feature Bernthal's character. So far, we only know that the game is launching on Xbox One, PC, and PlayStation 4. It's unclear if it'll be available on Google Stadia (the developers were unable to discuss the platform at the event).
Hopefully the game will come together in a meaningful way. The survival aspect will probably appeal to many gamers, so hopefully it'll allow elements like hunting and scavenging resources to survive. Ubisoft has the ability to create a magical experience, but it has to be a comprehensive experience in order to succeed.
A deadly island
A covert operations shooter

Ghost Recon Breakpoint is a military shooter set in a diverse and hostile open world. The game can be played solo or with up to four players. You'll discover Auroa, a mysterious island where the most technically advanced facilities meet untamed nature. It houses the headquarters of Skell Technology, which has fallen into the wrong hands.
Xbox accessories you'll love
Every one of these quality accessories is guaranteed to enhance your Xbox experience.
PowerA Enhanced Wired Controller for Xbox One ($20 at Amazon)
PowerA's take on the Xbox One controller is an attractive pickup for budget-conscious gamers that nails all the basics.
Talon PDP Xbox media remote ($20 at Amazon)
The Talon PDP Xbox media remote is great for watching shows on your console.
Xbox One S vertical stand ($10 at Amazon)
Stand your console upright with this accessory.
Asher previewed Ghost Recon Breakpoint on PC at an event sponsored by Ubisoft.
Get the Windows Central Newsletter
All the latest news, reviews, and guides for Windows and Xbox diehards.
Asher Madan handles gaming news for Windows Central. Before joining Windows Central in 2017, Asher worked for a number of different gaming outlets. He has a background in medical science and is passionate about all forms of entertainment, cooking, and antiquing.