Middle-earth: Shadow of War is coming to Xbox One and Windows 10 as a Play Anywhere title
In another stunning victory for Xbox Play Anywhere, Microsoft today announced that Shadow of War is heading to Windows 10 Store, Project Scorpio, and Xbox One as a single-purchase title.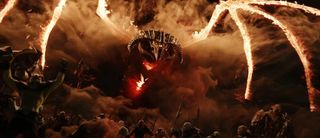 Middle-earth: Shadow of War is the sequel to 2014's spectacular Shadow of Mordor, which followed the exploits of a ranger possessed by an Elf Lord wraith, on an open-world quest for vengeance. Taking gameplay cues from the likes of Assassin's Creed, Shadow of Mordor thoroughly perfected the formula, delivering a faithful Lord of the Rings experience atop some truly unique and addictive gameplay.
Middle-earth: Shadow of War leaked just yesterday via a Target listing, possibly leading to this early announcement. But now we have a trailer and some other juicy details to gush over.
In a statement to the press, David Haddad, President, Warner Bros. Interactive Entertainment, hailed Monolith Productions, saying that Shadow of War will drive the genre forward, and expand on its predecessor's triumphant Nemesis system.
Vice President of Monolith Productions Michael de Plater echoed Haddad's comments, emphasizing the studio's commitment to bringing authenticity to the Middle-earth universe.
The Nemesis system in Shadow of Mordor saw hundreds of procedurally generated orcs locked in a territorial battle for supremacy. Every single orc in Shadow of Mordor had the opportunity to rise through the ranks, eventually morphing into boss fights. In Shadow of War, the Nemesis system will be expanded to include Followers, who will add an entirely new layer of procedurally generated loyalty, betrayal, and revenge, to the previous game's most iconic feature.
Orcs rising through the ranks of Shadow of War's Nemesis system will also gain access to entire fortresses, which will differ based on the strengths and personalities of each individual leader.
Warner Bros says that Middle-earth: Shadow of War will build on the narrative delivered in Shadow of Mordor, creating a more personal and expansive experience where your decisions matter more than ever before. The Target listing pegged August 2017 for the game's launch date, but we'll have to wait and see for official confirmation. Pre-orders will go live "soon."
If you haven't played it already, I can't recommend Middle-earth: Shadow of Mordor enough, as it remains one of this generation's greatest games. It's available fairly cheap on Xbox One, using the link below.
Buy Middle-earth: Shadow of Mordor for Xbox One (opens in new tab)
Jez Corden is the Managing Editor for Windows Central, focusing primarily on all things Xbox and gaming. Jez is known for breaking exclusive news and analysis as relates to the Microsoft ecosystem while being powered by caffeine. Follow on Twitter @JezCorden and listen to his Xbox Two podcast, all about, you guessed it, Xbox!
This was a day one purchase for me, with the addition of play anywhere, I might break my personal rule and pre-order it.

Brilliant. More and more devs are going play anywhere. Making it far better to purchase that games on Xbox Live/Windows 10 than steam or PSN. So happy developers are pursuing this. Wonderful.

It means less spending on physical materials, and chopping away at the no-gain used market. They get to cut out retailers, not lower their prices, and increase profit.

Which is a good trade off in my opinion. I can buy games from home at will, take up no shelf space at home, lately follow me as I upgrade (360 to one) and now play across different devices? Awesome

I disagree, but that's for myself. I don't want to spend an extra $12 to lose the ability to lend, borrow, or resell games. Best Buy's 20% discount continues to win out over the minor convenience of playing on my PC...twice (which is what I got from FH3​). I won't go digital until it's 100% forced or Microsoft learns to pass on the savings of it (and learns how to have a sale that isn't terrible).

Agree with Shadow 024.
I never sale my games and I'm already buying everything digitally (movie, netflix, games, music) avoiding taking unnecessary shelf spaces. It's also easier to access from different devices.

"Better" if you have a PC + XB1 AND you game on both. And for many people (like me) who already game on PC there is almost 0 reason to buy a XB1. So for many people it is just as good (if not better) to buy it on Steam/PS.

reason? 1. instant-on 2. couch play

And they should've. No one really buy same games twice on different platform (especially no cloud synced)

Play anywhere is a nice feature to get!

I'm not on PC so the Play Anywhere option doesn't apply to me unfortunately but I'm very much looking forward to this sequel, original was brilliant, great combat, looked stunning and very decent story, how they are expanding the Nemesis system sounds cool too

No but if you buy a digital Xbox One copy and happen to buy a PC one day you'll already have the game on PC.

Aren't all XB1 games playable on Scorpio?
That's like saying if you buy the game on PS4, you'll be able to play the game on PS4 pro whenever you buy one.

It makes XPA sound even more enticing.

Maybe not on ps5? No official statement yet I suppose?
Def not gonna run on my Alienwares or Surface Pros tho.

Holy crap, that's shockingly cool. Glad to see the universal aspect of the Windows platform is making progress on some level. I didn't think there was any chance that third-party devs would be into giving away extra copies of games. I suppose that is the benefit of taking away reselling and used games to them, though. Lessen per-unit income, but lower costs and increase new sales, and it all works out for them. For now, I will certainly be sticking with the cheaper, physical option. Very few games have the longevity to warrant the permanent licensing of a game at a higher price.

Not many people buy same game twice I suppose. It's either console or steam (digital only), not buying both.

I really hope EA jump on board with the Play Anywhere initiative. They're the only games I buy on both Xbox One and PC, Battlefield that is. Would be awesome to be able to sync my progress and whatnot as well as only spending half the money. Project Cars and DiRT games would be good too.

Yeah, that would be great. But EA has Origin for PC, so I think it's kinda hard for them to do it now.

These Play Anywhere titles have got me considering upgrades some of my aging desktop PCs. Might even upgrade my laptop to one with discrete graphics.

Meanwhile Nintendo won't allow you to install the same game on two switch consoles you own.

Really? Granted, I haven't been following the Switch news much, but seriously??

Why would you have 2 switch consoles. Surely it would be cheaper to just buy a second dock?

or girlfriend? wife? kids?

Seriously? Wow, I need to go dig some news...

**** YES! I just got an xbox! THIS IS PERFECT. THANK U SO MUCH. THIS IS GREAT. OMG IM DYING OF HAPPINESS

Omg XBPA is amazing I'm loving it! I hope Origin and Ubisoft do it though they have their own store platforms on PC. PlayStation needs a PSPA

"PlayStation needs a PSPA"

What? Cross-buy exists for 4-5 years now.

Not gonna run on my Alienwares and Surface Pros. ps, I thought PS cloud sync isn't free and passive?

Maybe I should finally get around to playing my copy of Shadow of Mordor lol

Take my money, I am aroused.

How do these games play? I'm not 20 any more and I have less time to learn complex games. I tried The Witcher 2, based mainly on Jez raving about it, but the options and learning curve was a touch more detailed than I could find the time to learn. I think that The Witcher looked great, but I need games that are more quickly accessible off the bat.

I found the first game hard to get into. Much like the witcher 2. Although the gameplay is very similar to the Arkham series, I found the game hard to follow. Felt like a game you need to spend many consecutive hours on, rather than just a few hours here and there.

Agreed. If you don't regularly play through, you get a bit lost.

One game to rule them all!

Bring Pokémon Go on WM.....
Mostly peoples are waiting...........
Windows Central Newsletter
Thank you for signing up to Windows Central. You will receive a verification email shortly.
There was a problem. Please refresh the page and try again.