GIF Chat arrives at Windows Phone Store, send self-destructing animated GIFs to friends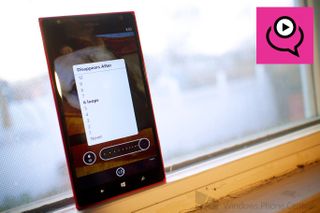 Combine animated GIFs with text messaging in GIF Chat. The app is from Pinger, the creators of the popular free texting and calling app, Textfree. Quickly record videos, add captions and swap them privately with your friends. It's like putting Snapchat and Vine together in one app. The app has been available on Android and iOS, but has just been released for Windows Phone 8.
Head past the break to watch our hands on video and walkthrough.
First time users need to register with a phone number. You also need to have friends using GIF Chat so they can view the GIFs. You can send invitations via SMS or email in the settings page.
Tap the red button to start recording up to 6 seconds. Set the loop speed with the slider at the bottom. Slide left for slow motion or right to go faster. You can set the number of loops on the left side. By default, the animated GIF disappears after 3 loops. You also choose to loop the GIF over and over. Add text and then send it privately to a friend just like a text message.
Unlike 6snap (Snapchat app for Windows Phone), you can't move the position of the image caption. You also can't draw on the GIF.
We're also disappointed that there's no way to tap on a subject to focus before recording. There are only two camera options available. You can change between the front or rear cameras and you can turn on or off the camera light.
GIF Chat is free at the Windows Phone Store, but it is ad-supported. The ads are visible below the conversations. Are you planning to use this app? Let us know in the comments! While you're here, tell us how you pronounce GIF!
Via: Microsoft
Windows Central Newsletter
Get the best of Windows Central in in your inbox, every day!
Hate it when people say it like that....

Did you know the creator says it has to be pronounced like that?

Yes, but I hate it still, despite his intentions... To say its GIF pronounced "jif" is ducking fumb...

Lots of apps seem to be making their way to WP in a short amount of time. I take it as a good sign that our platform of choice is rising up! Keep it coming. :D

Yet another way for our teenagers to send each other completely appropriate secret messages. :)

Cool app might give it a try! :) btw Mark whats your dogs name? He/she is awesome! Tired 24/7 :P

His name is Google! The adoption center gave him that name. Sounded cool, so we didn't change it

Is that pronounced as Joogle? :D

how do you talk to him? "OK google now? :)

Glad to see increased development on the platform... ..but in reality, this should be baked into the OS and function with SMS not in a standalone app

Hopefully the message hub API will be more open in the future to allow something like that to happen, but to say it should be is a bit much imo.

Man it sure would be good to be in high school with stuff like this. I graduated years too early

Mark: "alright...looks like he is a cat owner" Why do I have a feeling that Mark was judging me? lmao

It does match your personality tho.. No judging ;P
Windows Central Newsletter
Thank you for signing up to Windows Central. You will receive a verification email shortly.
There was a problem. Please refresh the page and try again.