Glossy-White Lumia 900 does not ship with latest firmware-fix from Nokia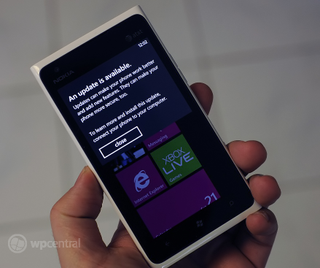 We heard rumblings that the some Lumia 900s are shipping with an earlier firmware than the data-fix one pushed out last Friday. Our Glossy-White Lumia 900 came with a green-dot on the box, meaning it should be "ok" for data usage. But a quick glance of the firmware and we noticed a discrepancy: it was 2175.1000.8112.12082.
That's the old firmware. The one that had a memory issue causing errant data connections with the Lumia 900.
Indeed, when we plugged into our trusty Zune Desktop we were quickly prompted that an update was available. A quick 10 minutes later and we were on the latest firmware with the important data fix on board which is 2175.1002.8112.12084.
So take heed everyone, don't trust the green dot on the box. Double check your firmware and make sure you sync up with Zune to see if there's an update, otherwise you're likely to have problems.
Windows Central Newsletter
Get the best of Windows Central in in your inbox, every day!
Daniel Rubino is the Editor-in-chief of Windows Central, head reviewer, podcast co-host, and analyst. He has been covering Microsoft since 2007 when this site was called WMExperts (and later Windows Phone Central). His interests include Windows, laptops, next-gen computing, and for some reason, watches. Before all this tech stuff, he worked on a Ph.D. in linguistics, watched people sleep (for medical purposes!), and ran the projectors at movie theaters because it was fun.
I guess if they are shipping this unit without the firmware it would seem likely that the stock issues have all been based mostly on demand and not because units have been going back for rework. I did think bearing in mind they had a solution in the wild and and a rebate that also turning them round via rework itself an expensive solution was very unlikely.

Well, to be honest, my lumia 900 in matte black had the green dot, actually two different ones did (my first one had a screwed up front saving camera) so I promptly switched it, but both told me there was an update available. I guess AT&T aren't checking their stock properly.

Ditto with my black 900. Green dot and no update, but now my capacitive buttons trip out.

It has been mentioned in the forum, but when plugged in or running certain apps everything is a long press. Happens 30% of the time when you run something, but in that instance happens 90%.

How did your front camera have a problem? I got my white today. Just one issue. The camera (front) is a tiny bit to the right instead of middle. But no issues. In fact, my front camera was better than the employees, my dad, demo unit, etc.

"Stormtrooper", very nice.

Was a little surprised, but nothing a quick update can't solve.

Maybe the green dot denotes something else.

That's great, it actually says The Stormtrooper!

This update isn't time-consuming. People can update it themselves.

Does it come with the 8107 update that AT&T said it wasn't rolling out to other Windows phones?

The Lumua 900 I saw had 8112 on it.

They all most definitely have that. The update in question is a firmware update that resolves problems specific to the Lumia 900. 8107 and 8112 refer to Operating System builds/updates that apply to all WP's.

Thanks to the both of you :) I suppose that Nokia is selling the phones with the updates. I know that the other AT&T phones won't be getting it, which is upsetting. Maybe a reason to jump ship from Samsung to Nokia? :)

Since I was the one that said it, shouldn't it be "nOOb".........cool guy.

I meet two people on WNM that didn't have computer to update to Mango. So I could see this being a problem for the minority.

Excactly, that's my concern here. Eveyrone who reads this site is pretty much a "pro" but there are lots of new people to this phone and platoform who won't know :-/

I'll chime in here and say that I know of three friends with Windows Phones and not one of them has performed any update since they got them (HD7 at launch). I asked one of them if he had the Mango update and he goes, "Mango? What's that?" Turns out he had no idea how to update. I told him how but he seems uninterested in downloading Zune or even plugging the phone in to the computer.
Another friend says it's "too much work" to update the phone (she's still pre-NoDo, of course). So, you've got people like that :P They're the kind of people who would go around spreading bad word about Windows Phone because they don't update and get stuck with any bugs that might exist at launch.

Isn't the phone supposed to notify users that an update is available? If that system isn't working correctly you shouldn't blame the user. If they get the notification and choose not to update then of course that's their problem. Microsoft releasing the phones without Nodo functionality at launch is no one's fault but their own. In my opinion WP was barely identifiable as a smartphone until Mango. They deserved all the bashing they got, much like they deserve all the praise they're currently getting. If WP8 is good I think people will finally take notice and feel better about making a switch than they do now.

Daniel, I think the green dot simply means that phone is not affected by the connectivity bug. Remember NOT all phones had the bug but they all had the same firmware. I know mine had the green dot and I purposely didn't update immediately but my connection was fine. The update has to appear since it's a newer firmware than the one currently on the phone.

Exactly. Only a small batch of L900s had the connectivity problem, which was the result of a bad/incorrect flash. So all the green dot designates is that the phone was "not" one of the devices affected. The update, which corrected the maligned flash and adds a few minor tweaks, is not required to take full advantage of all the features of the phone.
My bet is the actual number of phones that were affected by this bad flash making it into the wild was probably pretty small, but other issues like having the wrong data plan (not LTE enabled) or using a micro-sim from an iPhone/or cutting down a current sim, caused a lot of the panic and exchanges. Either way, to save face AT&T/Nokia were going to take the phone back no matter what batch it came from. After all, the customer is always right. Right?
Now if all the prefectionists can get past the; vibration buzz, shaking rattle, purple tint, squeezing corner click, and of course the camera, maybe this device can gain some traction and make a difference. Just sayin.

Just picked up a white 900 today and it had the green dot but no update. Got alert about hour after turning phone on..all is well.

ATT should take care of that in the store as part of the purchase and in store setup process. Easy fix and proactive approach.

Yes for sure, but doesn't Zune require you use the same Windows Live account as on the phone? I had problems setting up Zune in the beginning. It turned out to be something to do with my son's Xbox 360, of all things. I still don't understand it or remember what I did to finally get it to work.

While performing the update on a guest PC, the backup only backs up the system files. ...having the "store" perform this task would require them actually knowing what there talking about.

Yeah, ok there smart guy. We wouldn't want any of us idiots in the stores performing this difficult task.

My new Cyan one didn't have the update either - I got it yesterday. The rep who I bought it from said all his stock had the update but I guess not.

I'm think'n the fixed didn't fix the problem and this is why the update has not been pushed further ??? :-S

I still can't start my camera from the lock screen. I have to go into the start screen then hit the camera button. It sucks because that's one of my favorite features on WP.

There's a setting to allow that or not. Did you check?

Well, the white lumia was likely produced at the same time as the others, so just update your phone and be happy with it. Geez! Also, until MS makes a press statement, don't assume the bloggers know what they are talking about: I am still betting the lumia 900 will be upgradable to windows phone 8.
Windows Central Newsletter
Thank you for signing up to Windows Central. You will receive a verification email shortly.
There was a problem. Please refresh the page and try again.