GM: OnStar RemoteLink for Windows Phone might not work with all vehicles, may require user to re-pair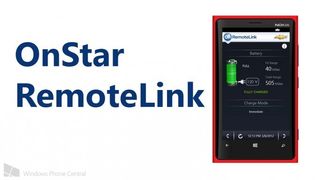 We first reported about an OnStar app for Windows Phone in development back in early April. It took four and a half months, but last week the official OnStar RemoteLink app for Windows Phone hit the Store. The comment section in that article showed a lot of you with Camaros, Silverados, and other cars from General Motors as happy campers. But does it work for all OnStar equipped vehicles?
USA Today has a nice piece on the new app. Once you get past the regular mistakes a traditional news outlet has when talking about Windows Phone (like calling it a Windows phone, which makes me twitch for some reason), you have a nice article on the app and the platform itself. You also learn a few things about the OnStar app, like how it's the first remote telemetry app from an automaker that works on the four primary mobile operating systems – iOS, Android, Blackberry, and Windows Phone.
Unfortunately, you also learn some things about the app that a few of you might not be jazzed about. The app might not work with a few car models that work fine on the iOS or Android version of RemoteLink. This apparently is because GM didn't see the rise of Windows Phone and therefore didn't account for its existence when the auto software was loaded onto vehicles.
How and why this is a technical problem is beyond me, but that's what GM has told USA Today. Problems that may arise include the inability to hold a solid connection and requiring users to re-pair the app on Windows Phone or just plain incapability with the vehicle.
So how was the experience been for those of you with a GM vehicle, required OnStar subscription, and the RemoteLink app for Windows Phone? Feel free to share the model/year of your vehicle and whether or not it works with the Windows Phone version of the app.
Want to grab OnStar RemoteLink for Windows Phone? Get it in the Store, use the QR code below, or swipe to the right in our WPCentral app. It's a free app, but you'll need a car from GM with OnStar to get any use out of it.
Source: USA Today (opens in new tab)
Thanks for the tip Corbin B!
Windows Central Newsletter
Get the best of Windows Central in in your inbox, every day!
This app is slowwwwwww and looks like a direct port of the ios one

I don't understand the UI ports. From my stand point as a developer it seems like that would be harder to accomplish and take more time than just using the native controls.

Or they could've just let VoltLink stay in the store. It did everything this does, and a lot more, and looked like a Windows Phone app.

Works just fine for me. Chevrolet Sonic 2012.

I have 2013 Sonic. Works great.

Windows phone is bad but Windows 8 Phone and Windows Mobile 8 are worse. I've seen both countless times.

In the article about USA today calling it a Windows Phone.

I was thinking about devices not names when i read that, he could have clarified. And calling it Windows phone is not bad, its almost the direction Microsoft is going.

No, keyword is "a" . A Windows Phone

I still don't get it, but fair enough.

In the article about USA today calling it a Windows Phone.

WTH are you talking about?

He responding to commentary in the article.

Yeah, unlike most - I actually read the article (weird & confusing I know). It's in the second paragraph.

I don't get it, are you drinking?

Doesn't work on my 2010 Camaro. The OnStar system in my car is 1 generation older than what they built the app to support.
I've been trying to get a response from someone to let me know if I upgrade the OnStar module will it work with the car / app... no luck so far on that.

Dang that stinks, sorry to hear that. Hope it gets sorted out. It would be crazy if they couldn't upgrade the OnStar system in a car.

I have the same car. Talked to on star and they said possibly in the future

I have a 2010 Camaro as well. OnStar has been saying "possibly in the future" for the last 4 years. I don't anticipate it will ever happen. We just got the early version in our cars and now we're just the bastard children. For us, it's sorta like the folks here that complain they don't get any love for their WP 7.5 phones. Fortunetly for them, its less costly to upgrade a phone than it is a car.

Or put the Parrot CK3100 LCD in your car, works great with Windows Phone 8!

Works fine for me 2013 Camaro

I have 2013 Chevy Cruze and works no problem but sometimes it's very slow. Using NL920 in Toronto.

It works great on my 2012 Equinox... if I'm patient enough. Still, I'm glad they made an app for Windows Phone.

Just installed, works fine on 2013 Cadillac ATS. Its a great first iteration; at least we have an app. I personally would like to see a metrofied interface. Thanks for the heads up!

Awesome! Glad it's working out for you. How do you like the ATS?

Agree on the interface. Would like to see more metro and have the live tile give the status of the car. Doors locked, engine running when remote start is used, and low tire pressure and oil change due. Other than that I am happy to have an app finally. Sending Nav to my ATS before I even get in the car is awesome as well. Just get in the car and go.

Sam- Love my ATS. Distinct styling and very fun to drive. Have mine in performance package and black diamond paint. Add in tinted windows and you have one great looking ride.

Works on '11 Cruze. Is not any slower than ios app.

It works on my 2012 Buick Regal. It's slow initially connecting to the car the first time per session but so was the Android app.

2012 Avalanche... Works, but it sire is SLOW

Works great with my 2012 Chevy Equinox! A little slow, but not bad at all. In fact, used it today to preload directions to a new bakery downtown. Worked like a champ.

I have a Volt and it works pretty good actually. Has all the features I used to use on the iOS app. Its a little slow but still faster than on the iPhone4s when I start them at the same time. I have it text me if I am charging and the electric outlet is removed and it emails me when fully charged.

Works great on my 2013 Chevy Volt as well.

Open the driver's side door, please, Hal.

It doesn't work on my 2008 Malibu

Works fine on my '12 GMC Terrain. Sure isn't the prettiest app. Is just as slow as the android version.

Nice to hear about on star. What about Microsoft Ford Sync?

I agree. I'm considering getting a ford in the next year and I need to know if sync works with WP. I really hope it does since both are MS products.

Ha! Good luck. I have a 2013 Ford Escape with Sync. You'd think Microsoft product + Microsoft product would be a good mix, but it's sketchy at best. Basics like Bluetooth calling work. Using the speech features in WP, you can have incoming text messages read and reply to them using speech, but you can't start a new text through Sync. The phone is not recognized as a media player if you plug it in to the vehicle's USB port. (I'm not even sure if it actually charges... need to do more testing.) Bluetooth audio streaming (music) works... mostly... with some sporadic quirks.
I would say the experience is not up to what I'd expect, although the basic functions do work.

I have a Ford Fusion with WP 8 and it works perfectly. The only issue is that Microsoft Sync only has a client for iPhone, Droid and Blackberry. It is unbelievable to me that they don't have an app for their own device. The phone works great with everything except the app. Would be great to be able to push addresses to the GPS from the app, etc. Bluetooth, music, etc. all work. Time to write an app Microsoft.

Thanks for the replies! I was worried that it had NO functionality as I often struggle to get bluetooth devices to work.

As I understand it, Sync is a Ford Product. Ford owns it but Microsoft was involved and likely written to Fords request. That probably why. You would that that MS would have said "hey, what about WP support!?"

App works fine with my 2013 Cadillac ATS.

I have a 96 F150 and a 69 Impala so need for onstar for me.

Well, understandable. GM's software designers just didn't see WP as a major platform and thus, didn't fully prepare the system for it. I can understand that. Nothing an update can't cure. What really bothers me though is the lack of support from Microsoft's sync. They just couldn't update a Microsoft product to work with another Microsoft product? Do they not see what's wrong with that? Other systems need work too. Hyundai/Kia rigs work well and tie decently into TellMe but the connectivity can be a little shoddy. It'd be nice if carmakers adhered strictly to software standards. They wouldn't have to scramble to support other stuff later on then.

Now we need support for Toyota!

I know an OnStar engineer. Sent this article and the link to the usa today article to him. Can't wait to see what he says about it.

My 2008 Pontiac Solstice is "not a supported vehicle at this time"

Neither is my 06 Hummer H3

2014 GMC Acadia with WP8 onstar app works for me. However, unrelated to this app, the USB port does NOT recognize WP. Only IOS and Android.

Works great in my 2013 Cadillac ATS with my N920. From what I understand 2010 vehicles have an older generation of Onstar that is an issue with all platforms and not just WP8. The earlier Onstar modules installed are simply limited in their capabilities. There was talk about upgrading the modules but being that they need to be heavily integrated into the car systems from the start, it didn't sound promising.

Works great with my 2013 Equinox LT. Like others have said slow to connect or update. Even so I'm glad it's finally available for WP

2013 Chevy Malibu, works great but it is super slow. 30+ seconds to get response from vehicle.
Windows Central Newsletter
Thank you for signing up to Windows Central. You will receive a verification email shortly.
There was a problem. Please refresh the page and try again.