The Gole1 is a tiny 5-inch all-in-one Windows 10 PC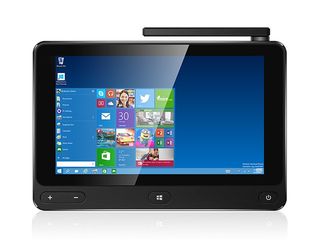 A Chinese company called Gole is currently raising funds on Indiegogo for the Gole1, a small 5-inch all-in-one PC that can run both Windows 10 and Android 5.1. The Gole1 has already exceeded its funding goal and expected to start shipping in July.
The Gole1's display is a touchscreen with a 720x1280 resolution. It also has an Intel Cherry Trail-based Z8300 quad-core processor, and it can come with either 2GB or 4GB of RAM, along with either 32GB or 64GB of storage. There's also the option to buy a 2.5-inch hard drive case that magnetically connects to the Gole1 and allows extend its storage by up to 2TB. As for connections, the Gole1 has three USB 2.0 ports and a USB 3.0 port along with an HDMI port, a microSD card for more storage and an Ethernet port.
The Indiegogo page currently shows that the Gole1 with 2GB of RAM and 32GB of storage is still available for $79. The option with 4GB of RAM and 64GB of storage is also available for $199.
Windows Central Newsletter
Get the best of Windows Central in in your inbox, every day!
5" is too small unless this has cellular radio.

Maybe some people will use this as a smart tv box ?

I would use something like this on my one tv.

I'd go for a Zotac (they have more experience). www.zotac.com

Why is the screen showing RT?

Nevermind -- it's an old Insider build.

I thought that the smallest PC that W10 would support is 7". But GOLE1 beats Kangaroo in value. It could take thunder out of Continuum.

The smallest PC that W10 supports is the "Stick" type ;)

this one has its own display right!!!

Not really. It's not as much as an all-in-1 device as a phone running Continuum, the battery life is going to be abysmal (it supposedly has about 2 hours of life) and the desktop is going to be a pain on a screen that small. It has potential due to the scalable nature of Windows 10 and Universal apps but I think it'll need to go through a few iterations to be a good option.

Why would you say that when basically he's using it in a similar way to continuum by having to flush it up to larger screens with a mouse and keyboard? Also, this will not take phone calls, etc like once cellular device. Posted via Windows Central app for Windows 10!
Proudly rocking my Lumia 1520!

For the price of a Display Dock, you get a mini PC that would run both UWP or non-UWP apps. It works great in living room and hotel rooms where Continuum is supposed to serve.

How can it run full Windows 10 when it's minimum screen size requirement is 7 inches?

They probably meant Windows 10 Mobil Posted via Surface Pro 4 or Microsoft Halo Phone

Please reread the article title Posted from Windows Central for Windows 10

There is no such thing as a screen "size" requirement. It's just a wrongly-labelled "suggestion".
A screen resolution requirement would make sense, but there's no way you could enforce a screen size requirement, nor should MS try envorcing it.


It's a licensing requirement for Google edition

They are only missing GSM

useless with that small screen, would have been better if they just made a better looking Win10M

Might be something worth putting into a car, but that WiFi antenna sticking out is an eyesore.

Exactly. That was my first thought. It may be cool to have working in your car: GPS, Bluetooth, music player, rear cameras, etc. Just a flat-out high speed burn through Baker and Barstow and Berdoo.

Would you want something so complicated and hard to use in the car? What would the point be when their are plenty of 5" mobile devices that would be much better. Posted via the Windows Central App for Android

Why the **** are they using the really old build of windows 10 By your mom

Prolly just an old stock test build screen shot...

So my 1520 is bigger than this thing?

Too small for normal PC use. I had a OQO Model 2 for a while https://en.wikipedia.org/wiki/OQO#OQO_Model_02 A full blown Windows PC(vista but, I was running 7 on it) with a 5" display (with wi-fi and 3g support). After owning it for 2 months, I got rid of it, it was just way too small to be usefull. It was a cool PC for it's day tho...

It comes with HDMI port, so you could use it as a PC on a large monitor.

What is this?? A PC for ants???

This is very similar concept than a HDMI Windows 10 Stick like the Intel Compute Stick with Intel Core M, you need to have external monitor, and mouse and keyboard to be able to get advantage for this.

But windows 10 will run on the band, fridges etc so 7" is not lowest

Edit - OK this has 32GB or 64GB of storage, so what I say below just ignore it. I own a $59 Vulcan Electronics Windows tablet, it has 7" and looks like a big phablet. While I upgraded to Windows 10 from 8.1, I am not able to upgrade to Windows 10586 (1511) November 2015 release, since it only has 16GB of storage and Microsoft removed the ISO utility to put 1511 on a USB stick so now I'm stick with an unsupported Windows 10 version. I'll guess the same goes with this tiny PC. Its cool at first time to get Windows 10 on such a cheap device, until you realize you're not protected against viruses and OS updates.

Next Gen Broxton cancelled what's the point?

Happy with my Teclast X98 Pro tablet that runs Android and W10,

It's very small. But if I can delete android from it to free up some space in it's memory, I'll maybe consider to buy one :D

It's this by the same people who brought us the Pontiac GOOOLE?

The problem with these desktops on smaller devices is the desktop itself. NO WAY should the desktop on screens this small look exactly like the desktop on a PC. It seriously should get a lot closer to what is represented in IOS and Android to make sense. If I am going to be using my hands to navagate, make the desktop that matches how it will be used. This looks about as dopey as having Windows 95 on an apple watch.

I wonder if it would be better in tablet mode.

It would be better but not by enough to matter. Some forms are better suited for MS tablet mode and others simply are not. This is one that's not. I mean a recycle bin? Seriously? On a device this size? And you can forget those icons on the tray on the right. Its just wrong. I hope MS will come around and do something radical and separate tablets from laptops / desktops. This bullheadedness coming out of Redman is losing one of its biggest fans. Me. I'll always keep Windows 10 rocking my desktop but what I want are Windows 10 handhelds that make sense. Even if that means allowing me to boot up my tablet and switch from live tiles to buttons. Are you listening Microsoft? I'll continue to support you but the tablet game is madness.

Use tablet mode. Posted with the Windows Central app for Windows 10 on Lumia 535

I'm broke, so if they are doing a crowdspeaking campaign, I am ready to support!

Come on Kangaroo mini PC, the pressure is on, time for better prices with better specs AND ALWAYS with Windows 10 included.

This needs to be sleeker and have better battery life. They should just have a docking station instead of many little ports. The Surface has been showing them the way but OEMs still seem stubborn. They should show that the UMPC is back and its sexy. But for the price, its good.

"720x1280 resolution" Oh no.

It could do with an OS like W8.1, with big touch regions. I have a problem to use W10 on 8'' touch screen, this will be impossible. You will need a remote desktop or teamviewer to do anything with it.

Most of you appear to be missing the point. Forget the screen (this is just a method the team used to acquire a free full Windows 10 Home license), this is essentially a full PC with a built in UPS (battery). There are many scenarios where this would be killer, considering it is only slightly bigger than a RPi 3 and other similar sized SBC's and with a built in battery. The cost alone is phenominally cheap for what you get. I am extremely excited to see how this project turns out and hope it kicks off something new for those interested in the consumption side of the SBC crowd.

Just a disclaimer, do some read-up about crowdfunding before taking the risk/chance. The tech sites rarely follow up on the campaigns they promote and there's a reason for that. Personally I think the tech sites have a responsibility to stop glorifying crowdfunding.

Some fail and some are just scams.
Windows Central Newsletter
Thank you for signing up to Windows Central. You will receive a verification email shortly.
There was a problem. Please refresh the page and try again.