Google Apps and Services on WP7 [How To]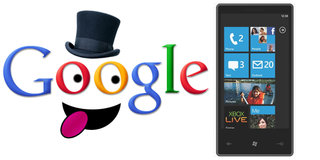 A good number of us are tied within the realm of Google, mainly for documents and emailing, but how can one explore the goodness of Windows Phone 7 when there is such a strong connection with the search engine giant (which makes Android a more feasible choice)?
Justin Willhite, of UK LifeHacker, has published a killer of an article that should help any avid Google fanboy (or post-Android owner) with the conversion process. It should be noted that the solutions provided by Justin (apart from native mail support, of course) do not support push-notification and must be updated/refreshed manually. So, how's it all done?
Of course, the list can be improved upon: For Google Talk, you'll want the only push IM client on the market, which also happens to be free: Flory (see our coverage). And while they give Wonder Reader a nod, we have been using NextGen Reader with great success ourselves.
Of course, the generic calendar user (like me - I rarely classify myself as 'generic' though) only uses the main calendar available on their account so - like I - a single calendar that is present on an exchange account for example is more than enough. As well as this, there are other solutions available in terms of RSS, documentation synchronisation and more, that some WP7-post-Google converts could recommend.
Are you a die-hard Google follower but find Windows Phone 7 an interesting concept? Does the above information help sway your decision to take the plunge?
Source: UK LifeHacker (opens in new tab)
Rich Edmonds is Senior Editor of PC hardware at Windows Central, covering everything related to PC components and NAS. He's been involved in technology for more than a decade and knows a thing or two about the magic inside a PC chassis. You can follow him over on Twitter at @RichEdmonds.
Good article, especially in the days leading up to the release of the HTC Arrive. I'm very strongly considering dumping my Evo for an Arrive, but three things are holding me back: gmail, gtalk (gchat), and google maps (especially latitude). Yes, I'm one of those mythical latitude users, and so are my friends. It's pretty damn convenient for all of us. Google Talk (chat) is probably the think I like the most about Android, though. I've been able to stop using text messages almost entirely now that all of my close friends use Android. It's also an amazingly useful tool because you can chat to friends using gchat on their desktop. I love it.So integrated gmail support is great. As for GChat - based on videos I've seen, Flory is a less-than-ideal gchat solution but I'm willing to make it work. Now all we gotta do is get Google Maps for wp7 and I think I'd switch in a heartbeat. As it stands now... I'm going to wait and see what Sprint has up their sleeves for March 22nd. They may convince me to wait.

All I need right now is Google Map. Bing Map is not good at all in my place now, :(

@veenix: My thoughts exactly. What about Google Maps? The article missed a very important application. Bing doesn't cut it for me.

I would like to make a note that you can actually access the "iphone-optimized" google reader straight through the Windows Phone 7 browser, simply by going to:http://www.google.com/reader/iIt's actually very usable - and speedwise is even better than Wonder Reader IMHO. But definitely doesn't have all the extra features that a actually app can provide.I made a post about it here if you're interested: http://mywpstory.com/2011/01/wp7-tip-viewing-the-iphoneandroid-optimized...

i was a googler, but i just switched to hotmail when i decided to buy wp7. It was a love at first sight.Also, hotmail, in the late 2010, had an email address with my name.surname available, on 2 domains (hotmail, live)! While on google, i was unable to have that, even though i joined during invite period in, what, 2005.Anyway, i just hope they (ms) updated hotmail webmail, this one is very sluggish and slow. I hope html5 fixes this.

HTML5 capable browsers have a BLAZING FAST Hotmail now. It's the stuff!

Is there a way to do video chat via Google Talk? All my friends and family communicate via Google Talk either by text or video chat. This is a big thing keeping me from trying a Windows Phone.
Windows Central Newsletter
Thank you for signing up to Windows Central. You will receive a verification email shortly.
There was a problem. Please refresh the page and try again.