Got a blue screen of death installing Windows 10 Mobile? Here's the fix!
By Richard Devine last updated
During the install process of Windows 10 Mobile build 10149 something bizarre happened to my Lumia 830. Something I've never seen before on any Windows Phone that's come across my desk.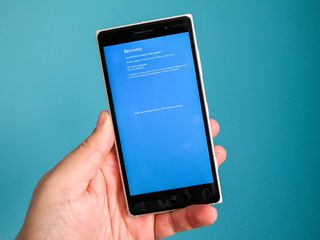 The BSOD (blue screen of death.) Normally a running joke on PCs, the image up top shows what presented itself when the phone tried to reboot and finish the install. Nothing seemed to work. Not the 'recommended' button press, the reset using the physical buttons on the phone, nothing.
But fortunately there's an easy way out, thanks to the Windows Phone Recovery Tool.
Normally you'd be using this to roll back from Windows 10 Mobile to the safety of Windows Phone 8.1. Fortunately, the same steps can be used here to rescue you from blue screen hell. If your phone is in this state it will keep trying to reboot every minute or so, but that doesn't affect the recovery. Follow these steps to the letter and you'll be OK.
Download and install the latest version of the Windows Phone Recovery Tool to your PC.
Launch the recovery tool and connect your phone using a USB cable. It probably won't detect the phone so click My phone was not detected.
In the next screen, click your phone, wait a few seconds, and you'll see your phone information and the software available for download to roll back to a previous operating system. It'll say something about the phone being in UEFI mode. To continue, click Reinstall software.
Next, the recovery tool will warn you to backup all your data, settings, and apps before continuing, as the rolling back process will delete all the previous data in your phone. Click Continue to proceed.
Now, the recovery tool will download the image from Microsoft's servers and restore your phone to Windows Phone 8.1. It'll take a while, but just leave it alone and let it work its magic.
Once it's done your phone will reboot and you'll be back at the very first step in the Windows Phone 8.1 set up process. Complete all this and you'll be back up and running.
Hopefully this isn't too widespread an issue, but if I've seen it there's going to be someone else who has or is going to. Luckily, Microsoft has all the tools to make it go away with minimal effort.
Richard Devine is an Editor at Windows Central. A former Project Manager and long-term tech addict, he joined Mobile Nations in 2011 and has been found on Android Central and iMore as well as Windows Central. Currently you'll find him covering all manner of PC hardware and gaming, and you can follow him on Twitter and Instagram.
Wish I was. Woke up at 3am, rolled over to see if the phone had finished the install and there it was.

They could at least remove the reference to PC

I guess this is one of the bits for Mobile that "isn't finished"

I had this issue with build 10052 on my 1020. It installed great but then I power cycled my phone and was met with the same issue you described in the article. I did ask in the forums but no else had the issue, had to rollback to fix. Did have a laugh at it though as it proved to me MS wasn't lying about "one" OS across all windows platforms ;).

did it work ?? i has the same problem .. if it work what did you do exactlly .. pls answor

That's not a windows mobile 10 problem, I already experienced this on my 1520 with normal WP 8.1. some time ago. Same message, same PC reference. the phone went restarting for times, so I let the batttery drown. Afterwards: normal restart. Did you take out the battery before? I hope so ... but then this maybe won't work here.

Battery is not removable on the 1520 unless you're a tech. He should have held down the power+ the down volume rocker until the phone vibrated and restarted. Even the battery goes too low, this is what you must do to get it back running.

I've seen a similar message on WP8.
Specifically the boot menu asking if I wanted to boot to DOS on my Ativ S phone.

Sounds like a Samsung firmware issue

Nope, same issue here man on 1520. I had to rollback to 8.1 to upgrade. This has been in the phone since the release of Windows Phone 8. Seen it on my 1020 with the first update it got released and seen it again now. I don't know what triggers it but my guess is probably a bad download of the update.

Honestly, I wonder why it's sporadic? I have a1520 currently running 10149 and install the previous build but riled the previous builds back only because it was unstable and never had your issues. I have seen the black screen on the 928 and the HTC M One 8 for windows, but as stated held power+ down volume rocker to reboot and it worked fine.

Why, its all one windows 10 now. PC/Device covers it all

my problem is , my lumia 720 did n't get any blue screen like this but when after the update only lock screen works ,there is no start screen,no notification bars... totally black screen , what i have to do now captain ???

wish there was a way to revover my hipstreet w7 tablet which is bricked and the support doesnt answer me.

Welcm back to w8.1 community again XD

Mine updated successfully. This build is so smooth and responsive as opposed to the previous

i had this problem too.I took my phone to the Nokia Service centre and they re installed wp8.1.Now can I upgrade to W10 again without this problem?Or will it occur again?

BSOD....BSOD....BSOD....BSOD....BSOD....BSOD....BSOD....BSOD....BSOD....- Steve Ballmer.

Your profile picture sums up your comment lol Posted via the Windows Central App for Android

What can i do now
My phone is in UEFI mode
Firmware:unknown
And there is no package for your phone....shows by wprt .....lumia 525

Exactly my situation. We cannot do anything until they release the Windows 10 Mobile ffu.

Haha... this is insane....

How did this land on mobiles now. Hilarious.

Microsoft's unification of devices is definitely working! :P

Build 10149 landed fine on my 1520 and it's running very well. They left out a few things, but I've already sent them to the feedback portal. Hopefully they will release an update for those issues

We got Universal Apps, now we even got Universal BSOD!
Also where is the sad face emoticon? XD

Omg I hope this a bad joke

You are lucky Richard.
Anyway, where is the hands-on video on the new build?

Well I hope you're not expecting it from me. This post kinda explains what happened to my install ;-)

This happened while installing 8.1 to new build or from old to new??

From last weeks build. I don't think that's the issue though, since tons of people updated without issue, like people on our staff.

I was on 10149 when my email disappeared from the app. Since you can't uninstall it, I hard reset my 1020 when the gears never went past ~30%. After several reboots I was met with :-( icon. Used the recovery tool to get back. I just wish the recovery tool kept the image locally after downloading.

same issue here, now the problen is when i connect the phone to recovery tool its not detected. on the next screen it tells me waiting for connection then device not found try rebooting. how did you get past this?

Were you able to install the 10166. Hard reset gives you :-( icon again? I am facing the same issue. WHen i upgrade L830 to 10166, it works perfect. If i hard reset, it gives me :-( icon. Any sugestion?

haha definitely not from you now. But it would be better if some of you can post one ASAP. need to cross check few things.

It's coming. But people need to sleep :) Microsoft flipped the switch at 10pm UK time, 5pm Eastern time where the rest of our staff is based. Add that to other work we have deadlines for that we can't move, the actual time it takes to install, then shoot, edit, upload. People need to sleep at night!

Sorry my bad Richard. For a moment i did not think about the time zone. I will peacefully wait for an update in WC app :)

You're right Richard as my install went off without a hitch, but took about an hour. I can tell you that overall, I'm well pleased and love all the customizations available now. If you happen to read my other post here mentioning the few issues I found and a suggestion, I would appreciate your thoughts on what I suggested back in WP 7 days

Had this around 5times on my Lumia 520.. Once when it hung and when i tried the soft reset, blue screen of death took my phone to hell. WPRT brought it back everytime

You gotta be ****ing kidding me! Blue Screen of Death. Now to be the running joke of phones as well.

Beta software, beta problems.

How is it working on Lumia 520.kindly reply me

Working pretty crappy on my 830, if that helps?

I wonder why its crappy on 830. 730 seems to be fine with the latest build. I have found only following bugs so far: 1. The action centre items sometimes keep blinking (esp. quiet hiur). 2. The people hub again crashes like before. 3. The language pack still cannot be downladed and used. 4. Sometimes swipe down action of notification centre lags. Usually when we used to play games and all, the action centre used to take a pause in between before the full swipe down. Now its seen everywhere. 5. Microsoft Edge fails to display few websites properly, especially facebook. 6. When you click on 'check updates' in store beta, you will end up seeing the entire set of apps you have installed in update queue. I wonder why. 7. Still uninstalling an app from app list wont take it away instantly. Only a restart will remove it from the app list. Now the good things about the build. 1. The new animations are nice, though it looks like iOS animations. 2. The app loading time has reduced and seems much faster. 3. The parallax effect on start screen has returned. 4. There is a decent transtion from start screen to app list swipe action. Seems good so far. 5. The 8.1 update 2 feature to lock devices by double tapping on on-screen navigation bar has entered this build and live. 6. You can see many minor and major tweaks in UI, like font style & size, app icons, volume bar, placement of items in action centre,accent colour for navigation bar ( on screen), dark background for store beta and so on.
7. PDF files can be opened using a dedicated PDF reader app now. 8. New system sounds like in PC/ laptop is audible for system alerts or default tones. 9. The file explorer also has certain tweaks and the folder icons are more polished now. 10. The new video app is called movies &tv and it has new options as well. It detects folders from your photos hub and picks up the videos from there. This is a brief review so far of this latest build (10149) on my Lumia 730 dual sim (India).

That was one great list :D
It must definitely help those wondering whether to install it or not.

And how much space is it occupying in your phone?
PS. Talking about system files!

A good comprehensive review!

"Working crappy" was sarcasm. It was Richard who replied to your comment. You know, the guy who's phone is in the picture and who wrote the article!

I know it was his comment and also i know who he is:) just wanted to post the review as well

This actually makes me feel good about the whole "One OS" stuff. If they worked to bring the BSOD error screen to phones then they could be bringing some kick-ass functionality as well. xD

Lol, made this very same statement when I experienced this on my 1020 on build 10052.

First where is my edit.exe?

Command prompt already exists, as a proper app from Microsoft.

I believe that's MS-DOS Mobile with limited functionalities and commands, not Command Promt.

i only got xp or vista on pc is there a phone restorer can only find one that works on win 7 and above

You're out of luck. Windows 7 or above.

Try the Lumia recovery tool.

How about this. Go get yourself a cheap legit copy of windows 7 and then install it. That way you won't have to buy windows 10 at that expensive price. And the wp recovery tool will work

Ohhh man! Still with xp! U can submit ur name to Guinness book of world record for diehards xp fans.... Lol

Dude, I bet there are countless number of educational institutes and organizations still running XP because upgrading systems is "too expensive" to them.
Also, remember how much $$$ US Navy offered MS for continued support of XP? Same goes for Chinese government.
But seriously, it's time to move on. Using XP only invites you viruses and malware.

Maybe they are using software that won't run on newer windows

Okay, can anyone tell me the version numbers at which the Music and Movies&TV app stand?

Music on newest build is at v3.6.1121.0.
Video is now called 'Movies & TV' and is also at v3.6.1121.0.

I can happily give you my phone so that you can experience it more often. My baby 520 has been with me for 2 years. Had this problem once in W8.1 and few times in W10

This may be one sign of "Uh uh! You are not getting to see this!"

That's not what's known as the Blue Screen of Death, though. That one appears when the kernel needs to shut down while it's running, which is an entirely different problem to missing boot configuration data as in your case.

It's blue and the phone is dead. It's the easiest way to describe it to people.

Lol, agreed. Sometimes the simplest statement is the best statement.

And what about blue screen with sad emoticon?

Had experienced this once, however recovery tool helped :)

Same here when updating to a Preview for Developers build on my Lumia 925. Blue screen with sad face. But the recovery tool worked its magic in no time.

By the way Richard, i also experienced once without the blue screen. It showed sad smiley in black background and then restarts then the installing screen, then again same. Only difference from blue screen of death is that it shows installing setting screen everytime after restart and then sad smiley with black background.

That smiley black face is the beginning of the BSOD

So you're saying it crashed while rendering the error page?

Agree and confirm my initial 10136 to 10149 update worked fine on my 1020, but then after update was finished I did a hardware key Hard Reset (Press & Hold Power + Vol Down, release Power but hold Vol Down until Exclamation mark. Then Vol Up, Vol Down, Power, Vol Down in order) and on fresh re-rebuild of 10149 I then got Cogs going to White Sad Smilie on a black background :-( then reboot loop. Currently going through Recovery Tool process :-/

I have experienced exactly the same issue (in my case on a Lumia 920). Updgraded to 10149, wasn't happy with the way in which it ported settings and applications so went for a hard re-set and now stuck in a recovery loop. I've found the Microsoft Phone Recovery Tool is unable to identify my phone - I wonder if this is because I hadn't previously connected it to my laptop? Anyway, as things stand I'm stuck in a reboot loop that ends with an unhappy smilie. Please tell me you have found a way through this.

Is there a recovery tool that works with rt?

I don't think there is, Not that I know of. Hopefully someone knows. I had to use my dad's desktop PC a few weeks ago.

Universal Windows experience.Hahaha. But I really hope the issue gets sorted out before it becomes a mobile joke too.

m unable to get call logs any solution?anyone facing this problem?

I get the sad face with the black background instead. Will Windows Recovery Tool fix it?

I had experienced sad smiley with blue background, the recovery tool did help

It happened to my 1520. Did the recovery and the rest is history.

Not only a technical preview bug, I had this two weeks ago after I changed the region settings on my Lumia 1520 under windows phone 8.1 it rebooted in the exact screen. Yes the recovery tool worked as described but I lost 3 apps that aren't available anymore and don't get me started on all the settings that get lost.

I used Recovery Tool, too which worked, except all my recent backups we're gone (only the auto backup that 10149 created and several prior to April 2014 are now available to restore, for some reason).- lost all my SMS for the last several years and everything else that doesn't austomatically sync with Outlook.com.

Just updated my L1320 without any problems from 10136 to 10149. And this is no joke: It really seems faster. I like the new opening animations, but I don't like the many restarts due to updates causing overheating.

The recovery tool isn't working for me. It says "Device in UEFI mode" , and Firmware version "unknown". There is no option to "Reinstall". Only says "Package not available for this phone". FML. But if anyone knows how to fix this please help.

There is an option to click on that says phone not responding and it will set you back to 8.1. Then you have to do the whole W10 reinstall process

Same thing 1020 wp8.1 denim

I don't want this to happen to my phone currently installing it. fingers crossed. I can't do this steps since data connection on my phone is broken ..

But but, I always use the Recovery Tool to 8.1 before updating with the Tech Previews. woopededo! :)


Richard, did you use the cable that came with your phone? Or a bog standard cable? Everytime I need to reflash my phone I have to use the cable that came with my 920 (factory cable). Otherwise it fails to flash and bsods my laptop in the process lol...

It is not limited to WP. Apple apparently experiencing the same issue. It is the carriers!!!!! j/k

Glad I didn't run into this issue. After the 'critical update' that hit my phone on ATT last week my 920 has been horribly unstable, so after several attempts to reset/recover my phone I finally figured 'why not try 10' last night with the new build. It is certainly unfinished still... but at least it makes my phone work where it was essentially unusable before. But had I run into this bug I would be pretty discouraged about the future of WP.

What's wrong with the "critical update" that's so unstable and makes your device unusable?

What kind of issues did you get on the 920. My friends 920 called me at 140 AM. The next day she saw a bunch of random photos were taken while it was in wireless charger. It did it again around 1:40 pm the next day on usb connection.

Unfortunately this still doesn't work for me. My phone gets to about 90% of completion for the flashing, then switches itself off. I get the message: "Operation ended with failure" So I still have a dead phone

Serves you right for not having an HTC One.

I have a1520 and it works fine

Ok so they are not lying at all when they said Windows 10 will run across ALL devices. Phew, happy to see this report.

For some reason the recovery tool isn't letting me download the Denim system image for my Lumia 1020 (Australia CV) despite it being available on OTA for months. Anyone else seeing something similar with their phones?

When I downloaded the update on my Lumia 920 it disabled all WiFi capabilities. When trying to turn the WiFi on I get a screen that says "can't do this at the moment" anyone else had that?

I got this as well. The only solution seems to be a hard reset. Which I am not willing to do as I dont want to lose my apps.

I have always dreamt of my phone having BSOD. No, not really.

I bought an 810 for 30$ (as a test device) on eBay and when it arrived, it came with a Black Screen of Death (BlSOD). The only way to bring it back to life was making a death flash using Nokia Care Suite.

Also, I got a BSOD with the sad smiley on it too when updating to 10052

The battery was probably dead, in which case, you should hold the power+ down volume rocker until the phone vibrates

Mine installed just fine and I'm actually loving it with the exception of three things that I've found
1. The phone dialer currently doesn't give you the phone book, search or speed dials.
2. Cortana's Live tile font is offset
3. We don't seem to have pre package backgrounds
Other than that, this build is awesome and I'm riding it out until the final build with this one and providing feedback. I think Microsoft it's starting to get it right. I do however feel they should have a toggle slider for a modern mode and classic mode which puts the start screen in a classic icon style similar to the dreaded Android for those who don't like the grid tiles. I know we have the ability in build 10149 to go borderless live tiles, but some people don't like them and will not know how to adjust the settings. I feel this would draw more people to WP in America because it looks Moore like what they're used to seeing and it adds more customizations. I mentioned this back in WP 7 days.

Is anyone having over heating problem in windows 10 mobile build 10149. My Lumia 625 is hot as hell.

My 1520 was a bit warm during the upgrade process, however afterward when I removed it from the power cord it was fine. I also left it charge while I slept overnight and it's fine; swiping this comment on it now : )

What's windows without the bsod ryt ;)

Wow, they really are using the desktop version of WIndows (or Windows RT at least) on the phone, that's the desktop recovery screen lol

This happened to me except it was a sad face

A little off topic but has anyone had a problem with tech preview disabling charging? Got an 820 with a battery so dead that I can't reset.

Won't install on Lumia Icon. I didn't get the blue screen, just a message saying couldn't install the update. The 8.1 install was untouched so no harm, but annoying when you want to try it out. Although I did say I was going to wait a few releases because the builds have been so bad to date.

My 1020 pooped out. I am trying to use the recovery tool, however my phone continues to restart and the recovery tool is not connecting to my phone. Any suggestions?

Same sh** on WP 8.1
UEFI mode only

On my M8, I didn't get a blue screen, only a lock screen Bing image. But the phone is unusable at all. It needs recovery.

"press the windows key for firmware uefi settings"...

LOL AWESOME! I finally had BSOD error for the dust time since XP on my W10TP install for my computer

Tried using the windows phone recovery tool, but the download will get to the end and it says a server error, disable firewall stuff

Thank you and hope to helped I understanding the info on latest build

WiFi not working in 10149... Any remedy? Please don't tell me to hard reset!

Avoid alpha software? Posted via the Windows Central App for Android

Agree and confirm my initial 8.1 to 10149 update worked fine on my 535, but then after update was finished I did a hardware key Hard Reset (Press & Hold Power + Vol Down, release Power but hold Vol Down until Exclamation mark. Then Vol Up, Vol Down, Power, Vol Down in order) and on fresh re-rebuild of 10149 I then got Cogs going to White Sad Smilie on a black background :-( then reboot loop. Currently going through Recovery Tool process :-/

Same problem here (on a 920). If you find a way through the recovery process please let me know.

On the same boat with L830 and L1520. Let know if found a way out.

I've already had a BSOD on my phone once. But it was with one of the previous builds.

My 1020's in UEFI mode.
WPRT says "phone not supported" after trying to recovery.
WP 8.1 denim

I got the update fine but was showing too many things in list for downloading. Did a reset and it got stuck on the old dreaded spinning gears. After a long while my phone was displaying this ;( Rebooted and it did the same thing. Hope I can reset it when I get home.

The fact that a BSOD even exists on WM10 worries me. I think the first time my phone displays it I'll have the urge to football spike it.

I downloaded the recovery tool, ran it ... it detected my Lumia 1020, but gives me an error after downloading the 1020 file. I have no people tile, no wifi ... and not even the phone tile to get to the touchpad. This is the worst build ever ... :(

I get the blue screen of death on my 1520 and on my 920, I am rolling back to windows 8.1

my phone totally blocked out pls help

Happened to me on my 920 while using go then restarting. Was just on 8.1 at the time. Scary

My dev 920 did that once before any of the recovery tools came out, was a real pain. Used the first Lumia branded one to get it back from being a Rodgers branded phone which was the only image I could find with the right radios at the time. Posted via the Windows Central App for Android

I didn't know Windows phones could get this too.

Is the software available for Mac?

I have the problem on my 520 where is says it is downloading the update but it just sits on 0%. I have even factory reset it and it still is doing it.

I want to restore my htc 8s, is this mobile phone work with this recovery software.

All we need now is a way to switch Secure Boot off and UEFI boot over to CSM or Legacy Boot and then you could install Ubuntu Touch, Any Linux OS or Hackintosh (Macintosh on a non-apple product) to your Nokia Lumia. *evil grin*

I had the same issue on my AT&T Lumia 1520 and used this process to restore. Freaked me out at first but it was easy to get back once I realized I could use Recovery Tool. Still, not a great sign for the beta program when it bricks a phone! Hope this gets attention and a fix soon.

Had same issue Boot loop Thing is with me I have no back up to one drive have voer 40gb of data I desperately want talknig over 3,000 photos and video data from a holiday
Reinstalling reset will erase al lmy data for sure Biu this says it warns you to back up yoru data.. so is there an option to do that, meaning now my phone as been detected via computer.. Surely then so will the folder that contains my pictures.. Cos If I can get it ON andfor it to do that Im in exstacy..
Thers is other programs I COould try one that fixes boot up issues .Cannot remember its name.. Alternatively getting a double ended usb cable to sync 2 of the same phones to see if the worknig one will detect the data folder of the bsod one.. Unlikly if it will not detact my phone via a computer on its own.
Shame asyou can do this with computer hdd with a caddy case etc and plgu via usb to other computer to back up. Doesnt look like i can get m stuff back tho... As said no back up.. any suggestions
Windows Central Newsletter
Get the best of Windows Central in in your inbox, every day!
Thank you for signing up to Windows Central. You will receive a verification email shortly.
There was a problem. Please refresh the page and try again.