Grab the official interactive game program for Super Bowl Sunday!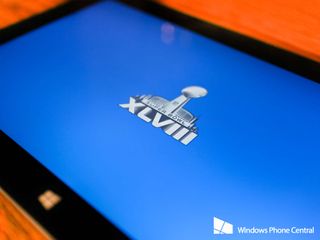 This weekend, the Super Bowl takes place. It's the largest sporting event of the year in the United States. Two teams, the Seattle Seahawks and Denver Broncos, will battle it out on the gridiron for the Vince Lombardi Trophy. If you're a fan of either the Seahawks or Broncos then you need to get this app for Windows 8. It's the Super Bowl XLVIII Interactive Game Program and is pretty freaking awesome. Let's check it out.
The app is pretty stellar for fans of the two teams or for those football fans that want to get a ton of supplemental info about the game this weekend. It's an interactive game program powered by Adobe's Digital Publishing Suite. Download the app and you'll be greeted with a 288-page commemorative program. Here's what you'll get inside the app:
Gallery of images and information about every previous Super Bowl
High-resolution images of every Super Bowl ring
Recap of the 2013 regular season and playoffs
Animated starting lineups for both the offense and defenses of the Denver Broncos and Seattle Seahawks, including sortable rosters
Stadium renderings and current temperature
Real-time feeds for Twitter and Instagram
Following Super Bowl XLVIII the app will have photos, video, and a recap of the Seahawks vs. Broncos matchup
Access to official programs from the past nine Super Bowls
Bonus material, including music from the NFL Films archive
The app goes for $1.99 and is available to download from the Windows Store (opens in new tab). We fired it up on our Surface 2 and haven't encountered any issues yet, although we do wish it was formatted to take up the entire display.
The big game takes place this Sunday, February 2nd, at the MetLife Stadium in New Jersey. Let us know who you think is going to win this Sunday. Seahawks or Broncos? Sound off below!
P.S. Go Hawks!
Windows Central Newsletter
Get the best of Windows Central in your inbox, every day!
Ooh, thought it was for WP8 at first. I'm still on Win 7 myself. Nonetheless: Go Hawks!

You can't say super bowl!

Love these "disposable" apps. Good for one event and done. ""SEAHAWKS!""

I want an app where I can choose what camera I'm looking at. That could even be expanded to custom replays, zoom, and in-game coverage during commercial breaks. The technology is all there, they'd just need the will and money to do it.

One word microsoft fans, Microsoft is in Seattle so you should root for the Seattle Seahawks

Oh brother. Rise up and pick first in the draft.

I can't believe people think this will be a close game. After watching both these teams all season I see a blow out coming. Seahawks 33-10. I just hope the weather is nice so people don't make excuses for Peyton's collapse.

I'm rooting for the Hawks, but I don't think it will be like this. It should be a decent game. I hope you're right tho. :)

I'm placing a bet on Shehawks, but rooting for the Year of the Horse!

Amazing win! Even more dominating than I thought. Go Hawks!!