Groove Music's universal update heads out to everyone on Windows 10 Mobile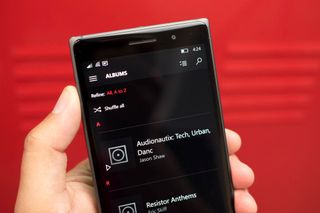 A big update is headed out to Groove Music on Windows 10 Mobile, bringing along a number of improvements and making it a "true" universal app.
As you'll recall, this update was previously only available to Windows Insiders. However, Microsoft engineer Ellen Kilbourne recently announced its move to production ring on Twitter.
The big news with this update is that the app is now truly universal with shared code across Mobile and PC. Of course, there are a number of improvements (opens in new tab) to look forward to as well. Here's a quick recap:
When unplayable tracks appear in Now Playing, we properly gray them out and jump over them without displaying an error
We prevent you from playing unplayable content (for instance, if you are offline and try to play a streaming album we won't try to play it, we'll immediately tell you it can't be played and why)
We added extra telemetry to playback errors so that we can continue to improve the app
We removed the app's dependencies on Xbox Live which means you don't need an Xbox Live account to use Groove (and sign-in is much faster and more reliable)!
It's easier to tell what's happening when Groove is sync'ing your collection for the first time.
You'll see "Unknown Artists" less often in your collection because the app looks at both song artist and album artist metadata.
The process we use to show additional metadata to what's in your local files is 10x faster and gives better results
The app defaults to Explore for search results if you have a Groove Music Pass and you have don't have a limited data plan.
When viewing artists, you can view their work by albums or songs. Try it by selecting "Songs view" when viewing an artist.
Radio stations can be started from albums and songs – the app will start the radio based on the artist.
The app now shows your collection size at the top of the collection views.
On mobile, background art fills the screen so that it's seen under the system icons at the top.
You can use 'Refine' to filter your collection by source (OneDrive, Pass, Purchased, On this device only).
If something gets really out of whack in your collection, you can now choose to 'Reset' your cloud collection.
The 'hotlinks' in Album reviews and Artist bios now work on mobile.
We added a simple lockscreen setting for Continuum. We made lots of styling updates for Continuum too!
If you haven't seen it yet, the update should be available on Windows 10 Mobile relatively soon. Once you grab it, let us know what you think in the comments!
Download Groove Music from the Windows Store (opens in new tab)
Dan Thorp-Lancaster is the Editor in Chief for Windows Central. He began working with Windows Central as a news writer in 2014 and is obsessed with tech of all sorts. You can follow Dan on Twitter @DthorpL and Instagram @heyitsdtl. Got a hot tip? Send it to daniel.thorp-lancaster@futurenet.com.
Good stuff but this is one app I really am not in a hurry to test, cant afford to let some dodgy error mess with my collection.

That is partially why they let the insiders test it out first. We got it a while back and I have been using it pretty extensively with a rather large collection of music and it's been rather great. A few minor crashes here and there, but when it restarts its fast enough for it to be a non-issue. A lot of feedback was sent to MS, so I'd say you should be in good shape Edit: I should mention that using the swipe gesture to open the hamburger menu on mobile does crash the app. Using the actual button to open the menu is fine. Feedback has been reported already, don't have a link handy though

About the Hamburger, the swipe gesture should be a universal functionality for UWP Hamburger menus without a need for developers to make their own implementation. Also, Groove Music swipe gesture used for Hamburger menu feels really poorly implemented and wasn't well thought out. Windows Central app swipe gesture Hamburger menu on the other hand is way better implementation that what MS does. Sent from Turing Machine

Doesnt crash for me, so the repro is not that straight forward.

"We removed the app's dependencies on Xbox Live which means you don't need an Xbox Live account to use Groove (and sign-in is much faster and more reliable)!" Trust me, you'll want to download this update. Especially if you're a groove pass subscriber. The above was one of my biggest complaints and one that I'm voted for on feedback. Thank you Microsoft!

I was expecting an improvement when they released this a while back, but holy crap. It's nearly instantaneous

Do you know now your PC can act like a phone. Windows 10 Mobile preview lets you text from your PC

I'll definitely take a look, but my major issues currently are: I use web groove at work, some songs can't stream via web only phone/desktop I use the phone, some songs can't stream via the phone, only web/desktop. I use the desktop. Can't quickly edit and make playlists via genre. NO AUTOPLAYLISTS!!!

Groove has come a long way but it's still a downgrade from Zune... I still miss Music Videos :(

M$'s way, one step forward 8 steps back Posted via the Windows Central App for Android

I can't take anyone serioulsy that adresses Microsoft as M$

Let it go man Sent from a Windows 10 Mobile device

Why should he? Why should we lower our expectations?

Because he's wasting his time. It's been how long now? I liked Zune too but I know it's gone and will never come back. Life goes on.

Forget Zune I just want auto-generating playlists again, that was most killer feature ever.

I can only vote this up once...

Yeah mæn
-most played
-recently added
-never played
-recently played

I think the sentiment isn't to actually bring back the Zune, but bring back good things from it like features and aesthetic technicalities. Even the Zine client itself is still just comparable in terms of features from WMP, only big difference is Zune have rather more w
'timeless' modern design than WMP obviously outdated look. In my take, I still do wish that they have to look back at Zune when it comes to design and take note. There are many design elements that can be still use to give Groove Music UI a soul and character. Even Zune service feature like Family Sharing is highly requested one. Sent from Turing Machine

Fair enough. But that's what the uservoice/feedback is for. Tell them exactly what features you want implemented from the Zune app. It's not productive telling Microsoft to bring back a now defunct app without being specific about it.

Exactly. MSFT needs customers, who tell them what they like and need.

Funny thing - a month ago Apple discontinued the iPod. Nobody made note of it, nobody said to get over it. It just quietly went off into the sunset. But mention Zune, and we are supposed to let it go. Zune had an oled display, and the Apple people thought it was a horrible display. It had wireless sync, and that was a bad decision. It had social networking built in, and they mocked "squirting." Now the rumor is that iPhone 7 will have OLED. they remove USB ports from the latest Macs because you should be using wireless sync. And how many times has Apple tried social music? Ahh, the good old days. When you could claim that Apple was the epitome of innovation.

My wife still uses the Zune software on her Zune HD. (I can't seem to get her to use groove on her phone) Best looking and working Music subscription software. It'll be a shame when it's shut down.

Although I enjoyed the Zune software, it is really nice not being tethered to a computer. The ability to download directly to my phone was a good reason for me to switch to the phone app.

On my xbox groove is playing videos. The content is there, the feature is missing

Get an Xbox One, lots of music videos. I've asked Ellen earlier about bringing this to the desktop and it's supposedly on their radar. Posted from Windows Central for Windows 10

I don't know if it's the new production build or not but the universal groove is horrible. The now playing section trips.over itself and gets stuck on one song title until it wakes up, it randomly stops playing and if you press the power button consecutive too soon your screen goes black. At least two soft resets a day.

This. The address features are great, but there are so many bugs it's just frustrating.

"App will not mess with your metatags to change a bunch of songs to unknown song, artist, album and genre"? "App will properly display album art"? No?

I never get why album art are always messing up

I totally understand that grove music is a Windows Universal App but I still believe that the majority of us who are stuck on windows 8.1 thanks to Microsoft should get our Xbox music updated to some sort of groove music like app. Android and apple update all their apps to run on new and old hardware why cant Microsoft do the same

Because W10M is a ground up rework to enable cross platform continuity, and bring in the new era of WaaS. Android is still, basically, the same now as it's always been. BUT, if you look into the whole Android OS, many devices have been left hanging, with a heck of a lot being stuck on kitkat. That was when Android transitioned from Dalvik to ART, thus, like Microsoft, leaving devices behind. A lot of apps in play store are becoming OS dependent, again, like MS, leaving devices hanging.

This is a little known fact, thanks for the info. Windows always gets all the crap for things that other OSs do too.


Most of Android's, over a year old, will get left behind. All of Microsoft's Lumia will at least be able to try the new software, if not officially installing it. I believe that's a lot better than what Android and Apple currently do.

believe me you dont' want that. I know how much I miss the good old Music app on windows 8.1 only sour taste I have due to the upgrade to windows 10 is Groove Music. I have triedd three third party music players, but all are 'compromises' for me after getting used to the earlier Music app on 8.1

Oh belive me, you do not want that... Groove is horrible. It will take at least 1 year to get it in presntable shape...

Bullcrap. The latest update is friggin awesome. App went from horrible to, I'd say, the best music player available on windows. Posted from Windows Central for Windows 10

You are delusional. Its nowhere near Winamp for example... No support for last.fm, half the artork and artist pics are missing, simple functions like Shuffle are failing every 3rd time, the UI is also so-so... Nothing to be happy about. I mean it works, sometimes, but thats about it.

Haven't used winamp for ... probably 15 years, so can't say anything about that, but yeah, that used to be my go to player back in the day. As for Groove, since the last update a week or there ago it's been great. Rock solid, as in not a single crash. UI works the way the rest of Win10 does. Shuffle works fine, I use it All the time. Artwork is present for both music pass and locally stored music. Sure, no last.fm but I dont use that service anymore either so.. Posted from Windows Central for Windows 10

The present production build available as preview for non supported phone is pretty stable. You can always try out and revert if you don't like.

I'm still trying to get rid of all the zune songs that infected my library, that I can't play because I didn't renew my subscription to that. No way will I ever do it again. Screw you M$ Posted via the Windows Central App for Android

Sign into Groove web player on a PC. You should be able to filter your library and get rid of the unplayable songs. Unfortunately I own a 830 and I don't know how the Android app works so I can't properly help.

Can't wait for this update!

Album arts are still not HD.

Off subject, but can we get a damn refresh button on this app, already???. Lol. ~~~~~~~~~~~~~~~~~~~~~~~~~~~~~
ROJO > ARLINGTON, TX > LUMIA 1520 ≥ 950... WAITING FOR 6.2" SURFACE PHONE

After this update, some glitches in the transitions are happening. Is anybody else having this problem? By the way, there is an Continumm option, even though I use a Lumia 640 XL. :|

Continuum requires new, higher end hardware. Only the certain Qualcomm Snapdragon 800 and 600 processors can run Continuum. Posted from Windows Central for Windows 10

MY friend, we don't even have usb otg for 640 xl stop dreaming continuum Posted from Windows Central for Windows 10

Not available for me yet.

I want an update for Android... The Groove music app there still is awful. It can't come soon enough. Posted via the Windows Central App for Android

x10000 the app on Android is terrible. Posted via the Windows Central App for Android

This is the first time I've seen MS prioritize the app development for windows instead of iOS or android so let's keep it that way a bit longer. Posted via the Windows Central App for Android

I'm not actually sure if this supposed to be good or bad. Though its great that they do care about their own platform, but its not good either to abandoned others which just contributes to unpopularity of Groove brand on W10M users. Sent from Turing Machine

Yeah, this is a music service with a subscription, so neglecting the largest app market seems pretty stupid. I'd guess there are as many or more Groove users on Android as there are on W10M.

I just realized that app update notifications are back!! :D Sent from my more personal computer

After I loaded my collection to OneDrive, I am no longer able to play a bunch of songs in Groove - "removed at the request of the copyright holder" - anyone else seeing this?

I have seen it. I don't get it.

I haven't seen it in the store yet :\

i have it. but still it does not show albums art properly and some artist art shows but not all.

Same here, it still needs some pollishing...

My Beatles collection does not show album art. The FREAKIN BEATLES!

Useless. Most of my music is still "Unknown artist". They cannot get it right. Such a big and wealthy company.

If this doesn't fix the streaming over Bluetooth issue I'm going to scream... Nothing like having you music skip on your way to and from work every day!!!!

Issues I am still waiting for them to sort out: No Artist/Background Art on the lockscreen No Animated Artist/Background Art w/Text Overlay (Zune) No option to disable screen lock while music is playing Artist/Background Art is being displayed (Zune) No option to disable screen lock while plugged in (Zune) No "Play Next" option when adding songs to queue No way to manually set play order of songs already queued Recent Plays tracks albums but not songs and only tracks albums you own (discovery) No way to rank/rate songs or log songs you've ranked/rated (discovery) No clear vision. All improvements are math and code, bland with little to no style. All that said, the update does show a definite improvement over past releases. If Microsoft could just seriously address the items I listed above, I'd have greater ability to get involved with my music and less time to notice what is missing.

The "Share" option has been removed. It didn't work previously though. Posted from Windows Central for Windows 10

Is this Universal update available on XBOX as well? Posted from Windows Central for Windows 10

Recently added?? You were supposed to be the best software company in the world. Right?

Fix the shuffling first. Shuffling follows a well defined pattern in Groove, violating the true meaning of shuffling.

I was never happy with groove music and was forced to use it as it became the default app once I upgraded to windows 10 on my Lumia 640XL. I received this update last night, and am extremely pissed off at the moment. My phone has nearly 2000 songs. It is my only music player. even at home I connect it to my bluetooth speakers only. The problem is that it takes a lot of time and effort for me to build playlists. With this update, it has erased all my existing playlists. There is an option of copying playlists from my PC, BUT I DO NOT LISTEN SONGS FROM MY PC! Groove was designed for PCs and MS has simply made it 'compatible' with phones without worrying about how people use it on the phone. I think I am done with Groove for now.

Umm..Is using insider builds and complaing about data loss justified? Or have you received the official update to Windows 10 Mobile?

Does it take some time to populate the lists for you guys?

Does that means i can sign in to groove music from india and play my one drive songs? (
Groove music pass is not available in india) Posted via the Windows Central App for Android

try and see ask yourself if it works cool if not who knows.

My Lumia 925 wont even get W10M :"(

You can still get it with insider app u get th2/10586.218 etc not Redstone

I am happy with it. Works well. Plus todays OS update. I'm happy. Now fix the gadget app...Ill be all set for music listening.

Geez.. The whining in here is suffocating!!

It's impossible to sign in to Groove in Poland, so most of these new features are pretty useless. Also, no Cortana and text-to-speech. Yeah, Windows 100/100.

Great to see that Groove is continuously updated. Still miss the ability to listen to CD's and to rip them. Yes, I'm an old fart. But needing another program ("APP") to listen to CD's and to rip them into the collection is really hilarious, even today, in a declining but still huge CD market.

I was one of those people who complained all the time about how Zune is better and how xbox and groove were nothing compared to it. Well, I've changed my mind (xbox music still sucks though) Groove just works better for me! All of my music is local and I always take care of the metadata in a tag editor before I import into Groove so everything shows up perfectly fine.. Sure, there's a kink here and there, the shuffle isn't very diverse and it crashed on me maybe three or four times, but I expect that to be fixed soon. And I do mean that, they seem to actually be putting effort into Groove, fixing what people complain about, maybe not all at the same time, but they're getting there. Posted via the WC App for W10M on Lumia 730

"The big news with this update is that the app is now truly universal with shared code across Mobile and PC. " If the App is Universal, shouldn't most functions be the same and the update go out for both Mobile and PC, btw?

Is there any way to sort albums of the same artist by name? They are not in order and I can't find a way to sort them manually...

Was expecting this to be a major update with most issues resolved but honestly not much has changed. The app still crashes A LOT and unintuitive as hell. Also, album art display quality on the now playing screen is still horrible. Artist art still only shows up for a handful of artists.

As soon as there is Equaliser support, I shall leave winamp and run this as I have been waiting for some time for them to fix this, plus I don't want a third party fix

Still have Bluetooth streaming issues, this is ridiculous that I pay for a service that I cannot use unless I plug in wires... Posted from Windows Central for Windows 10

Is this because you use wireless headphones?

Yes, I use a Bluetooth headset so I can walk around and leave my phone on the charger, that and with gadgets I have ot set to auto open grove when it connects so I do not have to fiddle with my phone. Same with my car, it's easier to have it connect automatically so I do not have to fiddle with my phone.

The Bluetooth streaming issue I'm having is that if I try to skip a song, I get an error saying "my collection is being controlled by another app & I must close that app to continue". Totally frustrating. Not sure if this is a Groove issue or latest WM10 update issue as I'm also having Cortana Bluetooth issues

Not mentioned in patch notes, but onscreen playback controls have been pushed all the way to the left for some dumb reason.

I feel I've let down by the while experience over the last year. And I paid for it in a lump sum Sent from Lumia 950

Haven't gotten any update yet.

Can't sign in from India : (

Haven't used the app in a few months. But still no last.fm support I guess?

Great app to play music but as far as syncing goes its still a hassle. I have a 10+ year old mp3 collection and for me the easiest way to get my playlists on is still using the old windows phone companion app that works in conjunction with iTunes. I treat my phone like an iPod and would rather not depend on a data connection to stream my music collection. Its less battery intensive this way.

Does anyone have this problem where some album covers aren't displayed?
Windows Central Newsletter
Get the best of Windows Central in in your inbox, every day!
Thank you for signing up to Windows Central. You will receive a verification email shortly.
There was a problem. Please refresh the page and try again.