H.264/AVC support for RTC added to Microsoft Edge in latest Windows 10 preview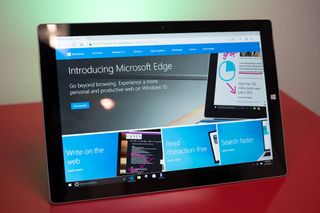 The latest Windows 10 PC preview build 14352 has added H.264/AVC support to the real-time communications (RTC) stack in the Microsoft Edge web browser.
Microsoft previously announced it would add support for H.264/AVC for Edge's RTC features. In a blog post today, it stated:
The blog added that Edge's RTC features will be expanded in the coming months, including support for the WebRTC 1.0 API.
Windows Central Newsletter
Get the best of Windows Central in in your inbox, every day!
What I want from Microsoft is to remove DRM in H.264 movies purchased in the Movies & TV apps, so I can store my movie on an external Drive and watch it on many devices. I think this could increase popularity on their movie & TV shows service since I stopped purchasing movies on this platform when I found they were protected by DRM

Why? I put movies on my nas allways...

I'm guessing this is not entirely MS' decision. I know iTunes has allowed this with music videos. Do other services allow this for movies or TV?

The licensing companies would never allow it

It's DRM protected, because it helps reduce piracy. So I understand it. Posted with the Windows Central app for Windows 10 on HP 250 G1 notebook. It is a scary old monster, I think :D

DRM doesn't even prevent piracy. It's all about control, reducing the freedom of people to enjoy what they pay good money for.

"because it helps reduce piracy" No, it doesn't reduce jack. It only inconveniences legitimate users.

Thats why you can host it via PC

Indeed. The improvement in efficiency is impressive.

Nice update. But extensions support for mobile version would be best update ever.
Windows Central Newsletter
Thank you for signing up to Windows Central. You will receive a verification email shortly.
There was a problem. Please refresh the page and try again.