Halo Infinite: 343 Industries details music and sound effects in new update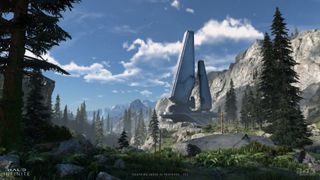 (Image credit: Xbox Game Studios)
What you need to know
343 Industries has released a new "Inside Infinite" article that gives fans a deep look (and listen) into Halo Infinite's audio.
The principles guiding Halo Infinite's audio team include "recapturing the legacy essence of Halo" and "strengthening the impact and excitement of Halo's combat."
The team is also focusing on themes of hope and heroism for the music, while also focusing on ancient mystery/sci-fi and honor and a sense of duty as influences. Also, it was revealed that there will be between 3-4 written hours of music in the soundtrack.
Several sound effect samples were included in the post, and the audio team explained that an overarching goal for the sound design of Halo Infinite is to make sure that everything sounds clean and distinct so that the soundscape doesn't become too cluttered.
The next Inside Infinite blog post will be released in April, and it's expected that it will focus on the PC-specific features that Halo Infinite will have.
Halo Infinite developer 343 Industries has officially posted March's "Inside Infinite" article that gives fans an incredibly detailed look at what they can expect from the game. Specifically, this post discusses Halo Infinite's audio and sound effects at great length, and even provides some awesome audio samples for fans to listen to as well. As a 343 developer stated, this Inside Infinite post is the nerdiest one yet, but don't worry — we've broken all of the juicy information down below.
According to Sotaro Tojima of the audio team, the overarching goal with Halo Infinite's audio and music is to make soundtracks and sound effects that capture the legacy of Halo while also making the combat experience in-game feel more impactful and exciting. "We received a variety of great feedback and suggestions, but the highest-level takeaways for us, and our key goals for Halo Infinite, are 're-capturing the legacy essence of Halo' and 'strengthening the excitement and impact of Halo's combat,'" Tojima said. "With those primary goals established, our team has been passionately working to deliver on our vision as our partner teams around the studio have been bringing Halo Infinite to life."
From the musical side of things, this means that making the score sound hopeful and heroic like classic Halo scores, while also tapping into the mysteriousness of Zeta Halo. "For me, from a Campaign music perspective, it's all about capturing brighter themes like 'hope' and 'believe' while embracing the mystery and beauty of Zeta Halo," Tojima said. "I love the scores for Halo 4 and 5 where we tried to incorporate story very carefully but as a result, tonally it wasn't as hopeful as prior Halo games. The original games also had dark elements in their stories, but the music largely focused on the brighter side, which worked very well." Other themes that informed the soundtrack include "ancient mystery/sci-fi" and "military/honor/sense of duty," according to Music Supervisor Joel Yarger.
As far as sound effects like the ones made by firing weapons go, the audio team has chosen to focus on making sure that each sound is distinct and clean, rather than making things unnecessarily complicated. Not only does this ensure that everything is clearly comprehensible to the player, but it also makes sure that moments that are supposed to feel powerful are so. "By not designing every sound to be over the top it allows us to create bigger moments and have a more impactful experience for the things that should be loud and in your face," said Kyle Fraser, Lead Sound Designer for Halo Infinite. There are several audio examples embedded in the article that illustrate this point, including the sound of the Halo Infinite Battle Rifle, the ambient sounds of a Forerunner interior, and the sound of a new Banished weapon called the Skewer.
Some other details from the post include a confirmation that Halo Infinite will support virtual surround sound technologies like Dolby Atmos, the addition of a custom acoustic simulation system that dictates how sound travels throughout the environment, and an audio threat detection system that makes weapons being directly fired at you louder. 343 Industries even smashed a piano as part of the process of making the game's sounds, which is...interesting. Check out the full blog post for all the details.
What do you think of all the info 343 Industries shared with the community in this update? Let us know. According to the previous Inside Infinite article, next month's post will focus on the PC version of the game and the PC-specific features it will have, so if you're planning on enjoying the next Halo adventure on that platform, make sure you don't miss it.
Halo Infinite is expected to launch in Fall 2021 (potentially in late November according to a voice actor) on the Xbox Series X, Xbox Series S, Xbox One consoles, and Windows 10 PCs. The game's price is likely going to be $60, although it's important to highlight that the multiplayer will be free to play and will run at 120 FPS on Xbox Series X and Series S. Also, we highly recommend checking out the Master Chief Collection while you wait for Halo Infinite, as it bundles all of the pre-Xbox One Halo shooters together for an excellent price. This makes it one of the best Xbox One shooters available, and a game that you definitely shouldn't miss out on.
The next adventure in the saga
A new Great Journey awaits

Halo Infinite is sure to be an incredible game filled with wonder, adventure, and more. We just can't be sure when we'll be seeing it all.
Finish the Fight
Halo: The Master Chief Collection
Experience the entirety of Halo history

The Master Chief Collection is a collection of every Halo shooter from the pre-Xbox One era, offering incredible value at an incredible price.
Get the Windows Central Newsletter
All the latest news, reviews, and guides for Windows and Xbox diehards.
Brendan Lowry is a Windows Central writer and Oakland University graduate with a burning passion for video games, of which he's been an avid fan since childhood. You'll find him doing reviews, editorials, and general coverage on everything Xbox and PC. Follow him on Twitter.