Halo Infinite co-op: How to play the campaign
Co-op play is coming very soon.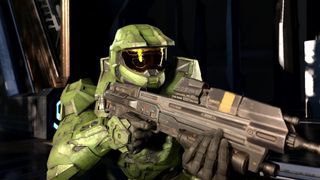 (Image credit: Xbox Game Studios)
Halo Infinite sets players loose in across both the largest Halo campaign and multiplayer with Arena and Big Team Battle. While Halo Infinite's campaign is available and was well received critically, co-op play was not included at the game's launch. The feature, a staple of past mainline Halo games, hasn't been scrapped entirely. Instead, it was delayed to allow developer 343 Industries to polish other elements of the singleplayer campaign.
We're keeping track of everything announced for Halo Infinite's campaign co-op so far, including the player count, split-screen support, and any unique features and when the release date is set.
Halo Infinite co-op campaign: Player count and split-screen
Right now, we don't know how many players will be able to enjoy Halo Infinite co-op together. Halo games have varied in the past, though every game except Halo 5: Guardians supported some kind of split-screen play, as the feature aided the games in being see as some of the best Xbox games available.
Halo: Combat Evolved, Halo 2, Halo 3: ODST, and Halo 4 support 2-player co-op, including split-screen. Halo 3 and Halo: Reach support 4-player co-op, though only up to two players can play in split-screen, with the others joining through system link or online. Halo 5: Guardians supports 4-player co-op, but no split-screen at all.
Split-screen play in Halo Infinite actually varies depending on your chosen platform, as the processing power provided by the newer consoles means more players, but not in every mode. On the last-generation Xbox One and Xbox One X, Halo Infinite supports two-player co-op in Arena and Big Team Battle. On Xbox Series X and Xbox Series S, up to four players can play split-screen in Arena, while Big Team Battle is still capped at two players.
Split-screen play is not currently supported on PC, but the feature is coming in a post-launch update according to 343 Industries. Halo Infinite will support co-op play between Xbox consoles and PC, as Halo Infinite supports full cross-play and cross-progression, like many other modern Xbox Game Studios titles.
Halo Infinite co-op campaign: Release date
Right now, there isn't an exact confirmed release date for the Halo Infinite campaign. 343 Industries has shared that the current target month for network co-op is August 2022, as part of Halo Infinite's current roadmap. Meanwhile, split-screen co-op was moved to Season 3, which is set to begin on Nov. 8, 2022.
Prior to the launch of the single-player campaign, head of creative Joseph Staten said the team was aiming to launch the co-op campaign around the launch of multiplayer Season 2. Season 1 of the multiplayer is currently slated to end on May 2, 2022, so it was safe to assume May 2022 is when the co-op campaign would arrive. This date was later bumped, with the team at 343 Industries sharing that co-op campaign would still arrive during Season 2, but not at the start.
We'll keep you posted with further updates as 343 Industries shares more information on the co-op campaign.
Fight the Banished
(opens in new tab)
A new Great Journey awaits

Halo Infinite's campaign has a great story, incredible gameplay, and breathtaking presentation. It's everything a Halo fan could want, and we can't recommend it enough.
Samuel Tolbert is a freelance writer covering gaming news, previews, reviews, interviews and different aspects of the gaming industry, specifically focusing on Xbox and PC gaming on Windows Central. You can find him on Twitter @SamuelTolbert.
not to be a pain you have a typo on the date list may 2021

By the time I'm done playing campaign, I highly doubt I'll play it again in May

This, there'll be a whole bunch of other games taking my time by then.

Yeah, it one would hope they bundle it with at least some new achievements to make someone have a reason to go back. I would rather not have to wait for DLC.

To clarify a possible mistake, Halo 3 ODST and Halo 4 also have 4 player co-op online, just like Halo Reach and Halo 3. CE and Halo 2 are currently the only two Halo games, besides Infinite with none, that have co-op of less than 4. Might want to revise that part of the article

I guess we missed the first step.... Wait. And then of course wait and wait some more.

On the roadmap, we can see 4 Master Chiefs on a ride. So hopefully it suggests 4-players coop. Would be nice to get some form of customisation for each player and not just John clones

Halo Infinite is dead to me.
343 has been a failure across 3 games now. Its time to close the studio ( leave small staff for updates & fixes ) and admit this reality. The Next Halo Should be given to 1 of the CoD devs, or maybe Id software.
There's no way for such an important franchise as Halo that 3 failures in a row and should be tolerated or excused.

I didn't know that a game with a 87 Metacritic score is considered a failure. Such extremely high standards you have. The campagin was great, sure it is missing a vital component. To me, that just means they should have delayed it again. That doesn't mean it is a bad game by any means.
Windows Central Newsletter
Thank you for signing up to Windows Central. You will receive a verification email shortly.
There was a problem. Please refresh the page and try again.