Halo: The Master Chief Collection PC team talks cross-play, Xbox Play Anywhere
While Halo: The Master Chief Collection for PC is fast-approaching, 343 Industries remains tight on its cross-platform plans.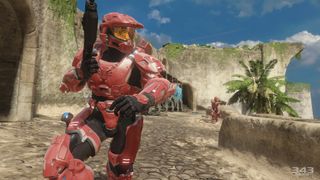 (Image credit: Microsoft)
Earlier this month Microsoft revealed a PC release of Halo: The Master Chief Collection, shifting its six-piece compilation away from Xbox One after five years. With the iconic first-person shooter a long-established exclusive of home consoles, Halo: MCC on PC births new potential for the series, kicking off with Halo: Reach.
Details on Halo: The Master Chief Collection's PC release remain scarce, with developer 343 Industries yet to commit beyond a debut "later this year." Work remains underway on porting the series, with the new Halo Insider Program aiming to ease the transition with community support. However, the studio is starting to discuss key features; namely cross-play and Xbox Play Anywhere support.
Speaking during the Halo Championship Series (HCS) Invitational, 343 Industries members provided insight into ongoing work on the project. According to Halo Community Director, Brian Jarrard, cross-play remains a topic the team "wants" to make happen; but is focusing on releasing its PC versions "the right way." It indicates that while open to the concept, cross-play isn't in development for launch day.
Further expanding, Bonnie Ross, studio head at 343 Industries, detailed its current plans surrounding Xbox Play Anywhere. While stating the title predates Microsoft's cross-purchasing initiative between Xbox One and Windows 10, the team is exploring "appreciation and recognition" for existing fans.
While a vague response, Ross hasn't ruled out Xbox Play Anywhere functionality, still promising rewards for existing owners. The team isn't committing – but is clearly aware of community demand.
Halo: The Master Chief Collection is set for its PC debut in 2019, with the Halo Insider Program promising early access in coming months. If you can't wait, there's no better time to pick up its Xbox One counterpart.
All-in-one
(opens in new tab)
Halo: The Master Chief Collection
Master Chief returns better than ever.

Halo: The Master Chief Collection bundles together the best of Microsoft's shooter. With the campaign and multiplayer onboard, it's the essential package for any Halo fan.
Matt Brown is Windows Central's Senior Editor, Xbox & PC, at Future. Following over seven years of professional consumer technology and gaming coverage, he's focused on the world of Microsoft's gaming efforts. You can follow him on Twitter @mattjbrown.
> shipped before the XPA Play Anywhere [program]
The project started with older API, and it's a huge multi-title project... it'll be a uphill battle tho.

I'd like to co-op all the Halo games on my Xbox one with my PC friend

Maybe xCloud or xvc can help...

It could be headed that way. But that makes sense for games that AREN'T available natively for PC. Isn't it a bit weird to have to use a streamed/emulated version of a game that's already in the store for PC? What makes sense is to get the game working right. And to be free for subscribers as the console version, otherwise MS is punishing people for not having an Xbox, period.

The way this saga is handled will be a big make or break point for Microsoft. If they do listen to users and give them everything they want (where possible) they'll be rewarded with a lot of praise. If they stuff it up people are going to be pretty disappointed. Allowing multiple store purchases is a massive step in the right direction.

They're screwing it up then. I can tell you this, as much as I'm eager to play the HAlo games for the first time, I'm not going to spend a single cent in them. I can keep living without playing them just fine. It's basically insane that a FIRST PARTY EXCLUSIVE game that it's available already for Xbox Game Pass for the console doesn't become instantly a FREE game pass title for PC when it comes to the store for PC. It's simply inexcusable. Already kinda happened with Sunset Overdrive. But that one it's from some other studio, etc. This is HALO!

Yeah they don't own Sunset overdrive so they cannot do what they want with it. But yes, they can do whatever they want with Halo.

But then they won't make extra money.

If this title isn't Play Anywhere, then I don't know who would opt in to get the game on the Windows Store over Steam. I certainly won't reward Microsoft by buying the game again on the Windows Store.

It's already confirmed to be Game Pass so anyone who uses Game Pass will use the Microsoft Store.

Yeah I'm thinking the same. If its on GamePass then it would make absolutely no sense for it to NOT be XPA

"And while MCC shipped before the XPA Play Anywhere [program]…" I support 343i and like Bonnie Ross, but let's label obfuscation for what it is. XBPA is a cross-buy, licensing program. It does not require that a game support cross-play. There is absolutely no reason that the stated fact should prohibit Halo: MCC on PC from supporting XBPA. It's purely a business decision. As an aside, I am hopeful that they do this, of course, be we should recognize that bringing this entire collection to PC, presumably with full mouse+KB support, is a costly R&D endeavor for console games that were never designed to be played this way. I understand why Microsoft would want to recoup some of this investment through repeat sales, especially given that the industry at large has not embraced XBPA. But they will have to carefully weigh this cost vs. the value of lost goodwill. Time will tell.

I tell you, their goodwill account is pretty empty by now regarding Play Anywhere. They're looking for excuses not to make it PA-XGP. And this screws us few PC Game Pass subscribers YET AGAIN. If KB+M controls are an issue it's fine by me, I play with a controller anyway, and I don't see why they shouldn't just release the games like that. People are going to make a shitstorm about anything Microsoft does anyway, at least make those of us who PAY them happy. I'm amazed at how incompetent Microsoft are being with their whole game thing (Xbox aside). It's like they don't care, and don't even live up to their own promises.

No, it doesn't screw Game Pass subscribers because Game Pass isn't for PC. If you're subscribing to Game Pass for the PC games, then that's your own fault. You only get the benefit of a few PC games being available because of Play Anywhere. Just be honest, you want to play Halo for free.

Of course I want to play Halo, not for free though, but as part of the monthy subscription I pay with Xbox Game Pass, which I already use to play other games. No need to list them since they are few. The problem is precisely that, that Microsoft doesn't care or definitely doesn't want to add new games for PC, even games they completely own. I think it's easy to understand. I didn't invent the Xbox Game Pass on PC thing, they did. Honestly I think this whole issue deserves a better answer than "well, it's your fault". Mostly by Microsoft though.

It's inexcusable for Microsoft to have its preeminent title not have Play Anywhere status.

That's exactly the term, it's utterly inexcusable.

Regardless of if this title was developed/released on console before the Xbox Play Anywhere program, it is releasing on PC during a stage in "Xbox" where they are continuingly talking about breaking down barriers, playing the games you bought on any/all the devices you have, play with your friends wherever they are regardless of platform, etc, etc, etc.. It just doesn't look right to release your flagship franchise on PC, including Steam, but not offer Play Anywhere as an obvious perk for the Microsoft Store and not offer, at a minimum, co-op online cross-play across the board.. Competitive play is clearly a concern but honestly it shouldn't be an excuse anymore.. They're already offering options to opt-in or opt-out of cross-platform play on other titles like Gears 4 and Sea of Theives. The same should be done here.. I understand they may try and implement some of this stuff down the line after launch but by then, the PR damage is already done.. Microsoft should have hopefully learned by now that public opinion tends to be against them, at least in this generation, and they need to have this stuff ready to go on day one..

They're making huge mistakes, they're mistreating and disrespecting the few of us who invest in their gaming ecosystem.

I don't mind cross play coming post launch, just as long as it's coming. I'd rather have the game released sooner than be held up because of cross play.

It would be a downright insult to subscribers to not have this as Play Anywhere as part of Xbox Game Pass. And not a very smart move to begin with. I don't want to curse, but I'm pretty fed up with this kind of crap from Microsoft regarding Game PAss and Play Anywhere. They're having a laugh at us, clearly. If freaking *HALO* games which are as first party MS exclusives as it gets don't make it to what a PC Game Pass subscriber gets, the whole concept doesn't make any sense. Period. It's a lie, a joke.

Do you even own an Xbox? It's not an insult to Game Pass subscribers because Game Pass isn't for PC. It's an insult to owners of the MCC on Xbox.

Sorry, you're clearly not getting it.

Yeah, your comment makes no sense.

I would love play anywhere support as much as the next guy, but when the game can easily be found for under $10 online (I got it for around $7 a long while ago) announcing play anywhere support would cause people to buy it from key resellers and net ms $0 in profit.

Well speculators aside, Microsoft themselves are the ones who are talking about "games as a service" and "adding value to Xbox Game Pass subscriptions". Even the funniest one, "we're bringing more games for PC subscribers". If they don't use this chance to get more people to subscribe, I don't know what their plan is. It's a pretty big release, enough to make some people consider subscribing even only on PC, if they got Halo MCC. Basically what they're saying is that people interested should be better off buying it (them!) on Steam. Basically they don't really want our money.

Why tf is XPA support even a question at this point? That should just be standard with all their games going forward. Especially if they want Game Pass to succeed on PC.
Cross-platform play should also not be an issue. The Xbone has M&K support now. If console kiddies want to continue using the wrong tools for the job (controllers on an fps lol) that's on them. Stop separating players based on their hardware. Let the rest of us who can kick ass rip each other to shreds regardless of controller scheme. I know a couple of people who tear **** up on a controller with ease.
Hell I play CSGO with the Steam controller and do pretty damn good. First place in Arms Race on a controller? It be me
Windows Central Newsletter
Get the best of Windows Central in in your inbox, every day!
Thank you for signing up to Windows Central. You will receive a verification email shortly.
There was a problem. Please refresh the page and try again.