Halo: Spartan Assault landing on Xbox One December 24; will include co-op mode and new weaponry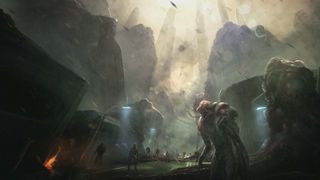 Many of us here at Windows Phone Central have enjoyed playing Microsoft's Halo: Spartan Assault on our tablets and smartphones. The title that was previously slated as a Windows 8 and Windows Phone 8 launch game, will be headed to Xbox One later this month.
On December 24 the "new and improved" edition of Halo: Spartan Assault will be making its way to the Xbox One Marketplace. The new release of the game will include a new co-op gaming mode, new weaponry, and a new add-on titled, Operation Hydra. The game itself will be running at a native 1080p resolution at a butter-smooth 60 fps (frames per second).
The new cooperation mode will allow you to hop onto your Xbox One and jump into the action with a friend. The new co-op mode has friends battle against "the Flood!". Think of the zombie horde waves in every other video game out there - now imagine those zombies are instead rogue members of the Covenant alien species.
Microsoft wants you to know that they didn't simply port over the game from existing touch screen based devices to the Xbox One. They took time to "rethink things like controls and pacing". The new edition for Xbox One will feature 7.1 Surround Sound support and "re-mastered" sound effects.
New weaponry and armor abilities such as the classic Battle Rifle, are available back in the game for your enjoyment. A new feature known as "teleport" is also available and will allow players to quickly teleport out of heated situations and "return to fight back to back with your partner".
The aforementioned Operation Hydra mode adds new missions to the Xbox One version of the game, Microsoft stated that players of the game on Windows Phone/Windows 8 "really loved the expansion" and that they wanted to make it available to console players as well.
Don't fret if you already picked up a copy of the game for your touch based device though. While the game will debut for $14.99, if you purchased the game prior to December 15, you will be eligible to pickup a copy of Xbox One edition for only $4.99.
Have you played Halo: Spartan Assault yet? Will you be picking it up for the Xbox One?
Source: Microsoft
Get the Windows Central Newsletter
All the latest news, reviews, and guides for Windows and Xbox diehards.