Halo: Spartan Assault landing on Xbox One December 24; will include co-op mode and new weaponry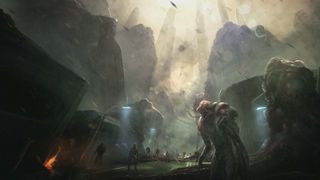 Many of us here at Windows Phone Central have enjoyed playing Microsoft's Halo: Spartan Assault on our tablets and smartphones. The title that was previously slated as a Windows 8 and Windows Phone 8 launch game, will be headed to Xbox One later this month.
On December 24 the "new and improved" edition of Halo: Spartan Assault will be making its way to the Xbox One Marketplace. The new release of the game will include a new co-op gaming mode, new weaponry, and a new add-on titled, Operation Hydra. The game itself will be running at a native 1080p resolution at a butter-smooth 60 fps (frames per second).
The new cooperation mode will allow you to hop onto your Xbox One and jump into the action with a friend. The new co-op mode has friends battle against "the Flood!". Think of the zombie horde waves in every other video game out there - now imagine those zombies are instead rogue members of the Covenant alien species.
Microsoft wants you to know that they didn't simply port over the game from existing touch screen based devices to the Xbox One. They took time to "rethink things like controls and pacing". The new edition for Xbox One will feature 7.1 Surround Sound support and "re-mastered" sound effects.
New weaponry and armor abilities such as the classic Battle Rifle, are available back in the game for your enjoyment. A new feature known as "teleport" is also available and will allow players to quickly teleport out of heated situations and "return to fight back to back with your partner".
The aforementioned Operation Hydra mode adds new missions to the Xbox One version of the game, Microsoft stated that players of the game on Windows Phone/Windows 8 "really loved the expansion" and that they wanted to make it available to console players as well.
Don't fret if you already picked up a copy of the game for your touch based device though. While the game will debut for $14.99, if you purchased the game prior to December 15, you will be eligible to pickup a copy of Xbox One edition for only $4.99.
Have you played Halo: Spartan Assault yet? Will you be picking it up for the Xbox One?
Source: Microsoft (opens in new tab)
Windows Central Newsletter
Get the best of Windows Central in in your inbox, every day!
What about multiplayer on WP8 version???

+1520. OAN, do you guys know if Microsoft Flight folks have plan to release the game (new one) on Windows Store, Xbox and Windows Phone? I love the gameplay, and it would be amazing to have full blown flying experience on Xbox One and Windows Phone!

Looks good and ill pick it up but I want local Co-op...

Agreed. I love online play but I want offline multiplayer too. Also, the online co-op mode sounds like an entirely different mode--i.e. it isn't merely playing all of the existing missions together. So, those are still single player? What else do we know about this co-op mode? Finally, about the discount for those who already have the game, until when is it good? Do I need to buy the One version right away? What if I buy the One version a year from now? Still get it for $5?

So excited for this, and for Halo 5!

Curious how it comfirms you've already bought a version before. Which I have!! Honestly though, five bucks is awesome.

Probably cause it will show in the purchase history for your MS Account.

How come their isn't a cooperative mode for the WP8 Version?

It may be coming but more users on XB1.

Doesn't make sense to leave out the co-op though.

Sorry should of finished, they are probably working on it but at a slower pace.

Don't count on it, just like they ditched Midtown Madness on the PC and many other PC titles when the original Xbox came out, I would not expect any new improvements to the Windows 8 or WP8 versions of this game. We already seen a huge decline of Xbox WP8 games, Windows 8 will follow soon, just like GFWL before it. When it comes to games MS loves to screw everyone besides their Xbox console crowd.

Ya, they will probably ditch support for Halo for WP8 now tht XBONE is out. Dont even get me started on Windows 8. MS is really not interested on Games for Windows. (Proof: No games after GoW and Halo 2). If ever updates come for Halo on WP8 come, i will be surprised because MS wants all exclusivity for its stupid XBox Consoles...Damn u XBOX..

Why don't any Xbox one games have local coop/versus?

Hope soon for xbox 360 also

Joystiq is saying it is coming to the 360 in January.

Grabbed it for Windows phone and WIndows 8....another $5 ? ok, otherwise no thanks

$20 for a game on three screens. Not bad. Not great, either.

I wonder if I can still get halo with the 1520 for free if I get the 1520 on the 18th

If the game is being ported to the xbox1 it probably means that it didn't sell very well on Windows platforms, which is a shame!

That seems to be a spurious assumption.

So the only reason things get ported to another platform is if it didn't do well? Logic would tell me that they want to extend reach and further the brand. Smart move to keep Halo in the foreground as we wait for Halo 5.

I bet this is the end of Halo support on Windows 8. How about they announce these improvements comming to the Windows 8 version as well???

No discounted price for 360 version. Cool. I was hoping to get screwed by this game again. The first two times just werent enough.

I can't wait for this version! I've had my Windows Phone and Windows 8 version since launch and enjoyed them a lot!

Just hope that reduced price is available in March when Xbox one arrives here in Sweden. Anyone knows about this?
Windows Central Newsletter
Thank you for signing up to Windows Central. You will receive a verification email shortly.
There was a problem. Please refresh the page and try again.