Hands-on with Android apps on Windows 11 (video demo)
Windows Insiders can now test out 50 Android apps on Windows 11.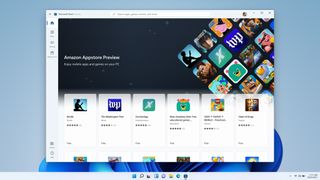 Microsoft released the first preview of Android app support on Windows 11 today. Windows Insiders in the Beta Channel can test out 50 Android apps that were curated by Microsoft, Amazon, and popular app developers. In our hands-on video, we take a closer look at the cross-platform effort from Microsoft.
Android apps work side-by-side with Windows apps on Windows 11. They support features such as Snap Layouts and showing notifications in the Action Center. Apps can also be pinned to the Taskbar or the Start menu.
In its initial preview, only a few dozen Android apps work on Windows 11, including Kindle, Khan Academy Kids, and United Airlines. That said, you can sideload the production version of the Amazon Appstore, which gives you access to many more apps (unofficially) as well as bypasses the US region lock. This is what we did for our video, which is why the Amazon Appstore may look a little different in our demo compared to what gets installed by default.
To test out Android apps on Windows 11, you need to meet several requirements that are outlined by Microsoft:
Your PC needs to be on Windows 11 (Build 22000.xxx series builds) and meet these hardware requirements.
You may need to enable virtualization for your PC's BIOS/UEFI. Click here for a guide on how to enable this on your PC.
Your PCs' region must be set to the U.S.
Your PC must be in the Beta Channel. If you are new to the Windows Insider Program, click here to get started with registration and joining your PC to the Beta Channel.
You will also need to have a S.-based Amazon account to use the Amazon Appstore.
The Windows Subsystem for Android that powers Android app support on Windows 11 works with AMD, Intel, and Qualcomm processors.
While Android app support didn't roll out with the initial launch of Windows 11, Beta Channel Insiders can test it out now. Dev Channel Insiders will have to wait a bit longer to test out Android apps on Windows 11. Microsoft promises that more apps will be available for testing "down the road."
Windows Central Newsletter
Get the best of Windows Central in in your inbox, every day!
News Writer and apps editor
Sean Endicott brings nearly a decade of experience covering Microsoft and Windows news to Windows Central. He joined our team in 2017 as an app reviewer and now heads up our day-to-day news coverage. If you have a news tip or an app to review, hit him up at sean.endicott@futurenet.com (opens in new tab).
Seems to work pretty well. How soon before someone hacks the play store I to Windows

Play store isn't an issue since you can side load apps anyways. IAPs is likely what will struggle the most.

I thought you could download them from the Windows Store directly. Isn't that the case?

Yeah, I thought Microsoft said the apps will be listed directly in Microsoft store. May be that will come before the final release.

They do appear in the windows store when searched. Instead of an install button it says get from amazon appstore which opens the amazon appstore app with the listing for the app you searched for in the windows store for you to proceed with install. It is not streamlined but it is not hidden either so I guess that is ok. A necessary compromise.

Just a heads up to anyone who may be having trouble, I suddenly found an update to the Windows appstore and when I did the update, the Android store was suddenly available to download.

These apps are from the Amazon app store, not the Google Play store.

Yes, as expected from day 1

Yeah. Did you miss the press release when it was initially announced? They never ever... in fact they were quite clear that this was in partnership with Amazon to bring the amazon app store android apps to windows. They never even insinuated that google play would work. It can't and won't until google allows it. Sideloading has been unofficially confirmed though. But we don't know much about that yet.

Amazon has allowed sideloading on FireOS since day one.
And adding the play store has been doable on the FireTablets for years. Not complicated at all. It works right from tbe browser.
Amazon doesn't do anything to keep it off their hardeare; they just refuse to cave in to Google licensing terms.
MS probably agrees. BTW, contrary to the myths, the Amazon store is pretty comprehensive already and putting it on a few hundred million PCs will prod more developers to support it. Between that and the native Wondows ecosystem, W11 devices will be well supported. Me, I'll wait until the cheap WinTabs move to W11. When they do, I'll likely get one.

And yet there will be people who see the headline and then complain that they were lied to when they realize where the apps come from. The headline itself needs to read "Amazon Android app store" - but that will never happen.. plausible deniability and all.

Last I checked, the Amazon store apks are identical to the Google store apks.
Google doesn't actually have Play fanboys?

If you really care, try installing the Play store: https://www.howtogeek.com/232726/how-to-install-the-google-play-store-on... No sideloading required.

First impressions...
#1 There seems to be an issue with Zachs installation/version. He seems to have access to all the amazon store apps. Issues like resizing, the task manager processes etc are not present on my machine. The store and apps resize and really do feel quite native. Outlook for example was not available and there really are only 50 apps at the moment for download -- minecraft mobile is not present either.
#2 The apps do run really slick, almost native in feeling, and though it taxes the system it wasn't more than using Teams desktop (for business) I usually sat around 300mbs of use regardless.
#3 VPNs don't seem to play nice with the store.
#4 The only apps of mention are kindle, united airlines, and washington post apps. The apps also install really quickly actually.
#5 I will just go back to Zach apparently having an issue (the process for the subsystem don't seem to show up right on his task manager like they do mine either). The preview is definitely a first look and is a little rough in terms of the actual process of enabling the feature and downloading apps (jumping between stores will likely be the common practice). You can find the android apps in the windows store which is nice, but it will kick you out and send you to (well kinda) the amazon appstore where you just hit get. On first run you sign in with your amazon account to the amazon appstore but that is all really.

And sideloading is not available as far as i can tell

Considering they're only supporting 50 apps right now, it's not surprising that sideloading is not yet available. They probably want to work out all the bugs before they open it up to everything.

No but just so yall know and dont try to do it. I didn't expect it to be in first test release either.

Sideloading via ADB actually works like a charm

Does anyone know if the camera is accessible to the Android apps, like for video chat apps or (if they make it to the Amazon store) banking apps to deposit checks?

I don't think most banking apps are even available on the amazon store. I know that isn't the question but that is what came to mind.

Can confirm sideloading APKs via ADB works like a charm. Guess we will have an official apk installer eventually. For ADB you just need to `adb connect 127.0.0.1:58526` and then `adb install some_app.apk`. See the developer documentation for more detail: https://docs.microsoft.com/en-us/windows/android/wsa/

Is anyone else bothered that the Microsoft Store app seems to not indicate what type of app you're installing? When I'm in the store, I want to know what it is... Win32, UWP, Android, etc. Is there a way to tell? I certainly prefer apps that install and update and use all the features of the store, but I'm having trouble these days determining which ones will do that. From the looks of the video, it seems like even the Android apps may not differentiate themselves well. On a similar topic, I'd love to be able to tell which apps have native ARM versions, as at some point I'd like to get an ARM PC/tablet, and I'm always curious which apps have support for it.

Any clue on how to sideload the production version of the store? I'd really would like to try this outside of the US

MS Activist Investor : It's alive. It's Alive! It's ALIVE!!! Hahahaha. Rise my creation! Rise and come to daddy! Igor, come and look at my masterpiece!
MS Engineer : I guess this was what you meant don't give them what they need, give them what they want , right? and by the way, my name's not Igor. Sir. Investor : I schemed, inveigled, and outright sabotaged for this. and now the fruits of my tireless labors have been achieved bwahahaha. Windows, with a Mac interface, access to linux, and running Android apps!
Let them eat cake!!!
MS Engineer : what next? We're putting important parts of the OS under the control of tech behemoths that, putting it mildly, might not have the best interests of our users and our company at heart. What happens if things go wrong? Investor : That's easy! Barely and inconvenience! We'll just rename the OS. Might as well, rename the entire company! It's mainstream now, everyone is doing it. We'll rename it, "META-OS" or we'll create a parent company called "METASOFT" or since we're copying how a fruit name, say, "Orange" or "Avocado", some thing popular or some other. Come Igor.
MS Engineer : Maaaaasteeeer

At this point at least, spinning up the Windows Subsystem seems to take about as much time and memory resources as BlueStacks5 (which gives you the entire Play Store) -- are there any advantages to Windows Subsystem that non-experts should know about?

You can configure the subsystem resources to run continuously (as opposed to on-demand). This will allow apps to run instantly since they subsystem will always be running in the background. This will be harder on the system, though. To do this, go to: Start > All Apps > Windows Subsystem for Android™️

No one's going to use this. the surface neo has been cancer so I have no idea why we use this phone. I wonder who's been the new CEO of Microsoft

Why would this be available to the Beta channel and not the Dev channel? Isn't Beta downstream from Dev?
Windows Central Newsletter
Thank you for signing up to Windows Central. You will receive a verification email shortly.
There was a problem. Please refresh the page and try again.