Hands-on with the Eve T1: A well priced 8-inch Windows 8.1 tablet from Finland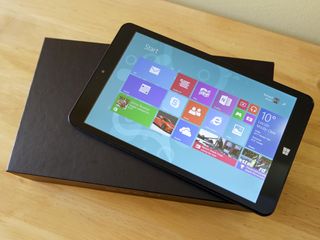 Finland has produced some fine devices over the years, of course, being the home of Nokia. This latest one isn't from a name you'd necessarily recognize, but it is interesting. The Eve T1 is an 8-inch, Windows 8.1 tablet with an affordable price point. The Windows tablet space is becoming increasingly crowded, so to stand out you need to have a quality product.
The announcement of this one generated a bit of interest, so we've got one in to take a look at it. Is this the 8-incher for you? Read on for some first impressions.
It's not often the packaging is worth mentioning, but the Eve T1 is very well presented. There's not much in the box, but it's well designed, and when there's thought in the packaging it gives you a better first impression of what's inside.
What's inside, is from the front at least, a pretty regular looking Windows tablet. Black slate, Windows button, 8-inch display. Round the back it's a similar story, and while there's a textured pattern, ultimately it's a pretty regular looking tablet. It is pretty minimal though, which I like. There aren't many ports or connectors, but personally, I think that's how it should be on a small tablet. The microSD card slot is hidden behind a door, and otherwise it's just a microUSB charging port, power button, volume rocker and headphone jack.
So, what about the hardware? Here's the list of specs:
8-inch IPS HD 1280x800 display
Intel© Bay Trail Z3735F 1.8 GHz CPU
2GB of RAM
32GB onboard storage
MicroSD card support up to 64GB
4000mAh battery
5MP rear camera
2MP front camera
802.11ac Wifi
130mm x 216mm x 9mm
Weighs 395g
Miracast
Comparable to some competitors, but that extra 1GB of RAM over some competing small Windows 8.1 tablets will surely make a difference. And, as is the norm of late with small tablets you get a free 1-year subscription to Office 365 included as well.
So, first impressions? Pretty good, actually. Windows 8.1 runs well on low memory devices, but the T1 has a full extra GB of RAM over my own 8-inch tablet, and it seems all the better for it. It's hard to measure but it feels a little snappier. The display is bright and colorful with good viewing angles, and while it feels plasticky to touch, it's responsive to the touch. My one, personal gripe, would be the back cover. The textured finish is great, but on something this size a soft touch back may have been a nicer finish.
But it's shaping up to be a nice, well-priced Windows 8.1 tablet. We're going to spend some more time with it before coming to a final conclusion, but it's made a good first impression. If you can get one (they're out of stock right now) for 159 Euro it's yours.
Richard Devine is an Editor at Windows Central. A former Project Manager and long-term tech addict, he joined Mobile Nations in 2011 and has been found on Android Central and iMore as well as Windows Central. Currently you'll find him covering all manner of PC hardware and gaming, and you can follow him on Twitter and Instagram.
Ah, yes! Must have fell off the bottom of the specs list. Will add it back.

The specs in this article are not entirely correct though. It has a 4300mAh battery, wifi isn't ac, but 802.11b/g/n, and SDXC card is up to 128 GB (instead of 64). Don't believe me, check the official specs on eve-tech.com yourself. I ordered this tablet way back in 1st week of december 2014, finally I got it delivered 3 days ago. It's definitely worth the wait though, I love this tablet!

No, but it does have Miracast.

Not a substitute. HDMI should be an absolute pre-requisite when designing such devices.

Youa can't have everything and every feature on a cheap tablet. If you think that HDMI is such a necessity then this tablet is not for you.

We have Linx 7's being sold in the UK for £59 which includes HDMI, 32GB storage etc. & I can buy a Linx 8 today for £69 which also has HDMI, 32GB storage, a nice screen & v.good build quality.
159 euros is a lot of money for a tablet that doesn't have HDMI.

May I ask you where you found a Linx 8 for 69 pounds?

http://www.hotukdeals.com/deals/linx-8-tablet-32gb-windows-8-1-office-36...
If you keep an eye on that website, they often have deals for a myriad of other Windows 8.1 tablets. The only shortcoming on the Linx 8 is that it has a fairly small battery (4000mah), which gives a 4 hour or so runtime.

I just bought an Acer Iconia W4-820 with the same specs, 10 hour battery, 8" that DOES have HDMI out and works beautifully with Bluetooth as a lightweight desktop replacement. I have seen them on sale for as little as $149.

Absolutely agree. I bought a MS Miracast adapter and hooked my Dell Venue Pro 8 to it. Setup was easy by even a pathetically low mbps .mp4 was stuttering unacceptably...even when 2 feet from the adapter. Miracast just isn't ready for real streaming yet so I took back the adapter.

Thats a massive leap, given your 1 poor experience. I've used the offiial MS Miracast adaptor, and the PTV3000 and they both worked really well. Including streaming movies. I also love how Powerpoint gives you slide deck control and notes on your tablet, and pumps the actual presentation to the screen.

I think my position is supported by many in the Dell forums and product reviews for Miracast adapters. I watched both screens simultaneously and could see flickering and pixilation at times while streaming a low bitrate low res .mp4. Desktop and basic apps worked fine but streaming was terrible. Can't blame it on the decoding of the file as it played smooth as butter on the tablet's screen. I won't ever buy another tablet without hdmi and would be hard pressed not to require GPS as well (surprisingly few tablets have both).

Speaking of GPS, I wish there was an app out there that could utilise my phones GPS, and then transmit the data via Bluetooth.
I used to have a Nokia N73 where I had a separate Bluetooth module for use with Route66 sat nav...so the concept definitely works.
But yes, having GPS installed on the tablet would be great. It's the 1 shortcoming of my Asus T100.

Agree, GPS is missing on all of the WIN Tablets I have seen. Far more worried about naviagtion than using word on an 8 inch tablet. Wish GPS was on my SP3. Still waiting for something beats my HP TouchPad running KITKAT.

Dudes. T1 Has GPS. I don't know why it wasn't included in the spec list. I think thats a big deal since you can download HERE maps to be used offline.

I use Miracast, on my Lumia 1520, and Microsoft Miracast adapter, flawlessly, quite often (3-5 movies/week, plus casual video gaming). I have a Venue Pro 8, and I cannot get IT to Miracast properly, at all. It is a limitation of the Dell, not Miracast, and definitely not the Microsoft adapter. I had a Belkin Miracast adapter, previously, and although it was more finicky, it also worked ok. Just not as well as the MS Wireless Display Adaptor, which I returned the Belkin to the MS Store for, in October, when it was released, on Day One.

I have the ms adapter as well as dvp8 and mine works fine with Netflix on my newer tvs, my older ones suffer stutter, I wonder if its tv firmware

I cant help but to agree I tried connecting my icon to a roku stick only to rind out id need to move my icon closer to the router to connect

The winbook 801 is much better, it has hdmi and full usb 3.0 port for $100 (in store). If you want to order it online it goes between $130-$180 on eBay Posted via the Windows Central App for Android on my Oneplus One

Couldnt agree more. Got mine for $80 open box

My nearest store is 3-4 hours away.... So won't be getting one anytime soon. They did sell it online for a couple days, should of bought one then So how was it open boxed? Any scratches or dents? Why did they return it?
Posted via the Windows Central App for Android on my Oneplus One

I wish MicroCenter sold a keyboard case for it. The one case they have for it sucks. Otherwise an excellent tablet.


Not bad, I like 2GB of RAM. However, I feel like 1080p should be a minimum for 7-8" devices, these days. Unless you're trying to make a sub $100 device. I say that owning a 7" device with 1024x600 and another with 1080p (Nexus 7 2013).

With Windows 8.1's DPI scaling?! Nah - best sticking with the lower resolution screens until MS gets DPI scaling sorted.

My Lumia 2520 is 1080p, I don't really think it scales bad. Could be better in Desktop mode, I suppose.

DPI scaling on Windows 8 (Modern) apps works pretty good. However I agree x86 apps don't like DPI scaling but that's generally to blame the developers if it's a modern app and generally it can fixed forcing Windows XP DPI scaling via compatibility wizard.

I have both an 8" Acer W4-820 with 1280x800 and an 8.3" LG Gpad with 1920x1200 and I cannot see the difference on that size of a screen. put the same image up or text on the screens side by side and I cannot tell. My experience is that the extra pixels are wasted on the smaller screens.

Really? I have seen my friend's iPad mini, with HD resolution. And I don't like it. It's so different with iPad mini 2. I can imagine it will be worse for 10" device. So I chose at least fhd for my tab.

What's that game in the 3rd picture?

The excellent Shine Runner by the equally excellent Vector Unit

Looks like a Windows version of an iPad Mini

Looks almost exactly like my Dell Venue 8 Pro, even down to the textured back and camera housing. The front facing camera is in a different location though.

I was thinking the same thing, except my DV8P is red. It really is amazing how well W8.1 runs on these underpowered devices. Looking forward to seeing a tablet friendly build of W10 on one.

Yeah, that's what I was thinking. If I didn't know any better, I would have thought it was a repackaged DVP. Not that it would be a bad thing. LOVED my DVP. All the new tablets (including the new DVP) are coming out with the Atom 3735. Passmark rates this slower than the older 3740 in my old DVP. Anyone notice a diff?

You mean this? :) i57.tinypic .com/23hsto9.jpg

I got my own Eve T1 last friday. I am also quite impressed with what you get for 159€. And yes it has Miracast built in the Intel processor.

Hmm.... This looks like an OEM version of the DELL venue pro 8.

Why do most of these devices come without UMTS/3G/4G ?

My guess, it reflects on the ease of wireless access in the region as well as the size of the tablet. Smaller tablets are closer in size to smartphones, which means people are elss likely to want to pay a premium for data options.

Just because windows dont support calling/sms by usim card. The only thing you dould do with 3g is internet. And for such a option there are a lot of cheapo 3g modems

But it will take space and cumbersome. I prefer using my phone as access point. But the best solution for me would be integrated modem.

What's the battery life on this device like?

I've had it in my hands less than 24 hours ;-)

It is quite decent. Not really getting the 11 hours when watching YouTube videos and wife playing facebook flash games. More like 8-9 hours which is pretty darn nice considered how much juice some of the games drain.

It does pack a 4300mAh battery, which is awesome.

Wish the was the same enthusiasm among OEMs for WP

32 GB Storage and 2GB RAM should be minimum standard. I cant do much on my Notion Ink Cain 8, with 16GB; 1 GB RAM. Just having W8.1, Libre Office, Chrome, VLC and few apps. Only left 1 GB free in C:\ drive.

Why don't you install desktop apps on the sdcard? This would leave some free space on the EMC drive.

It's not easy to pull off on Windows 8.x. Windows 10 finally has the option to do it however.

I'm not talking about modern ui apps. There is no problem installing desktop x86 apps on an sdcard. I do it all the time on my Dell Venue 8 pro.

It is easy to install desktop apps on an SD card in Windows 8.x, you simply select the location that you want to install the programs. Change it from C: to D: (or other letter) during the installation wizard just as you would with any normal PC program installation. glussier was talking about Desktop apps and not Modern apps. Also, in the current build of Windows 10, you can store everything on an SD card EXCEPT Modern apps. The only choice under "Store new apps and games to" is "This PC". The world is waiting on Microsoft to finally allow us to switch it from This PC to SD Card/Other Storage.

If they actually merging ecosystems in W10, then modern apps should be able to go to the SD cards since that can be done in WP8.1. I don't think they will drop that feature from phones.

Thats precisely the reason I didnt buy Cain 8. 16 gb is a joke on Win tabs.

No stylus? Such a device has a perfect size for note taking.

One can purchase a stylus of their liking just about anywhere. Of course there would not be in device storage, but the right case might have it built in.

Wrong kind of stylus. You want an active stylus and that adds about $100 to the price for both the electronics in the stylus and the active/wacom digitizer.

An active stylus indeed. As an designer I like to take quick notes and sketches but I would need an active stylus for pressure sensitivity and precision.

You don't want a stylus though, for real note taking you want a pen.

Hmm I was planning to pick up a hp stream 7, but 2gb ram and 8" is for me so much better but no 1 TB of OneDrive (which I wanted to get anyway). And it's 60 euros more expensive. Hmmmm dillema's, dillema's everywhere

Just off memory, I think the CPU in this is a step up from the Stream 7, plus the extra 1GB of RAM. Performance wise, this is a solid buy.

Where do you live? If you're in the UK, you can get the Linx 8 from Very.co.uk for £69 (via the use of a new customer code).

Get Onda V975W its just like iPad Air with the same screen 9.8" and the same resolution, 2gb ram and same processor and Win 8.1 Its currently 188$. Works like a charm

I have heard that the chinese tablets have a lot of quality control issues and firmaware problems. Heaven help you if you have to return one. Worth the extra $50-$100 not to have that hassle.

I like the big Windows logo.

159 euro means nearly 180 dollars. Thats way too expensive for an 8 inch tab. For 99 dollars, I got an 8 inch win tab with a Full USB 3.0 port to boot. I like the width on this one though, 130 mm is mouth watering. Mine is 210 mm by 122 mm, too little width for my liking. 135 mm by 200 mm is what the latest iPad mini is, and it amazing. This at 130 by 216 isnt ideal, but way better than a width of 122 mm on my Windows tab But still too expensive

Welcome to Europe. Where things are expensive!

Not true. We had the Linx 8 a while back for a combined £20 after cash back from Staples. The Linx 10 was £29 after cash back (or £79 without it).
The problem with Windows Central is that you don't advertise the amazing deals that are out there. Case in point, your team frequently tell us the 'sim free' price for Carphone Warehouse phones - which are almost always about 30% more expensive than the 'carrier' phones. Yet every phone sold by Carphone Warehouse, whether O2 or Vodafone etc is sim free anyway! None of their phones are locked...
Just keep your eyes on Hot UK Deals...there are always cheap Windows device deals being highlighted

We advertised that deal. Because I bought a Linx 8. Its retail price is not £20 though

Euurgh...you nitpicked an irrelevant detail, whilst sidestepping the meat of the comment!
You can't say things are expensive here when you and your team completely fail to highlight the numerous bargains that keep cropping up.
If you keep telling us about sim free prices, people will start to think it is expensive.
As emailed to you a while back, I got my 1020 64GB brand new from O2 for £150 including camera grip...& £79 once I had my Quidco payout. Despite being tipped about it, and despite the deal lasting for more than 2 weeks, Windows Central never mentioned it once!
A big shame...because every WP fan should have a 1020 :)

But things are, generally, more expensive than they are stateside. The HP Stream 7 is a great example, currently going for $79.00 in the US (MSRP is $99.00). It has gone for $69.00 earlier. The cheapest I've seen it in the UK has been £84.95. Even if using the RRP of $99 and adding UK VAT to that (ie $118.80) it's cheaper to buy in the US (£76.00). You could actually squeeze in shipping and handling fees without going over, what I found to be, the cheapest UK price. And that's for a regularly priced one from the US. I just picked up two for $79 each, free shipping to Florida. Also, in the US you get a $25.00 kickback in the form of a windows store/xbox store gift card, this doesn't seem to be the case in the UK. Buying it in the US is like shoplifting. You get something for nothing. Pay $79.00 and you get a tablet plus an office 365 sub worth $69 AND a $25.00 gift card. The same goes for so many other things. During the summer I saw some pants I wanted at John Lewis. I ended up trying them on and getting the sizing right, then ordering four pairs from the US for the same price. Sure, I had to pay a little for shipping, but turned out I got three for the price of one. Same happened over Christmas sales although it was only two for the price of one after the sales discount was taken into account.

And yes, now I see it's currently £74.99 at MicrosoftStore UK. Oh well, I still think I have a solid point though :D

Specs and which 8"tab? Typically $99 means 1 GB RAM/16 GB storage. Big difference from tablets like this Eve or the DV8P which have 2 GB/32 GB and typically go for closer to $200.

I would not touch any Win tab with 16 gb space or 1 gb ram with a barge pole. My tab is 32 gb, 2 gb ram, s full usb 3.0 port and a micro hdmi port, running on Intel Atom Baytrail.

I owned a Linx 8, and also own an Asus T100. The RAM concern is an irrelevance when doing things in the metro interface.
Remember, Windows 10 is being designed to work on 512MB devices! 2GB is extravagant :)

Exactly, he has boasted about his tablet and the specs in several comments but has not told us which tablet. It's probably an Android tablet. :P :P :P Just kidding about the last part. :)

You're still failing to give us the make and model of this impressively priced tablet though.. So, again, what make and model is it?!

phelme gave me away a bit lol...my tab is the Winbook TW801. Current price on the company website 99 USD !

In the U.S. the 2GB/32GB Winbook TW802 is $130. Very similar specs to this: same CPU, MS Office etc. except WiFi is 802.11n on the TW802.

I thought the WiFi is part of rhe Atom SOC. If the CPU is the same, how does this have 802.11ac?

I doubt you get an 8" for $99 that has 2GB of ram and 32GB of storage though.

Looks like my DELL Venue 8 Pro Would be interesting if you could make a review for the chinese ones....

Is not from Finland! is made in communist China!

Designed in Finland, manufactured in China.

Everything is made in China lol

is not China! is Communist China!

Just like Microsoft/Nokia phones are made in China. Go look in Extras + Info once in a while...

Just like Apple Iphone / Ipad, Asus, Acer, Sony, Lenovo, LG, HP - all manufactured in China. Good luck finding something not made there.

They need to at least used 1366x768 resolution. This 1280x800 stuff needs to stop.

1280x800 on an 8" device is fine.

NO! 16x10 is WAY better than 16x9 when using devices like this 8" tablet. I would hate it if they started making 16x9 again, it's an awful aspect ratio for tablets...

Actually, for an 8" the 16X10 ration is horrible. This size class is often in portrait mode and 16X10 is too tall. This was a common complaint from first Gen Surface tablets and eight inch tablets are in portrait more often.

I bought one because I also felt that was a device to take notice of.
First of all, when I first ordered it (back in December last year), I must say the company followed up very well on the shipment status, and even gave away a free SD card to apologize for delay - very nice commercial gesture. I finally got my device some two weeks ago.
As it is said in the article, the box is a pleasant surprise. Unfortunately I was disappointed by the device:
It is cheap and it feels as such.
What's more, you have that quirking sound everytime you hold the tablet too tight or by a corner. I don't know why, despite the low price my expectations were higher.
Not a bad entry-level tablet, but not as good as this article says...

That's why I cancelled. Very happy now with yoga pad 2 ANYPEN 8 ", allows good use of metro and desktop! Pen writing is amazing. Can't wait for the write anywhere app to write in desktop without the keyboard

Yep. Check the specs on the official site.

This is how you do a low cost windows tablet. These tablets would be good auto infotainment solutions for many people. I have been able to find many android and iOS setups to this end but there is barely any information for windows for this. Would be cool if someone were to explore them from that angle.

Question for people rocking Atom powered Windows 8 tablets: ¿How is the graphics performance on new Atom processors? A friend has the ThinkPad Tablet 2 with older Atom processor (z2xxx) and despite having a comparable performance in general apps to my Surface 2 (RT), in the gaming department it was awfull. My Surface 2 can run Asphalt 8 at acceptable framerate but in the TPT2 it was almost unplayable. The Surface 2 maxed out the basical 3D Mark test while the TPT2 was dragging itself.

Z3xxx is GREAT! You can run GTA 4 at mid at 40fps.

Please consider that my Dell Venue 8 pro is from 2013 and the newer CPU/GPU combos in the 2015 tablets should perform better. Here are a graphics performance videos: Wide range of gaming tested from Mame Killer Instinct Arcade, N64, Dreamcast, Far Cry, Unreal Tournament 3 and more: https://www.youtube.com/watch?v=efDdh1iOC_8 Mirrors Edge: https://www.youtube.com/watch?v=In_WEdqnhbw Street Fighter 4: https://www.youtube.com/watch?v=Yzz7xstz-rw With all PC games, you should be able to adjust the graphical fidelity to run at the best framerate on your device. Long story short, the newer Atom processors are amazingly powerful compared to the old Atom processors from the netbook era. I was and still am pleasantly surprised by the GPU power in even the 2013 Atom processors. There are videos youtube that show people playing Battlefield 3/4, Skyrim and other games. Just remember to lower the resolution and effects and you will be amazed that you can play full PC games on a tablet whereas the iPad and Android tablets cannot even come close to the experience of playing full PC games.

I play Disciples 3, Civ4, Shadowrun, GalCiv2, etc. On my Asus VivoNote 8.

Nokia N1 is in another league and hopefully starts shipping soon.. Running Android though but in small tablets space that should not be much of a difference, and it should be totally unlocked so perhaps possible to try it with W10 as well. Been in preorder for months in Finland.

How are you going to use x86 OS on Cortex processors?

I don't know. But no need to know.. http://n1.nokia.com/en

I'm sure he wasn't thinking this but possibly Windows 10 IoT (Internet of Things) Edition. They will have it on the new Raspberry Pi so who knows.....

Perhaps, yet N1 has x86 processor so that's not relevant.

I've been feeling tempted to get a Windows tablet and this is helping, but I was considering the hp stream 7, do you think it's worth it?

The only this that bugged me about the Stream 7 was the cheapo hard plastic back. Spoiled with the look and feel of my DV8P. BUT, at thane price they are going for I could easily overlook that if I needed a new tablet, they are basically giving the thing away with Office 365 and $25 Store card.

Interesting, but does it perform properly? No lags?

32Gb on board is way too little. For full Win8.1 at least 64Gb would be mandatory. You can buy Asus vivo tab with 64Gb 2Gb Ram and an included Wacom stylus for the same money.

Not True at all. 32GB is the sweet spot. With the new WIMBOOT system in 8.1, even 16GB devices hve about 9GB free. For what they are, 32GB is fine. I prefer 2GB of RAM and 32GB of storage, but 64 is just extra icing. You can add USB drives and flash storage to boost your overall storage. Show is where you can buy an Asus Vivo tab (NEW) with 64GB of storage, 2GB of RAM and active digitizer please. I might just buy one on the spot.

The Asus is more, I think I paid $240 for mine but the extra memory and active digitizer are worth it.

How many cores does that cpu have? Posted via the Windows Central App for Android

quad core. They are pretty decent little cpus. They have as much power according to passmark as a Core2Duo

Finland! Yeeaah! Home of Nokia. :)

Looks good. Maybe price is lower than my Lenovo Thinkpad 8 Pro, because mine has micro HDMI port and has full HD display. But this device is very good too. Those who want a tablet of this size, you can definitely consider this one.

What version of Windows 8.1 does it run, Core or with Bing? What about crapware installed?

@deMaelstrom
No crapware.
Windows 8.1 Bing.

I just got a couple new Kyocera multifunctions for my office and they each came with a free WinBook TW801 8 inch tablet which I had never heard of. I've been playing with it last night and it's very similar to this one, both in appearance and specs, but it seems to be less expensive. Amazon has the WinBook for just over $100. I never thought I'd get an 8 incher but I'm very impressed with it! Windows 8 is definitely pretty impressive on these small machines.

They should also consider a version with an active digitzer. It's still one of the best features I use on my Asus vivotab note 8. Overall though, you can't go wrong with these 8 inch atom tablets. They simply outshine and outperform android and ios tablets IMHO.

Is 2GB of RAM that unusual in the small W8.1 tablet market? Both my Dell VP8 and Asus VivoNote 8 have 2GB RAM. I prefer the screen tech on the Asus though.

Anyone have the Asus Vivotab 8 (not vivotab 8 Note)? The signature edition in MS store is $149 and specs look to be very similar to this one. I've been considering it for awhile now, but no reviews on Windows central...

The Asus is probably fine, I went with the Note version for the digitizer and love it.

if it had one full usb i'd buy it :D

These 8" Windows tablets are great! Absolutely love my Dell V8P, especially with it's Active Stylus! Always good to see more options out there. The back of this is exactly like the DV8P... Looks like a good device at a decent price. I have the 2GB RAM 64GB Storage version of the DV8P, if you can swing the price, I would definitely get 2GB RAM like this also has. The 64GB of storage has been awesome as well, I have a ton of apps installed and have not once been concerned about storage space.

Gotta disagree about the Dell. I have one (with the redesigned stylus) and the screen sucks. The screen randomly registers phantom taps, double taps and such. I got an Asus Note 8 and there is no comparison, it is so much better. I kept the DVP8 and am using to test W10 on a small tablet along with touch office.

I got an open box winbook tw801 for $80 and its amazing. It's the only 8inch tab I know with full usb 3.0 port!

A Dell Venue 8 pro CLONE! same camera looks, same back, a chinese copy designed in Dell lol

Microsoft is badly my Lumia 535 don't touch screen. Fuck you

Got mine through the mail 3 days ago. Finally. I love this tablet! The specs in this article are not entirely correct though. It has a 4300mAh battery, wifi isn't ac, but 802.11b/g/n, and SDXC card is up to 128 GB (instead of 64). Don't believe me, check the official specs on eve-tech.com yourself.

Just have to add this to conversation: To kissmyass: author said it is an earlier prototype so they probably changed some stuff :) About the price:
If the T1 sold at retailers in the UK, it would be 112 pounds with todays eur-gbp rate. I was considering to buy this and asked the staff at Eve whether it includes VAT and they told me it does: Finland's ridiculously high 24%.. Considering the linx 8 is 99 pounds, I dont think that extra 13 quid is a turn off, when for the money you get GPS, 5 MP rear camera, 300 mAh bigger battery and a full 1GB extra RAM. That RAM, as author said, makes all the difference when using traditional desktop. Granted, you loose the USB port though, but that probably means linx 8 is a rather thick device? Lets hope they introduce this via retailers later so we can get it at a bit lower price point.

This seems like a worthy tablet to buy but the next version should have an HDMI port.Wow folks with with all these small Windows 8.1 being sold in the market place I hope that Apps Makers/Developers put more Apps into the Windows Store. Folks I think that Windows 8.1 / Windows 10 Microsoft's "UNIVERSAL APPS" will bring more developers to make Apps for Windows devices & Tablets because you can make a Univeral app That will run on a Windows desktop Laptop/Ultrabook computer or tablet. That's good for people who seil their Apps. I predict Windows 10 will be a Winner.
Windows Central Newsletter
Get the best of Windows Central in in your inbox, every day!
Thank you for signing up to Windows Central. You will receive a verification email shortly.
There was a problem. Please refresh the page and try again.