Hands-on with the HP Elite x3 Lap Dock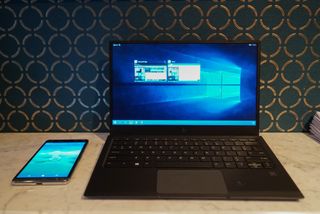 Windows Phone fans are about to get the most exciting device this year. The HP Elite x3 features a 5.96-inch diagonal WQHD (2560x1440) AMOLED display, 64GB of internal memory, 4GB of RAM, dual-biometrics (iris and fingerprint scanners), a massive 4,150mAh battery, Qi wireless charging, IP67-rated for durability, and more. It can also be connected to a laptop dock called the HP Elite x3 Lap Dock to boost productivity. Watch our hands-on video to see it in action.
The HP Elite x3 Lap Dock can be connected with the HP Elite x3 wirelessly with Miracast over 802.11ac 2x2 WiFi, or with an included USB-C cable, which simultaneously charge the phone while you work. The phone handles all the processing via Windows Continuum.
HP Elite x3 Lap Dock specifications
Swipe to scroll horizontally
Category
Features
Display
Nearly borderless 12.5-inch LED FHD (1920x1080)
Audio
Bang & Olufsen stereo speakers
Ports & Connectors
3 x USB Type C
Micro HDMI
Stereo headphone jack
Input
Backlit, spill-resistant keyboard
Touchpad
Dimensions
111.37 x 7.91 x 0.54 in.
Weight
2.3 lb
Battery
4-cell (46.5 WHr)
Image 1 of 3
The HP Elite x3 Lap Dock is sold separately, but HP recommends buying the bundle including the HP Elite x3 phone, HP Elite x3 Desk Dock, and HP Elite x3 Lap Dock for $1299. The HP Elite x3 is expected to be available on HP.com beginning September 5th for US orders, but starting on August 22 for UK and other parts of Europe.
See at HP (opens in new tab)
Need more? Don't miss our other coverage of the Elite x3 including:
Windows Central Newsletter
Get the best of Windows Central in in your inbox, every day!
Can I use it with L950XL ?

I think you should wait for the surface phone

But what if we already have the L950 XL, like Gourav and myself?

Why wait for what is at this point vaporware

Yes, with any Continuum capable phone actually.

Currently, only interested in the phone.

I don't buy yet "the real PC experience", until there is a real win32 app support from phone.

I don't know about your PC usage, but for me universal apps have pretty much replaced win32 apps or I can do my stuff in the browser.

Nope. Apps have not replaced much anything for me on a PC. Netflix and some simple games are about it.

I'm hoping/waiting for them to turn Office 365 fully into UWP

Therefore it must be true for everyone else.

It all deppends on what you use your pc for. I have a Lumia 950xl with dock and have no need for a pc. I can edit my web site. Check emails and carry our my day to day tasks on it. Yes it wont do high end stuff but for normal document editing, email web it is very good at. As for the laptop dock if its more then £300 in the UK I am not going to get one as that is way to much for what you get but it looks far better than the NexDock.

It looks better, has more ports, and a "nice set of speakers." (Sadly, didn't get to hear them in the video, hopefully we get to when Windows Central gets theirs in!)

What are you doing? I guess that is the real question. For me, it is photo processing, but if I could get a personal HP Workspce for Capture NX2 and IR Fanview, I could ditch a computer.

Neither in my usage. Most of the things that are accessible through apps I can access through a single browser. I see absolutely no point in having to open a dozen apps when I can instead open one browser and access everything. Games are really the only apps on my PC.

How's Edge mobile in Continuum? That's part of my concern. Edge for PC is pretty good at this point, Edge on mobile not even close.

It's good until you start opening multiple tabs, then it can get sluggish. The hope is the SD820, AU, and 4GB of RAM help in that regard, but I think there is more work to be done there by MS.

I guess it has to do with software efficiency, especially Edge which the memory management and other things seems not well optimized. Even on PC, Edge sometimes eats bit more RAM than Opera, or sometimes just bit more e or tends to hang on some tabs. All Mobile Nations website for example doesn't always play well with Edge. Metro IE were not perfect but if I remember correctly, it was rather fine with SD800. Windows RT is basically a recompiled Windows 8.X for ARM, so it actually runs full Windows Explorer shell and few desktop apps. It was the best of performance but amazingly works very well on ARM that manage to run essentially a desktop-first OS.

Here as well. Not everything, but I'd say, that at least 50 - 60% of my software on my PC is UWP now. Not to mention games :D And my browser usage has been reduced drastically as well, thanks to apps like Awesome Tube, Unstream / ZTwitch, Twitter, Facebook, Messenger, Outlook Mail and Calendar, Windows Central, Deezer, Beaconit, Flipboard, Grover Podcast, MS Translator / Modern Translator, SofaScore etc... Even my password manager is UWP, because I use OneLocker :D But I still couldn't live without the Win32 Office Suite, Photoshop, SAM Broadcaster and stuff like that. So the transition has begun, but it's not complete yet, of course.

SAM Broadcaster? Are you a radio presenter by any chance? I've used SAM in the past myself.

I'm a big fan of the new platform, but its going to take time. Even MS tools I use like SQL Server Management Studio, Lync/Skype for Business, and such are still w32 - even Office universal apps have significant limits. For now, I can generally remote desktop to a "real PC", but it would be nice for my phone to eventually become the "real PC".

For enterprise workers, they can use Workspace to run the virtualized Win32 apps from servers or Cloud. X3 is primarily targeting the enterprises.

Thats why i say real (not virtual)

Exactly. And for example, at my workplace, we already run everything on a terminal, using Windows Embedded Standard 7 on small HP clients, and Windows Server 2012 R2 on the server. So there is a real audience for this in the enterprise.

https://youtu.be/o_QWuyX8U18 Microsoft agrees. No full Office support or Intel processor means this isn't a viable computer Posted via the Windows Central App for Android

I agree. I want to run full steam games on my phone (obviously not AAA, indie ones would be great) ;D

Lets put games aside right now, Microsoft is focusing in business solutions. I'm talking more about tools and utilities

An example https://twitter.com/HelgeKeck/status/766288381320060929

The win32 experience I guess is too far. I would like to see at least a tablet mode when connecting to the continuum. It would be great to see a tablet that is powered by the phone.

Yeah, he kept talking about 2-in-1s and this being a 3-in-1 with phone, tablet and desktop/laptop, and I'm wondering where the tablet is...

I think that Intel threw a wrench into the works when they discontinued the Atom. Quite frankly, I don't understand why we don't have full PC OS and applications on our phones. There are tablets out there that cost less than $100 and run full Windows. There are phones running Android on Atom. It could have been done. Microsoft has made so many mistakes with mobile. They are on the desktop of almost every worker in the country and those people are now mostly carrying iPhones. I really like the Elite x3 and I may even get one. But, I still don't see this as a laptop replacement for a lot of people. If you already have a good phone a Surface makes a lot more sense than this package. The Surface is not heavy, it's about the same size and it can do a lot more. This could be a great travel companion for the person who doesn't use anything more taxing than Office and light photo/video editing. The platform definitely needs something like this. It's a good start. But if the phone gets upgraded to a Surface like device it could be a winner. It could be the device that people want to use both at home and work. That's what you need to succeed in mobile today.

Well, aparently Apple think their iPad Pro "IS" a PC... At least HP are saying it gives you a PC experience :-)

I think the real PC experience is to have a same desktop-like UX on Continuum, which means things like stackable apps, Windows Snap, full drag-and-drop between apps, better File Explorer with networking support, multiple instances of File Explorer and other important app type needing it. Win32 is indeed really needed though, but technically to have it is rather bit grim since the changes on Intel's announcement about the Atom. Unless Microsoft have a solution to virtualize these Win32 apps or recompile them to support ARM architecture as part of Centennial toolset. For me, I believe having a desktop-like experience is crucial to have a real PC-like experience. Continuum atm is basically like a tablet mode without snap projected on another display. It's as good as Android plugged on external display, at least there are tons of apps (especially like Office suite is here already) and seems usable even for mouse.

I'm sure that's where this is heading, but the hardware just isnt there yet.

Yea, no true Win32 apps, not a real PC...

Continuum needs to be way cheaper to have a shot.

Give it time. The price will come down. Posted via the Windows Central App for Android

Continuum is free, it comes with the phone.

I barely gives you a decent experience on the very top, fastest cutting edge hardware out there. Its not going to be cheap until the hardware catches up more.

So that means the LapDock is gonna be over $500... Erm... Darn...

It is probably OK for the mobile professionals. There should be volume discount for enterprises. You can also get a cheaper alternatve lapdock like NexDock.

Yeah, my issue was I was hoping for something with Miracast support, USB Type-C, and a FHD screen. NexDock has none of those things unfortunately. :( I know about the NexDock since I backed it and have mine shipping out to me later this month! Hopefully their next version has those 3 things...

You can get a real laptop for the same price

Yes, at least The HP rep in the video says the Lap Dock is cheaper with the bundle. For something that I am not sure supports touch and isn't a 2 in 1 form factor I can't justify the price for adding to my 950's continuum expierence. Wow, you really can get a nice laptop for that kind of money. What are businesses really saving other than the price of a Desktop at those prices?

wow, 1299? I think two major things are missing to justify this price. More horsepower from the phone. I think that would be match the competition with a surface book and surface pro. Second I that that price needs to match productivity on the lap dock with support for multitasking on the lap dock in continuum. The single app will not do. If I do "real"work on a coputer, I almost always multitask. That means have at least the possbility of having two snapped apps open side by side simulataneously and being able to drag and drop items between apps. The single app productivity and then switch apps with the task switcher won't do it. And I think I'm not the exception. I also see collegues around me using multiple apps side by side when working. Continuum should have at least supported tablet mode from windows 10 pc where you can snap two apps side by side, from the start. I think the way continuum is implemented now is merely a proof of concept.

I expected something close to that price for all 3. I just want the phone and lapdock, but may get the combo. I agree with the tablet mode, and side by side need, and hope this is added with Redstone 2. Like everyone, I wish mobile was more of an urgent and critical focus of Nadella's Microsoft.

My Dell latitude with i5 and 4gb ram seems inadquete to me whilst multitasking with outlook, office, browsers + my dev tools open, I cant imagine continuum supporting phones to replace PCs for those who need PCs, it would work for someone who just needs it for browsing, lite mails and office work etc

Yeah, $1299 is way too much. A Lumia 650 and a $500 laptop comes in at half that and does more because you're not limited to Continuum.

True, but a lot of business users arent going to buy a Lumia 650 and $500 laptop. They're going to have an iPhone or S7 and a MBP or nice laptop. Of course, those same users will have to accept a limited selection of apps on their phone and limited apps on their laptop/desktop. This is a preview of where things are going. IMO, its not quite ready yet. Though, this hardware looks beautiful.

Good to know that the Lumia 950 XL is able to use the LapDock.
I like the idea of Continuum but it has been limited to the Display dock at home.

You can get a Superdock and Note 7 for way less and do way more. It will even allow multiple apps at once. They need to cut this price in half. Posted via the Windows Central App for Android

The $1299 is for the phone, the desk dock, and the lapdock. Cutting that price in half would be $750 which is not even remotely reasonable. I get it, you think Windows Mobile and Continuum are useless and you get perverse pleasure out of repeating that on every single article about both but at this point in time you are just coming off as petty. Maybe you can go buy yourself a Note 7 with a Superdock and the two of you can go off and get married and have lots of little app babies and leave the people who enjoy this technology for what it is to, you know, enjoy it.

Yeah, it is actually $650 and that is still a bit too much. $400 for a faux metal phone with good specs is kinda high, especially with Windows. $100 for a dock and $150 for the lapdock is definitely too much. Especially for something no more useful than a Chromebook or iPad.

Yeah but then it's Android, and as an android user I can say that would suck just like a chromebook.. Nope.. Nada.. Posted via the Windows Central App for Android.. But waiting for the HP Elite so I can get rid of this junkie Galaxy S5...

Just the Play Store makes Chromebooks or Android more useful. Continuum is severely lacking in software.

Most businesses who implement something like this will do so with Citrix/Remote App setups... and then provide their end users with all the line of business applications on their phone... it's actually great for business... and Chromebook and Android will still require you to teather your internet connection to the other device (and some carriers charge more for that).

Any business who implements something like this is going to get groans and looks of confusion from its users. They haven't previously used Windows phones for a reason and they certainly didn't adopt Windows RT for a reason. To think they suddenly will now without a really compelling argument is rediculous. They could have at least made it cost effective.

and thats why this phone is not for you, this is for enterprises who would then make available all the applications in a virtualized env.

For $500 you can carry an actual laptop and not have to virtualize anything. They needed to make this very cost effective to drive adoption. Even at half this price they would be hard pressed to sell this solution. At this price it will definitely go nowhere. You can buy a Surface and 950 for way less. Posted via the Windows Central App for Android

The company then has to supply the phone knocking the cost back up. The x3 is just that: three in one scenario for companies that typically supply their employees with a desk PC, laptop, and phone for their job. Unless you are accounting for the situation you are missing the point of the x3. Once again, I defer to HP who know their customers wants and needs. That is what drove this device's creation, it wasn't on a whim.

It is actually a 1 in 3, not a 3 in 1 device. You have to have three different sets of hardware but can only experience one at a time. With the AU you could buy a Surface and a 950 for much less and have the Continuum experience as well as a full Windows experience. If your company is giving you a desktop as well, then obviously the laptop isn't powerful enough and the X3 most certainly will not be. Otherwise you would just hook your laptop to an external display.

Actually you should look up how continuum works. You can use the phone completely independent of how it's being used with a dock.

So maybe it is a 2 in 3 at best. You can't really do much with the phone if you are already working on an external display. I guess you could take a call or watching a video or something hands free like that. Posted via the Windows Central App for Android

Using continuum, on my external display at work I do web browser based work, respond to emails and use office tools, yet on my 950XL screen at the same time as using the external display I use Groove Music, WhatsApp, Messaging, Amazon, eBay, Windows Central, Trucaller and phone So, I've concluded that you really do talk a load of twoddle. It's amusing to read your comments - they on the whole appear to be childishly trying to wind people up so all that will happen is on the one day you do say something contructive it will go unoticed, swallowed up by the other nonsense you've said. And the rest of us will not be bothered.

Yawn. Come on now, you can do better than that. I know, why don't you flip through the vast catalogue on your darling Android device and see if you can find an imagination and a life. I'm sure there's an app for that.

Damn you are killing me, anyways this guy is the greatest joke

We will see who the joke is in 6 months when this has flopped and Microsoft kills development of Windows Mobile since they have no path forward. $1299 for a device on platform with a risky future is a tough sell. Posted via the Windows Central App for Android

Lol, now those app babies need trendy mashup names, like ReJackson or Taylor.it.

Leave him alone. He's pretty lonely lately.

Hi - Does anybody know if the Lapdock is touch screen? It never says it is and the video did not show that capability.

I do not think touchscreen work with Continuum. Posted via the Windows Central App for Android

Can confirm with first hand ownership, Continuum works with touchscreens.

Yes it does work with touch screens. I cast to my Dell XPS 13 sometimes using Continuum to see work emails on a larger screen, and the touchscreen is fully functional, as is the laptop mouse & keyboard.

@augustaville I don't think the Lapdock is a touch screen although Continuum should work with it. Touch screen support was added with the Anniversary update I believe.

I don't think Continuum supports touch screen yet Posted via the Windows Central App for Android

Continuum does support touch on Anniversary edition or at least it does on 14905 on the pc side. I use continuum from my 950XL on my Surface Pro # and the touch screen works great. I would like have something less valuable to cart around to run things. I would really miss the touch screen.

No, the lapdock is not touchscreen.

Can you make a review for the HP Elite x3?

I'd be really happy if I could get a MS store firesale on the Display Dock for $49.99 and the L950 DTTW firmware from AT&T!!!

$300.00... ... ... Mark this page.

One way for windows mobile to take off, is for Microsoft provide schools, with azure so they can install their apps, and bundle it with office subscription. And sell continuum windows phone and dock at COST to students at their schools bookstores. (having your cellphone + a laptop at around $500-$700 would be an amazing deal to students). This way they get mass consumers of windows mobile in US, hence it becomes good incentive for other developers to get on board.

Microsoft killed it's Azure RemoteApp platform.

In my opinion this is truely how continuum is supposed to work. You buy a phone and get a phone, a notebook- and a pc-replacement. If you still need win32 apps you can run them via remote desktop for example. And you might also pay less than buying everything separate. Sure performance of true x86/x64 notebook or pc is obviously better etc. But for most work this thing does the job with win10 universal apps.

Too expensive at this point to be considered exciting. If HP can actually find a substantial number of buyers willing to pay $1299, that would be exciting. It's just not going to be me.

This is a really nice phone, I wasn't tempted for years to get something new, but now I am. I am also not ready to get Apple or Android phone just yet :)

Hmm this device combo is very compelling many folks will give it try. I still read that people are holding back waiting for a Surface smart phone but does it EXIST and will it come to the makrket place? What i want microsoft officials to say is that the Surface line of smart phones is coming to the market place. Microsoft officials do not have to give us any specs. all MS CEO Nadella has to say is the Surface smart phones will come to the market I want to know because if a Surface smart phone does not come to the market place I can get me the HP Elite X3 full bundle and move on with my life. there are good reson for me to stay with with windows smart phones 1=they will be the best smart phones to use with the greater world of Windows 10dektop/laptops,tablets and servers. 2=Windows 10 mobile smart phones use Universal apps the same ones a a full Windows 10 OS Desktop PC, Laptop, Tablet and windows 10 Servers can use. 3=Through Windows 10 Continuum Windows 10 mobile smart phones that have Continuum function can become in essence a Pocket PC one device that does what a smart phone and laptop PC can do. 4= The modern UI Tiles the tiles may be ugly to some but they have to big enough for a peoson to read the data thet is being updated with in the tiles. they are unique to Windows smart phones a techology that can be very useful but put down by dummies who donot realize the tiles have to be big enough for a person to read the data that is inside them

Cool and sexy.I still don't think it'll catch on though.My wife has a work supplied Lumia 640 and a Lenovo Think Pad.I would assume this would still be cheaper than the X3 combo. Posted via the Windows Central App for Android

Some quick math: $1299 - X3, Lap & Desk Docks
-$799 - X3, Desk Dock
----------
$500+ - Lap Dock Except he said that the $1299 combo would be a cheaper deal, so maybe more like $600 for the lap dock. You can get a pretty decent laptop for that, which is really disappointing. I was hoping to see something like $200 for a screen and keyboard with a battery.

Compared to nexdock's price of $129, $200 for lapdock seems just about right. But 2-3 times more? That's just too much.

I don't quite get the "PC experience" and the win32 thing. In some descriptions, it seems like the x3 can *emulate* win32 applications, in other descriptions it seems like the x3 comes with a "terminal program" (possibly subscription based) so that one can use the x3 and log into one's (proper) PC/workstation and do the computations on the PC while sending the results to the "terminal" (x3). Personally, I'm somewhat skeptical towards basing the operation on good internet access -- travelers may experience situations with poor internet access. And I'm also curious about how good win32 performance can be achieved on the x3 processor -- if that is what is offered. In any way, I probably belong to the group that needs to run applications and can not base work on apps alone (e.g., Python code that use numerical libraries, non-standard word processors (i.e., not Word), etc.). But the *concept* of the x3 is interesting. What really puzzles me, is how difficult it seems to be to say (i) precisely what is meant by a "PC experience), and (ii) the battery life of the x3 with Lap Dock -- why say "the whole day"? Why not say, e.g. 8 hours, or 15 hours, or whatever? *Finally* -- will HP make available their Prime Graphing Calculator for the x3/Windows 10 Mobile? I think it is available for Android, and for Windows 10 (PC version)...

I know its $400 more, but this lapdock does everything that the NexDock can't. Wi-Di and NFC to connect, USB-C charging, battery indicator, higher resolution, backlit keyboard. I can't wait to see live performance tests of the Snapdragon 820 versus the 800 in my current Lumia 950. Multitask support is going to make this awesome in the future but this is a solid start.

Compared to the price of a Spectre 13", a Lumia 950XL phone, WiDi adapter, and Display Dock you save about $500. Less assets to manage, cables and devices to update. Think about all of the patching you eliminate in a corporate structure with say 1000 laptops versus phones and virtual apps.

It is a great concept, the specs are decent. However I can't think of anything really productive rather than office programs. The point is to pay $1,300 for this system is still not moving me away from my Surface Book or even considering to have one of those.

Don't forget that this is an enterprise product. It's cheaper than a company deploying a fleet of Surface Books to their employees and of course it's not going to replace the power of your Surface Book if you are using it for resource intensive work.

But it is way more expensive than a fleet of 650s and Surface tablets while not being nearly as powerful. Windows RT is a tough sell, especially for business. Posted via the Windows Central App for Android

Agreed Windows RT is a tough sell. But, surprise surpise, this has nothing to do with Continuum and HP Workspace.You do realise with HP Workspace you can run almost every application as if it was on your phone? I've seen you ridicule people, products and companies in this thread. Also you're, possibly deliberatly, spreading inaccurate and false information. To me it seems you're either secretly in love with Microsoft and it's products and that's why you can't keep from commenting but lack the guts to say something posive or objective, or you're aiming to agitate people. Both are sad options. If you're not interested in Windows then please stay away from Windows Central and let people who are interested enjoy themselves in peace.

I love Windows 10 and have been a Microsoft fan for 20+years. I have at least 5 machines running 10 including a Surface Pro 3. This Windows phone thing though is an embarrassment. I do not like seeing Microsoft continue down obvious paths to failure. They have been pushing this same platform for 6 years and do not seem to understand that no one is interested. They are wasting development on a dead end. I want to see them successful, not laughed at while pushing a platform that has proven to be a non-starter. Sure you can run some light x86 apps if you have a decent internet connection and pay whatever subscription fee that HP wants. I am sure it isn't cheap at all, especially after seeing how much they want for this device. There just isn't any compelling reason to spend all that money to do that. A cheaper phone and an Ultrabook or Surface is a much better experience for much less. Until Microsoft completely changes strategy in mobile, they will not go anywhere. The current one, which is basically unchanged since 2010, has proven to be an absolute failure. Yet they continue down the same path. I think you are the one who wants to see them fail. Posted via the Windows Central App for Android

Continuum is a unique offering from MS, that "no one is interested" you speak of, has got me all over it. Not everyone are into pokemon or snapchat. Even if window mobile have all those entertainment apps like snapchat, facebook, it can be blocked so employees can stay productive. No one like having store access blocked but companies are dicks. Using lapdock are awesome because I don't see the need to head to Starbuck for wifi (I heard they track you by using their network) or jetpack. Most importantly, I take pictures on my phone or digital camera and I need quick access to download it and head straight to my outlook to attach it. Lastly, My wish is surface phone has surface lap-dock with pen so I really don't need to do redlines with my surface pro. If you are an IT, you don't know what is field work. I hate to explain half an hour to my boss what I am seeing. I would rather send him a pictures with my circle and arrow from my onenote. So MS have a unique opportunity.

Err, that err, man err, from HP err, says errrr, too errr many errrr errr times errrr grrrrrrr lol

This is a pretty decent set of kit. The phone is worth the price of admission. Given the focus of HP with this device, I can see myself spending the money to get the system. It's a once and for all business solution. This is not meant to be a concumer device, and I am glad HP has had the fortitude to completely ignore the consumer market with all the bells and whistles and look alike to give the "prosumer" a proper device. Great going HP !

I have a HP Pavilion Entertainment PC that I now have upgraded my Pavilion with 16 gigs of ram and a SSD 1 terabyte.. FAST!!! Along with my Samsung Note 4 soon to be Note 7 I'm doing good on technology

What's the price of the Lap Dock?

We need this flagship in india

Is there any reason Microsoft can't stream the Win64 version of Office to the Continuum enabled phone? Docs would be saved to a cloud drive. So you have an offering for casual and power users

Sorry, I don't get it. Edge on Mobile sucks. Printing on Mobile sucks (I have yet to get it to work). Handbrake? Nope. Outlook? (The REAL one)? Nope. Plex server? Nope. Steam? Nope. Visio? Nope. Webex? (It's a disgusting pile of crap on Windows Mobile). Wireshark? Nope. That was just a quick run down my programs list. What about several terabytes of storage? An optical drive? A card reader? Wired Ethernet? Honestly, I think a Chromebook would be better (and I have zero desire to get a Chromebook!) I understand that I may not be the average consumer, but there's no way I could recommend this to the average consumer either, especially not at this price. Why not a full-blown laptop with money to spare? (Besides, I think the average consumer has already caught on to all of this which is why market share for Mobile it tanking). Microsoft's heart is not in it. Why? I think Microsoft is slowly moving away from Windows, and not just Windows Mobile. UWP is a joke. Nobody uses it. Why doesn't the Band run Windows 10? Why does Sync exist instead of Windows 10 in cars? Why is Windows Server still a thing instead of just Windows 10? The answer is because different platforms have different requirements. Apple got it right with IOS, OSX and WatchOS (or whatever it's called). These platforms can have similar APIs (and even re-use code where possible) but they are much more effecient when the OS is purpose-built. (That'll probably be the only pro-Apple comment you'll evere hear from me!) Microsoft just open-sourced PowerShell. You can run SQL Server on Linux now. Microsoft Sway is available on Windows 10, IOS and Android, but not Windows Mobile. Once MS ports DirectX to Linux, it'll be the end of Windows, like it or not. Microsoft will be happy just selling Office365 subscriptions and Azure (which, unfortunately, might be all they need to sell).

Is this a smart method to do this ? $1200 is a lot of money for a cell phone and a laptop (unless your going flagship). Let's see you can get a iPhone 6 under contract for under $99 (best buy had them for 0.01 under contract the other day), You can buy a off the shelf nice laptop for about $600-800. You can use all of Microsoft's apps on the iPhone, and you can use One drive on the iphone to sync with your Windows 10 laptop, sure more steps but, a good $500-600 cheaper... On the Windows phone/Windows Laptop side. A mid grade Windows Phone device under contract $99, a off the shelf mid line laptop, $400-600, say $500. So now your talking $600 and you get most features that this combo offers. Maybe HP should of gone the carrier option, as it looks like a nice setup but, You can buy flagship other phones for a less than $700, not under contract, but, if you dont mind a contract, forget about it. Still no Verizon, so it does not help me any bit... and even so, I dont think I would pay $700 for a phone.

Great idea. I would buy this. Love what HP have done here.

All of this running from the phone is impressive, indeed, but I can't see it being successful with businessmen until continuum starts supporting x86 programs, which, admittedly, would be quite cool. Imagine running CAD or car tuning software or whatever you need from yur phone. This would be truly revolutionary.

I'm excited for this LapDock.

For $600? Posted via the Windows Central App for Android

Seems to be a game changer. The battery life of the lapdock and being able to charge the phone from the lapdock seems like a pretty big deal. I had done a similar use case to this with the 950 and an old laptop on youtube: https://youtu.be/elaTt-J1EsI
Windows Central Newsletter
Thank you for signing up to Windows Central. You will receive a verification email shortly.
There was a problem. Please refresh the page and try again.