Hands-on with HP's Windows Mobile iPaqs - CES 2008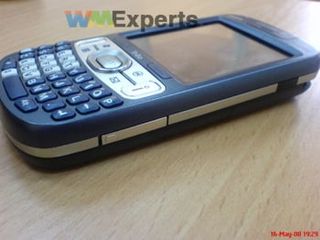 HP's iPaq offerings at CES this year are nowhere near as exciting as what was leaked last week - namely the Oak and the Silver - but they're alright. First up, HP is still trying to get traction with their cute-as-a-button iPaq 500. It's a decent little candybar phone on Quadband GSM/EDGE (only) and WiFi. The rest of the specs are decided low end - but with 6.5 hours of talk time maybe that's ok. AT&T and T-Mobile don't seem to think so - HP still hasn't managed to pick up any official carrier support in the US.
The only other notable thing about the iPaw 500 is it features "HP VoiceReply." It's just a plug-in that lets you record a voice reply to an email and send it as a wav instead of trying to type it out on T9. While you're driving. And shaving. And eating a burrito. Really, you should just pull over.
...After the break, HP has a brand new non-smartphone iPaq coming that's just a beast - the iPaq 210 Enterprise
The iPaq 210 Enterprise
First thing's last - when I asked the HP rep "Seriously, who's your target market for a Windows Mobile 6 Classic device" ("Classic" being the new nomenclature for "Non-Smartphone."), he replied:
"Existing enterprise customers who want more power."
...In other words, don't deride HP for thinking they're going to have a retail smash hit with the iPaq 210.
All that aside, the 210 is actually a great device - it's a trip down memory lane for us to get just a little excited about a straight PDA. I mean, this thing has dual memory card slots! Anybody else remember Handera?
So, Specs: It's about 5 " by 3" by .63" (yeah, huge), but in that huge package you get Wifi b/g, Bluetooth2.0, a 624 MHz processor, 64 RAM / 256 ROM, a 2200 mAh battery, Microphone and speakers (hello VOIP), SD, CF, and 480x640 screen.
This thing just might be the King of PDAs. Of course, that's a dying kingdom, isn't it?
Get the Windows Central Newsletter
All the latest news, reviews, and guides for Windows and Xbox diehards.