Hands on with the new podcast app for Windows Phone 8.1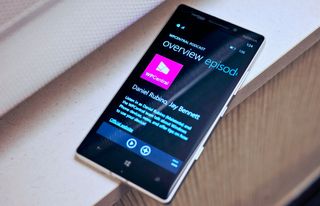 Windows Phone has always had podcast support integrated into the OS. But now it's getting decoupled from the core OS and will live on as a separate app. The benefit is that Microsoft can now create a richer podcast experience on Windows Phone without needing to update the operating system. All that's needed now is an update to an app.
Let's check out podcasts on Windows Phone 8.1.
This is a pretty basic podcast app compared to third-party apps available in the Windows Phone Store. That's not a bad thing though, because you're getting more features than before in Windows Phone 8. You can now vary the playback speed, scroll through a podcast episode with better control and more.
Power podcast listeners will probably stick to their favorite third-party app, but this new podcast app on Windows Phone 8.1 is a solid start for the average podcast fan.
Let us know what you think of the new podcast app and follow the rest of our Build 2014 coverage here!
Windows Central Newsletter
Get the best of Windows Central in your inbox, every day!
Will it work worldwide? Or rolling out like Cortana? <hope not>

id put good money on podcast & cortana not reaching the UK any time soon.

Try living in the third world, It's going to take years for these to get here.

Based on the emulators, it will be available worldwide. I changed my location to Australia and even though the Cortana stuff disappeared, Podcasts stayed :D

I need it for W8! I need something that downloads to my folder of choice podcasts, that is it. Sheesh. This app looks good. I hate how you can't keep podcasts that are not played, it has to be a number. Just arg, with this whole experience from Zune...

O just hope that they have it like wp7 where if you sync a iTunes podcast it updates automatically

A video of the new Store app , please!!!

What's a great app to make a podcast? On Windows Phone 8? On Surface Pro?

Have they increased the download limit over cellular????

Can anyone please tell me where to get that software to get windows 8.1 as preview??

R.I.P. Hubs. App launchers are back in 2014 like hipster-glockenspiel-neo-funk-soul-blues-techno-ukele art rock.

Yep, thanks to the f(*&*!$%)(!*&@#)(ing carriers and their stranglehold on OS updates.

Yeah. Hubs never became what they could, but it certainly looks like they are dying. Shame, great concept but between the carriers and the shoddy developer adoption it's inevitable. Not a deal breaker, but certainly was a heck of an nice idea. Posted via the WPC App for Android!

Hope you can force check for new podcasts. Speed control will be nice. Now they just need to slip in audio book support so I can replace buggy audible app.

can you upload your own podcasts? if not how would you do it?

So, with the Podcast support in the Xbox Music & Video Hub, new podcasts would be automatically downloaded via the Store. Does that still happen with this new Bing Podcast app? i don't want to open and leave open the app just for it to download new podcasts.

So,apparently what was missed in some of the reporting here, is a new API to allow for background transfers while app is suspended. http://msdn.microsoft.com/en-us/library/windowsphone/develop/hh452975.aspx Looks like BITS was brought to WP finally.

How is it? Can I find all the Podcasts I can find with iTunes?

From what I understand, there is a Bing search for you to find them as well as a way to manually enter the RSS feed. So any and all podcasts should be accessible now.

Why isnt the "xbox" postcast app any good? I use it and honestly never have any complaints.

Will the Xbox Music + Videos app still have the same functionality or will that be removed alltogether? I've never had an issue with the way podcasts are handled now and I listen to them daily.

Wonder what the next app to be shunted from the OS will be. Calendar seems like a prime candidate. Posted via the WPC App for Android!

My main concern is if there's syncing between some desktop app and the app on my phone. That's primariliy what I want. Sync in terms of listening location and downloading.

agree 100 percent this needs to be a universal app that works on all ms platforms including x1. with synced settings and play position

Yup, it feels like it should've been since day one. I understand I can sync downloads. But it needs to be so much more. Synced even with Xbox Music/Smartglass (that is, if XO is an entertainment box).

You mean with the start screen "apps" on Windows 8 desktop? Jesus, do people actually use these apps? Microsoft could learn a thing from Apple's OS, as much as I hate to admit it Apple did a pretty good job with integrating their gadgets together. Otherwise I don't see what one would sync with, as far as I can tell Microsofts media player is dead and ignored... iTunes is ok.

I see it has scrubbing! Does the music app too?

Does anyone else have problems with this app crashing immediately upon launch? I have yet to be able to get it to work. I have a Lumia 1020. Anyone with a solution would be appreciated!

You're not alone. I'm having this problem with the Lumia 920. Others are here: http://forums.wpcentral.com/windows-phone-8-1-preview-developers/275410-...

Running fine on my 1020, but I have a few gripes that I'd like to let the devs know about. The biggest thing that I can't overcome is an upgrade issue where I had a few episodes downloaded from podcasts that I was not subscribed to. I can still download and delete episodes from these few "orphaned" podcasts, but I can not subscribe to them and even when I delete the last downloaded episode, the title is not removed from my collection. The new process for downloading specific episodes is an impovement wherein one must subscribe first, then choose to not automatically download any episodes, but the upgrade process from 8.0 to 8.1 needs to be fixed somehow. Now for what should be an easy improvement, when I choose to listen to the oldest episodes first, I would still prefer to have the episode list sorted so that the newest one is at the top. When I've missed the last few weeks of a show, it's nice to be able to look at the list and see the ones that I haven't herd yet at the top of the list rather than having to scroll through hundreds of episodes in some cases to see where I am in the series.

I am having this issue too. In the old music hub, when problems occurred, you could plug hour phone into a PC and access the music>podcasts>podcast series folder and delete the .ser file for the podcast in question and re-subscribe. I tried this, and deleting the mp3 files, but it didn't seem to work. How do you delete a podcast from the list that is used to populate the favorites list (i.e. the list that appears when you click 'edit favorites')? Help.

I'm sorry, but this new podcast app is really terrible. It's like the people who built it don't actually listen to podcasts. First, to get to your list of podcasts with the counts that tell you which ones have new episodes, you have to swipe around a couple times and then tap "audio" which is not very intuitive, but I can learn to live with that. The real problem is that the list doesn't actually tell you which podcasts have episodes you haven't listened to yet. Instead of giving you a count out of the actual new episodes it has downloaded, it gives you a count of unlistened episodes out of EVERY episode in each feed, which is useless. I'm not going back through every feed and manually selecting each episode to mark them all as played because that would take forever, so I'm stuck with a count that looks like "96 of 100" which tells me nothing about whether there is a new episode. So I have to actually select each podcast to see if there are new episodes available. Then when you actually select a podcast, you first get the description view and have to swipe over to the list of episodes every time, which is annoying. Then you are always looking at a long list of every episode instead of just the downloaded episodes. There is an option to only show downloaded episodes, but that option doesn't save when you leave the podcast and come back and there's no way to make it the default. I hope they have the ability to update this app without updating the OS because it is really terrible right now. Good thing there are some decent 3rd party podcasting apps on Windows Phone, because this thing is a usability nightmare.

lol, they probatly used an HTML universal app and the interns at microsoft because no self respecting engineer at that company wants to code for the sinking boat that is windows phone.

Can' find some of the podcasts I usually listen/watch. Is there a way to manually add podcasts?

Copy/paste the podcast's RSS url into the search bar.

If I type the name of a podcast into the search bar, especially a podcast listed in the Microsoft podcast directory, it should pull up the podcast. However more than one of the smaller niche podcasts I listen to don't show up without manually adding the feeds where they used to just be found in the marketplace. Great idea, having a Bing search to be able to find podcasts that don't list their feeds with Microsoft. But poor implementation. As a podcaster myself it would have been wonderful to have some forewarning of how this app would work before it was launched.

"we have made it an app so we can update it and make it richer and better" -xbox music app team. LOL. I will not have high expectations this time.