Hands on with MovieJax, a new video editor for Windows Phone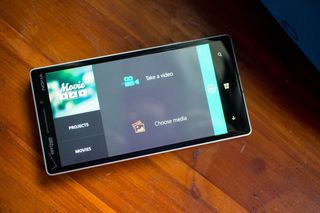 MovieJax is a new video editor for Windows Phone that we mentioned the other day. It joins Movie Maker 8.1 and Movie Moments in this new category of apps for Windows Phone. We have spent some time with MovieJax and think a lot of you are going to like it. Head past the break to watch our hands on video.
Features:
Built-in in video capture experience
Add videos from your camera roll
Easily edit videos including trimming and audio control
Add photos into your movie with ease and select a custom duration for each
Add your own text with custom background color for a truly personalized movie
Choose your own background music for your movie
Easily save and share your creations with friends and family
The user interface is pretty straightforward. If you've edited videos before on a desktop, you're going to understand how to use MovieJax right away. There's a help button on the right if things are still unclear.
To get started, just click the "new project' button on the right. By default, a 5 second title screen is inserted for you. You can type your title here, or remove it if you like. You can also change the background color and length.
Tap the plus sign to add video, photo, or text. You can choose from your existing library, or capture new video from within the app. The built-in camera has options that remind us of Nokia Camera. You can change the video size and white balance.
When you've added clips, you can also trim by dragging the starting and end points. The timer below the clip shows the new duration. Most people are impatient, so keep each of your clips shorter than 30 seconds.
Below the timeline, you can add music. This appears to be editable as well, giving you an option to trim and create loops. However, MovieJax crashes whenever we try to edit the music. We hope this gets fixed in an update.
When you're done editing, click the preview button to see if you're happy with the results. If you're satisfied, click the publish button. Under the settings, you can choose where to save the video and its output quality.
MovieJax is a free download from the Windows Phone Store, but it's limited to 30-second movies. There's an in-app purchase of $2.49 to remove the limit. Check it out and let us know what you think in the comments!
Windows Central Newsletter
Get the best of Windows Central in your inbox, every day!
Does it have a feature where you can blur or censor faces or images?

And do explosions and 3D effects? lol!

On a separate note, is there this feature in any camera app by which you can use both cameras simultaneously to take video (half/half screen and other configurations)? Just like the camera app by Samsung for their Android offerings..

Can you save videos to smaller RES than 720p?

Yes. In output settings, there are options for Auto, 1920x1080, 1280x720, 800x480, 720x480, 720x576, 640x480, 320x240

Yeah. For output you have the following options: Auto 1080p (1920 x 1080) 720p (1280 x 720 WVGA (800 x 480) NTSC (720 x 480) PAL (720 x 576) VGA (640 x 480) QVGA (320 x 240) Edit: I see Mark beat me by a minute! :p

@Mark why is your dog named Google?

That's the name the adoption center gave him. Thought it was cool not to change it. If we get another dog, I think we'll name him/her Bing..or Lumia... or Surface

That is crazy! Cortana fits it better.

No, i think CHIEF is better.

Hahahahaha @Mark Bing will be a great name.....it has a high pitch note in the name when called and dogs love high pitch notes....it will respond quicker to it.

Unfortunate they don't make some of these backward compatible with 8.0.

I think it's due to the API restrictions Microsoft had put in the OS. I could be wrong, though.

That guy from Vegas is right. Windows phone 8 didn't have the required APIs to get the job done.

No transition effects? Even just a few simple fades (fade to/from black/white) would be enough. Looks like good UI and interface design. I'll consider it if and when they add transitions.

Yes! This is one thing I noticed in an otherwise great app. Also the options for text are limited, can't overlay text over footage. Movie Moments - awesome text options but no other editing other than trims. Movie Maker 8.1 - Powerful transitions but crap interface. Movie Jax - Amazing interface and usability, great editing but no fancy transitions or ability to overlay text to video footage. Maybe make the movie title in Movie Moments, edit everything in Movie Jax and piece footage together that needs transitions in Movie Maker 8.1

Hi Dean, We focused a lot on getting the user experience right for our v1.0. We are workign hard now on building on this foundation to add features people want most tothe app. This includes video, photo and audio effects as well as transition effects between the clips. We will also be working as part of the effects work to allow for text on video. Please post up any feedback on our facebook page www.facebook.com/moviejax Thanks!

Movie Jax is my favorite for putting video together. Movie Maker 8.1 will really need to get their act together with the great app Movie Jax is. Also it doesn't need to lean on the connotation of being confused with Windows Movie Maker to get support, it's just a good app and heading in the right direction. I would probably just use Movie Moments for titles and Movie Jax and who'd believe I did the video on my Windows Phone ;)

It's not bad. Easy to use.

is there any app for wp 8.1 which help us to hide downloaded videos??

Anyone else having an issue with the up side down Glance Screen after installing this? Lumia 928.

Yep.. Thought it was just me..

Happened to me as well. Soft reset was the only thing that fixed it for me. Apparently that happens with a few other programs on 8.1.

This is an OS level issue it seems we have no control over. I'd hope it would be sorted in the final update.

I can't reach to delete projects or Movies ,lumia 1520 wp 8.1 Preview, and i have bought the upgrade no limits 30seconds

There is 1 more app called: Video editor 8.1 and has more effects (it just the UI could be better)

That's one good looking app. Posted via Windows Phone Central App

LOL Mark, you have a dog called Google, a Microsoft phone and you edit your videos on an Apple computer. Not mocking or anything, just a bit funny.

Does anyone know how to rotate a video? I don't think this app does that. Somehow a video I took in landscape shows up in portorait when I play it off of OneDrive. It plays fine on my phone, although it the controls on are the side of the video, not on the bottom.

Is there a way to move the clips forward/back in the storyline? It seems I can only remove them and then re-add them.

MovieJax just got an update.

Why is it always a good and popular app is not available for the Indonesian region. Why or why like that? Please party Windows Phone. Work for the entire region in Indonesia. Thx

This app is best among the others in the store I love this app

I'm waiting for a audio editor

Has the issue where the glance screen turns upside down in WP8.1...just like with MovieMoments.

check out a file explorer called aerize explorer. Im saving video to my phone and SD card from 6tag and onedrive. Then I use them in movieJax and other video editing apps. Go to one drive and share video with Aerize and the video will get saved to phone or SD card incoming folder of Aerize. Fyi

This app isn't downloading. It's stuck in pending. All other apps apps I have tried are downloading. Is this a bug or what

Hey, we have created a user voice for MovieJax here for all feature suggestions and support: https://moviejax.uservoice.com/ We'll be updating the app in around a week and updating this link on the about page, but in the meantime, feel free to add and vote up your favourite feature requests.