Windows 10 May 2019 Update hands-on video showcasing the best new features
Let's go hands-on with the next Windows 10 feature update, known as the May 2019 Update.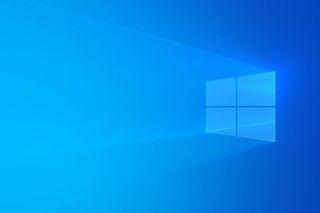 (Image credit: Microsoft)
Microsoft's next Windows 10 feature update, known as version 1903 or the May 2019 Update, is almost complete. That means it's time to go hands-on with the upcoming release to showcase all the biggest new features and changes you can expect to see when it begins rolling out this spring.
The May 2019 Update packs lots of improvements to the overall user interface when it comes to things like the Windows Shell and system components. There are new drop shadow effects behind modern menus and popups, a default Start menu layout that's much cleaner, a feature called Windows Sandbox, a new light theme, and more. We showcase it all in our video walkthrough above.
Windows 10 19H1: The Complete Changelog
Microsoft's next Windows 10 update is expected to be available as a free download for existing Windows 10 users sometime this spring. If you can't wait, you can join the Insider Program and download the latest, pre-release builds now.
What are your thoughts on the next update so far? Let us know in the comments.
Windows Central Newsletter
Get the best of Windows Central in your inbox, every day!
Zac Bowden is a Senior Editor at Windows Central. Bringing you exclusive coverage into the world of Windows on PCs, tablets, phones, and more. Also an avid collector of rare Microsoft prototype devices! Keep in touch on Twitter: @zacbowden.
Anyone else having problems with 19H1 fluent design elements not displaying? I have transparency turned on and still see no fluent in apps or the start menu.

Not having any problems with them, what build are you on?

Turn off battery saving mode.

It's astonishing how Task View animations, although much better than they were in 1809 (which isn't hard given how utterly embarrassing they were there), still don't look quite right (see the small jump in 10:48) and are still worse than in 1803 even. How can this take so long? How is there nobody at Microsoft who cares enough about this? So much talk about design and then they don't care about how central UI looks like? Didn't the last build still have a watermark? Where is it in this video?

Probably has something to do with missing acrylic in task view.
Also performance improves greatly
if you move the taskbar to the left /right corners.

I really doubt it has anything to do with acrylic at all. And why would it? I think the problems began when they fixed the bug from 1803 where even if you disabled all Windows animations the ones in Task View would play.

I have been waiting for the fix for so long. My brand new Surface Pro 6 is feels so slow with the animation in 1809. It really seems like this is not a priority for them to fix

Turn animation off, then your machine should go a bit faster if that is what is slowing it down. strange really because most machines should cope with it these days. Animation is turned off on my machine, not because of speed, but because I do nto see the need for it and to be honest it makes windows 10 look worse than it does.

Good video, now I know what stuff to disabled when I eventually update to it.

Great video as normal, Zac. In regards to Troubleshoot, I have actually had great experiences with that in 1806 and 1809. I have used it to fix the Store Apps, and Windows Update a few times.

Nothing awesome, but all good.

Are the new Office icons only available in this update? My Office 365 programs still use the old icons.

It looks like they are only for the web apps for now. They are not out yet

I'm pretty sure that Office hub app isn't new. I've had it on some PCs and I'm not an Insider. As for the update, well, I hope it fixes FLAC file support on Explorer. 'cause I've prevented 1809 from installing because on that version tags on FLAC files simply don't work. I also hate the brightening of the taskbar in "Not So Dark" mode. Microsoft has been making the Dark Theme on Windows 10 worse and worse by the update. I'm seriously on the verge of going back to using third party programs to make Windows not look awful.

Yes, that Office Hub is new.

I love the work of a more consistent dark mode across the board. In my view this could have been adressed much earlier, which has been apparent from early on in windows 10. I am especially happy with full dark mode mail app. I love the brithness slider. still missing the voume slider in action center. This has been a wish since day one one windows 10. A logical follow up coming from windows 8. Oh, hell yes, finally I can add an external drive to indexing for windows search. About time. Still missing whatsapp plugins to be able to intgrate conversation threads to skype, like adding whatsapp threads to the skype dashboard. Just like how microsoft did it with other socail networks back in the day of windows live messenger. I think sandbox could be useful when browsing or using apps abroad, to keep my pc safe. I wish clipboard was part of action center as a tab, instead of its own window. I love windows settings. I love settings search. I use it regularly. I think users from windows home and pro users should have the right to postpone updates for up to 2 months (60 days) (my experience is that after 2 months most bugs and big issues of an update release
seem to be adressed or resolved without significantily affect your pc). I'm disappointed with 19H1 that it has (yet again!) adressed few issues of the overall tablete experience. It's long overdue and the changes needed, today, are not major to have the experience up to date. It's affecting my daily use of surface and windows 10 tablet (pc) devices.

These Windows Tiles Folders - should have from the base color - on top of preview icons - a translucent effect indicating that it is a folder ans should be clicked to reveal more tiles inside;

Sandbox looks handy... would have come in handy in the win32 days

I can't install Windows 19h1insider build because in installing 25% my computer is shut down !unexpected!

Did you put this on your every day use PC or just a spare PC?

When will 1809 finally be safe for most people to install on daily use PC's? After that horrible release, then the equally bad updates, I've done everything I can to delay updates until they've been well tested.

Great video. Considering that the changes are about as exciting as watching paint drying. What about pressing for some actual productivity improvements. Such as allowing Edge to share to Outlook desktop? As in the mail program I have paid for. That sort of thing is more important than any bit of added shadow. As for clean is good, actually in general it is not. It just tends to make things more obscure. No wonder most people use so few of the available functions. Bring back the day when you hovered over something and it told you what it did.

The light mode looks better than Dark Mode, TBH... But I couldn't care less about the Microsoft Account stuff. Will be nice to be able to remove some of those unnecessary apps, though (Mail, Calendar, etc.). I think Groove, Photos, and Movies & TV are basically required now that they've practically abandoned Windows Photo Viewer and Windows Media Player. They are lacking a lot of newer CODECs that the UWP apps have... Though I can always just set PhotoDirector or PaintShop Pro as my default viewer, there aren't many nice-to-use media players out there that aren't full of bloat or use ridiculous amount of CPU.