Samsung confirms GDDR7 DRAM for next-gen GPUs will use PAM3 signaling
A glimpse at the future of graphics memory, twice as fast as GDDR6.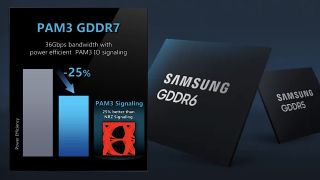 (Image credit: Samsung | Ian Cutress)
What you need to know
Samsung is attending the 68th annual IEDM conference, which runs from December 3 to December 7, 2022.
They revealed plans to use PAM3 IO signaling to improve power efficiency in next-generation GDDR7 DRAM during a course on high-speed memory for AI and HPC.
A slide from the short course claims a 25% improvement over NRZ signaling used in GDDR6 but no comparison to PAM4 in GDDR6X.
---
Speaking at the 2022 IEDM conference (IEEE international electron devices meeting) in San Francisco, Samsung revealed a slide in its presentation on the next generation of DRAM that GDDR7 will use PAM3 IO signaling. While attending the meeting, but not this specific talk, Dr. Ian Cutress shared a slide (via Twitter) demonstrating Samsung's implied 25% improvement over the NRZ signaling used in GDDR6.
I'm not attending this one, but here's a fascinating slide. Samsung confirms that GDDR7 uses PAM3 signalling. NRZ is 0 or 1: 1 bit/cycle.PAM3 is -1, 0, 1: 3 bit/2 cycPAM4 is 0, 1, 2, 3. 2 bit/1 cyc80G Thunderbolt will also use PAM3. https://t.co/DJ8GvIDCJi pic.twitter.com/9Yw5zdUzDUDecember 4, 2022
PAM3 (pulse-amplitude modulation) transmits a digital signal via three levels, -1, 0, and 1, representing 0s and 1s of data, allowing for higher data transmission rates than NRZ (non-return-to-zero) signaling found in GDDR6 DRAM using only two levels, 0 and 1. This extra level helps transfer more data at the same speed, with Samsung projecting 36Gb/s bandwidth in GDDR7 DRAM.
GDDR6X memory is in previous-generation graphics cards such as the NVIDIA GeForce RTX 3080 and 3090, which use PAM4 signaling for a maximum bandwidth of around 19-21Gb/s. Although PAM4 technically sends four levels to transmit more data than PAM3, the current implementation method in consumer-grade GPUs doesn't guarantee better performance.
Still, the advancement in available bandwidth is a big deal for GPU memory, and these upgrades should be available sometime in the future. While PAM3 sounds less enticing than PAM4 for everyday PC users, proper use depends on a balance between effectiveness and cost.
For comparison, the latest NVIDIA GeForce RTX 4090 GPU runs at an effective 21Gb/s, even pushed slightly above by brave enthusiasts overclocking the card. This futuristic tech isn't aiming for a commercial market yet, and it'll likely be a long while before we see any consumer-grade graphics cards using GDDR7.
AI-accelerated performance with DLSS 3 and ray-tracing, the RTX 4090 is the absolute top-end performance GPU for PC gaming enthusiasts.
Get the Windows Central Newsletter
All the latest news, reviews, and guides for Windows and Xbox diehards.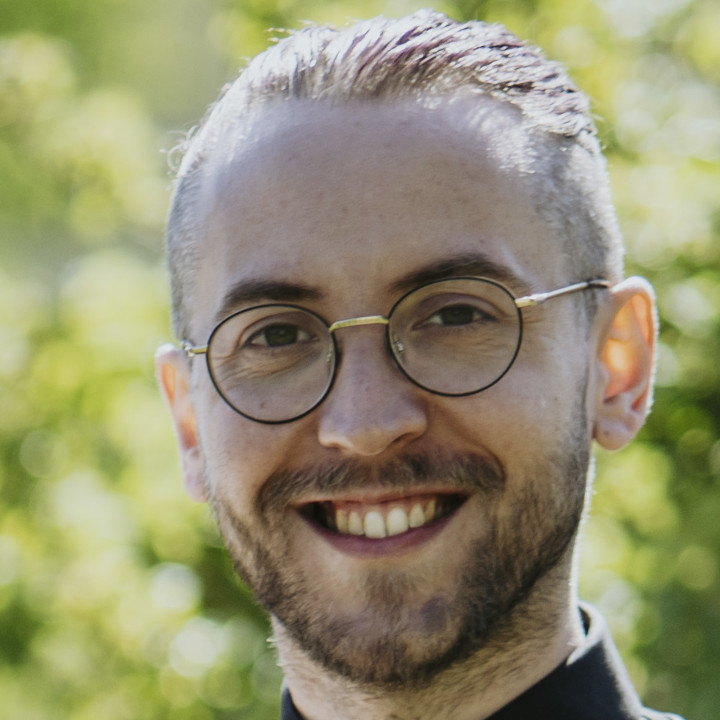 Ben is the channel editor for all things tech-related at Windows Central. That includes PCs, the components inside, and any accessory you can connect to a Windows desktop or Xbox console. Not restricted to one platform, he also has a keen interest in Valve's Steam Deck handheld and the Linux-based operating system inside. Fueling this career with coffee since 2021, you can usually find him behind one screen or another. Find him on Mastodon @trzomb@mastodon.online to ask questions or share opinions.