The Dell XPS 13 2-in-1 is a beautiful Windows-powered tablet with capable hardware and a compelling price, but it falls short of knocking the Surface Pro off its pedestal in several ways.
Pros
+

Stunning, impeccably built hardware

+

12th Gen Intel offers reliable, solid performance

+

Features both a Windows Hello-equipped webcam and fingerprint sensor

+

Pricing is competitive compared to more expensive Surface Pro 9
Cons
-

Battery life just isn't good enough

-

Display quality falls short for this price range

-

Folio cover not as convenient as an integrated kickstand
Why you can trust Windows Central Our expert reviewers spend hours testing and comparing products and services so you can choose the best for you. Find out more about how we test.
My daily driver laptop has been a Surface Pro since I picked up the Surface Pro 4 in 2016. I used that computer every day for three years until I replaced it with the first-gen Surface Pro X in Jan. 2020, and it's still my go-to laptop. The Surface Pro line pioneered the hybrid Windows tablet form factor and has remained the category champion since its debut. When I got an opportunity to review the Dell XPS 13 2-in-1 (9315), Dell's latest answer to the Surface Pro, I knew that comparisons would be inevitable.
The XPS 13 2-in-1 is sleek, beautiful, and packed with surprisingly capable hardware considering its closed, fanless design. It's a joy to use with Windows 11, features genuinely useful additions, and mostly nails the fundamentals for a premium Windows PC. However, it falls just short of toppling the Surface Pro thanks to lackluster battery life, an average display, and some design decisions that make taking advantage of its hybrid form factor a little less convenient.
Disclaimer: This review was made possible by a review unit provided by Dell. The company did not see the contents of the review before publishing.
Dell XPS 13 2-in-1: Pricing and availability
Dell's global distribution network means the Dell XPS 13 2-in-1 (9315) is available in a multitude of regions and countries around the world. It's delivered in 100% recycled or renewable packaging (there's very little plastic here). You can view the full specs below.
Swipe to scroll horizontally
Dell XPS 13 2-in-1 (9315)

| | |
| --- | --- |
| Processor | Intel Core i5-1230U / i7-1250U |
| Graphics | Intel Iris Xe |
| Memory | 8GB / 16GB LPDDR4x |
| Storage | 512GB / 1TB M.2 PCIe NVMe SSD |
| Display | 13" 3:2 3K (2880 x 1920) HDR |
| Row 5 - Cell 0 | Touch + active pen support |
| Row 6 - Cell 0 | Up to 500nits brightness |
| Row 7 - Cell 0 | Gorilla Glass Victus |
| Ports | 2x USB Type-C Thunderbolt 4 w/ DisplayPort, Power Delivery |
| Row 9 - Cell 0 | 1x USB Type-C-to-USB Type-A adapter |
| Row 10 - Cell 0 | 1x USB Type-C-to-3.5mm headphone jack adapter |
| Cameras | 1080p / 30 FPS RGB IR front-facing camera |
| Row 12 - Cell 0 | 4K / 30 FPS RGB rear-facing camera |
| Audio | 2x 2W stereo speakers |
| Row 14 - Cell 0 | Dual-array microphones |
| Wireless | Intel Killer Wi-Fi 6E 2x2 |
| Row 16 - Cell 0 | Bluetooth 5.2 |
| Battery | 49.5Whr battery |
| Row 18 - Cell 0 | 45W USB Type-C charger |
| Biometrics | Windows Hello facial recognition |
| Row 20 - Cell 0 | Windows Hello fingerprint sensor |
| Dimensions | 292.50mm x 201.20mm x 7.40mm / 11.50in x 7.90in x 0.29in |
| Weight | 736g / 1.60lbs (tablet only) |
| Row 23 - Cell 0 | 560g / 1.23lbs (folio cover only) |
The Dell XPS 13 2-in-1 is very competitively priced, starting at only USD $1,049 for just the tablet with an Intel Core i5, 8GB of RAM, and 512GB of SSD storage. Its highest-end configuration is $1,499 and comes equipped with an Intel Core i7, 16GB of RAM, and 1TB of SSD storage. You can add the optional folio cover and stylus to any configuration for $200 ($100 each).
The configuration I reviewed is also the one I would most easily recommend for most people, with an Intel Core i5, 16GB of RAM, 512GB of storage, and the folio cover and stylus included. This bundle retails for $1,399.
---
Our recommended Dell XPS 13 2-in-1 (9315) configuration: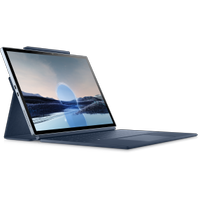 (opens in new tab)
Intel Core i5 | 16GB RAM | 512GB SSD | Folio + Stylus (opens in new tab)
The configuration Dell sent us to review is also the exact model I'd recommend for anyone interested in this device, as it offers the best compromise between power, efficiency, storage, and price at USD $1,399 for the complete package.
Dell XPS 13 2-in-1: Design and build quality
The Dell XPS line represents the pinnacle of Dell's personal computing devices, and as such, every entry in the line should feature best-in-class design and build quality. The Dell XPS 13 2-in-1 (9315) delivers in spades and is genuinely one of the best-looking devices I've ever used.
I still enjoy the sleek lines and subtle curves of my impossibly thin, matte black Surface Pro X. Still, the XPS 13 2-in-1 is nearly as thin, even lighter, and meticulously crafted with a unibody aluminum chassis and a single pane of Gorilla Glass Victus. There's no creaking, no unsightly seams, and absolutely nothing out of place. Just a series of perfectly placed hardware features complemented by subtly rounded squared edges and corners.
The XPS logo is tastefully emblazoned on the back, below a metal-ringed protruding rear camera and a single plastic line for the wireless antennas when using the tablet free of its folio encasing. The power button/fingerprint sensor combo takes up the position at the top right, while the split volume buttons sit opposite at the top left. Finishing off the design includes two centered USB Type-C Thunderbolt 4 ports on the left, dual speakers opposite each other on either end, a simple magnetized NFC pad at the top to charge the stylus, and pogo pins at the bottom to connect to the folio cover.
Everything about the XPS 13 2-in-1 oozes quality and class, and it's both comfortable to use and fun to look at. I also have zero concerns about this device's build quality or durability; the hardware is premium through and through. Up front, you have the 13" display with sadly squared corners, bordered by perfectly symmetrical borders on all four sides. These bezels are big enough to provide a handhold in tablet mode but are still thin enough to pass modern standards. I think this symmetrical design also looks better than what Microsoft is doing with the latest Surface Pros and makes the tablet just as comfortable to use in landscape and portrait orientations.
When it comes to the build quality and design of the actual tablet, there's very little to complain about. The Dell XPS 13 2-in-1 deserves to carry the XPS moniker and can go toe-to-toe with the best computers on this front.
Dell XPS 13 2-in-1: Display
On paper, Dell nailed the display in its XPS 13 2-in-1. A 3:2 aspect ratio ideal for a hybrid device, plenty of pixels packed into the 13" diagonal, HDR support, and up to 500nits in rated brightness all sound great when you consider Dell's reputation for including great displays in its flagship devices. Unfortunately, the display isn't quite as good as it seems when looking at the specs alone.
Side-by-side with my Surface Pro X, now over three years old, the Dell XPS 13 2-in-1 struggles to compete. The aging Pro X boasts far superior contrast levels and more vibrant colors (even when set to the same sRGB color profile). In comparison, the XPS 13 2-in-1's display's poor viewing angles mean it quickly becomes washed out at abnormal angles, while its white balance casts a noticeable blue tint across the entire display.
Dell's premium tablet features a traditional backlit LCD, so I do not expect the perfect blacks of the OLED displays found in other offerings from companies like Samsung. Still, the XPS 13 2-in-1 (9315) doesn't quite cut it. Its lowest brightness is still too bright for completely dark environments, blacks are always grey, and there's noticeable light bleed around the corners. I also noticed occasional, obvious screen flickering at lower brightness levels.
When the display brightness is ramped up, the XPS 13 2-in-1 looks more than good enough for regular usage, but only if you don't have a superior display to compare it to. Even without HDR support, my Surface Pro X consistently outperformed Dell. The XPS 13 2-in-1 is also limited to 60Hz; this isn't necessarily a con for a creative-focused tablet, but more and more manufacturers are now including 90Hz or even 120Hz displays in their devices. Even Microsoft, notoriously slow to adopt new technologies, baked a dynamic 120Hz display into the Surface Pro 9.
Dell quotes the XPS 13 2-in-1 as supporting 100% of the sRGB color spectrum alongside its rated 500nits of max brightness, but I was unfortunately unable to test this at the time of review. As soon as I have a colorimeter in hand, I'll update this section with some hard numbers.
Dell XPS 13 2-in-1: Performance
The Dell XPS 13 2-in-1 isn't equipped with the newest Intel or AMD hardware, but it's still packed with respectable components that ensure the device never slows down or struggles to keep up. With my workflow, that's exactly what I observed. The XPS 13 2-in-1 is reliably performant and felt lovely to use regardless of what I was doing. Because it uses Intel hardware instead of a more efficient ARM SoC (which could've helped the battery life issues noted below), I didn't experience any issues with compatibility or slowdown related to emulation.
At its base configuration, the XPS 13 2-in-1 is powered by the efficiency-focused, 10-core 12th Gen Intel Core i5-1230U and Intel Iris Xe graphics. Combined with 8GB of RAM and a generous 512GB SSD, even the base model is respectable. The model I reviewed is identical except for adding 16GB of RAM instead of 8. Interested buyers can also upgrade to a beefier Intel Core i7-1250U and 1TB of SSD storage, although I'm doubtful how much of a performance gain the Core i7 would offer with the XPS 13 2-in-1's fanless design.
That fanless design is certainly impressive, too. The Dell XPS 13 2-in-1 (9315) won't be able to handle sustained loads or boosted performance for as long as more powerful, traditional laptops, but the passive cooling Dell is accomplishing here seems to be doing the trick. Even after intensive use for extended periods, the XPS 13 2-in-1 didn't noticeably struggle, nor did it ever get more than comfortably warm. After running multiple consecutive benchmarks, I could only make the tablet feel properly hot (along the top).
It's worth mentioning that Dell is deliberately throttling at least some of the XPS 13 2-in-1's components when using the "Balanced" power profile on battery power, likely to extend its already-disappointing endurance as much as possible. For example, the internal SSD gained nearly 900Mb/s to its read speeds in CrystalDiscMark 8 — jumping to 3,544Mb/s from 2,658Mb/s — after switching the XPS 13 2-in-1 to "Performance" and plugging it in. Even with this throttling, though, I never found a reason to complain about the tablet's performance when away from the charger.
Here's how the Dell XPS 13 2-in-1 (9315) performed in various benchmarks:
Image 1 of 6
We also tested the Dell XPS 13 2-in-1 (9315) using the new Geekbench 6 benchmark, scoring 1,905 for single-core and 6,977 for multi-core. All-in-all, the XPS 13 2-in-1 rests about where you'd expect for a modern, U-series i5 CPU. This is certainly not a powerhouse, but Dell's flagship tablet can keep up with anything short of hardcore video editing, gaming, or other incredibly intensive tasks.
Dell XPS 13 2-in-1: Battery life
While the Dell XPS 13 2-in-1 (9315)'s display quality is below what I'd expect at this price point, the battery life most lets this device down. Unfortunately, a thin, light design combined with a large, bright display does not make for fantastic endurance, despite the moderately-sized 49.5Whr battery stashed inside the svelte chassis.
With my regular usage, which is hardly a power-intensive workload, I never saw the XPS 13 2-in-1 surpass five hours in actual usage before dying. My use includes browsing the web with multiple tabs open, managing my email and calendar, plenty of typing (shocker), listening to music, watching videos, lightly editing photos, and using cloud services like OneDrive to manage and organize files. On average, while connected to Wi-Fi and usually at half brightness, the XPS 13 2-in-1 lasted approximately 4.5 hours. In the PCMark 10 Modern Office battery test, the XPS 13 2-in-1 only clocked 5 hours and 10 minutes before biting the dust.
After using Dell's premium hybrid laptop for over a week, I had a suspicious feeling that it didn't even match my Surface Pro X in endurance. My Surface Pro X was never an endurance champion thanks to its design and smaller 38.2Whr battery, and that was before I used it for three years straight as my daily driver, inevitably wearing down the battery. Still, when playing an identical 1080p YouTube video over Wi-Fi at the same brightness, the Dell XPS 13 2-in-1 consistently lost 3-5% more battery per hour than the Surface Pro X — and my Pro X was also connected to 4G LTE.
The Dell XPS 13 2-in-1 simply doesn't last long enough, to the point where I'd hesitate to trust it as my only laptop should I need to work on the go. If I push its internals with intensive or simultaneous tasks, I can even push the battery life below the four-hour mark into gaming laptop territory.
The included 45W USB Type-C charger can top the laptop off at a reasonable rate, but only if you're not actively using it (the charging rate can become glacial if you're really pushing the device). I wish Dell had included a 60W or even 65W fast charger, which would've helped alleviate the battery concerns a tad. It would also be interesting to see this exact device with the Qualcomm Snapdragon 8cx Gen 3 ARM chip inside, as I feel that would fix the device's battery woes and work great with the fanless design.
Dell XPS 13 2-in-1: Keyboard and touchpad
The Dell XPS 13 2-in-1 may be a tablet (with great multi-touch support in Windows 11, by the way), but using a keyboard and touchpad is still essential to get the most out of this machine. Dell sent me the XPS Folio with my unit, allowing me to prop up the tablet and simultaneously get a traditional typing experience. I'm happy to report that things are mostly great on the keyboard and touchpad front, with one minor (possibly preferential) complaint.
I'll start with the touchpad. Dell squeezed a pretty massive glass touchpad into the XPS Folio, with Windows Precision drivers ensuring every scroll and gesture is buttery smooth. The touchpad action gives a nice weighty "clack" instead of a sharp "click," with no excess noise or concerning give. There are no complaints here, even though this isn't a top-of-the-line haptic touchpad (this is an external accessory, after all).
The keyboard is also mostly good. The key actions are understandably shallow and require little pressure to depress, a necessity given the thin profile of the XPS Folio. Still, there's solid tactile feedback, and the layout is good. My only complaint is that Dell made a mistake that Microsoft fixed with their Type Covers back with the Surface Pro 4. To make the individual keys as large as possible, Dell sacrificed the bordering space between the keys.
Not having a clearly defined, tactile separation between keys makes it too easy to accidentally press surrounding keys, despite the keys possessing larger surface areas than on Microsoft's Type Covers. Even after over a week of constant use, I was still never quite as confident typing on the Dell XPS 13 2-in-1 as I am on the Surface Pro X.
Dell XPS 13 2-in-1: Folio cover and stylus
The keyboard and touchpad on the Dell XPS 13 2-in-1 (9315) may be more than serviceable, but what about the surrounding folio cover? On this front, things are as expected for a folio cover. Dell constructed the XPS Folio out of a lovely, soft-touch fabric that feels premium, but it picks up smudges and marks at a ridiculous rate. I was able to wipe away the vast majority of these smudges without issue, but I still have some concerns about the long-term durability of this cover.
The XPS Folio connects to the XPS 13 2-in-1 via magnetic pogo pins at the bottom, providing power to the keyboard (no Bluetooth connectivity here). More magnets attach the XPS Folio to the back of the tablet at four positions (closed and then three separate angles), with another magnet capable of holding the keyboard close to the display. This all works well, although the XPS Folio still doesn't approach the convenience and versatility of an integrated kickstand, with limited angles for use, poorer stability on uneven surfaces, and fewer options for stylus-heavy users. You also can't prop the keyboard at an angle, leaving it flat on your desk.
On that note, the XPS Stylus accomplishes exactly what it should. It's a nice shape and size and features Bluetooth connectivity for two customizable buttons. It works great with all the Windows 11-specific pen features; I'm no artist, but I experienced no noticeable latency or responsiveness issues when notetaking or hastily scribbling out terrible nonsensical drawings. With 4,096 levels of pressure sensitivity, the XPS Stylus is what I expect from a modern pen.
It also magnetically attaches to the top of the XPS 13 2-in-1 for storage and wireless charging via NFC, which is convenient. However, I feel that the magnets are too weak, making the stylus easy to knock off (and guaranteeing you'll want to store the pen separately when using a bag). The rear button of the XPS Stylus does not double as an eraser, either.
Dell XPS 13 2-in-1: Cameras & audio
The Dell XPS 13 2-in-1 features dual cameras, dual stereo speakers, and dual microphones. The FHD front-facing webcam comes equipped with Windows Hello facial recognition (in addition to the fingerprint sensor embedded in the power button) and supports video up to 1080p and 30fps. This camera is more than adequate, although it does struggle more in low-light situations than the Surface Pro X webcam, with more noise and less defined detail.
The webcam is supported by a world-facing 4K / 30fps camera designed for scanning documents and other productivity-related tasks. It is not a good photo camera, but it's not supposed to be — it gets the job done. The dual-array microphones were better than I expected, sounding very similar in quality to my Turtle Beach headset and ensuring I was always clear and audible in meetings. All-in-all, the Dell XPS 13 2-in-1 does very well as a video conferencing machine.
Finally, dual stereo speakers are located symmetrically on the left and right near the bottom of the device. These speakers surprised me, getting louder and sounding fuller than those on the Surface Pro X. They're good enough that I'm happy to blare music out of the speakers while I work instead of using my headphones. My only complaint is the positioning, which isn't aligned with my ears while working and can easily be obstructed using the XPS 13 2-in-1 as a tablet. I would've preferred to see them positioned closer to the top of the device rather than the bottom.
Dell XPS 13 2-in-1: Software
The Dell XPS 13 2-in-1 (9315) predictably runs Windows 11 in Home or Pro mode. If you've used Windows 11, you know the experience you're getting on this device. Windows 11 looks and runs great on the XPS 13 2-in-1, with Intel Evo certification ensuring the device boots up quickly and logs you in even faster. Dell has bundled some additional apps and programs on the device, but it's mostly fine.
There are a handful of Dell programs for managing peripherals like the XPS Stylus and contacting customer support, a MaxxAudio app for tinkering with the speakers (if you want that), and a handful of Intel apps for managing wireless connectivity, storage, and graphics. I didn't mind any of this, although I immediately set out to uninstall the annoying McAfee antivirus program. Just use Windows Defender; it's a whole lot quieter.
The only issue I encountered was Windows Update consistently failing to update a series of Dell and Intel drivers automatically. This issue was resolved after a while, but I felt it was worth mentioning.
Dell XPS 13 2-in-1: Competition
If you're in the market for a more traditional clamshell Windows laptop, there are plenty of more appealing options than the Dell XPS 13 2-in-1 (9315), including the other models in the current XPS 13 lineup, the Dell XPS 13 Plus and the regular Dell XPS 13 (9315). Our list of best Windows laptops is packed with incredible hardware for every price range and use case, and there's little reason to choose the XPS 13 2-in-1 over these devices.
However, the appeal of this laptop is that it's a tablet — a hybrid 2-in-1 optimized for use with touch and pen input. This device is perfect for casual consumption, creative work, and anything requiring as much form factor versatility as possible. On this front, there's some direct competition for the Dell XPS 13 2-in-1 (9315).
The most obvious example is the Microsoft Surface Pro 9, the latest iteration of Microsoft's legendary premium tablets. The Surface Pro 9 is just as powerful and well-built as the XPS 13 2-in-1. Still, you're getting better-sustained performance thanks to the inclusion of fans, optional 5G connectivity (and the ability to swap out the Intel processor for a more efficient ARM SoC), an integrated kickstand, a superior Type Cover, a higher quality 120Hz display, and far superior battery life.
Of course, the Surface Pro 9 is also consistently hundreds of dollars more expensive for a comparable system (as much as $600 more at the high end), and the Type Cover / Surface Pen combo is $80 more than Dell's equivalent. That's a significant cost difference and could be enough to sway anyone toward the XPS 13 2-in-1, even with the compromises.
If you live outside the US, you might consider the Huawei Matebook E, a tablet-first Windows PC that offers solid value for the hardware, even if you're getting older 11th Gen Intel internals and an inferior typing experience with its included folio cover. The Lenovo IdeaPad Duet 5i (Gen 7) is even more value-focused, with respectable build quality, an included Bluetooth-capable keyboard, an integrated kickstand, and a solid display starting at less than USD $800 (with only an Intel Core i3 at that price, though).
Dell XPS 13 2-in-1: Should you buy it?
You should buy the Dell XPS 13 2-in-1 (9315) if ...
You want a large, premium Windows tablet for a competitive price
You want industry-leading design, aesthetics, and overall build quality
You don't intend to regularly game or do performance-intensive creative work
You should not buy the Dell XPS 13 2-in-1 (9315) if ...
You need great, all-day battery life
You want a best-in-class or high refresh rate display
You don't need a 2-in-1 tablet, or don't intend to use the touch and stylus input
I fell in love with the Dell XPS 13 2-in-1 from the moment I removed it from its recyclable packaging; it's definitely the best-looking Windows PC I have in my home. The experience of using it, though, is just compromised enough that I'm not certain if, given a choice, I'd use the XPS 13 2-in-1 over the first-generation Surface Pro X that has been my primary laptop for over three years.
For me, the subpar battery life, below-average display for a premium Windows machine, and the compromise of a folio cover versus an integrated kickstand are all reasons to stick with my Surface. Of course, the XPS 13 2-in-1 is beautifully built and runs like a dream on 12th Gen Intel Core processors, and I fully appreciate all the thought that has gone into its design. In most ways, this is still one of the best Windows tablets you can buy.
I'm sure the deciding factor for many would-be buyers will be the price tag. For what you're getting, the Dell XPS 13 2-in-1 is very competitively priced and consistently beats the Surface Pro 9 in value by hundreds of dollars. If you're deciding between this tablet and Microsoft's offering, the Surface Pro 9 is the better machine — but only if you're willing to pay a lot more to obtain it. It helps that the Surface line has never looked quite this good (sorry, my trusty Pro X, it's the truth).
---
Our recommended Dell XPS 13 2-in-1 (9315) configuration: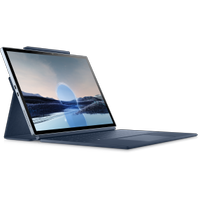 (opens in new tab)
Intel Core i5 | 16GB RAM | 512GB SSD | Folio + Stylus (opens in new tab)
The configuration Dell sent us to review is also the exact model I'd recommend for anyone interested in this device, as it offers the best compromise between power, efficiency, storage, and price at USD $1,399 for the complete package.
Dell XPS 13 2-in-1 (9315)
The expanding XPS lineup once again includes a premium Windows tablet, this time with an absolutely gorgeous fanless design and respectable Intel-powered internals. It's a great PC for the price, but its battery life and display hold it back.
Zachary Boddy (They / Them) is a Staff Writer for Windows Central, primarily focused on covering the latest news in tech and gaming, the best Xbox and PC games, and the most interesting Windows and Xbox hardware. They have been gaming and writing for most of their life starting with the original Xbox, and started out as a freelancer for Windows Central and its sister sites in 2019. Now a full-fledged Staff Writer, Zachary has expanded from only writing about all things Minecraft to covering practically everything on which Windows Central is an expert, especially when it comes to Microsoft. You can find Zachary on Twitter @BoddyZachary.