Paid antivirus vs. Windows Defender: Do you really need to pay for proper protection?
Can you save money on antivirus protection while still keeping your device safe? Windows Defender might be your answer.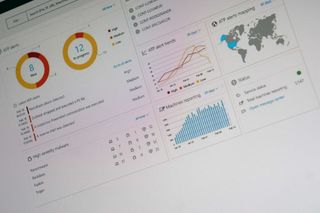 (Image credit: Windows Central)
Antivirus software options that keep your digital world safe have been around nearly as long as the viruses that warrant their use. As such, they stick to the older model of pay-to-own, which can leave you out of pocket for the privilege of simply being safe online. That's changing as a new wave of protections start to offer similarly high-level safety without the usual costs you'd expect from paid-for antivirus software. Enter Windows Defender, aka Microsoft Defender.
Big-name antivirus protection platforms like McAfee, Norton, Avast, AVG, Kaspersky, and more have long defended computers and mobile devices from potential viral threats. News that Avast has been selling user data makes it a great time to drop excess unnecessary potential snooping threats. Now Microsoft has built up its Windows Defender to a level that, many say, is enough to protect you without the need for these other services. Is this true? We lay it all out for you to decide.
What is Windows Defender?
Microsoft's Windows Defender was first available with Windows XP and has since evolved to what it is now, Microsoft Defender. This free service now comes built into Windows 10 as standard. While this started off as an inferior antivirus system, rated as dead last in tests by AV-Test back in 2013, it's changed. That same testing lab now ranks Windows Defender as one of the top services.
Microsoft has started taking endpoint security seriously, and as such the current Windows Defender is often found to outperform a lot of the third-party dedicated best antivirus software options when it comes to malware protection.
What's good about Windows Defender?
One of the stand-out features of Windows Defender is that it's really fast. Since this is built by Microsoft, into Microsoft systems, it can be optimized to perform far more efficiently than a third party option. As such, the system impact of Windows Defender is minimal, making it ideal for use on a tablet or laptop where battery life will be impacted far less.
As such, Windows Defender works away quietly in the background keeping your system safe. That means it's far less effort than the competition since it just works. You don't have to think about it or worry about it slowing you down or eating through your battery.
Unlike a lot of the free software out there, this won't try to get you to sign up to a paid service, continually pestering you or using ads. This is a refreshing offering when you consider this is free to use and is as, if not more, capable than the paid services.
What does Windows Defender offer?
The software can scan your system for known malware signatures, but it can also monitor your software for signs of an infection.
One of the stand-out features that Defender offers is its ability to make sure that absolutely no malware can take over its test systems. That's something that even some of the paid-for services fail at from time to time, including names like McAfee and Symantec, according to AV-comparatives.
Another area that the Defender did well in was zero-day attacks. This was previously a problem area for the service. Now, in recent testing, since the June update, it scored perfectly when it came to zero-day attacks. Say no more.
The fact that Windows Defender keeps itself updated and scans, all without you needing to do a thing – or even noticing it running – really makes this a very appealing option.
Why get extra antivirus software?
There are still instances where you might want to pay for an antivirus service. These are mainly due to the extras that some of these software packages bundle in for you. Many offer related services like VPNs, credit monitoring and protection, online password vaults, and more.
Ransomware is also an issue where specifically targeted software can help. Ransomware takes control of your system, and you're then told to pay money to the hacker, or your files will be either deleted or shared, whichever does you the most damage. For protection here, services like Malwarebytes and BitDefender are great options to keep you ransomware free – and that's the operative word as both those services are free.
Which services work well?
Even with Windows Defender, and everything we've said so far, another layer of security can't hurt. Also, for malware, another option is essential.
Bitdefender
Bitdefender (opens in new tab) is a great example as it not only covers the virus protection side of things, like Windows Defender, but it also tackles malware, ransomware, Trojans and rootkits. Essentially this is a do-it-all solution in one package. There's even a VPN thrown in, plus a password manager and even some banking tools. It's a whole lot of bang for your buck. Talking of, this will cost you as little as $20 for a year. There are lots of options with one, two, and three-year tiers, each with one, three, five, or ten devices supported. Check out the Bitdefender pricing options (opens in new tab) here.
Bitdefender Antivirus Plus 2020
The best protection at the best price

This antivirus monitors your computer in real-time to stop malicious files before they have a chance to start downloading.
VIPRE
Another option is VIPRE (opens in new tab), which is ideal for those that want an extra layer of email security. This minimal solution offers an email quarantine for suspicious emails, like phishing schemes. A copy is sent to the quarantine folder where you can open them securely to check if they're legitimate without putting your system at risk. This starts at $45.99 for one device for a year and goes up to ten devices – check out all the pricing options here (opens in new tab)
(opens in new tab)
Basic, yet powerful protection

VIPRE is a basic antivirus program that doesn't use a lot of resources and includes both firewalls and email protection.
Avast Premium Security
Avast (opens in new tab) is also worth looking at since it offers excellent malware protection, ransomware defense, webcam monitoring, an auto gamer mode and works across lots of devices. This is really feature-rich and, as such, costs a bit more, starting at $48 for the year for a single device and going up to $72 per year for ten devices. Head over to Avast (opens in new tab) to see for yourself.
(opens in new tab)
A step above the rest

This premium antivirus solution is packed with extra security tools for banking, monitoring webcams, and protecting passwords.
What downsides are there to Windows Defender?
While near perfect at keeping you safe and protected from malware, there are a few instances where Microsoft still has work to do. Granted, these are largely superficial menu gripes, but they're worth mentioning.
When it comes to parental controls, you're limited to Microsoft browser use only. For other, non-Microsoft browsers like Chrome or Firefox, you'll have to install internet security features separately.
You don't get a VPN or integrated password manager like the paid-for options offer, and also the menus could be clearer for first time users.
There have also been complaints about Microsoft not updating its database often enough. But based on performance, this complaint seems to be unfounded since the results speak for themselves with the AV-Test lab results near perfect in the most recent tests.
If you are looking for some free alternatives to Windows Defender, we have you covered there as well.
Windows Central Newsletter
Get the best of Windows Central in in your inbox, every day!
Jared started off writing about mobile phones back when BlackBerry ruled the market, and Windows Mobile was kinda cool. Now, with a family, mortgage and other responsibilities he has no choice but to look for the best deals, and he's here to share them with you.
Yet another sponsored article

It's not sponsoring, it's recommending.

I'd agree with recommending Windows Defender, because any platform provider would have the best interest and right to make sure that the product they provide is secure and efficient, so with that in mind, I'd choose Windows Defender as it helps me as a regular consumer and I know that Microsoft's best interest would be to provide me the facility as is its a consumer right to have this feature.

I came up with the idea for this article, and I assigned it to the writer. I can guarantee you it is not sponsored.

Anyone knows what is the software pictured in that image in the article?

But what's the point if it can't protect me from all threats out there? I don't know which one will strike me.

Didn't you just publish a very similar article? And aren't there objective ways of comparing AV software - not just relying on some WC writer's opinion?

And did you guys even look at your own reporting? This is from January: https://www.windowscentral.com/windows-defender-great-so-why-even-gamble... And Nicole Johnston, who actually tries to test the software and has experience doing so according to her bio, wrote (or updated) this just last week: https://www.windowscentral.com/best-antivirus-software

Third party antivirus software also tends to have a bad habit of conflicting with other software (usually web browsers through adding extensions). Having Windows defender tightly integrated into Windows 10 out of the box avoids that problem.

But you don't get a VPN for 20 bucks with Bitdefender, the VPN service is paid separately, stop misleading people without properly checking the facts.

Windows Security (Windows Defender) have Ransomeware protection. Windows defender with Malwarebytes browser extension is good enough for me.

"Bitdefender is a great example as it not only covers the virus protection side of things, like Windows Defender, but it also tackles malware, ransomware, Trojans and rootkits" What in the actual f**k? The guy who wrote this crap should be fired. Almost all major "AV" softwares are actually fully functional Anti-Malware softwares, meaning they cover all those sub categories like Virus, trojan, rootkit, worm, etc. It's the name Antivirus which stuck because of user familiarity.

"One of the stand-out features that Defender offers is its ability to make sure that absolutely no malware can take over its test systems." Wait what? Are you talking about Tamper protection? Most AV soft have self protection built-in. Need some sources my dude.

True, most antiviruses do have this layer of security, but none of them can have the level of integration that MSWD has due to it being a system process thus, MSWD skips all the external handshakes and handles most situations directly, 3rd party anti-virus solutions cannot be given this level of access or integration due to the possibility that Windows will have to depend on the condition of such external applications and if they cease to function correctly, Microsoft will have to wait for a solution instead of providing one, for a platform producer this is a very serious concern since consumers will be put off by such, MSWD has ransomware/folder/document protection that can be turned on with a few taps and no further concerns, this is what makes Windows Defender the easier choice for the casual consumer and perhaps even for those who just don't find the value of paid solutions that clog up their systems.
Windows Central Newsletter
Thank you for signing up to Windows Central. You will receive a verification email shortly.
There was a problem. Please refresh the page and try again.