Lenovo's updated Yoga 7i continues to be a great value for those desiring a large-screen convertible laptop with fantastic battery life and solid performance. Still, a below-average display and terrible webcam keep this laptop short of perfection, even considering its attractive price.
Pros
+

Great, all-day battery life

+

Reliable, consistent performance

+

Solid build quality and convertible design

+

Comfortable keyboard, touchpad, and number pad
Cons
-

Genuinely awful webcam

-

Dim, washed out display with strange brightness levels
Why you can trust Windows Central Our expert reviewers spend hours testing and comparing products and services so you can choose the best for you. Find out more about how we test.
---
UPDATE: The original review of the Lenovo Yoga 7i 16 (Gen 8) was published on June 21, 2023, and was updated on Aug. 18, 2023 after it was discovered that the laptop does feature keyboard backlighting, it was just disabled by default and the Lenovo Vantage setting and specific keyboard shortcut combination of Fn + Space to enable it was missed. As such, the review star rating has slightly gone up, and sections of this review have been updated to reflect the new information.
---
Thin and light ultrabooks are all the rage, but many people prefer a larger laptop screen. Unfortunately, finding a great large-screen laptop at a reasonable price can be difficult, especially if you want a 2-in-1 device with a touch screen. Lenovo's Yoga 7i 16 series fills that role nicely, and the latest generation of devices comes equipped with new, powerful internals and a tweaked design.
I spent a few weeks with the Lenovo Yoga 7i 16 (Gen 8) to see if its appealing price tag is all that or if Lenovo cut a few too many corners when building this device. The result? Despite its size and weight, the Yoga 7i 16 is fast, long-lasting, and built well, and it offers a great 2-in-1 experience. But if you need a great display or a high-quality webcam, you'd best look elsewhere.
Yoga 7i 16 (Gen 8): Build quality and design
Yoga 7i 16 (Gen 8)
Price: From $799.99 ($999.99 as reviewed)
Display: 16:10, 16-inch, 1920x1200, IPS, touch, 300nits, 60Hz
CPU: Intel Core i7-1355U
GPU: Intel Iris Xe
RAM: 16GB LPDDR5, 5,200MHz
Storage: 512GB SSD, PCIe Gen 4.0
Battery: 71Wh, Rapid Charge
Size: 362.2mm x 250.1 mm x 16.99mm (14.3" x 9.8" x 0.67")
Weight: 2.04kg (4.49lbs)
If you've ever used or held a Lenovo Yoga device, you won't be surprised by the Yoga 7i 16 shown here. Encased in an all-aluminum chassis, this laptop trades the lightweight plastic of other laptops for a sturdy, cool-to-the-touch feel. It's reassuring, although the resulting weight means this isn't going to be the easiest laptop to lug around in a bag all day (especially true with the 16-inch model I reviewed).
Lenovo has thought about the details, though, resulting in a nicely-designed mid-range laptop. The edges of the chassis are nicely curved for a more comfortable hold when using the laptop's touchscreen. A solid array of ports are smartly arranged on either side of the device, including an external power button that's easily accessible even when in tablet mode. Speakers are positioned above the display to make room for the comfortable keyboard, shrunken number pad, and massive touchpad. A lip above the display houses the camera and physical camera shutter and makes it easy to open the laptop.
Lenovo also makes good use of space, with the thin bezels ensuring this 16-inch display fits into the chassis of older 15-inch devices. While the laptop is overall pretty thin, there's still plenty of room for an HDMI port, two USB Type-C Thunderbolt 4 ports (one of which is used for quick charging), two USB Type-A ports, and even a microSD card slot (sorry, no full-sized SD card slot this time around). You also get a fingerprint sensor embedded below the number pad, and the webcam does support Windows Hello facial recognition with an included IR sensor. Lenovo really nailed all the basics.
The only concern I had during my time with the Yoga 7i 16 is with its hinge. While it's very functional and sturdy enough for the laptop to hold any of its four modes (laptop, tablet, theater, and tent), I noticed a gentle knock had manifested in the hinge after a few days of use. You can feel the hinge "catch" slightly when first opening the laptop and transitioning it to tablet mode. It doesn't affect useability at all, but it also wasn't there when I first got the device, so I felt it was worth mentioning here.
The Yoga 7i 16 (Gen 8) I reviewed comes equipped with a 16:10 FHD+ display, a 13th Gen Intel Core i7 processor (the more efficient U-series that focuses on battery life, not the P-series that focuses on performance), and a respectable amount of RAM and storage. While this laptop does support stylus input on its display, this unit does not come with a pen in the box. This configuration strikes a wonderful balance between specs, experience, and price.
However, a different configuration available from Lenovo may fix two of the issues I have with my configuration: a poor display and no stylus in the box. You trade the efficient i7 for a P-series i5 and gain a brighter and higher resolution display (although I can't attest to its quality). You can find those configurations below.
Our recommended configurations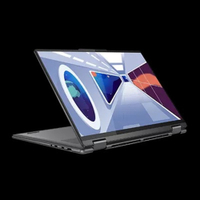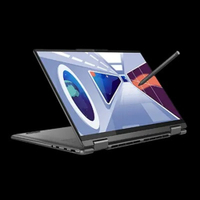 Yoga 7i 16 (Gen 8): Display
The gargantuan 16-inch display is one of the biggest draws of the Lenovo Yoga 7i 16 (Gen 8) and will undoubtedly appeal to many people who find the more common 13-14-inch size too cramped. I had hoped when reviewing this device that the display's quality would be a good fit for its size, but that's unfortunately not the case. While the Yoga 7i 16 screen is serviceable, I wouldn't describe it as "pleasant," and it's nowhere near "great."
Right off the bat, you can tell that the Yoga 7i 16's display looks flat. Colors are washed out, and it's hard to find any semblance of vibrancy. Testing the display's color gamut with SpyderX reveals a scant 67% of sRGB and 50% of P3, so certainly don't opt for this laptop if color reproduction or accuracy is important to you. Lenovo rates the Yoga 7i 16 for up to 300nits of brightness, which is accurate... But as you'll see below, brightness is still strange on this device.
Swipe to scroll horizontally
| Setting | Brightness | Black | Contrast | White point |
| --- | --- | --- | --- | --- |
| 0% | 0 | 0 | 0:1 | N/A |
| 25% | 12 | 0 | 0:1 | 6,000 (0.321, 0.342) |
| 50% | 38.2 | 0.03 | 1,400:1 | 6,000 (0.321, 0.341) |
| 75% | 104.8 | 0.07 | 1,530:1 | 6,100 (0.320, 0.340) |
| 100% | 311.9 | 0.21 | 1,520:1 | 6,100 (0.320, 0.338) |
See the issue? Yeah, 0% brightness on the Yoga 7i 16 is literally zero percent. There's no brightness at all because the display completely turns off. The laptop is on and useable, but the display doesn't display, well, anything! I do not know why this is the case or if it's intentional, but it's odd. The Yoga 7i 16's display is also incredibly dim up until about 70%. It's good that the display gets so dim for when you're working in the dark (and the contrast is pretty good), but most of the time, you'll be sitting at 80-100% brightness just to use the laptop.
There are good things to say about the Yoga 7i 16's display. Viewing angles are solid, and the white balance is comfortable. It doesn't stray too far toward blue or yellow, there's minimal light bleed, and Lenovo chose the right aspect ratio (the resolution is also plenty sharp). It's just not fun to look at, though, and it's immediately noticeable compared to any other screen I have at my disposal. While there's technically Dolby Vision support, this screen doesn't get bright or colorful enough for it ever to matter. It's a below-average screen, and that's a shame. If you're not stressed about color accuracy or having the best possible media consumption experience, though, the Yoga 7i 16's display isn't bad... It's functional.
I wish I had been able to test the higher resolution, brighter display available in some Yoga 7i 16 configurations to see if it avoids these pitfalls because I'd like to say if I can recommend those configurations to people who need a good display. Unfortunately, all I can say is that it looks better on paper.
Yoga 7i 16 (Gen 8): Performance
Image 1 of 6
Regarding performance, matters are, fortunately, much more positive. With a 13th Gen Intel Core i7-1355U, 16GB of DDR5 RAM, and 512GB of PCIe 4.0 storage, the Lenovo Yoga 7i 16 (Gen 8) has everything it needs to deliver a consistent, reliable PC experience. And it does! I've used faster laptops, but that doesn't mean the Yoga 7i 16 is a slouch. It handles all your regular PC tasks with aplomb, including web browsing, Microsoft Office, email, consuming media like music or videos, light photo editing, and even very light gaming (as long as you keep it to things like Minecraft).
Benchmark scores largely reflect this! The 512GB SSD aligns with other PCIe 4.0 SSDs in comparable laptops (well above the slower-than-expected last-gen Yoga 7i 16), resulting in fast boot-up times and file transfers. The i7-1355U performed in line with other laptops powered by the same processor and often bested the P-series 12th Gen i7 inside last year's Yoga 7i 16 (but lost in other areas, as expected when going to a more efficient U-series chip). I never noticed the Yoga 7i 16 (Gen 8) getting warm, and its fans rarely spun up. This isn't a performance machine by any means, but Lenovo still did a good job balancing its thermals.
One outlier was with Geekbench 6, in which the Yoga 7i 16 underperformed in the multicore test compared to other i7-1355U laptops. I'm not sure why this happened, but it mattered little for everyday use (as is usually the case with benchmark scores). Overall, the Yoga 7i 16 is a fine performer and should be more than good enough for most users doing anything short of hardcore creative work or gaming.
On a brief side note, though, I've noticed a recurring oddity with the Yoga 7i 16 tested here and the Lenovo Legion Pro 5i I tested previously... Occasionally, both these laptops will lose connection to the internet when connected via a VPN (I use SurfShark), which is fixed by disconnecting the VPN and reconnecting. I've only noticed this problem on the two Lenovo laptops I've reviewed, but I'll continue to investigate as I review more machines.
Yoga 7i 16 (Gen 8): Battery life
A large laptop means a large battery, which (hopefully) translates to great battery life. That was true for this laptop's predecessor, but can the Yoga 7i 16 (Gen 8) keep up? Yes, but slightly no. Don't get me wrong, this laptop has great endurance. Over 12 hours in PC Mark 10's battery life test is a solid start, and my actual usage saw between 7-10 hours of continued usage (depending on what I was doing). Either way, I'd trust this laptop to carry me through a day of work away from the charger.
Strangely enough, though, the Yoga 7i 16 (Gen 7) actually comfortably beat this laptop in the same test, despite ostensibly having a more power-hungry P-series processor, a higher resolution display, and the same sized battery. This may simply highlight the difference between 12th and 13th Gen Intel processors, but the reality is that while the Yoga 7i 16 (Gen 8) is impressive when compared to other laptops, it falls just short of keeping up with the laptop that came before it.
Charging is done through one of the USB Type-C ports. It's very fast, which is great, but I wish the cable was a little longer and the port was a little more snug. I had to keep my laptop relatively close to the edge of my desk for the cable to comfortably reach, and it felt a little too easy to knock the cable out of the charging port.
Yoga 7i 16 (Gen 8): Keyboard and touchpad
Lenovo has been making great laptop keyboards for years, and the Yoga 7i 16 (Gen 8) is no exception. I don't have to say much about it — It's spacious, well laid out, and comfortable to type on. Sure, you're missing the tactility of a proper mechanical keyboard, but the Yoga 7i 16 feels just as good as some of the best ultrabooks on the market. There's also a nice number pad squeezed onto the right side of the keyboard deck, although it is a little shrunken down and pushes everything to the side. Still, many would-be buyers will be happy it's here.
Of course, there's also no keyboard backlighting at all. I can forgive this omission in more affordable machines, but any laptop approaching or surpassing the $1,000 mark should have it, period. The Yoga 7i 16 does feature keyboard backlighting with two levels, but it is disabled by default. The setting is available in the well-featured Lenovo Vantage app, but it's not immediately clear and takes some searching to find. You can also use the Fn + Space keyboard shortcut, which is a common shortcut for Lenovo laptops and is hinted at via a subtle icon on the spacebar. Unfortunately, I missed the Vantage setting when I perused the app, and I was unfamiliar with Lenovo's backlighting keyboard shortcut. While this wasn't a major criticism for me, it's still good that the feature is here.
The touchpad does use Windows Precision drivers and boasts a large glass surface that makes it supremely easy to use. The clicking mechanism only works along the bottom of the touchpad, but it is consistent and tactile, and using gestures to navigate Windows was a breeze. A 16-inch display gave Lenovo more room to play with, and they took advantage of it with this touchpad.
Yoga 7i 16 (Gen 8): Camera, audio, and more
The Lenovo Yoga 7i 16 (Gen 8) webcam is perfectly adequate on paper — It's FHD, supports Windows Hello, and has a physical shutter for some added privacy when you're not using it. In use, however, this is the worst webcam I have ever used. It's decently clear and detailed in good light but has some of the worst color reproduction I've seen in a webcam.
No matter how much light you give it, the webcam is massively washed out, lacking almost all saturation. It also lacks dynamic range and is awful at dealing with a mixture of strong light or dark shadows, resulting in blown-out highlights or crushed detail. Sure, everyone can see and recognize me, but I will look as if I've died in the middle of the meeting. If you need a good webcam on your laptop, this is not it.
On the audio side of things, this laptop is fine! There are dual 2W speakers at the top of the keyboard deck, and they get decently loud and sound alright. They lack bass and get tinny at high volumes, but I had no issues consuming media or participating in meetings with the speakers. I prefer any pair of headphones over these speakers for listening to music, but they do in a pinch. The microphones are also similarly solid, with my colleagues reporting that I sounded similar to your average headset/mic combo in meetings.
Let's wrap this up. As expected, the Yoga 7i 16 (Gen 8) comes equipped with Windows 11 and features several preinstalled Lenovo apps. Most of these apps are perfectly fine, adding some extra utility or control that makes sense for a productivity-focused laptop. However, Lenovo Now is only there to entice you with "exclusive offers," and McAfee is unfortunately present here.
As a tablet, the Yoga 7i 16 is responsive and works well, although its ungainly size and weight understandably make it difficult to hold it for long periods. There is pen support, but I could not test it for myself. Both the fingerprint sensor and facial recognition work quickly and reliably for biometric authentication. Overall, Lenovo built a well-rounded laptop with no obvious shortcomings outside of what I discussed above.
Yoga 7i 16 (Gen 8): Competition
There's not a huge number of large-screen, convertible Windows laptops in this price range, but there's enough to give the Lenovo Yoga 7i 16 (Gen 8) some competition. HP has options in its Envy line of devices, while Dell's Inspiron series does have some 2-in-1 laptops with roomy screens (I plan to review one of these laptops myself in the future, so stay tuned).
If you don't need a 2-in-1 design or a large screen, there are a ton of competitors on our list of best Windows laptops, with countless options from some of the biggest PC manufacturers. One of those is the HP Envy 16, which can be found for $999 on sale. It's a different laptop, a standard clamshell, but it packs a very powerful Intel 13th Gen Core i5-13500H (45 watts), Intel Arc A370M graphics, 16GB of DDR5 RAM, and 512GB of storage. You also get a MUCH better 16-inch display with WQXGA (2560 x 1600) resolution, 400 nits of brightness, and a 120 Hz refresh rate. But it's not touch, not a 2-in-1, and doesn't support inking.
Stepping up in price to $1,349 is the new Samsung Galaxy Book3 360. It has a gorgeous 15.6-inch 2K AMOLED touchscreen, 13th Gen Intel Core i7, 16GB of RAM, and 512GB of storage. Plus, Samsung has a generous trade-in program.
However, one of the single biggest competitors for the Yoga 7i 16 reviewed here is the laptop that came before it. Yeah, if you can still find it, the Lenovo Yoga 7i 16 (Gen 7) bests the latest model in many ways (and is discounted to boot).
You're getting a still-performant 12th Gen P-series Intel processor, slightly better battery life, and a higher-quality display. Oh, and it boasts a far better multi-speaker audio system. There's a reason that laptop was so highly reviewed by Windows Central, and it's 100% worth considering if you can find it in stock (and often discounted). In fact, here you go: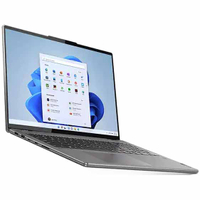 Lenovo Yoga 7i 16 (Gen 7)
The latest Yoga 7i 16 is pretty great in a vacuum, but it's hard to beat the overall value of the last-gen model, which features a better display, superior audio, and slightly longer battery life at a now-lower price.
Buy from: Best Buy (i7) | Best Buy (i5) | Amazon (i7)
Yoga 7i 16 (Gen 8): Should you buy?
You should buy this if ...
You need a dependable, large-screen 2-in-1 laptop with the latest internals
You don't need a good display or webcam
You can't find the Yoga 7i 16 (Gen 7) in stock or at a good price
You should not buy this if ...
You'd be fine with a last-generation laptop like the Yoga 7i 16 (Gen 7)
You need a laptop that excels in every category, including the display and camera
You don't need a large screen or the 2-in-1 feature
I like many things about the Lenovo Yoga 7i 16 (Gen 8). I like its hefty aluminum design that I know would handle daily wear and tear for years. I like the consistent speed the latest Intel processor and internals offer. I like the great battery life, so I don't have to worry about taking this laptop away from the office for the day. I like that companies like Lenovo are making large-screen laptops that still have a touchscreen and even a 2-in-1 hinge, which gives me more options for how to use my laptop. I also like that this laptop gives you all of this for under $1,000 if you want it.
I can't look past the below-average display, terrible webcam, and the odd ways this laptop is worse than its predecessor. Sure, some configurations include a higher resolution and brighter display or a pen in the box, and other models are coming with more powerful hardware (including Intel Arc GPUs, which is fascinating), but I couldn't review those. I had to review what was placed in front of me, and I found a laptop that was just not quite as good overall as the one that came before it. This is still a good laptop, though, and it offers a pretty great value for a brand-new machine. If you don't need the latest toy, though, the Yoga 7i 16 (Gen 7) still seems like the better deal right now.
Lenovo Yoga 7i 16 (Gen 8)
While this laptop is genuinely pretty great in a lot of areas, a few misses like with the display and webcam detract from the experience. Unless you need the latest hardware, you might be better off trying to find the last-generation Yoga 7i 16.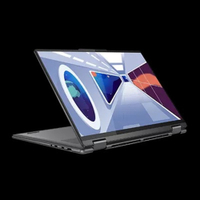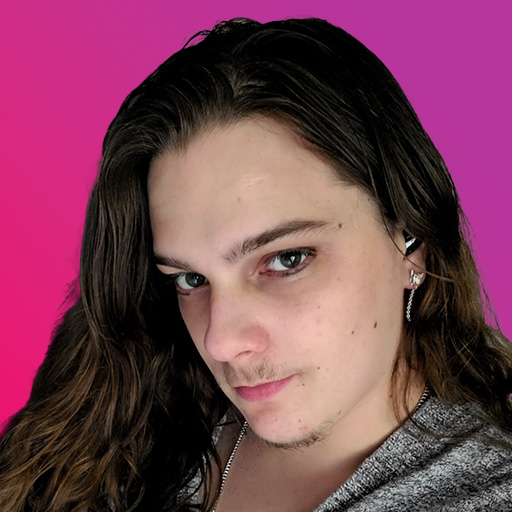 Zachary Boddy (They / Them) is a Staff Writer for Windows Central, primarily focused on covering the latest news in tech and gaming, the best Xbox and PC games, and the most interesting Windows and Xbox hardware. They have been gaming and writing for most of their life starting with the original Xbox, and started out as a freelancer for Windows Central and its sister sites in 2019. Now a full-fledged Staff Writer, Zachary has expanded from only writing about all things Minecraft to covering practically everything on which Windows Central is an expert, especially when it comes to Microsoft. You can find Zachary on Twitter @BoddyZachary.