The Surface Laptop Go 3 is Microsoft's budget-friendly laptop offering. Still, it's also one of the better 12-inch Windows laptops on the market, with a fun design, excellent battery life, and compact form factor to boot. This laptop is great for traveling and office-based workflows.
Pros
+

Fun design

+

Very compact and light

+

Great battery life

+

Excellent keyboard
Cons
-

No backlit keyboard

-

Last-gen processor

-

Low-res display

-

Higher starting price
Why you can trust Windows Central Our expert reviewers spend hours testing and comparing products and services so you can choose the best for you. Find out more about how we test.
Microsoft's third-generation Surface Laptop Go is now available, and in a lot of ways, it's the same product as the last version. But this year, there are some key changes to how the laptop is positioned on the market. Originally, Surface Laptop Go was presented as a budget version of Microsoft's flagship Surface Laptop, with a low starting price of $549 to match.
But with the Surface Laptop Go 3, that positioning no longer makes sense as Microsoft has increased the price of Surface Laptop Go 3 by a staggering $250 over the original, now starting at $799. That's upper-midrange laptop territory, just $200 short of the flagship Surface Laptop 5 and Surface Pro 9.
Why is it so much more expensive? It's because the new entry-level model doubles both RAM and storage, up from 4GB RAM and 128GB storage to 8GB RAM and 256GB storage. It also now comes with a fingerprint reader, which the original $549 model did not. Microsoft essentially removed that cheaper entry-level configuration from the lineup.
So, with all that in mind, does the new Surface Laptop Go 3 meet those upper midrange standards to justify its $250 price increase for the new entry-level model? I've been using the laptop over the last week, and this is my full review.
Disclaimer: This review was made possible by a review unit provided by Microsoft. The company did not see the contents of the review before publishing.
Surface Laptop Go 3: Price & specs
Surface Laptop Go 3 specs
- Price: $799 at Microsoft Store
- Processor: 12th-Gen Intel Core i5-1235U
- RAM: 8GB
- Storage: 256GB SSD
- Display: 3:2 1536x1034 touchscreen
- Weight: 2.49lbs
- Cameras: 720p
- Biometrics: Fingerprint
- Ports: 1x USB-A, 1x USB-C, 3.5mm jack
- Battery: 12hrs+ (benchmarked)
Surface Laptop Go 3 is available directly from the Microsoft Store and retailers like Amazon and Best Buy, with a starting price of $799. That will get you the entry-level configuration with an Intel Core i5, 8GB RAM, and 256GB SSD storage. This also includes a Windows Hello fingerprint reader embedded into the power button.
You can step up from here with more RAM and storage, maxing out with 16GB RAM and 512GB SSD storage for an eyewatering $1,249 at Microsoft. I don't recommend springing for that, as you can find many other laptops for the same price with much better all-round specs.
Education and commercial customers have an extra SKU available to them that costs $699, but that model excludes the fingerprint reader and halves the storage to 128GB. This is probably the model your school or work will give you if they order these in bulk.
Surface Laptop Go 3 Recommended Configuration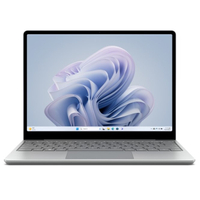 Intel Core i5 | 8GB RAM | 256GB SSD
We recommend the entry-level model of Surface Laptop Go 3, as 8GB RAM and 256GB storage should be more than enough for the kind of workflow this device is built for. Web browsing, email, calls in Teams or Zoom, and working on Microsoft Office or Google Docs, this configuration should be perfect for that.
Surface Laptop Go 3: Design and features
If you were a fan of the original Surface Laptop Go, you'll love the new one. It features an identical design, right down to the selection of ports and display size. They are 1:1 comparable, meaning the only real changes to the Surface Laptop Go 3 in regard to hardware are on the inside.
But that's okay because I think this is a good opportunity to revisit just how nice this laptop design actually is. If you were tasked to create a "more affordable" version of the Surface Laptop 5's design, how would you do it without making the laptop look and feel cheap?
Microsoft decided to go the route of keeping the high-quality aluminum materials on every surface (pun intended) that the user touches most, which in this case is the lid and keyboard deck. The underside of the laptop is made from soft-touch plastic, which is actually very high quality and feels great, too.
The use of plastic on the underside also helps with keeping this laptop feeling light, and that's something I noticed right away compared to the Surface Laptop 5. It's just 2.49lbs. This thing just feels great to walk around with, and the plastic bottom makes it feel more durable. I'm not afraid of scratching the bottom of this laptop like I might be the Surface Laptop 5.
The two different materials also offer a nice two-tone appearance on the casing that you don't find on any other Surface. Plus, the tolerances where the aluminum meets the plastic base are so tight you'd be mistaken for thinking they were the same part. Overall, I'm actually a huge fan of the Surface Laptop Go's external design, and I wish more laptops utilized this dual metal/plastic setup.
Moving onto the IPS display, which, in my opinion, is the first semi-weak point of this laptop. Microsoft opts for a sub-1080p screen resolution on this device. Now, when this laptop started at $549, this was understandable. But for $799? That's a much tougher ask.
The display is 1536x1024, which equates to 147 pixels per inch. This means pixels are visible from an average working distance, and text/images don't look all that sharp. If the resolution were just a few hundred pixels higher, I'd be happy. I do think for $799, we need to be meeting that 1080p bar at the very least.
Now, it's not all bad news. The display outside of its resolution is actually pretty good. Colors are quite punchy, viewing angles are okay, and the inclusion of a touchscreen is always nice to have. The display is rated for 96% of the sRGB color gamut, and our testing found peak brightness hits around 347 nits, which is fine for a laptop of this caliber.
Image 1 of 2
The display itself is a 12.4-inch inch panel with thin bezels and rounded display corners. From a distance, it looks great, almost flagship level. It's only when you get close and see the low-resolution display that you realize this is actually a budget laptop.
Moving onto ports, we've got a modest selection on the Surface Laptop Go 3. On the left, you'll find one USB-A 3.1 port, one Thunderbolt 4-enabled USB-C port, and a 3.5mm audio jack. On the left, you'll find nothing but the magnetic Surface Connect charging port.
As an aside, I just wanted to mention how happy I am that Microsoft continues to ship Surface devices with this proprietary port. I know that sounds weird to say, given the age of USB-C we live in, but Surface Connect is just so delightful. The magnetic attachment for charging should be something all laptops have in addition to USB-C charging. I'm glad it's here.
Surface Laptop Go 3: Camera and audio
As the bezels around the display are so thin, Microsoft wasn't able to get that good of a Surface webcam in here, at least compared to other Surface devices. Laptop Go 3 ships with a 720p front-facing camera, and it's fine. For video calls, it will get you by, but you will notice that the image isn't very sharp and a little noisy, which becomes more noticeable in darker environments.
Microphone quality is actually very good on Surface Laptop Go 3, using the same "studio mics" found on other high-end Surface devices like the Surface Studio 2+ and Surface Laptop Studio 2. These microphones operate in a dual-array setup, which helps with reducing background noise in a loud environment and is great for shared office spaces.
Speaker performance is also strong, for the most part. The speakers are hidden underneath the keyboard and sound good enough for a $799 laptop. The audio is clear, and there's even a little bit of bass, which gives your music a richer-sounding presence. Unfortunately, my review unit appears to be suffering from intermittent popping of the speakers.
I can't consistently reproduce it, but sometimes audio will just randomly start popping as I'm listening to music. I think this is a firmware issue, as it's not the same "levels" of audio that cause the popping, and it happens seemingly randomly. A restart fixes it, but after a few hours, it will return.
I was able to capture it happening on camera, which you can view above. When it's happening, it's incredibly noticeable.
Surface Laptop Go 3: Keyboard and touchpad
Starting with the touchpad, I have no real complaints here. It's a nice Windows Precision touchpad that works just as you would expect. It's a smooth surface (pun intended again) with a quiet yet satisfying click to it. The only criticism I could throw at it is that it's a touch on the small side. That's to be expected on a 12-inch laptop, of course, but I figured I would mention it anyway.
Moving onto the keyboard, which I have a love-hate relationship with. We'll start with the positives, which are that this keyboard feels excellent. It has a key travel of 1.2mm with tactile yet quiet feedback, which equates to an incredibly satisfying typing experience.
The keyboard itself is also relatively full-sized for a laptop of this size. I was expecting it to feel a little cramped like the touchpad does, but honestly, it doesn't. I never once found myself thinking, "Man I wish this keyboard was bigger," like I do on the smaller 10.5-inch Surface Go.
Now, why is my relationship with this keyboard a love-hate one? Well, it comes down to what's on the underside of the keyboard, or, in this case, lack thereof. Most laptops at $800 will come with a backlit keyboard, which illuminates the individual keys in dark environments.
This is useful, perhaps even required, for anyone looking to use a laptop in the dark, late at night in a shared dorm room or in your home office. It doesn't matter where the dark environment is; a backlit keyboard is important if you want to be able to see where the keys are.
Surface Laptop Go 3 curiously omits this backlighting on its keyboard. Why? Well, Microsoft says it needs to differentiate between the budget Surface Laptop Go and the flagship Surface Laptop 5, which does have a backlit keyboard. Now, again, when this laptop was $549, that was something that made sense. But at $799? That reasoning begins to fall apart.
I couldn't find a laptop on the market for $799 that doesn't have a backlit keyboard. I'm not saying they don't exist, but the likes of HP, Dell, and Lenovo have $799 laptops with backlit keyboards. For this price, Surface Laptop Go should have one.
If you don't plan to use your laptop in dark environments, this will be a non-issue for you. But as a night owl myself, this is one part of the laptop that I really noticed. Luckily for me, I can type without needing to see the keyboard, but I still need to see it sometimes for random symbols or just to get my footing. It's a lot harder in the dark.
Surface Laptop Go 3: Performance and battery life
Performance on the Surface Laptop Go 3 is overall actually very good. Even with its last-gen Intel Core i5, I was happy with the speed and efficiency of this laptop. In daily tasks, the Surface Laptop Go 3 didn't even blink. It was able to handle web browsing, email, listening to music on Spotify, watching videos on YouTube, and even a bit of light Photoshop work.
The Intel Core i5-1235U is a great chip, almost beating the processor found in Microsoft's original Surface Laptop Studio, which was presented as Microsoft's "most powerful" Surface when it was unveiled in 2021. So you're really not going to need to worry about CPU performance on the Surface Laptop Go 3.
In regards to graphics, we have an integrated Intel Iris Xe chip, which is fine. Integrated graphics have come a long way compared to a few years ago, but they're still not good enough for heavy gaming sessions. The Iris Xe really helps with creative tasks like photo and video editing, but anything heavier and you'll want to look elsewhere.
Image 1 of 5
Moving onto battery life, which I think impressed me the most. You don't look at a 12-inch laptop and think, "I bet that has great battery life." But lo and behold, it does! In our controlled PCMark 10 battery test, Surface Laptop Go 3 lasted an incredible 12 hours and 14 minutes on a single charge. To compare, the Surface Laptop Go 2 only lasted 6 hours in our battery test.
For a 12-inch laptop, 12 hours is excellent. This translates to real-world usage, too. By the end of an 8-hour workday with the laptop on and off throughout, I find myself still with 45% left in the tank. This is almost Windows on ARM level of battery life. I guess the small, low-resolution display and lack of a backlit keyboard really help improve the endurance of this laptop. A worthy trade-off?
Surface Laptop Go 3: Competition
There are two ways to look at competitors to the Surface Laptop Go 3: Size and price. If you're looking for similar laptops in size, your options are somewhat limited. There aren't many 12-inch laptops that target the upper-midrange segment of the market other than Microsoft's own last-gen Surface Laptop Go 2.
If we're looking at 13-inch laptops, the HP Pavilion Aero is a great competitor. You can find them for around the same price as a Surface Laptop Go 3, and often with better specs. In this case, the Aero has 16GB RAM and an AMD Ryzen 5 7535U processor for just $879. In our HP Pavilion Aero review, we called it the best mid-range laptop with AMD available.
That's because the Ryzen 5 in the Pavilion Aero is excellent, plus 16GB RAM will double your longevity in regard to multitasking. It's also even lighter than the Surface Laptop Go 3, even with a larger 13.3-inch 1080p display.
Elsewhere, we have a 2-in-1 in the form of the Robo & Kala 2-in-1, which is a flagship Windows 11 on ARM device with a Snapdragon 8cx Gen3 SoC. It has a 12.6-inch display, which is close to the 12.4-inch screen size of Surface Laptop Go 3, but comes with a much better OLED display, along with support for pen input.
It's also $799, which matches the Laptop Go 3. The only problem with the Robo & Kala is that it's not a "pure" laptop; it's a tablet with a keyboard cover that turns it into a competent laptop. Still, if you're looking for a 12-inch laptop, the Robo & Kala won't scratch your itch.
Surface Laptop Go 3: Should you buy?
You should buy the Surface Laptop Go 3 if ...
You want a 12-inch laptop with a great design.
You need something lightweight and portable.
You want a laptop with excellent battery life.
You should not buy the Surface Laptop Go 3 if ...
You want a high-resolution display.
You need a backlit keyboard.
You need powerful graphics performance.
The Surface Laptop Go 3 is an odd beast. On the one hand, I love it for how compact and simple it is. It's an easy "on the go" machine for when you need to travel because it's just so light and fits so well into any backpack. It also has one of the better designs on a $800 laptop, in my opinion at least.
On the other hand, $799 is a lot of money, and you can find laptops out there with way more features and better specs for that price. Heck, you can even dig around for a last-gen flagship Surface Laptop 4 for $799 and come away with a much better overall package.
But I've realized those other laptops don't offer the one thing that makes Surface Laptop Go 3 great: its size and portability.
I think that's the Laptop Go 3's strongest selling point. 12-inch laptops are pretty rare these days, and the ones you can find are usually really low-end with terrible displays and cheap plastic exteriors or run Chrome OS. Surface Laptop Go 3 is the only good "upper midrange" 12-inch Windows 11 laptop on the market currently.
Not only that, it's incredibly lightweight and compact, too. It's so easy to throw this laptop around without a care in the world. It's durable, and as long as you're not treating it like an absolute maniac, it should last you a very long time.
So, if you're hellbent on getting a 12-inch laptop, the Surface Laptop Go 3 is really your best choice for now. Even with its lack of a backlit keyboard and sub 1080p display, the Laptop Go 3 is overall a really nice machine. I've enjoyed my time with it, even if I do wish it was a little cheaper.
My only gripes are the sub 1080p display and the lack of a backlit keyboard. If Microsoft is able to improve any parts of this laptop with the next version, I hope it's those areas.
Be sure to check out our roundup of best Windows laptops to see where all our reviewed laptops rank!