Microsoft won't say if Surface Duo is getting any more Android OS releases
Microsoft fails to reassure Surface Duo users.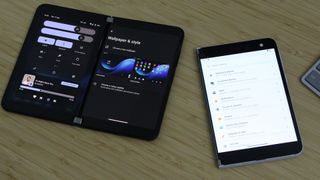 (Image credit: Windows Central)
What you need to know
Microsoft won't say if it plans to deliver any more major versions of Android for Surface Duo users.
Development on new features for Surface Duo was halted late last year as resources were pulled to other projects.
Now, the company won't say if the device has been discontinued.
---
If you've been holding out hope that Microsoft was gearing up to ship a big update for Surface Duo at some point this year, I think it might be time to let that boat sail. The company has seemingly gone radio silent on all things Surface Duo, providing "nothing to share" responses to any questions asked about the product.
This week, I asked Microsoft if the company had discontinued Surface Duo 2, and a company spokesperson said it had nothing to share. My own internal sources say that the Surface Duo 2 has been discontinued, which shouldn't come as a surprise considering it's a smartphone coming up on two years old, and makes no financial sense to restock.
It's important to note that discontinued doesn't mean unsupported, though it certainly feels that way. Existing Surface Duo 2 customers will continue to get monthly security updates between now and October 2024, but whether or not the company plans to deliver any more major Android OS versions is another question entirely.
In fact, I also asked Microsoft if it was planning to deliver any more major versions of the Android OS for Surface Duo customers. This would have been a chance for Microsoft to reassure existing users that they hadn't been abandoned, but the company decided to issue yet another "nothing to share" comment.
My sources say that a majority of the Surface Duo OS team has been moved to work on Teams Rooms on Android, which has been a big focus for the Android Microsoft Platform & Experiences team (AMPX) this year. As a result, I'm told that as of a few months ago, there were no plans to deliver Android 13 for Surface Duo.
Now, while it's possible that the team could 'circle back' to Surface Duo at some point, I think it's unlikely. Before active development on Surface Duo OS stopped, the company was working on a handful of new features that would have shipped on top of Android 12L.
These new features included a new Windows 365-powered Continuum mode, which would let you log in to a Cloud PC when plugging the Surface Duo into an external display. Microsoft also had plans to deliver AI-based camera eye-correction at some point, as well as inking on the lock screen for quick notetaking.
Development on all these features has stopped, showing no signs of movement for months now. This all points towards a product that has been abandoned, similar to how Microsoft treated Windows 10 Mobile in its final years. Sure, it was still 'supported,' but there was no active development taking place.
I would love to be wrong about this, but I think Microsoft is done with Surface Duo. I reported at the beginning of the year that the Surface team had scrapped plans for a dual-screen Surface Duo 3 and had instead pivoted over to working on a true foldable phone instead. It's my understanding that if this thing ever ships, it won't be a 'Duo' product.
Users on Reddit have reported that Microsoft is now issuing refunds to Surface Duo owners who have been trying to get their devices exchanged under warranty. This is because Microsoft is all out of Surface Duo replacement units in most regions and would seemingly rather refund you than fix it.
Get the Windows Central Newsletter
All the latest news, reviews, and guides for Windows and Xbox diehards.