Has Xbox and Ninja Theory's 'Bleeding Edge' been abandoned? (Updated)
Radio silence for several months doesn't bode well for Ninja Theory's 4v4 brawler.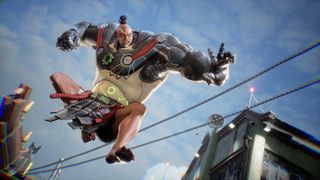 (Image credit: Xbox Game Studios)
All the way back in July 2020, Bleeding Edge got a brand new fighter, dubbed Azrael, joining what, at least appeared to be, decent on-going support for Ninja Theory's 4v4 brawler.
Update October 26, 2020: Since posting this article, Bleeding Edge tweeted again for the first time since August, and support staff began engaging again in the game's Discord. It certainly seems like there's still life in the game. Staffer 'Rebel Tetris' offered this: "Regarding new content I have no update, but the game is still active the servers are still up and we still respond to support requests and try to resolve player issues to ensure they can continue playing."
Bleeding Edge was in development by a subteam of Ninja Theory before Microsoft acquired the studio, also known for DmC and Hellblade. Ninja Theory is working on Hellblade II, alongside a mysterious horror title dubbed Project Mara. A smaller team was leading on-going updates for Bleeding Edge, but since July, there has been no developer correspondence on the future of the game whatsoever.
Even a brief glance at the game's official blog, socials or official Discord paints a bleak picture. None of have been updated with community messages since July, save for some service degredation alerts. Developers have been completely and utterly radio silent on the game's official Discord, with community messages left ignored, declining to engage in any form of discussion about the game.
When I reviewed Bleeding Edge, I saw it as a game with strong potential, albeit lacking in complexity and variety, at least at launch. While playing it, I couldn't help but feel like I spent long periods of time not really doing anything, as I waited for enemies to respawn, or waited for nodes to unlock, and so on.
Balance also felt a little off, with some healers like Kulev, at least back then, vastly outshining others. I had plenty of fun with the game, mopping up the vast majority of the achievements, using Kulev's mind control skill to force players into traps was also hilarious. At the same time, I just ended up feeling like I could play superficially similar, but far more complex games like Overwatch, or even World of Warcraft PvP, where Bleeding Edge draws some obvious inspiration from.
I was hoping with Xbox Game Pass as a vehicle, Microsoft would see fit to continue updating the game as an added-value proposition. But it looks like as with Killer Instinct, to speculate, it might have ended up being "too niche," or something along those lines.
I think Bleeding Edge may still have an update in the works, possibly adding ranked play, or something along those lines to give it another push. It would be a shame to see it sunset prematurely, given how good it can feel to play at times. For now, it looks like Bleeding Edge's shrinking group of players will just have to wait a little longer.
Xbox Series X/S
Main
What is the Xbox Series X release date?
How much does Xbox Series X cost?
Why you can't preorder Xbox Series X yet
Windows Central Newsletter
Get the best of Windows Central in in your inbox, every day!
Jez Corden a Managing Editor at Windows Central, focusing primarily on all things Xbox and gaming. Jez is known for breaking exclusive news and analysis as relates to the Microsoft ecosystem while being powered by caffeine. Follow on Twitter @JezCorden and listen to his Xbox Two podcast, all about, you guessed it, Xbox!
Wouldn't surprise me, market was already over saturated. Interest had moved on as well. It definitely a fun game with a unique style.

They should keep updating it - this is supposedly one of the benefits of the GamePass model under Xbox and Microsoft. They can play the long game, like Sea of Thieves. Keep a smallish team polishing and gradually updating it. Even heavy hitters like Fortnite or PUBG did not realize immediate success. They have time to keep working on the title. It may be a surprise hit down the line.

I hope they're just putting their nose to the grindstone and working on it... It's definitely a fun game and deserves a big update and an injection of content to make it shine

I'll choose to give them the benefit of the doubt although I kinda stopped playing due to the horrendous lag I was experiencing, which is not ideal for a male based combat games that relies on parrying.

*melee based Is what I meant to say.

I was hoping to see first party characters join the roster Master Cheif, Sesuna, Marc Phionex, etc....

I wonder whether they have moved the development team onto Hellblade 2, at least for the time-being. I'm sure Microsoft would like to see that available ASAP but I'm not sure how much influence they would try to exert on that front.

It's gamepass filler and that's all it will ever be.

The writing was on the wall for this game before it was ever released. No hype. Subpar reviews. Questionable art style. Market already loaded with better games. I don't think Microsoft had any intention of making a game like this. It simply was already in development when they bought the studio.

Ironically the game was originally going to be like League of Legends, but the developer changed tact after getting acquired by Microsoft as with it going into Game Pass they wanted something more accessible to the masses.

I should probably clarify, this was entirely Ninja Theory's decision, according to the developer, not a push from Microsoft. Which makes sense because considering some of the bizarre games on Game Pass I don't think Microsoft care what genres are on there.

Just your friendly neighbourhood grammar **** here, to correct a mistake I see often. The expression is "to change tack", not "to change tact". https://www.merriam-webster.com/words-at-play/do-you-change-tack-or-tact....

Sea of thieves fixed the bugs and brought to us a big content all months after realeased. I don't know if this team is able to do it

This game was a beautiful disappointment from the 1st minute to minute 40

I'm guessing they only tweeted an update because someone on the team read your article.

It's an okay game, I'd say it's good if you're into those games. It's just not my thing.
Windows Central Newsletter
Thank you for signing up to Windows Central. You will receive a verification email shortly.
There was a problem. Please refresh the page and try again.