Hate the Windows 11 Start menu? Stardock's Start11 lets you customize it.
You can customize the look of the Windows 11 Start menu with Start11 from Stardock.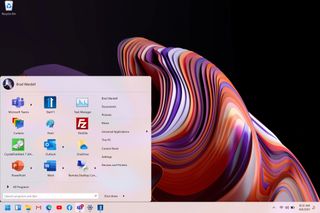 (Image credit: Stardock)
What you need to know
Start11 launched in beta this week, allowing people to customize the Start menu on Windows 11.
The program includes options for either Windows 7-style or modern Start menus.
The makers of Start11 are working on adding pages, tabs, and other features to the Start menu.
Stardock announced Start11 this week, a program designed to customize the Start menu of Windows 11 and Windows 10. The program is still in beta and focuses on restoring functionality to the Start menu. You can pick up the beta version of Start11 from Stardock's website for $5.
"This first beta is designed to regain some of the lost functionality in the current Windows 11 Start menu," said Brad Wardell, Stardock CEO. "We have a lot of exciting new features planned to make the Start menu not just more accessible, but also more useful to companies and power users."
The new Start menu in Windows 11 has drawn a mixed reaction from enthusiasts. In our poll regarding the Windows 10 Start menu on Windows 11, over 53% of participants said that people should have an option as to which Start menu to use. When Windows 11 briefly allowed people to switch to the Windows 10 Start menu, many were eager to return to the previous version.
Image 1 of 2
Start11 doesn't exactly replicate the Windows 10 Start menu on Windows 11, at least at the moment. It does have options for different styles, including Windows 7 and Modern. The Modern style looks more like the Start menu of Windows 10, though it doesn't have Live Tiles. Stardock also plans to add new functionality, like pages, tabs, and features built for enterprise in the future.
"The new UI has been designed to support future Start menu designs," said Wardell. "Start8 and Start10 focused on restoring previous versions of the Start menu. Start11 will be extending this to support a host of new Start menu ideas such as the concept of pages, tabs, minimalism, and features for our enterprise customers."
Windows Central Newsletter
Get the best of Windows Central in your inbox, every day!
News Writer and apps editor
Sean Endicott brings nearly a decade of experience covering Microsoft and Windows news to Windows Central. He joined our team in 2017 as an app reviewer and now heads up our day-to-day news coverage. If you have a news tip or an app to review, hit him up at sean.endicott@futurenet.com (opens in new tab).
Installed this last night. In the Modern Style, you can adjust the size of the start menu by adjusting the number of icons shown and the number of rows in the settings. Also, if you hover over an app, it replaces the menu on the right with your recent files for that app and if you hover over a folder, it displays the folder's contents which are clickable. You can also arrange the pinned apps and folders to your liking. Start 11 is not bad for the first beta version. As they add more themes, it will become even more interesting. In addition, Start 11 allows you to make a few changes to the taskbar.

I bought it too. Since I had bought Start 8 back in the day, I was able to upgrade for 3.99 (saved a buck). Even in its early beta state, it's a major improvement over the default Start in Win 11.

Can you make your own start menu folders in the "all programs" section like you could in 7 so you can arrange things how you want? That is the one thing I have hated in the 10 start menu and it seems that 11 will be no different.

Not sure, I'll have to check when I get off work. Bought and installed it late last night, so didn't get a chance to really dig into all the options yet.

You can in Start10. If that isn't a part of Start11, then maybe it will be when the final version is released.

Surprise! But not really. This will be good for those who don't like the windows 11 start menu. I'm willing to give it a shot, though.

I like Windows 11 start menu, sure it can be improved, but think it is better than Windows 10 start menu in that it is just small icons and not silly tiles. Allow the unused space under recommended and do some little changes and it will be ok.

This is a "no-go" for me. Nobody wants live tiles. But I want a larger visual representation with either icon or a custom image for the tile that one can see with bad eyes.

I personally like live tiles sir

Please don't speak for everybody. Personally, I think Microsoft should have just given us the option to stay with the new Windows 11 menu or use the older one from Windows 10 which, imo, has better tools for organization.

Same here, it's the only thing keeping me from putting my main desktop on the insider channel for Windows 11. I heavily use the Win10 start menu.

The best tools for Start Menu categorization and organization were in Windows 7.

I said that with Windows 10, give us the option to go back to Windows 7 style, thankfully we have third party software to do it. I have not decided what I am doing yet, I have Windows 11 on another drive, but not sure if I will use it as my main OS, even when it is launched and if I do will I change the start menu? I am also thinking of going to the dark side and getting a Mac.

As of right now, Start 11 does not have live tiles. It's a Windows 7 type, or a "Modern" type, which seems to blend the Windows 11 style with a Windows 7 style. And saying no one wants live tiles is incorrect, I've seen in here, and other places like Reddit where A LOT of folks want their Live tiles back....

Bring back the Live Tiles!!!

I use live tiles every day, on my Surface running tablet mode, and on my non touchscreen laptop, also running tablet mode.

I really wish someone would make one of these with a compelling tablet interface instead of exclusively catering to old school desktop users who never want anything to change. Windows has a lot of the DNA necessary to be a compelling alternative to the iPad (and the hardware is literally already on the market with Surface Go 2 and Pro X) but Microsoft never bothers to make the system UI pleasant to use on a touch-only device. If it's technically possible for a third party to replace chunks of the system UI I'd love to pay for something that brings decent system-level gestures to the table.

Most PCs don't have touch screens, so why make a tablet interface for a desktop PC?

I might get a lot of dislikes for this, but I prefer the Windows 11 Start Menu over Stardock 11... I personally think it looks prettier and nicer than the Stardock 11 options... But I will say this, Windows 10 had the best Start Menu... Windows 8 is the best Start experience for me imo… might get more dislikes for saying that but fite me m8! However, if they made an area in the Windows 11 Start Menu to pin a few Widgets from the Widgets Menu, then I would be totally fine with the Windows 11 Start Menu or better yet, make the Start and Widgets menu merge when you get in a tablet form factor for 2 in 1 devices, but for now, my only complaint with Windows 11 is the Start Menu, everything else in Windows 11 hits the right notes for me so far

Windows 11 is better as it is. This whole thing of this company making money out of knee-jerk customization rejection is the dumbest thing ever happened in computing.

No Live Tiles - No interest, sorry. I have Live tiles on my Android Phone Launcher and they work almost as great as the ones on my old Windows Phones. Come on you can do better then this!!

I purchased Start10 when Windows 10 hit the shelves, been using it ever since. If Microsoft bricks the start menu in Windows 11, then I'll buy Start11.

As usual, Stardock has to step in to help make Microsoft's AWFUL designs more palatable.
They already had to step in to save us from Windows 8, and to fix the garbage grey theme Microsoft thinks passes as a Dark Theme on File Explorer on Windows 10. Unfortunately, the design of Windows 11 is just far far too bad to be fixable even by them. The bad designs - from the Grey Themes to the rounded corners - are hard-coded into the OS. I just hope Microsoft keeps the requirement for TPM. That way I'm sure I will never be bothered by notifications to update to that upcoming garbage version of Windows.

One of the primary reason for me moving to Win11 is that centered Start menu and other minions around it.
It is efficient, visually appealing and effective. What do I miss, I am glad you ask, I miss the live tile, but I am willing to give it up if it is going to muddle up this new feature / arrangement.

Some might be able to find the Windows 11 UI more palatable, including its lack of support for Live Tiles, if Microsoft allowed for the development of 3rd party widgets. AFAIK, the versions of Windows 11 released thus far don't support that, neither has Microsoft announced any intention to allow this in the GA public builds. Then, of course, there is also the matter of getting 3rd-party developers to actually include widgets in their Windows 11 apps...