Have Xbox Live Gold? Assassin's Creed 2 is now available for free on your 360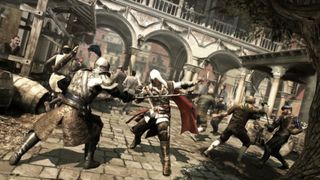 Assassin's Creed II is the next game available as a free download for consumers with Xbox Live Gold subscriptions. Simply boot up your Xbox 360 console and download the game from the Marketplace. As a title that's usually priced at $19.99, this is an absolute bargain, especially if you've played the first game and have not yet looked at continuing the experience.
The second instalment has taken numerous awards, as well as a high rating of 90 at Metacritic. Sporting open world gameplay, Assassin's Creed II will surely zap some free time off your hands.
If that wasn't enough, Major Nelsen has covered the on-going sale of Assassin's Creed DLC (expires July 31st). Mixing both Microsoft Points and real currency purchases, we can also see the original Assassin's Creed currently going for $14.99, just in case you'd also like to pick up the original that kicked out this exciting and engaging series.
Swipe to scroll horizontally
| | | |
| --- | --- | --- |
| Content | Normally* | Sale Price* |
| Assassin's Creed | $19.99 | $14.99 USD |
| Assassin's Creed II Sequence 12: Battle of Forli | 320 | 214 MSP |
| AC II Sequence 13 : Bonfire of the Vanities & Secret Locations | 560 | 375 MSP |
| Assassin's Creed Brotherhood | $19.99 | $14.99 USD |
| ACB – The Da Vinci Disappearance DLC | 800 | 536 MSP |
| Assassin's Creed Revelations | $19.99 | $14.99 USD |
| ACRs — The Lost Archive | 800 | 536 MSP |
| ACR — Mediterranean Traveler Map Pack | 800 | 536 MSP |
| Assassin's Creed® III Season Pass | 2400 | 1600 MSP |
Be sure to act fast as this free download is only available between July 16th and the 31st - and yes, you can keep it forever and ever and ever. Stay tuned for more free titles as two are listed each month. Note: if you reside in Japan, you'll be getting Full House Poker instead.
Source: Xbox (opens in new tab), Major Nelsen; thanks, Rahul, for the tip!
Windows Central Newsletter
Get the best of Windows Central in your inbox, every day!
Rich Edmonds was formerly a Senior Editor of PC hardware at Windows Central, covering everything related to PC components and NAS. He's been involved in technology for more than a decade and knows a thing or two about the magic inside a PC chassis. You can follow him on Twitter at @RichEdmonds.
It was available on the 16th

Might want to update title to say incase you missed this.

Is MS charging tax on a free game? I could have sworn I saw the last 4 digits of my cc number appear for the AC 2 download. If this is the case I am not sure how one can tax free. That said, I tried this on Friday and chose not to move forward because I did not know if it was a kink in the system.

I saw it yesterday, it's just confirming you're paying $0.00 on your CC for this game. There's no charge.

Its still charges your card, even though it's $0.00 just to add the transaction to your purchase history. They do this for everything free or not. Its how I found out someone hacked my account and spent $170 in a day. They refunded the money to my account, took my Xbox serial number, and eliminated all other consoles attached to my account. I think they registered like 3 other credit cards on my account, so they spent even more with other peoples money, but that lasted them about 6 hours before o noticed the string of emails confirming my purchases. So I'm glad they send you everything.

You could use Microsoft points as i did online

You beat me to it. That is what I do too.

I honestly like AC 2 more than any other of the series.

Most people do.
I wish I could like it more than brotherhood but the weather in AC2 gets really ugly and cloudy sometimes and I really hate that weather. Just ruins the gameplay for me.

Yup, AC2 was /is one of the greatest games of all time. One of the games that made you rush home from work just to play it :)
One of the few games that made me care about the story, and the charactors.
Skill level just right, tricky without being punishing. Loved it.

I have Brotherhood which I hear mechnically is great, just doesn't have such a great story.

I agree, and they haven't matched the depth of the story of AC2 with any of the recent ones (maybe 3), and hopefully Black Flag will bring some new elements and themes to bring the series back to life.

This is how I feel about the original AC. I'm enjoying this one, but not as much as the original. Still good to get for free!

I have never played this series. I picked this up on the 16th and I'm hooked.

Love the fact that you post things like this, always a wonderful way to find the next best game download!

For the rest of this year, we will get 2 games per month, one on the 1st, and the other on 16th of every month.

I pity those who haven't played Assassin's Creed 2 by now ...

Or have ever played any AC.

Got office 365 university yesterday with gold. I don't even own an xbox (yet) and I've already downloaded all this free gold stuff. Sweet.

Soooo wish there was a way to snag this without actually having your Xbox 360 to hand. I just moved back to the UK from the USA and although my Gold membership is still live, I had to sell my Xbox for the move. It would be awesome to somehow be able to do this online and then download once I purchase another console. I take it there isn't a way to do this?

Yes, you can do this on Xbox.com. I do all of my purchases from the website and they download automatically the next time I turn on my 360.

Shiiiiiiiiiit! I never knew that!
Dammit, what was the first one they did that I have know presumably missed the window for?

What ever happened to getting Halo 3 free this month?

I think that was last month

Thank you please tell us whenever good deals out there for Xbox too and not just Windows phone

I miss prince of Persia....

Does this offer work with for example 3-month Xbox Live?

Will I be able to pick up and play this without having played the original?