Have you preordered a new Xbox Series X or Xbox Series S? If so, which one did you get? (poll)
Xbox Series X and Xbox Series S preorders are live, but have you preordered one?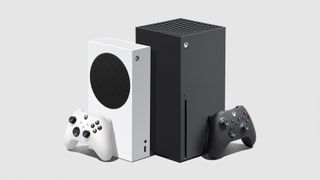 (Image credit: Microsoft)
Xbox Series X and Xbox Series S preorders are officially live. The next generation of Xbox hardware marches closer and closer to release. The consoles launch in November, but there's quite a bit of enthusiasm about them already. We want to know if you've already preordered one and if you have, which one you decided to get.
The Xbox Series X and Xbox Series X have a lot in common, but there are significant differences that dictate which one is best for you. If you're still deciding which one to get, make sure to check out our complete comparisson.
Have you preordered and Xbox Series X or Xbox Series S? If so, which one did you preorder?Have you preordered and Xbox Series X or Xbox Series S? If so, which one did you preorder?— Sean Endicott (@Sean_Michael_UK) September 22, 2020September 22, 2020
Both next-generation consoles look to deliver impressive gameplay. With Microsoft buying major studios and companies left and right, and rolling games out to Xbox Game Pass, there should be plenty of games to play.
If you're having a hard time finding an Xbox Series X or Xbox Series S available for preorder, make sure to check out our complete preorder guide, which we keep up to date with retailers that have the consoles available.
Leading 4K
(opens in new tab)
The full next-generation experience.

Xbox Series X is Microsoft's new flagship, as its most powerful console with over 12TF GPU performance and a custom SSD. It boasts up to 4K resolution and 120 FPS, full backward compatibility across four generations, and ray-tracing support.
Next-gen in HD
(opens in new tab)
Experience next-gen gaming for less.

Microsoft serves the next-generation for less with its budget-friendly Xbox Series S. The console packs the same high-performance CPU and SSD technology as Xbox Series X, while scaling back the GPU and removing the disc drive.
News Writer and apps editor
Sean Endicott brings nearly a decade of experience covering Microsoft and Windows news to Windows Central. He joined our team in 2017 as an app reviewer and now heads up our day-to-day news coverage. If you have a news tip or an app to review, hit him up at sean.endicott@futurenet.com (opens in new tab).
Amazon, walmart, target, and MS are out of stock. Gamestop page in queue, Newegg not live and neither is best buy

Got mine while watching the Ignite digital conference opening. Xbox Series X from Microsoft.

I wanted to order from Best Buy so went to that site first. When I realized they never opened orders, I went to Amazon. Same thing. So, I went to the other sites but were then sold out. WTH!!

Well, I don't have twitter so I cannot participate in your poll. But I got mine through Target after Microsoft failed to even load and Walmart went out of stock just as I submitted my order.

Target loaded in the cart but when I went to complete order with my red card it'd then show empty. I used another browser, was still in stock, but still didn't work

I had to refresh my cart several times to get it to work. It would show an empty cart but would give me an error telling me I can only have one in my cart at a time. So, I just kept refreshing the cart until it finally got me to the actual checkout process. Once that started, I had no issues and received my confirmation email.

Got the X and S. The way I got it was Microsoft Store via the mobile page. For some reason that worked.

This is the first Xbox console that I am probably going to hold off on. I am waiting to see if cross platform play between Xbox and pc becomes completely normal. I don't play multiplayer but I do play coop with my kids and friends. If Division 2 goes cross play I will probably build a more powerful pc than the XSX will be. Also I want Halo to cross play as well.

Nope. Got screwed over by Target's website . I kept getting a message that item was not added. Something went wrong. Please try again🤬. On the Walmart website, I added the series X in my cart and by the time I logged in it said it was sold out

I'll be getting my Series X in Jan. 2021. Too busy with stuff for the rest of this year.

yup took me like 30 minutes to get the order to go threw on the ms site

Comment I left in another article... Ordered mine thru the Microsoft Store, took each page thru checkout forever to load, but finally got checked out,, and got order confirmation email about 5 mins later. edit: should have mentioned, I got Series X

Amazon, 5% rewards, $474, done!!!

Amazon fired up pre-orders 45 minutes after 8am PST, Best Buy almost an hour after 8am. Best buy had stock for at least 20 minutes, Amazon less than (was trying for family and friends) Got mine from Microsoft, but spent 17 minutes moving beyond the shopping cart. Had also obtained one from Amazon for my brother, but he called right after I submitted the order saying he got one. Being a half way decent human, I cancelled the amazon order to let someone else have a shot.

Xbox Series X from Best Buy Canada 🇨🇦

Series X on Microsoft.com. 1 hour of browser time out hell.

series x from Microsoft. took about 6 min to order.

I did preorder the Series X, but then I actually cancelled a few hours later. I had a look at the launch games and the ones I want to play are going to be on this generation anyway, so there's no point wasting $750 now when I can wait until there are actually titles that I need to spend the money to get.

So you had months to do research and yet you decide not to do it until after you pre-order 🙄. A lot of games are going to be cross Gen for the next 2 years, on PS5 as well. There's still money to be made on the already installed base of current Gen consoles, that will help cushion the production cost loss of these new consoles selling at a lower price

Considering that there was at least one game that was announced to be a launch release in the last week I would say no, I didn't have months.

Unlucky Microsoft store wasn't working when I tired and couldn't add to cart on mobile yesterday so now I wound up with nothing

All access pre-order of series X
Windows Central Newsletter
Thank you for signing up to Windows Central. You will receive a verification email shortly.
There was a problem. Please refresh the page and try again.