Having trouble with Skype? Microsoft is aware and working on the issue [Update]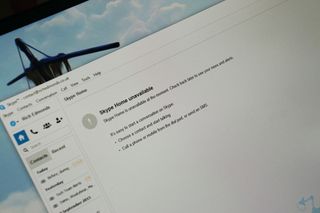 Skype appears to be having trouble staying online and connecting humans worldwide. We've received numerous reports from readers who have been unable to access Microsoft's communication platform. We've been able to confirm that Skype is indeed down, but luckily Microsoft appears to be aware of the issue and is actively working on it.
Interestingly, the web version of Skype (opens in new tab) still works, so if you're in desperate need to communicate with a contact, you could try your luck on the web client. Also, Microsoft states that instant messages are still being delivered as usual, and you should be able to make calls and send messages on the web. We'll update this article once services are back up and running.
Update: After several hours of downtime, Microsoft is now restoring Skype access (opens in new tab) after figuring out what went wrong:
Source: Skype Heartbeat (opens in new tab); Cheers to everyone who tipped us!
Rich Edmonds is Senior Editor of PC hardware at Windows Central, covering everything related to PC components and NAS. He's been involved in technology for more than a decade and knows a thing or two about the magic inside a PC chassis. You can follow him over on Twitter at @RichEdmonds.
Someone hasn't updated their Skype client in a while.

WC always users old content.

So this is the reason why #Skype is trending worldwide on Twitter. Quite surprised that there are a lot of Skype users out there. Nice, Microsoft.

Of course there are a lot of Skype users It's one of the most popular communication platforms.

Mine is totally up to date and not working on windows 8.1 or 10 and my users are unable to sign into their fully updated windows 7 clients.

Your web client is up to date? That's good.....

Didn't noticed... But I noticed Cortona is not being responsive like she should... But I sent the info in about the issue

There is no loudspeaker working on Skype mobile for Lumia 930 though

Skype Desktop shows as attempting to connect, but chats are working fine - Does seem to still work, but things like presence / status aren't working

This seems to be affecting email connectionas as well, my wife and mine Outlook accounts keep getting the fix account settings with Win 10 Mail.

Waaat?! They better fix it quick, I have a scheduled camsex call in 20 mins.

Keep us updated about your call

Can someone explain why I can't join group calls on skype on my Lumia 930? This behaviour has been happening for a few weeks for me

Skype for phones (at least WP for sure) does not allow a user to Join a call. You can only receive the call when it is initiated.


Okay thanks, hope they will update it for windows 10

This is my biggest gripe with Skype on WP. Both Android and iOS are able to join group calls in progress. This needs to be implemented for W10 because it's really a pain in the ass trying to get the person who initiated the call to add you manually to the call again.

Microsoft is step father of Skype on lumia..it never worked properly.. Never got updates on time ...just nothing ..takes ages to sync ..takes light years to switch from one chat to another ...and forget if you have to copy 5-9 message from one to another.

Lithuania. Skype not working.

Romania - same issue (web version works ok)

Oh, thank God it was working last night when I was taking to my family
Thanks MS for the great free service. It need some quality improvements tho

First Amazon, now this. Yea let's move more software into cloud and wait for it to evaporate...

Don't like it? Then don't go online. The aliens might get you....

FYI: the web version is NOT working either, so that info is incorrect.

It's working fine for me.

Kosovo - Its working fine !!!

I got a idea! Go back to messanger if Skype is not working

It's just humans though, the neighbor's dog says he's been on Skype without any issues.

Yeah, was just gonna say something about that... Having "issues connecting humans", I never knew Skype had an alien version, lol.
I'm hoping he wrote that tongue in cheek though

Sabotaging the refugees in entering Europe!?

Yes better go to US, MS services work better. And chicken should come back home to roost.

Skype is down in Europe. Microsoft is losing its critical Enterprise users, with its lack of Quality Control. This is what happens when you lay off the Testing team.

*sigh* Riiiiiiiiiight. A company like Microsoft would lay off an entire testing team......That's how they've made billions through the years *eye roll* what a tard.

Skype for Business wasn't affected, so if your "Enterprise" is using the Enterprise edition of Skype, then you weren't affected.

What version of Skype is this in the Pic? :O

They might be using Amazon Web Service........ :p

It was 2-3 weeks ago...uninstall-reinstall resolved the problem for me instead of updating.

Skype is down in Singapore and have so been for the last 5 hours. Microsoft state that the web version is working, but it is down also.. I guess it is a major problem..

Not working in Latvia. Not connect. If not is not offline, it can not see the contact list

Same here in India, not connecting/disconnecting ....

Same here in Lebanon. Unable to sign in.

Dramatically down in Italy since this morning!

I m also facing sign in problem - india

I am trying to sign into the web client and that is not working for me either. I use skype to talk to my boyfriend since we live at a distance. He is so stressed this morning we aren't going to be talking because he can't handle the stress of dealing with skype. I love this man and I don't want to screw up this relationship because we can't talk when we had to schedule time in the first place!! Get it together Microsoft!!

MSFT should work on a better app for windows 10 similar to the one one on windows 8.1. The current one desktop really suck.....

Last update really ruined the app

Who wrote the article? the android central area,? We already know that bear to android must be an non human Posted via the Windows Central App for Android

"[Update] - It's back" ??? NO, IT'S NOT. At least not here in the US east coast at 12.10 EDT. Paid for subscriptions and Skype in also down. Please give us an honest update as to when it wuill be back.

Yeah, still down for me too. I even quit Skype completely and launched it again, but no luck.

Not back up on the west coast either. I want to know where they are up.

It's working on my wife's computer, just a few miles from me. Has been for a few hours. Still not working on mine. In the meantime, I'm using http://web.skype.com

so i can finally connect but i cant do anything like send IM or start calls

I'm having problems with Skype every day the other person can't see me on the other side which is annoying.

Reinstalled with latest version, but it still doing the same thing its all started this afternoon around 3pm.

No it isn't, it still won't let me login...

My brother can apparently log in, but me and my friends can't.

have been down since this morning with the office wifi. this evening now again with home wifi, so suspected something's up...

No way to sign on in Belgium!

Reinstallation worked for me

I reinstalled and can't sign on. On my other iPad I can't get through. This has been going on since this morning. I'm in France.

I am unable to login via the skype client, when I could earlier just said 'connecting' now I cannot even login but my friends can... :(

Still down in Switzerland

Skype is still completely down, been using it all day then about 30 mins ago just went out , says I am not connected, my status says invisible, and it's just not working, so tells us how long is it going to take to get this fixed

It's not up in Va cause I live here and it's still down

Hey guys! you should try signing in now! It's working for me and my bf :] finally Leave it there for awhile as it keeps attempting to sign it- it eventually will

My Skype still not working

Was able to this morning now cannot lol

Cannot believe that you're not able to fix it for a whole day. Amazing.

Ditto. Noon pacific now. *not* resolved yet.

As of 8:00 PM UTC, from Washington State, I still cannot access my Skype services. I have three devices. On my Microsoft Surface with Windows 8.1 (Skype downloaded program, not the Windows App) and on my iPod Touch 4th gen, I can log into Skype just fine and am correctly listed as logged in and available. On my HP laptop, however, with Windows 8.1, the Skype downloaded program (not the Win App) simply will not log in whatsoever. Basically freezes up trying to check my password. Across each of these three devices I can log into the Skype Web client just fine, but I am repeatedly listed as unavailable; even when I change it it will automatically change back. The web version of Skype DOES NOT work. Regardless, I can neither make phone calls nor receive phone calls on any of my devices, regardless of how I access Skype. I do not use the instant messaging, so that is irrelevant to me. I have never been able to get the Windows 8.1 App version of Skype to work. All software, both OS and Skype, are up to date. I will not be upgrading to Windows 10 because it sucks so much. Im not sure if its relevant or related but people frequently have trouble getting through to me on Skype when they call from their phones. This has been an ongoing and escalating trend for a month or two.

As of 5:20 PM, PDT, I once again have Skypes phone call services. The Skype programs on each of my devices loads fine and correctly lists my availability, and phone calls get through both directions (but the ongoing trend of people having difficulty contacting me has not been tested). The Skype web client loads but still does not correctly update my status, and I still cannot use it for phone calls. The web client is irrelevant to me anyway since I have the downloadable program, and since I never even knew about the web client before today.

Solution:
Login to web Skype and then try to login from Skype desktop app, it should work. At least worked for me.

My app version is still not working. The web one is, as the article stated, which is nice. Though I would prefer the app. Hope it's fixed soon.

Just tried to log in again and it worked!

I'm in Connecticut and I can't get on to Skype either, is now 3:46pm and it has been down for over 8 hours. Would love to know how some have it and most don't? Is ridiculous. I have Skyper desktop. I went to MSN and when I launched Skype my contacts came up with messages for me and I can't get to anything.

I'm from London and it was down at 9am this morning and it's now 9pm and still down! This looks more serious than just a network issue they said it was at 3pm today, sounds like Microsoft don't want to tell us the real problem as it may cause alarm.

Not working in Ontario, Canada, is working in Scotland, UK

In Georgia using Windows 8.1 and I can type chat on Skype but can't call anyone and it says I'm offline though I changed the status.

Is anyone else that is able to log in on the web version have missing group? My work uses skype with groups and certain people have some of their groups missing.

Is anyone else that is able to log in on the web version have missing groups? My work uses skype with groups and certain people have group some of their groups missing.

There's still the issue with the Skype app on Windows 10 Mobile and Windows Phone 8.1 wherein the contacts from the People app are still showing up even if you only opt to view your Skype contacts. This isn't the case with the iOS and Android apps so it definitely is with the Microsoft's own platform.

This news has became headline in our local TV channels.

in italy yesterday it didn't work all day long, not allowing the access, neither on windows 7 / 8 versions, nor on android. Of course all of them latest updated. Sorry to say, it's more or less 5 years that skype is getting worst, from the bare and simple versions of some years before

My skype account not login

Not login my skype and not new create account

cannot login on PC and lumia phone, it happens evey alternate day

i fix the issue, go to appData folder/skype folder delete all the folder and filed, before that if you need your hidtory please take the backup after deleting all now start the skype it will work fine, for me its work fine only for windows 7 OS Thanks

Let's see, um, I just had half of my day wasted by waiting for a Microcephalic Win 10 update. Now Skype, a Microcephalic product, doesn't work anymore and I have an outgoing calls pay account. Need to call Thailand . . . oh well. The update notified me that "all drivers . . . blablabla . . . . were updated" so my new "update" experience with Win 10 has resulted in MORE wasted productivity time. I'd love to have just 1 penny for every productivity hour Microcephalic has wasted for its users over the last 20 years . . Just thankful I have a Linux machine.

When I try to add contacts it asks for my phone number.which u used when I registered. Then it says that oops wrong number please help

For some adresses I can't see the video logo... I use iPad Air2 and iMac
Windows Central Newsletter
Get the best of Windows Central in in your inbox, every day!
Thank you for signing up to Windows Central. You will receive a verification email shortly.
There was a problem. Please refresh the page and try again.