HERE app updates offline maps for Brazil, Barcelona and more locations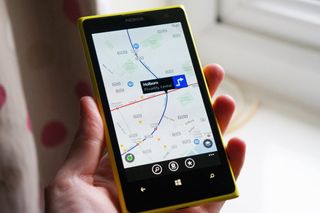 HERE app users can download a major update to its offline maps data, with "millions of changes" for locations around the world. Some of the bigger changes can be found for the country of Brazil and the city of Barcelona, Spain.
HERE's blog says:
This update is the first since Nokia announced earlier this week it was selling off the HERE business to a consortium of German car companies (Audi, BMW and Daimler) for the price of €2.8 billion ($3 billion).
Download HERE maps for Windows Phone (Free)
Source: HERE
Not available for windows 10 mobile!

Sure. Settings --> Offline maps

Yes it is. Just downloaded.

I received maps updates for Jordan and Saudi Arabia too :)

+Me, Jordan and Saudi Arabia ;)

As long as those Germans keep up the level of service the Finns provide then I'm happy

Hoping the same. WP would not be WP without HERE maps.

What Service? The Here-App is outdated.

Do any of the GPS apps in the windows store (phone or PC) support Japanese Maps?

Delhi (India) - 35.6mb update....

Wen in ...? Oh, never mind.

Update for Maharastra/Goa too in India !! 60 MB

What a great update! Those 5 regions in Brazil were so huge, one of them occupied more than 400mb. Great update!

Mexico also receive 53.+ Mb update.

The Netherlands about 50,6 MB

Germany, Denmark, Netherlands, Norway, Sweden total 135 MB update.

Herd about that the other day. Ontario Canada

106MB for me on a phone with full Ireland, Italy and UK maps. All seemed to be updating.

South Africa (231.4 MB), Lesotho, Mozambique, Namibia and Swaziland also updated.

Georgia (country) - 6.3 MB

Earth and Saturn (78.3tb) downloading now :D

Dominican Republic ( 50.6 MB )

Gone are those days when we used to manually check for map updates and become happy...now windows 10 automatically checks and installs the update without any notifications...

What an update! Wow, I can't believe how much stuff they added. Was there a single first world country they didn't touch?

And even a bunch of third world countries got it! Nice!

Ontario 444.7 MB and USA 4,046.7 MB

Although I have Here (Maps, Drive and Transit) I do not see them in the Windows 10 store anymore...they appear to have been removed since the sale announcement or maybe a little before this time.
Windows Central Newsletter
Get the best of Windows Central in in your inbox, every day!
Thank you for signing up to Windows Central. You will receive a verification email shortly.
There was a problem. Please refresh the page and try again.