Here are the known issues and problems with the latest Xbox One Insider Preview update
A new Xbox build is rolling out to a select wave of Insider program members this evening.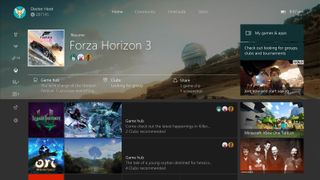 The new update will bring a completely revamped dashboard, with new designs, an all-new Guide menu, fresh Cortana features and much more. Here are the known issues.
DETAILS
OS version released: rs2_xbox_rel_1703.170118-1900
Available: 2:00PM PST 1/23 (9:00PM GMT 23/1)
KNOWN ISSUES:
Controllers & accessories
When a steering wheel accessory is connected, the console interface may freeze and become unresponsive. Workaround: Disconnect the steering wheel accessory, and hard reset the console (hold down the button on the front of the console for five seconds until it fully powers down, then power it back on).
Sign-in
With profile sign-in settings set to "Lock it down", you may be unable to sign-in again playing a game, then signing out. Workaround: Hard reset the console (hold down the button on the front of the console for five seconds until it fully powers down, then power it back on).
VUDU
VUDU may fail to launch or videos may fail to play due to a connecting to network error.
Apps
You may be unable to fully navigate in certain apps due to the lack of a cursor. The affected apps include, but are not limited to: Baconit, British Radio, American Radio, UrzaGatherer, and MSN Weather.
EA Access
If you have an EA Access subscription and own a large number of digital games or apps, you may have issues installing or playing EA Access content.
Jump Guide
Microsoft Edge webpages which are pinned in the Jump Guide fail to launch the webpage.
Screen Dimming
The screen may dim after a short amount of time while viewing videos in certain apps (Hulu Plus).
Settings
Ease of Access When enabling the Mono output setting in Ease of Access - Audio, Settings becomes unresponsive, crashes, and fails to launch on subsequent attempts. Workaround: To launch Settings, perform a hard reset (hold down the button on the front of the console for five seconds until it fully powers down, then power it back on).
Display & sound The Audio output page is under construction and some of the new settings are not yet functional. New support is planned for Dolby Atmos for home theater, Dolby Atmos for headphones, and more in upcoming builds. An announcement will be made when these new features are ready to try out; enabling these settings now will have no effect.
As noted, this update will roll out in waves to those who are most active in the Insider Preview with more and more being invited in the coming weeks. The update will ship in full this spring with the full Windows 10 Creators Update. You can always keep up to date with the Xbox Insider program using the link below!
Xbox Insider Program on Windows Central
Windows Central Newsletter
Get the best of Windows Central in your inbox, every day!
Jez Corden a Managing Editor at Windows Central, focusing primarily on all things Xbox and gaming. Jez is known for breaking exclusive news and analysis as relates to the Microsoft ecosystem while being powered by caffeine. Follow on Twitter @JezCorden and listen to his Xbox Two podcast, all about, you guessed it, Xbox!
Does it come with further performance improvements ;)

I'm curious to see how responsive the home button reacts now. The last overhaul made it dreadfully slow.

I have only played with it for a for a few hours but, it fast. The one tap guide button reaction is not slow at all. The whole system is surprisingly more sprite. I don't know if double tap the guide still takes a screen shot but, I haven't been able to get that to work. I pesrsonally never liked that option anyway. Hopefully the reassign the double tap to something else more useful. Maybe allow people to have it assigned by user preference.

Dang, the EA Access bug is not nice. I'm signed up, so we'll see what I get.

The word 'hard reset' scares us the mobile users. May be they should use a different term.

How about "fluffy reset"?

How bout just plugging the goddang console off

Agreed, 'Hard Reset' has 2 very different meanings here. I think for Xbox they should call it a Soft Reset, same as mobile since you're not wiping the entire console and starting fresh. Universal Windows Phrasing :P

Nothing is mentioned, but I hope this helps address slow download speed issues. It hasn't been as bad for me as some, but improvements would be appreciated by all I'm sure.

Looks great, is this the Neon design thing?

Xbox is the only physical product from MS I support.

I've got it now, and it's damn fast and smooth... :) . Home button is super responsive now, and I set a reminder for myself that popped up on my Xbox, PC, and Android phone with Cortana installed!

Update is fast. One issue I see is when doing a Xbox button, A, the time it takes to get to the home screen is extremely slow, about 3-4 seconds, slower than if you left bumper back to home. Still going through it though.

installing now will see what happens :D

So now the dashboard is completely useless unless you are a gamer. They really are alienating anyone who wants to use it for anything other than games. Sad, Myopic and sad.

First it is gaming console that has media apps not the other way around. Second, I don't see how the overall dashboard/home other screens have changed so dramatically that you think it is useless unless you are a gamer. I spend half my time watching TV, listening to Groove and or Media Player, or using social features and those have not changed or how they exposed to users. It looks the same and acts the same. The only real difference is the guide button now brings out a side menu instead of going slowly directly to the home screen on a single guide tap. I really haven't had any issues with it so far. Sure it now requires you to hit giude button, than select the home option from the side menu to get back directly to the home screen (maybe 2 extra button taps if you must get back to the home dashboard). However, the side menu shows your most recent apps (similar to the home ), plus your fist 5 or so pins are there as well, as is easy access to the app/games screen from a link from this home section of the sidebar. I repeat, I don't see how this is useless if you are only a gamer. What did you do with your system (non game related) that it doesn't do now or makes you believe Microsoft has become nearsighted?

"First it is gaming console that has media apps not the other way around." That's not how it was marketed. It was marketed as "the all in one entertainment center". There is a reason it's called Xbox "One".

I like to think of this update as "bring the home screen with you"

Lmao there goes Scuba with another Snowflake, whiny comment again. If Microsoft sent you a gold Xbox for free you'd complain about it. Meh..

give him a pass, scuba is cool, compared to others on here...

What I'd like to know is how I set the Background back to default to get it changing with each game...

Microsoft is killing the competition. These updates never disappoint.

Left it to download this morning, not sure how I feel about the small game icon in the picture in the article. My first impression is it looks rubbish, I'll have to see what I think of it later today.

Seems faster :-). But really this is more evolutionary vs. revolutionary. I found it to bring up the guide much faster but some apps seem to load slower. YouTube for example for the first lauch took over 20 seconds before the home page showed. But I was able to play YouTube, Amazon Prime Video, A bit of Boarderlands and Fallout 4 with no issues. I did notice that snap isn't there but if it is I don't know how to get to it any more.

snap is no longer available, they will replace it with a new multitasking option, I'm pretty sure it's gonna be more floating windows like the achievement tracker (which is awesome) and Cortana are doing at the moment

yes picture in picture suppose to be coming..

I'd like to see an option to switch off the suggested friends, I can make friends on my own thanks. And how arrogant do you have to be to prioritize the suggestions over my actual friends?