Is Amazon Fire TV, Chromecast or a PC stick best for you?
There are a variety of "sticks," or "dongles," available that can be plugged into any compatible TV for streaming and other purposes.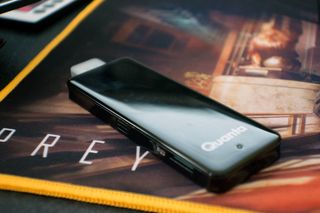 Here are some available offerings, along with details on what makes each one special.
Amazon Fire TV Stick
Amazon's Fire TV Stick packs some powerful features, including Alexa search and a quad-core processor. It's an affordable device that relies on its bundled controller for input and commands. More than 7,000 apps and games are available for download, including Amazon Video, BBC iPlayer, ITV Hub, Netflix and YouTube. If you've used the online retail giant's tablets in the past, you'll feel right at home with Fire TV.
The device's 8GB of storage and 1GB of RAM ensure that performance is smooth, especially because it does not run any advanced software. And if you're an Amazon Prime member, you'll get unlimited access to a vast collection of movies and TV shows, as well as music with Amazon's Prime Music service. You're locked out of accessing certain services that aren't currently supported on the platform, but the catalog of content available will more than suffice.
The Stick only does 1080p HD, but the full Amazon Fire TV box supports anything up to 4K (UHD) if you have a screen that can pump out that high-quality video.
See at Amazon (opens in new tab)
Chromecast
There are dozens of ways to stream media from the internet to your TV or stereo. Chromecast is one of the most popular options, because of the way it lets you control everything. You control the stick using a smartphone or web browser, and you can handoff control between devices to allow multiple people to get in on the fun. It's a great way to pass controls to different users, and the UI is simple because everyone already knows how to use smartphones.
There are three variants of Chromecast to choose from:
Chromecast Audio: As the name suggests, this device is mainly used for streaming music from the internet. It's audio-only so you'll be locked to Spotify, Google Play Music and other sources.
Chromecast: This stick allows for media streaming of audio and video. It requires a single HDMI and USB connection for data and power.
Chromecast Ultra: This is a super-charged Chromecast unit that can pump out content in 4K (UHD), and it provides a quality viewing experience for any living room.
Chromecast is an inexpensive option to bring media to the big (and best) screen in your house, and the added benefit of being able to use a smartphone as a controller makes it super-easy to get started with. Depending on the services you'd like use, however, you may need to look elsewhere, especially if you're hooked into Amazon's ecosystem. If you want to enjoy a true stick experience, there's always the Chromebit (opens in new tab).
PC sticks
Computing on something the size of a mobile dongle is a unique experience. A PC stick plugs into an HDMI port, much like other offerings, but it comes packing a full version of Microsoft Windows. That means you'll be able to easily hook up a Bluetooth keyboard and mouse to take advantage of living-room-friendly computing, browsing the web, checking emails, and running software much like you would on a desktop or laptop PC.
The devices are powered by Intel processors and can be purchased from a number of manufacturers, including Hanspree, ASUS and Lenovo. Built-in Wi-Fi and Bluetooth allow for a simple install process; you plug in the unit to the TV, insert the power cable and you're good to go. Since it's Windows, any software you may use on a laptop or PC for consuming media will work on the stick, it's just a question of how stable it'll be.
There are some downsides to using PC sticks, especially the more affordable (and even sometimes expensive) models. The main issue is power — or rather a lack of it. These units must power not only a full version of Windows, which can be intensive, but they also need to handle streaming, encoding, and other processes. If you want to do some heavy tasks, the PC stick won't be able to keep up.
If you're looking for a PC Stick, it's a good idea to pick one up with 4GB of RAM, and at least 64GB of internal storage (32GB with expandable slots also work).
Which is best for you?
This depends on what you want to do with your TV. A Chromecast or Amazon Fire TV Stick will be perfect for anyone who merely wish to stream some content from the internet. Be it audio, video or apps and games, these handy and affordable devices are easy to use. Should you need to do a little more on the big screen, like check emails, some web browsing or install software and use other streaming services, a PC stick may be the better option.
Windows Central Newsletter
Get the best of Windows Central in your inbox, every day!
Rich Edmonds was formerly a Senior Editor of PC hardware at Windows Central, covering everything related to PC components and NAS. He's been involved in technology for more than a decade and knows a thing or two about the magic inside a PC chassis. You can follow him on Twitter at @RichEdmonds.
Thought I'd fire up the Lenovo stick (2GB) the other night and stream a movie from the MS store. Problem is, not having used it for about 2-3 months, the OS was CRAWLING downloading Windows updates and Defender definitions. Not to mention it only supports 2.4GHz Wi-Fi so that choked it even more. 80 min later and I gave up on using it for a movie, just plugged my SP4 into the TV coz I already paid for the rental. Maybe someday when ARM sticks and Windows 10 are mainstream will this "PC on a stick" solution work. On another note, whenever I fire up the Roku with Sling TV, I never have any issues...

Yea, this sounds like a nightmare....might a well just install win8.1 on it and call it a day.

Chromecast is borderline unusable with Windows Mobile. There are maybe two apps that support it and there is no way of configuring the device for the first time use on W10M.

I've been quite happy with my Roku streaming stick.

I had a Roku2 (The hockey puck type). My parents have the streaming stick. I purchased the 4 (the bigger hockey puck model) and holy crap was it worth the extra money. No lag. I highly suggest it.

I'll have to try one (or the updated stick) some time to see the difference for myself. I'm not really in a hurry to upgrade at the moment, though.

Don't but a PC stick, especially for simple media consumption. As other readers have pointed, the hardware just isn't powerful enough for full Windows, and due to the small amount of storage, major updates have to be manually installed. If someone is just watching Netflix, a Chromecast or Roku will do just fine.

Windows PC sticks would be much more manageable as media devices if Microsoft made it easier to navigate Windows 10 with an Xbox Controller. Better yet, license an Xbox OS ROM to let 3rd parties build the rumored Xbox Streaming Stick that never was.

I have both a Fire Stick and Chromecast, but sister has Roku and hers has *a lot* more apps. I'm going to buy a Roku Stick soon to complete the group, but I easily see myself using the Roku more than the other two.

I just use cheap Android sticks. They work well even with 1080p video streaming and I can also get all the games and apps I'd ever want.

We have a Roku stick (and a Roku TV) on WiFi, and I'm highly impressed. They're cheap, and I even got mine for free for a month of SlingTV (which I ditched, bleh), and it works great. My TV is only 720, but it looks great, and soooo many channel options.

I use the MS Wireless Display adapter all the time in my living room (my Xbox One in my theater room). I pipe video from all sorts of sources on my SP4 to my TV. I'll use a Chromecast if I don't feel like pulling my SP4 out and instead want to use my smartphone. I have a Fire TV stick (the latest one) but it constantly kicks me out of HBO Go and spends way too much time buffering in Netflix (Amazon Instant Videos load and play just fine). I don't really understand it as the Fire TV Stick is 2 ft away from the source node in my Wi-Fi network (Google Wi-Fi, three nodes in total) and I have a constant 200Mbps connection throughout my house (with a 15ms ping time).

This article is a bit too much of a summary. As Windows users, it would be very helpful to know which devices support Miracast. My personal set of features I'd love to see in a comparison grid would be: Miracast Netflix App Amazon Prime Video app (likely only Amazon devices...) Network file streaming Expandability (more apps to download?) I'm sure other people have other features they'd like to see. A nice comparison grid would be very helpful.

I have the Chromecast and the Fire TV Stick. Chromecast is Google Cast only, but the Fire TV Stick supports Miracast (long press the home button on the remote to get to it quickly and easily). Casting works really well for me with the Fire TV Stick including screen casting from my Chinese Android phones that still support Miracast and even Google Play Movies knows how to cast to a Fire TV. My primary uses for it are Netflix and hulu with a little casting, just use the little remote to get around, and it does a great job with picture quality. Lots of app choices available for other needs, so you might want to check out feedback for specific ones that do what you're interested in doing. Check out the aftvnews site if you're interested in hacking and sideloading apps, it's the goto place for Fire TV. I'm very happy with both the Chromecast and Fire TV Stick and recommend both highly. But if you want Miracast and Amazon video, you don't want a Chromecast - it's just a networked media player and you don't install apps on it. If you don't have the app you want on your phone or tablet or pc able to cast to it then it's not what you want. Last I checked, the Roku also supported Miracast, Netflix, Amazon Prime and other apps but I don't use one so you want to check that out to confirm if true. For your needs I think that's your alternative to shop and compare against the Fire TV Stick. Fwiw, Alexa works really well on the Fire TV Stick and isn't something new shoehorned in. Super nice for getting a quick weather status and forecast or searching for a show by voice from the little remote or from the Fire TV remote app if you have an Android. Hope this helps! :) PS - my phone has a QHD (1440p) display. I was pleasantly surprised to find that screen casting it to the 1080p Fire TV Stick worked just as well as my 1080p phones have. Not everyone is happy with Miracast - as specs go, it's pretty sloppy, so you're going to read about people with trouble casting to the Fire TV Stick. All I can say is that it works for me. I think that is pretty much common to Miracast devices.

Thanks for the very detailed response!

Chromecast is best choice, imo.

Last Sunday (A.D.), there was a streaming event that I wanted to watch on my TV. It was only accessible through a browser, which ruled out a number of options. I first tried using my Surface Pro 2 with the Microsoft Wireless Display Adapter, but while it worked, it didn't work well, as the video stream had to travel to my tablet over WiFi, only to be sent out again over WiFi (with less compression) to go to the TV. I did have the HDMI cable somewhere in the basement for my Surface, but I couldn't find it at the time. I ended up just plugging my 950XL into the continuum dock, and plugging that into the TV, and using the browser on the phone. It worked flawlessly without a hitch, fullscreen in high defninition.