Here are the known issues in the new Windows 10 for phones 10051 build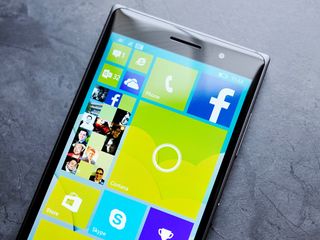 The new Windows 10 for phones 10051 build is being launched today, but not without some known issues. Microsoft provided a list of the problems users might experience when they download and install the build.
The list of issues include problems with apps crashing with phones that have just 512MB of RAM, no text messaging read out over Bluetooth and more. Here's the full list:
There might be situations in which auto-upload of your Camera Roll to OneDrive may not be working. Please be sure to back up your photos especially if you need to use the Windows Phone Recovery Tool to go back to Windows Phone 8.1.
The Office Hub has been removed from this build. You won't be able to open Word, Excel, PowerPoint or OneNote files in this build. Preview versions of the Universal Office apps will be available in the coming weeks.
We are redoing how text messages are handled and processed by Cortana so in this build text messages cannot be read out over Bluetooth.
After upgrade, some apps that have been installed onto a SD memory card will fail to launch. To fix this, uninstall and reinstall the apps.
About 1% of the time, incoming phone calls may not play a ringing sound.
Call + SMS filtering will not work after upgrade.
For people upgrading their phone from Build 9941, there is a bug in which your phone's MMS settings will be lost after upgrade. The new Messaging app doesn't yet have the ability to re-enter these settings. You will need to use the Windows Phone Recovery Tool to go back to Windows Phone 8.1 and then upgrade to this build to get MMS working again.
Also for people upgrading their phone from Build 9941, the tiles on your Start screen for the Camera and Photos apps may be missing or corrupt. You will have to unpin any corrupt tiles and re-pin the apps to your Start screen.
On some phones, due to a scaling bug the dismiss button won't be visible when an alarm is triggered. To stop your phone from "alarming "just touch the arrow and swipe up on the notification and off the screen to end the alarm.
On phones with 512MB of memory, apps can randomly crash due to an issue with memory management.
Flight mode cannot be enabled.
Data connections can't be disabled.
You may need to re-pin the Phone app after upgrade.
The Insider Hub is now included on Phone but may fail to launch on some phones.
Microsoft says the Windows 10 team is working to fix all of these issues for future builds.
Source: Microsoft
No Office - no dice. Waiting for the next one.

Yeah. I use ppt and doc whole day. Useless for me. Not getting it.

Same here. This is a show stopper for me.

Why would you download a preview of windows 10 on your main phone? I dont get it. Its basically an alpha

Maybe because that's when you really get to learn the build. I have it on my primarily desktop because I then run into issues with the things I use and I can therefore report the issue. Also, not everyone has a huge stack of eligible Lumias laying around.

But if you depend on your primary machine or phone for anything critical, you should probably not have it installed there. As long as people know and accept the risks, that's OK, but many will do this and complain when things go wrong.

You are right,I use windows 10 on my main PC, but I will wait for smoother month before I upgrade my Lumia 720 to windows 10

Yeah, I'm also gonna wait until there aren't any problems with calls and texts. I'm on-call at my job, so I NEED this to work 100%

My friend has upgraded his 625 to windows 10, and lost his currency. He didn't even check the list of issues provided by WP central... Windows central

Absolutely. If you have only one phone you can get it and play around for a day, and then go back to 8.1
But otherwise is unwise to install it. It has "Not intended for daily use yet" written all over it.

Lol I have downloaded the windows 10 preview of the Lumia 521 and there is a a lot of issues such as lag crashes and bugs. ​

The point of me using OneNote was so I could access my notes whenever and now I wont be able to see them on my phone for a couple weeks.

You're not suppose to use it on a primary phone lol

Agree, just worry that what if the preview version doesn't coming after weeks

One note is a separate app...

Yeah, its tough decision... I use OneNote on my phone EVERY DAY!

Once again. Why would you use windows 10 on your primary phone when its in alpha?

Ok kids, MOST people install on their primary phone. STFU now.

After reading that list? Have fun with that.

LIVING ON THE EDGE.........man.

Same here, Worried about two issues, data connection and one note. Took snap of one note pages which I use daily and I have no balance so no worry about data connection!! Ha ha problem resolved!! Going to jump on the update.

well its the device i use the most and will be easier to spot bugs, especially more important bugs on daily driver, i have 4 wp phones total plus several tablets and desktops,

Well due to data connection bug I would hesitate on this part .!!! If it gets activated and refuses to turn down .!! Will wait and then make a move lets see how ppl are doing with it then will make a move

just hard reset the phone. it works for me...

I agree. If Office is not available then I will have to wait for the next update. I open OneNote multiple times a day.

No office and no disabling of data connection...m skipping this build

Data and office are the main causes for me not upgrading.
If only I had a spare WP ...

This is pretty big show stopper...

I absolutely need OneNote,can't do it... Sad

Is this because WP still does not have the office apps that have been avaialble in ios and android for months? I am not trying to ba an a$$, I just don't know. I dont currently have a windows phone.

WP have the office apps integrated in the OS.. but on W10 they will be a universal windows app separated like in ios/android.. in this build they removed the integrated apps but didn't released the separated apps yet.. and the new apps will have more features, like the tablet versions of office.. the ios/android smartphones apps is like the WP8 app

Wait for office preview in comming days.

I want to diable my data.

Then don't install the tech preview. Pretty simple.

Agreed. Was looking forward to this build but looks like I might have to hold back for another month

Hope not. They did say that fast builds will go out every month. Maybe they'll fix the data thing in time for when this build goes out to show ring users.
Praying...

I need it too, I only have a few Mb per month and most day I'm in Wi-Fi range
This and no OneNote will made me wait until the next build, its a shame I really want to try it :(

Try it then uninstall it by reverting back if u are keen to try it .!!!

What I didn't get is ...is this data connection an issue sometimes, or is this for every device?

U can toggle it, but if u watch on top, the icons will remain like its active.

just do hard reset. it works for me

What will happen if I do hard reset? Will it roll back to 8.1? Will I be able to disable the data connection?

I won't download on this basis...

What about the data connection bug. Most of the people wont install due to this.

do hard reset works for me

Data connections can't be disabled?

Does that mean no wifi??? or just can't turn it off when out and about

Thats what I want to know as well...

it means you can't disable data connection, so that's 3g, 4g etc

Its talking about the data from carriers. (internet from your network) so no, the WiFi is completely fine. What people are mostly worried about is that by not being able to turn it off it may waste their data if they further about it and have no available WiFi

Thank you so much, I never turn data off anyway so I'm good right?

Yes... We are good to go :-D

well theri is way by which you can trun off data pack
change the Accese point setteing i tried it out and it is working .... but you will have to change if you want use it again ....
thier one more way reset your phone and trun off the data after you reset ( but remember after truning off it wont turn on :( )

in my case,after hard reset the data works perfect(turn off and on normally) #lumia 1020

This is the only reason I decided not to download this build. Have to wait now for next build. Seriously, MS should have looked into this matter before releasing this preview.

Its still a very very early preview

Well it supposedly comes out in 3 months so...

supposedly no.... Microsoft gave themselves the Summer timeframe. That gives them until September 23.

The biggest issue is the automatic app crash for 512 ram devices , but idc I have 820
No issue in these mentioned will prevent me from downloading windows 10 , or at least make me roll back ;)

Does this work with lumia 925 or 520? Posted via the Windows Central App for Android on my Oneplus One

It works on everyone else's but yours. Sorry.

Nope. Both phones are excluded from any windows 10 build. Gotta read the fine print when purchasing.

Everything's fine. But I can't just reinstall my apps. I've got like more than 20gb of games and other apps in my phone.

Wow... Bug list is bigger than change log...

and bigger than the previous build, data connection could be turned of in the previous build

Ya.... It's the only reason keeping everyone from installing. That's a huge bug they should have rectified it before releasing

It's an impressive list of bugs.

Cant disable data cant enable flight mode.. Could be deal breaker for some!

What about wifi? Available or No.

Data refers to mobile data, so yes it should works.

My cellular data is at risk!

Mine too. Even for most of the people

What the heck! That's a huge list! How can they send something out for people to test when there are known errors already. That's crazy!

Because its for the fast ring? Plus, you're not suppose to put this on your primary phone anyway, so I don't see the big deal.

They say these things are the ones improving as ex. Office hub is removed cause universal office apps are coming

But why to remove Office hub BEFORE universal office apps are here?? And WEEKS before, as they stated in problems list??

To keep the size of the update files smaller, and to free up storage on the device.

You realize this isn't a "consumer preview" right? Sorry but "technical preview" is a true beta. Stuff is incomplete and changing day to day. "Consumer previews" are nearly done and are just for fine tuning and getting a larger sample size to hit your code to find those last little bugs small test pools may miss.

How can you find out new errors when they are ones before that. Fix and send, fix and send, you know. So you can gauge what's happening...

It's not actually even a beta. It is an alpha testing state.

It isn't even beta testing. Heck, it isn't even alpha.

Exactly! Unfortunately a giant portion of the enthusiast pool has run away with another perception.

You guys were all up in arms because you didn't get anything. They were holding off because they knew there was a lot of bugs in builds. They release to appease the masses and still complaining.

The people will test the other stuff. Microsoft don't need to be reminded of these issues. Work-in-progress, brother.

I hope you didn't think that there was going to be no known issues with the release of software still in development. There is usually always a list of known issues with beta/preview software builds.

Didn't anyone told ya that this is the TP and not the final version???

You didn't just call me a dumbass did you?

I sure did. Bugs are found and fixed continously until the final release (sometimes even after that). Stay out of Internet forums for your own good.

Thanks for letting me know, asshole.

Yeah but he's not a dumbass.

This build was not created yesterday...they first release it internally to see if it don't brick any phone.. that is why they have this known issue list... maybe some of those items are already corrected but it's in a newer build being tested internally to check if those corrections didn't cause a worst problem..

How to update?? Using L 730 windows 10 to build 1

Use the Windows insider app

I will wait for further builds to come

Nope, I don't want, too much risk.

Wow. No data connection disable option? Then no update for me.

well the option is there, only it doesn't work apparently

call and sms filtering not working?? hum that build is not for me.... sadly.

<edited>..man.Microsoft go to hell.

Wow, such an angry reaction. You should see someone about that.

They're releasing a technical preview which most companies don't do and they're letting their community give feedback about the OS. That's quite something you know. And anyway, it's a technical preview, so don't expect a finished product, in fact this is probably not even beta

Sigh. Weren't you warned sonny!? It's a TECHNICAL PREVIEW man! Sit back and wait for developer preview. Or buy a spare phone and STOP complaining.

Its people like you that ruin the windows phone community. Do you even technical preview?

Raise your standard before commenting with such harsh words. MS is not working for people like you. If you can't appreciate, don't criticize like this

Its a technical preview, what did you expect??

What's up with all those Indian kids here with temper tandrum?