Here is how the NFL's Surface setup looks in detail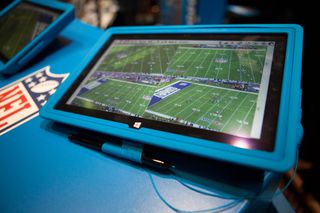 In 2014, Microsoft inked a deal with the NFL for them to exclusively use the Surface Pro 2 on the sidelines. The devices were meant for the various coaches as a tool to replace the tried and true printer and paper method of years past. Now, instead of printing up plays and grainy images, coaches can use sanctioned photos along with the Surface's pen to go over plays and adjust strategy.
Tonight at a preview event for CES, Microsoft was on hand to show off the combination all-weather case for the Surface Pro 2 and the massive storage sheds where the device gets charged and stay protected.
The case itself is a hardy, well-built design with a strap for the hand on the back. Although the famed Surface kickstand is inaccessible, the Surfaces that reside in these cases can withstand the rain and snow with ease. Combined with the bright Cyan look and these Surfaces are hard to miss.
When not in use, the Surfaces get stored in the NFL-branded cabinets, which are super tough (and heavy). The cabinets are made here in the US by Anthro. If that name sounds familiar it is because they also make my standup desk, which I reviewed over the summer (Anthro is based out of neighboring Oregon, making them a great partner for Microsoft).
Those cabinets include built-in chargers, their own network for receiving data, and are even climate-controlled with a built-in air conditioner for those hot days (and can heat up if super cold as well). Anthro is no stranger to building this kind of equipment as they make stripped down versions of these Surface cabinets for schools and hospitals.
The NFL and Microsoft partnership is certainly one of the better promotions that Redmond has engaged in, even if it had a rough initial start.
Finally, for those asking, there are no immediate plans to sell those rugged NFL cases for the Surface Pro 2. Part of the reason is it is only for the Surface Pro 2, which is no longer widely available. Another issue is more about message: that case inhibits the kickstand of the Surface, which is fine for the NFL, but is at crossed paths for Microsoft's main message of their unique two-in-one. For now, you will just have to appreciate them from the sidelines.
Windows Central Newsletter
Get the best of Windows Central in in your inbox, every day!
Daniel Rubino is the Editor-in-chief of Windows Central, head reviewer, podcast co-host, and analyst. He has been covering Microsoft since 2007 when this site was called WMExperts (and later Windows Phone Central). His interests include Windows, laptops, next-gen computing, and for some reason, watches. Before all this tech stuff, he worked on a Ph.D. in linguistics, watched people sleep (for medical purposes!), and ran the projectors at movie theaters because it was fun.
Incipio Capture is a rugged protective case with rotating hand strap similar to the Microsoft Surface-branded case for the NFL. They have versions for Surface RT, 2, Pro, Pro 2, and Pro 3, and are available on the Microsoft Store and Incipio sites.

What would be cool is if MS cared to market WP with this kind of passion..

Are they still going to call it an iPad? Couldn't even call it a tablet? Just like all phones are not iPhones. They're called smartphones.

That was old news and it has since stopped, but hey you can continue the meme if you want.

Amen...nobody remembers that foolishness, and I think that happen on CNN election night.

On CNN Election Night they used MS Surfaces as stands to put their iPads on (rumor has it that they had no clue how to use the Surfaces or that some kind of special app they were using was not available for Windows).

Any demos? Using static images to show player positions or are they using videos too? From my understanding they have NFL personnel upload data to the tablets so teams aren't interfering with the opposing team's tablets.

No video as from what I understand that is an NFL limitation. Basically, whatever the Surface Pro 2 can do is what the NFL wants it to do. That app is custom for them as is all the functionality. If they want video, they can certainly get video but I do not think the teams are allowed that feature.

Video is not allowed in the NFL rules. Only replays coaches get its from the public feed on the stadium screens.

Nice try Bill Belichick!! Get your own video of other people's plays!

Yes why can't you buy it or something similar to it?!

day b4 yestersay i saw the Microsoft adobe event where modern touch verison of photoshop was introduced. i know that event was few months earlier but the way Adobe and Microsoft have worked together is stunning. partnerships with Microsoft is always way ahead than other companies.

That's the Adobe Max conference you speak of. MS also gave free SP3's to everyone in attendance. It was wicked and I know for a fact converted a lot of mac users to SP3's. Also which was very cool was the Perspective Pixel Monitor. App$e has nothing to touch these great innovations. Search Adobe Max Microsoft Presentation on YouTube. Worth seeing. Windows Phone was shown as well for mixing colours and throwing onto the surface pro screen.

A major win for Surface and a major change for the NFL.

I think I want that case.
They should sell them in the MS store.

I hope that MS didn't engineer the cases and gang charging concepts from scratch. Hopefully they started with the experience that Motion Computing and Fujitsu gained when they each made their first Windows slate tablets in 2002/2003, including their weather cases and gang chargers. Maybe MS will someday even adopt Motion's mid mount keyboard design to make the Surface truly lap-able. I love the Surface Pro series, bit it is, in the end, the latest incarnation of some very mature and proven hardware concepts.

Them buggers are expensive. Why give them away when the SP2 is enough, ya know?

Kind of an overkill don't you think?

The NFL and Microsoft had already began on the Surface 2 for the NFL. The Pro 3/4 will be there next year.

I wonder if Pro 3s would be as rugged given that the new pens don't seem like they'd weather as well as the mono body design of the pro 2 pens

Why are they sticking with SP2's for the NFL? Wouldn't they want to get their newest tech out there for promotion?

Size, cost, and the fact that the Surface 2 is useful enough for the NFL folks. Also, MS had a lot of spare, since it is obsolete now, at least for mainstream customers.

Because at some point in the process of setting up a new system, you have to freeze your design. The SP3 was not on the market when this program was in development. SP3 would need totally new carts, hardware, and cases...

Nice. Probably should've used them on a certain penalty in a certain playoff game, earlier today. But, that's none of my business...

Karma killed Detroit, from all the dirty tricks they done in previous games.

Caldwell ain't bitching about it. They had three quarters to put up ANY kind of offense and couldn't muster anything. This has been the case in Detroit all year. They are much improved, but still a long way from being where they need to be.

As long as it promotes what is an excellent product I'm okay if I can never own an NFL edition. I've already turned 3 people at work into Surface Pro3 converts and one into a Windows Phone convert. Keep marketing MS! Maybe a deal with MLB so you're covered when the NFL season is over.

10 of my friends switched to WP in 12 month

Got most of my family hooked into Windows phone and a few Wise People ;)

In my office all the young engineers are kinda metrosexual dudes who sip expensive coffees at Tarbucks wear sensible shoes dippydoo thier hair and use iPhones... Can't fix that! Although the more knowledgeable sensible folks at work who don't spend two hours every morning wondering what to wear use surfaces and WP.

What happens when some of the surfaces inevitably break down? How do they get replacement Surface Pro 2s when they're basically unavailable now? Thats gonna be a huge pain in the ass shortly, wont be long before they have to switch them all to Surface Pro 4's.

I'd be willing to bet they have a few hot spares just in case. But either way, they'll eventually update to a newer Surface model. Probably no big deal.

Trust me, businesses like the NFL thought about this LONG before this post, and long before they ever signed the deal. Have you ever worked with custom integration before? There are so many details...

Still plenty of SP2's around... No worries...

Those are two huge companies and that was a very expensive deal. Im sure there's a very detailed contingency plan.

The cases do not work against the message IMHO. If anything, it shows versatility. All tablet devices should be usable as a writing or drawing device with this level of flexibility. The existing cases with a hand grips don't come on and off that easily. If these could be improved then the Surface would completely replace anything else.

Too bad the SP3 wasn't available at the time, they'd probably be more impressed given the unusual media praise torwards a microsoft product :)

Thanks for the great behind the scenes story, always interesting to see how things get done.

Has anybody seen these actually in use? I have only noticed the sidelines using the old paper sheets except maybe when they first started using them.

I saw them being used during yesterday's games a couple of times.

How heavy are these tablets? With the added weight of the protective case, I'm sure it must get uncomfortable to hold after a while.

I'm pretty sure professional football players and coaches can hold onto a tablet as long as it takes to get the job done.

Not heavy at all considering its an i5 full blown PC where the iPad is light as its not a real computer... See the difference?

It brings joy to my heart to see these being used when the camera pans to the sidelines. This great for Microsoft and the NFL. Posted via the Windows Phone Central App for Android

I would love one of those cases for when I am in the field with my Surface Pro 2. I use on construction sites and would help save it from dust, dirt, rain... Etc.

I never really wanted that case, way too bulky and kinda defeats the purpose of a thin Surface Pro...

I always thought they should have ruggedized Surfaces for refs so they could do reviews on field (rather than go under hood)

That storage bin reminds me of the Apple storage bin for Macbooks we had when I was in high school. Of course the second that bin came into the classroom everyone just flocked to it, while I trolled everyone by blocking Facebook and popular proxy sites. They're like :"What are we supposed to do with this?"

Why do you need a Surface Pro 2 for that kind of use? I guess a Surface 2 would be capable of handling this app and it dous not need active cooling.
Windows Central Newsletter
Thank you for signing up to Windows Central. You will receive a verification email shortly.
There was a problem. Please refresh the page and try again.