Microsoft is 'coaching' NFL TV announcers to correctly identify Surface tablets in games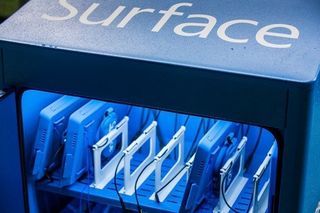 Microsoft spent a lot of money in its multi-year partnership with the National Football League to gets its products and services on the playing field, including its Surface Pro 2 tablets. Now the company has admitted to helping TV announcers correctly state that players and coaches on the field are using the Windows 8.1 devices during the game.
Early in the current NFL season, some TV announcers misidentified the Surface tablets as iPads when cameras cut to players and coaches using the products. Microsoft has now stepped in to make sure that doesn't happen again. A company spokesperson told Business Insider, "It's true, we have coached up a select few. That coaching will continue to ensure our partners are well equipped to discuss Surface when the camera pans to players using the device during games."
It's understandable that Microsoft wants people who watch NFL games to know that teams are using Surface tablets for tasks such as reviewing game video while on the field. Whether that translates into higher sales for the tablets is still up in the air. Do you think Microsoft's Surface efforts with the NFL are worth it to the company in the long run?
Source: Business Insider
Windows Central Newsletter
Get the best of Windows Central in in your inbox, every day!
How do you "coach" someone to say something?

"That's a Surface, not an iPad. Ya knucklehead." "Oh."

I think "coaching" suggests a more vigorous process.

Electroshock therapy! Microsoft needs to understand that these guys are just comon jocks with brains no bigger than that of the average guy on the field. Most people watching the game knows what a surface is.

Its not the players calling them iPads, it's the TV announcers, isn't it?

Most announcers are former players.

Bit their brains are further down the detonation pathway due to multiple concussions. The inability to correctly identify the Tablets may be a warning sign.

By telling them that they are using a Microsoft Surface. You are using Microsoft Surface and in your hand is a Microsoft Surface.

I'm thinking it's just a play on words since they are dealing with coaches.

They need to do a demonstration with the FOX crew and ESPN crew on HOW these tablets are being used. They have Surface pastered all over the box, tablet housing and Microsoft does a lot of commercials during football games. Many of the "crews" segments are "brought to you by Microsoft..." Someone dropped the ball and didn't inform the TV personalities about the tech that now sits on the sidelines. The deal is with the NFL, NOT the networks that broadcast the events. Microsoft should have made a smaller side deal with the networks and trained them as well on how these will be used during the games to showcase the upgraded tech on the sidelines.

Specifically on Fox they've had the Surface tablets on their desks for a couple of years so they're already paying them

Should clarify more after I read your comment. By Crew, I meant the announcers for each network. The halftime crews know their stuff as they are using them as you pointed out. Regardless, someone dropped the ball.

I've worked with TV Announcers before. Short of tatooing it inside their eyelids they can be very difficult to educate.

This is done for politicians all the time. Any how, whether it translates into sales is interesting. It definitely needs to be corrected though you simply can't confuse the two product platforms.

Not too difficult if they are fined every time they say it wrong. That's what they do to players who break sponsor rules.

Fine them, just like they coach players how not to say something.

"What kind of iPad is that?" "Oh, its a Surface".

"If it looks like an iPad, it's a Surface"

Yes, this was needed before the season started. The average person just assumes every tablet is an iPad.

Probably. But it looks sweet when they have all those Surfaces on the table, they definitely don't look like iPads at least.

Agreed, that does look sweet.

Yep, adhesive strip is a band-aid, gelatin is Jell-o and a tablet is an iPad. Hard to change such ingrained thinking. It will take time and a no holds barred media blitz to change it.

Agreed, I have a Note 10.1 (yes, I know, not MS), and most of my coworkers call it an iPad. And I always correct them, so they know I didn't overpay for something that doesn't have stylus support.

Don't they get annoyed or offended? Mine kinda do get mad when I correct them...

Let me just "Google" it..

Unfortunately People are still going to think they're iPads.

Those announcers really screwed it -_- .

Microsoft marketing screwed,people only recognize tablets as ipads...

Not really. While that is definitely true about "all portable MP3 players being iPods", I rarely hear people make the same mistake about tablets. Every one I've come across (even my non-technical friends) refer to tablets as either a Kindle, GalaxyTab or just "tablet" . It's never "Can I use your iPad (while refering to my Surface RT).

They should fine anyone that doesn't say the word windows, surface or Microsoft during the broadcast. :P

$400 million is just not worth it, especially when the announcers called them iPads. That's an egregious mistake and the NFL should refund part of the money to Microsoft.

It's much easier to call them "iPads" compared to "Microsoft Surface Pro 2 tablets".

For $400 million, Microsoft doesn't deserve Surface Pros to be called "iPad-like tools".

Although "Microsoft Surface, a computer laptop that can act like an iPad" because people might still not understand that the Surface line can replace their iPad

I think this is a win win for Microsoft, my only problem is they need to coach the guys on the NFL Channel that have surfaces in front of them to use them LOL it looks like they never even look at them. they should install angry birds on the for the guys to start looking at them. MY opinion

Actually people on TV rarely use their iPads either. They hold them but never use them. It probably is worth them using the Surface to point out plays. The Surface pen is great for that/ Right not they talk and some guy in the studio does the drawing. Probably on a $10,000 piece of equipment. I guess the problem with the guys using the Surface and the Pen is they are going to make a mistake and some point or another.

Everyone makes mistakes, but this is one costly mistake lol Posted via the Windows Phone Central App for Android

I heard some of the announcers on the first game of the season for the Falcons describe the tablets on the sidelines as "Ipad like" tools. They never mentioned surface.

If Richard Sherman can get in trouble for using Beats (when the NFL has a deal with Bose), I don't see the problem in Microsoft wanting the NFL to identify their products right. MS is paying to be there.

yup him too. I was just using Sherman as the example

Ugh, plus beats audio is crap compared to Bose.

First, it doesn't take much in the smarts department to be an "analyst" or "commentator" in a sports broadcast booth, so the handful of times the tablets have been misidentified isn't that surprising and has been a much bigger deal on tech blogs than anywhere else. That said, I'd be disappointed if Microsoft hadn't protected its investment in the partnership with the NFL and in development of the Surface by not "coaching" the clueless. And now with their partnership with NASCAR, they've got Surface all over the two most popular sporting events in the US.

I agree. Also being an analyst is easy,
"Cortana, will (Team X) or (Team Y) win the football game?"

It will be interesting to compare Cortana's predictions to the analysts picks

Of course, Cortana could probably change the outcome of the game, by altering info in the Surface Pro 2s that the coaching staff is using, lol. She would have an unfair advantage.

An easy way to coach them would to be to give them all a free one. This should have been done before the season started. I watched one preseason game where when the game got boring (all preseason games are), they cut to the sideline showing players using them and the announcer must have said iPad about 30 times when talking about the new tech on the sideline. Someone in Microsoft marketing should have been fired for this.

What happens if the announcers don't like them?

I'd like to hear the announcers genuinely say "Oh wow this Surface is amazingly useful device and everyone in this industry should have one or at least try once". Alas I can dream. They are under Apple's hypnosis or sold their soul to Samsung.

Lololol. Damn shame MS has to "coach" someone to recognize their products

This coaching need isn't shame on Microsoft, it's shame on the person who misidentifies it. I hear people who have used a computer for decades say I have Microsoft on my computer. They might mean windows or office, they really just don't know what they are talking about and that's the real problem. But yes any company would be in the right to protect their investment.

Education for dumb people and (intentional) liars. How would you like it if you had a red Ferrari and I called it a Toyota, because I see lots of red Toyotas?

meh, If a guy was using Keynote 99.9% of people would say he was using PowerPoint.

Thought it was strange that the Cyan colored protective covers didn't have "Microsoft Surface" or at least "Surface" on the back of them.

When I heard then call it an iPad, I knew MS wouldn't fail to correct them. However, they should have seen this coming.

What I noticed yesterday was that I didn't see a lot of camera shots of the officials going under the Surface tent to review a play. I suspect the directors have taken a screw you Microsoft attitude and will avoid giving Microsoft the publicity if they can avoid it, so coaching the announcers will be a waste of time. I did see the players using them on the sidelines, so that was good...they all had to be taught to use them if they wanted to review the plays.

I'm glad to hear that they are doing this. It's not hard to get people to know what they are using. Hopefully it's quickly corrected and that the deal pays off big time for Microsoft in the form of dramatically increased Surface sales and brand recognition. It certainly has the potential to. The Surface is a great device and it needs to be recognized for it.

Unbelievable that it ever happened in the first place. MS paid them a bazillion dollars to use their products, they better damn well make sure the public knows they're not gd ipads. As the kids say, EPIC FAIL. Someone probably should lose a job over this, and the NFL should provide some kind of compensation to ms over that...

I just think that most people refer a tablet to an Ipad. It's a catchy name and simple to use. I guess android tablets are treated this way too.It's not allways a good thing for the company that owns that kind of brand. It has happened before. Like people called it to Xerox something (not here in Sweden though) and everyone had a copy machine but not a Xerox.

To answer the question, yes. Brand awareness is crucial in marketing your product. You can't concede to the iPad and not spend money to market your product. Millions of people tune into the NFL. Money well spent.

I remember hearing them call it an iPad. I blew up and screamed at the tv as if the opposing team scored or something. #teamsurface

The funny thing is Apple should more concerned about this than Microsoft. I would think that they don't want the iPad trademark to go the way of the Kleenex trademark.

News flash it already has. iPad's tablet market share has taken a beating. Not to MSFT but to Android. This will only continue as tablets now cost $99. I'm sure millions of people refer to their android tablet as their iPad.

And you should! For the shit load of money you paid to do that im sure Nadella didn't like hearing them called "ipads" during the Seahawk game!

Fine them like they do players that dont use NFL "approved products".

It pissed me off more when tech blogs compare a surface pro to an ipad... What can you expect from a bunch of jocks that weren't told about the branding. They know enough to say what they are if they are told, you never heard them mis branding their sponsers..

I hate it when people refer to all phones and tablets as ipads and iPhones. Makes me sick.

The tablet name image in people's mind (iPad) is like Kleenex (tissue) and Xerox (copier). There are several other players in the above markets, but those singular names "stick". Hard to fix/change these images.

How about "coaching" stores to carry and display their products and "coaching" sales reps to actually sell their products instead of ignoring, steering away, or as in my last experience, telling people MS is going to file BK and cancel windows phone. How about doing some of that "coaching" MS.

It should be called what it is... Its a Surface! They need to say what it is correctly. I think they were smart using the NFL to get the word out to Hundreds of millions of people. Good job Microsoft.

This happens to all products and is a clear indication of the uphill battle Microsoft faces. All tissues are called Kleenex. All colas are called Coke. Even worse, though there are dozens of successful Windows tablets, I recently read an article that seemingly included only Microsoft tablets vs iPads and "Android" tablets. They only counted Surface sales continuously throughout the article, rather than a generic Windows 8. If they had said clearly Samsung tablets, the comparison would have made sense. But that is not how they presented the data.

I think Microsoft should have done this a long time ago. Sometimes they are too "soft" with windowsphone and surface marketing. Everyone knows what a Xbox(I prefer Wii u) is but there are still plenty of people who don't know the capabilities of windowsphone or surface. I'm sure the announcers are under the spell of Apple just like everyone else. I still find it amazing how many people confuse every tablet for a iPad. Initially I thought the Bose deal was crazy even though I hate beats. Then I realized bose is paying top dollar for their brand to be recognized by the public. Start issuing some fines for these surface screwups. $1,000 every time you call it a iPad. $1,500 for iPad like device. $5,000 for failing to me too it a certain amount of times during each game. Sounds crazy but do whatever it takes.

Sort of changing the subject, but are the Surfaces working out pretty well for the NFL now? I heard there were some issues initially. I don't watch football, so I haven't seen how they are being used for myself. I mean if things aren't going well, lets call them iPads! :-)

This is good so that they wont mistake a Surface for a f##@g gaypad again!

They should've sponsored a NASCAR car instead, at least NASCAR fans are loyal to their sponsors, and the tv announcers don't screw up when giving sponsors plugs. They could give fans hands on their surface tablets 36 times a year at the race tracks

I don't think they're literally referring to ipads. It's just that they're so ubiquitous every tablet is an iPad. Like how older people use to say "let me Xerox that" even though nowadays people say "I'll photocopy that.". Or how people say q-tips rather than cotton swabs. Especially with football players/announcers who are not technically inclined.

I think in the long run it's necessary to over spend on marketing like this. The reading is mind share. Most non tech purple that see a tablet think it's an iPad or a Samsung so making sure you get the name of over and over is necessary... Example remember when people used to call all video game systens a Nintendo

It's flat and has a touch screen and is slightly larger than a phone.... Must be an iPad.
Yes... Microsoft's efforts reeducating the public on how to identify other brands is WELL WORTH IT.

But you know what amazes me? Everyone besides the tech people calls tablets iPads, they see a tablet and go thinking about the apple ipad, that also happened with music players, every company had their own music player but as soon as someone saw yours they would say u got an ipod? That's really impressive for marketing

Good, because I've noticed it a lot. It's brand "recognition" so recognize!

I love the NFL, and its not really against just them, but I can't stand people who are ignorant about tech but then try to talk about it.

I want to know just what is it the players are seeing on the Surface. It is the overhead view of offense/defense formations and plays? Helmet sensor data and body impact of each hit? What are they looking at?

Just shows you how intelligent these old high school quarterbacks are eh? Cuz that's all the experience some of the boobs really have....
Windows Central Newsletter
Thank you for signing up to Windows Central. You will receive a verification email shortly.
There was a problem. Please refresh the page and try again.