HERE Maps and HERE City Lens get small updates for Windows Phone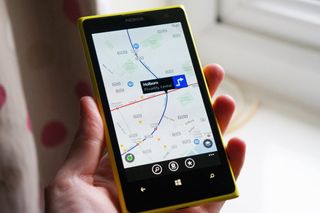 Following a small update earlier this week for the HERE Drive+ app, both the HERE Maps and HERE City Lens apps for Windows Phone received updates as well. Like the Here Drive+ update, the new versions of HERE Maps and HERE City Lens list bug fixes and stability improvements in their change logs.
For the record, the new version number for HERE Maps is 3.10.164.1, while HERE City Lens has the version number of 2.6.111.1. If you do notice anything of interest after you install and use the new app updates, let us know about it in the comments.
Download HERE Maps for Windows Phone
Download HERE City Lens for Windows Phone
Thanks to Sebastien for the tip!
I don't know if any one here use city lens in real?

It is most exciting feature though, but never used it purposely

Very useful in the city here for me when looking for a random place to eat. Whats down that block, that block, that block.

Rally useful feature if you are abroad and want to know where you could eat something and stuff like that. Love it! =)

Abroad I use it frequently, at home not so much

Running here maps on windows 8.1, but it doesn't seem to updating the app. I keep getting an error code 80070539...

Try to uninstall the app and reinstall it!!

try what deadbluesky said first, if that doesn't work, power down the phone for a few minutes.

No update for Here Maps for me, app not available in store (L920)

Same here in India. Maybe Here Maps isn't available in certain regions.

Same here in Uruguay. The App doesn't appear in the Store

Here apps not in the Canadian store.

Neither in the Uruguayan Store

Im Canadian but my phone is set to USA region so i get the Beta Cortana instead of Alpha and all Here app !! But if i switch to Canada all Here apps are still there, its weird that you cannot find it !!

Yeah HERE should make a universal app now.

"If you do notice anything of interest after you install and use the new app updates, let us know about it in the comments." As if anybody (apart from the MSFT team who actually writes this software) has any chance to extract a changelog from the binary package, which has not even been written in the first place. I really dont understand why the guys who wrote these similar articles believe anybody can post anything regarding that sentence.

No one is asking to dive into the install package and grab and info. The author is asking if anyone notices anything different, to say something. We all know MS doesn't write much, if anything, in change logs, so the author is crowd sourcing it.

I tried that, but it still didn't. I even tried to put european region too.

Don't be rude the guys who writes this posts they're nice people, they're doing it for us. They're asking you to see if there's anything. new visually not into the code asshole. FYI.: its not Microsoft who writes this app... Its HERE Corp.

Is it only me.. Or here maps do not show up in the store??

It isnot only you. Cannot find it in the store either. But through the link in sysapp pusher it is available. Strange...

Yup same here. I found a way, though it's annoying. Go to your app list, hit share on the app, then choose message, or pretty much anything, you don't have to send just copy the link it gives you and paste it in IE. :D If it opens the mobile page and on the store just hit the get app button.

Thanks a lot! I'm updating the app right now!

Is not only you... Same here (Uruguay)

Did they fix the Bluetooth audio delay problem yet?

can't see no here city lens, not on the windowsmobile website, neither in the store.

I used the brief 8.1 experience before installing latest insider build to install city lens and here transit which aren't available on w10m store but function perfectly if installed before upgrade

Excellent app city lens when trying to find restaurants and pubs in London.

Cool, I'm even getting downloads for map updates for Here maps. Awesome. Here is the greatest!

I'm confused. I already have Here Maps installed and yet, when I go to the store, it doesn't say "update", it says "install." Also, the version number on what I have and what's in the store is the same. What gives?!?!

Very confused, Here Maps no longer available in the store? L820, Win 10 Mob, UK.

Is there any option to save maps to SD card?

Will anyone on this site do some investigation on what's going on with the Here Suite and how it's broken out disappearing for some??

Yup update was installed with no major differences. Perhaps bug fixes

Updated 30 mins ago in Australia. Doesn't look like anything has changed. But I can't find it in the store anymore although some are saying Here is aware of the issue and will fix it. No eta at the moment.

Did they fixed lumia 730 problem?

I don't think so.. It's driving me crazy

When will we get Bing Maps on Windows Phone? HERE Maps gets me lost. Posted via the Windows Central App for Android

As other folks posted , the here applications not visible in the store even though I own the apps. Same happens with HERE maps app for windows 10 for PC. the guys fm Windows Central should investigate on that.

The here maps website still only shows it has apps for only ios and android.... I smell a conspiracy! Now where did my tin foil hat fly off to...

City lens says no longer available (uk)

Once again, a huge Windows 10 fail. Nothing of any use is available for Windows 10 Mobile compared to WP8.1. I've gone from loving Microsoft to absolutely hating them.

I got response from Here, that there is some bug with showing Here apps in store and they are trying to fix it. Although it sounds stupid...

Since Audi bought here maps they probably took it off the stores and migrated it to apple and androids app stores...

I love this app. I just recently updated to Win 10 mobile on the" Windows Insider" program and it's not allowing me to download the app. It is giving me a message that the app is no longer available. Can anyone verify this and give me any suggestion on how to get it back with out going back to WP8.1. Thanks

it still works on my old lumia 920, but can't install it in my phone, that I just updated to win 10 mobile from the "Windows Insider" app.

It still works on my wp8.1 lumia 920, but won't install on my phone that I just installed win 10 mobile on, from the "windows insider" app. Anyone know what's going on yet? I love this app I use it almost everyday.

I think you can only install on Nokia WP. I have another brand and it's not available. Also I had HERE! on my Surface RT, and uninstalled it and tried to reinstall. MS doesn't tell users prior to uninstall that the app is no longer available. Really tired of MS!

I Have the Lumia 950, it is not available to me. My default driving app was Here drive and I did use Here City Lens. Those 2 are the only ones I miss. I had the Lumia 920, then the 830, Now 950. That is not right, here are some good apps then take it away.
Windows Central Newsletter
Thank you for signing up to Windows Central. You will receive a verification email shortly.
There was a problem. Please refresh the page and try again.