Here is Toshiba's sleek new Windows 10 2-in-1
During Microsoft's Computex 2015 event, some of the first brand-new hardware for Windows 10 was shown off. Including this 2-in-1 from Toshiba.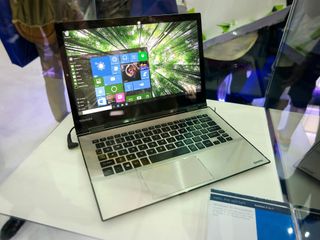 It doesn't seem to have a name and we don't have any specs, either. In fact, we weren't allowed to touch it, Microsoft tucked it away in a glass case.
But what we can see, we like. It's well designed, not too large and has the ever increasingly desirable USB-C port on the side. The display looks great from what we can see of it and all told it looks like Toshiba is onto a winner. But specifics will have to wait, including price and when exactly we'll see it.
Since we've got until July 29 before Windows 10 is available there's still plenty of time to hear more about the new devices we've seen in Taipei. But we like what we see so far and we're getting more confident by the day of an exciting portfolio of devices being available around launch time. Microsoft said there are 96 in total in the pipeline, so there's still plenty more to see.
For now, check out a quick gallery of the Toshiba 2-in-1 below.
Image 1 of 6
Windows Central Newsletter
Get the best of Windows Central in in your inbox, every day!
Managing Editor - Tech, Reviews
Richard Devine is a Managing Editor at Windows Central with over a decade of experience. A former Project Manager and long-term tech addict, he joined Mobile Nations in 2011 and has been found on Android Central and iMore as well as Windows Central. Currently, you'll find him steering the site's coverage of all manner of PC hardware and reviews. Find him on Mastodon at mstdn.social/@richdevine
Are those keys made of leather? :O

Still uses same charger form factor. Fail.

Agree ... big turn off for me. Fed up of hunting for chargers etc my next one will be USB chargeable

And will take longer to go full than a Tesla on a tablet charger...


Finally great design from Toshiba :3

Does look good. Dont see how its a 2-1 though.

its like Lenovo yoga. Screen rotates all the way back. look at the hinges very closely.

I really don't like the mac like keyboard, the gaps between keys are too big for my liking. But then again ill never buy a laptop again thanks to awsome surface line up.

You're right. Microsoft is the one who produces Windows, so obviously the devices coming from them would be the best. But Microsoft doesn't want to alienate their OEM partners, which is why Microsoft promotes OEM's products more than their own.

Yea, that keyboard is kinda ugly

Ok I've heard it all now. "Keyboard is ugly"!!!! ok then. I wonder what a pretty keyboard look like??? Does the letters wear makeup and glamorize themselves to look pretty? Seriously, what a ugly and pretty keyboard look like. Please post a link, so i can see them SidexSide. Now if you want ugly, take a look at CrApple's line of iPOOP and MacCrap prods. They ALL are ugly on the outside and supper ugly on the inside, with that stupid devilish logo right in your face, to let iSHEEP know, ""we are mark of the beast/devil, and you are the blind followers buying our crap, that's 4 years behind other brand's technology, no matter how much we price them at"". CrApple=UGLY

Relax dude, my personal comebt was the keys are too far apart, my personal preference when typing to have keys bunched up together. I have pretty small hands for a guy. This particular one looks like an imitation of a mac keyboard, thus it sucks, as they lost all imagination when designing this PC, it is a PC nor a mac.

Richard..plzz i need that wallpaper.. ):

How about you google tree

Google/bing long trees. :P

Screw google, (along with CrApple). MS and "BING" all the way<3. Bing It On dudes.

Contextual button between control and alt right side, designed specifically for Windows 10, perhaps?

This button exists since Windows 98 times or even before ;)

dont tell him! Also dont mention the windows button on the keyboard!

Hahahaha too late... But I promise not to tell about the odd F1-F12 numbering on the firs row of keys!

Are there bigger laptops coming out with Windows 10 as well? It's understandable that companies would only be showing their new sleek models right now, since that's what's popular, but I'm a fan of the larger ones. I have a Toshiba Satellite with good specs but no concern about size or weight, as well as a number pad. I want my replacement to be something similar, not one of these computers that cost a lot more for the compactness.

Yes, every size laptop will have Win10 once its released. Toshiba makes some very good laptops. You want to get something with QHD or 4K screen, that makes you say WOOOOOOOOOOOW. I own a Dell XPS 15 4K(3840x2160 res)Touchscreen laptop with some killer specs. If you are wanting to get a new laptop, i would wait 2 or 3 more months, as many companies will be releasing some awesome laptops and 2-in-1 products, from Toshiba, Dell, Lenovo, Acer, Asus, HP, Samsung....... whatever brand you decide to go with, make sure you get QHD or 4K screen. I have some 4K pictures on my desktop's wallpaper, and its awesome. Everyone says wow, when they see it. it is so clear and detail.

2 in 1? So the screen were detachable as a tablet? Love the design btw. .

Is that a USB C? Could charge there too I suppose.

Looks decent, could replace my UX500 if it has stylus input.

What's going on? This app crashes every time I click on photos in this article.

What's 2-in-1 about it? Miss num-pad

its screen flips all the way back, like Lenovo yoga. you guys never seen that before. so many people asking the same question here. Dell, HP, Acer, Asus,.......all have yoga style 2-in-1 too.

Liking the massive trackpad and those hinges don't look detachable? So if it folds into a tablet, won't that give it other modes like tent mode?
Unless the hinges are not robust / stiff enough? Questions, questions lol. Can't wait to see more about this laptop.

If you haven't figured it out by now..... It flips back. It's practically a 14" Toshiba Satellite Radius.

I have a theory about the glass case protection: the laptop is not on and actually shows a still footage from a Windows 10 screenshot, made on another computer. Since Windows 10 is just in testing right now, I have a feeling the computer hardware does not have the drivers ready. As such, things would just crash or not boot correctly if anyone would try power it on. However, if it is actually on, it might just be running some other OS, such as Windows 8.1 or even Linux, then they opened up a screenshot from a Windows 10 computer and displayed it like that, powered on, but nothing else. Yeah, just a theory, who knows what they have done with the computer :)

The arrow key arrangment in Toshiba laptops is really bad.

Toshiba really have no idea what works. Where is the place for a new Lenovo Yoga kind of product when plenty of offerings from, Lenovo, HP and others have already failed ? If its not detachable, its not a tablet !!

hey. my is toshiba. with my windows 10 10130. and i love it... for me is't like 3-in1. xp,. w7pro, and windows.10. so far works perfect.

Well, it looks great to me..howsoever inspired by MBA it might be..And that's not a bad thing even. For people who wanna know more about this one...It indeed flips back 360 degrees like lenovo yoga or HP spectre360 It has some great specs too. Its screen is 4K with infrared camera for face recognition instead of a password. MSFT says it's also optimized for CORTANA. Now i feel, it is one serious thing out there...a killer... with possibily a hefty price tag

Two things. Where can I get that wallpaper and how big is the screen size on this?
Windows Central Newsletter
Thank you for signing up to Windows Central. You will receive a verification email shortly.
There was a problem. Please refresh the page and try again.